Red Bull claimed its first victory in Formula 1 with a one-two for Sebastian Vettel and Mark Webber in the 2009 Chinese Grand Prix. Since then, it has enjoyed remarkable success, racking up 17 wins as well as winning both championships last season.
That run of success has elevated Red Bull into the ranks of the more successful constructors in F1 history in terms of wins to starts - although it still has some way to go to match the records of a few teams.
In terms of wins to starts ratio, Red Bull is well inside the top 10, a remarkable achievement for a constructor that didn't begin competing until 2005 - albeit one that grew out of the Jaguar and Stewart operations that preceded it.
The below statistics are drawn from all marques that have triumphed in more than one world championship race, excluding the winners of the Indianapolis 500s of 1950-1960. For the purposes of this list, we are looking at constructors as opposed to teams - so Lotus and Cooper, for example, include wins taken by Rob Walker Racing - using statistics generated by the FORIX database.
10. Maserati (13.2%)
During the early years of the world championship, Maserati was the poor relation of fellow Italian manufacturers Alfa Romeo and Ferrari and stuck largely to less high-profile F1 events in 1950 and 1951 before the works team committed to a full campaign when Formula 2 regulations were adopted for the 1952 and 1953 seasons.
It sometimes pushed Ferrari, but a sole victory for Juan Manuel Fangio in 1953 in the A6GCM was as good as it got, while Alberto Ascari won back-to-back championships.
Fangio at the wheel of the 250F © LAT
In 1954, the F1 regulations returned and the works team won the opening two races of the season with Fangio before he switched to Mercedes, giving it a share in his title win that year. Despite a couple of wins for Stirling Moss in 1956, it was not until Fangio returned in 1957 that the 250F, significantly revised for that season, won four races and the world championship - although part of that success has to go down to the virtuosity of its driver.
After that success, the 250F showed its age and with Maserati struggling financially, the glory days of the marque in the world championship were over, although its engines continued to appear on and off until 1969.
9. Lotus (15.4)%
Colin Chapman's marque suffered a similar fate to that of Cooper, as Stirling Moss took its first world championship race win in a Rob Walker entry at Monaco in 1961. This was just three years after its debut at Monaco in 1958 and set up Chapman for his first glory years in F1.
Once Innes Ireland took Team Lotus's first win at Watkins Glen in 1962, the floodgates opened. From 1962 to 1967, Jim Clark won 25 times and took two world championships for Lotus before that dark day on April 7, 1968, when the legendary Scot lost his life during the Deutschland Trophy F2 race at Hockenheim.
It fell to Graham Hill, who had raced for Chapman in the early days before enjoying success with BRM and rejoined Team Lotus in 1968, to act as the new focal point He did so brilliantly, winning in Spain, Monaco and Mexico on his way to the world championship. The following season, he won again at Monaco before his career as a race-winning F1 driver was ended by a massive accident at Watkins Glen.
Fortunately, the team now had Jochen Rindt on board. The Austrian won that race at Watkins Glen in the Lotus 49B and, armed with the iconic Lotus 72, won four consecutive races in the middle of 1970 to set up a title victory that he would not live to enjoy after crashing fatally during qualifying for the Italian Grand Prix.
Once again, Lotus had another great driver to take his place as team leader. Emerson Fittipaldi won the United States Grand Prix in 1970 and, after a patchy season for Lotus in 1971, claimed the world championship the following season.
Despite winning seven races between them in 1973, Fittipaldi and Ronnie Peterson missed out on the title to Jackie Stewart and Tyrrell, and the next three years produced only three wins once the Brazilian had moved to McLaren. In 1977, Mario Andretti and Gunnar Nilsson took the Lotus 78 to five wins, laying the groundwork for one of the great Lotuses - the 79.
The Lotus 79 gave Andretti the world championship in 1978 © LAT
The Lotus 79 built on the ground effect experiments of its predecessor and Andretti won the championship - a victory tainted by the loss of Peterson, who died of complications a day after his 78 was caught up in a start crash at Monza.
That was to be Lotus's last great year. The next win came in Austria 1982 for Elio de Angelis, after the death of Chapman, and Ayrton Senna's six wins from 1985-1987 proved to be the last hurrah.
At the end of 1994, the financially-troubled team dropped out of F1, only for the Lotus name to be revived by Tony Fernandes last season - a project which is just starting to show the signs of breaking into the F1 midfield and do some justice to the great name.
8. Matra (15.0%)
The French manufacturer's F1 success is often cruelly overlooked, but in 1968 and 1969 a Ken Tyrrell-entered Matras won nine races and, in the second of those seasons, both the drivers' and constructors' crowns.
After making its mark in F3 and F2, Matra first appeared in F1 in 1967, running a full-time works team in 1968 for Jean-Pierre Beltoise and, later in the season, Henri Pescarolo, alongside the Tyrrell entry for Stewart. While Beltoise's second place in Holland was as good as it got for the factory team, the Scot won the Dutch race as well those in Germany and the USA on his way to third in the championship.
Jean-Pierre Beltoise catching air at the Nurburgring © LAT
Using the MS80 (fielded by Tyrrell under the Matra International banner), Stewart won six races the following season to take the crown, while Matra also achieved the unique feat of scoring a world championship point with a four-wheel drive car courtesy of Johnny Servoz-Gavin's sixth place in Canada.
With Tyrrell switching to March chassis in 1970, Matra's own team reappeared and raced in F1 for the next three seasons, but although there were five podiums there were no more victories as the company's focus moved to sportscar racing.
7. Red Bull (15.6%)
There was a time when the rest of the paddock looked down its noses at Red Bull. For all the glitz, glamour and money that it poured into F1, its first four years from 2005-2008 yielded just three podiums.
Sebastian Vettel's first win was with Toro Rosso. © LAT
But Sebastian Vettel's win in the rain-hit Italian Grand Prix in 2008 using a Toro Rosso that was 99% Red Bull was a harbinger of what was to come, and at the start of 2009, Red Bull hit its stride.
That one-two in the wet in China proved to be the only dent to the Brawn team's early success, and although Red Bull ultimately had the best car in 2009 it found form too late to win the championships. But its six wins - four for Vettel and two for Mark Webber - had the opposition fearing that Adrian Newey, brought into the team at vast expense, would produce a world-beater in 2010.
He did. Despite some squandered points, Red Bull won the constructors' title with a race to spare and Vettel stole the title at the last with a win in Abu Dhabi. Add to that two wins in the opening races of 2011 and you have an impressive return of 17 wins in the last 36 races.
Not bad for a fizzy drinks company!
6. Williams (20.3%*)
The days of Frank Williams using a telephone box as his office are long forgotten, but it took him a while to establish himself in the sport and, but for his incredible determination he would surely have turned his back on grand prix racing long before the success started in 1979.
Frank Williams started entering cars in the world championship as early as 1969, but it was not until 1974 that the first car carrying the Williams name appeared in F1. The real success started when he formed Williams Grand Prix Engineering with Patrick Head in 1977, which should be considered the real start of Williams as a marque in F1.
In 1979, Clay Regazzoni won its first grand prix at Silvertone and the following year Alan Jones triumped five times on his way to the drivers' title. The team narrowly missed out on the title in 1981, but the following season took an unlikely drivers' championship win, of which Keke Rosberg's sole win at Dijon played a part.
With its normally-aspirated Cosworth engines proving uncompetitive, Williams linked up with Honda. In late 1985, Nigel Mansell and Rosberg won the final three races of the season and for the next two years Williams was the team to beat, despite Alain Prost nicking the 1986 title as Mansell and Nelson Piquet took points off each other.
Piquet won the title in 1987 and, after a poor season with Judd power in 1988, Williams agreed a deal to run Renault engines in 1989.
The Williams FW18 took 12 out 16 wins in 1996 © LAT
Four wins in 1989 and 1990 laid the groundwork for the incredible period from 1991-1997 when Williams, now with aerodynamicist Adrian Newey on board, won an amazing 59 grands prix.
Renault's withdrawal left the team in the lurch, but in 2000 it once again had works power from BMW. Despite often having the most powerful engine in F1, the partnership yielded only 10 wins and, in 2006, Williams was once again a customer team.
The last win was in Brazil 2004 and, since then, more than 100 races have passed since the once-great team has triumphed. If anything, the 114th win looks as far away now as it ever has during that period.
*This win ratio is calculated considering all cars entered as Williams chassis.
5. McLaren (25.6%)
McLaren's time in Formula 1 can be divided up into three distinct eras, each with their own triumphs and, as a whole, adding up to the remarkable company that exists today.
The first chapter is the story of Bruce McLaren. While still driving for the Cooper team, he started up McLaren in 1963. After coming into the world championship in 1966, McLaren took his and his team's first victory in the 1968 Belgian Grand Prix with the Cosworth-engined M7A.
When McLaren lost his life in a Can-Am testing crash at Goodwood in 1970, his marque's win tally in the world championship stood at just four races. That the team survived to go on to take that number to 169 today is testament largely to the way that American Teddy Mayer regrouped the team after McLaren's death.
Denny Hulme, who had won three of those first four races, returned McLaren to the top step of the podium at Kyalami in 1972, laying the foundations for the team's first championship successes. In 1974, Emerson Fittipaldi, recently signed from Lotus with the help of Marlboro money, took the crown driving the M23, a feat repeated by James Hunt two years later.
The McLaren MP4/4 dominated the 1988 season © LAT
Despite Hunt winning three races in 1977, decline had set in. From 1978-1980, the team was winless, allowing Ron Dennis to wrest control of McLaren and start the third - and arguably greatest chapter - of its success.
Drivers' titles followed in 1984, 1985, 1986, 1988, 1989, 1990, 1991, 1998, 1999 and 2008 as well as eight constructors' crowns with drivers of the calibre of Niki Lauda, Alain Prost, Ayrton Senna, Mika Hakkinen and Lewis Hamilton - placing the team second only to Ferrari in terms of F1 success.
4. Ferrari (26.4%)
Ferrari is not a racing team - it's an institution, winning 215 of its 813 starts in the world championship (814 if you count the Indy 500). It has missed only a few races since it all began at Silverstone in 1950 and has won over a quarter of all of the races held.
A total of 37 drivers have won world championship races for Ferrari, with those at the top of the list indelibly linked with an era of success for the prancing horse. Most successful is Michael Schumacher, whose 72 wins in 11 seasons from 1996-2006 took the team to five drivers' and six constructors' crowns.
Next on the list is Niki Lauda, some way back with 15. Like Schumacher, he joined the team at a time when it was at a low ebb. But title wins in 1975 and 1977, which would surely also have included another crown in 1976 but for his terrible Nordschleife accident, helped to revive the great name.
2002 was Ferrari's most successful season © LAT
Alberto Ascari is third overall. After watching Jose Froilan Gonzalez (a driver hugely underrated by history) take Ferrari's first world championship win at Silverstone in 1951, he bagged his first two victories in Germany and Italy later that year. But it was when the F2 regulations were adopted for 1952-1953 that he had his two glorious years, winning 11 times in 14 starts and cantering to the title twice.
The above three drivers account for nine of Ferrari 15 drivers' titles - with Juan Manuel Fangio (1956), Mike Hawthorn (1958), Phil Hill (1961), John Surtees (1964), Jody Scheckter (1979) and Kimi Raikkonen (2007) accounting for the rest. Yet for all that, the fourth driver on the Ferrari wins list might come as a surprise - step forward Felipe Massa, with 11 wins!
The cars of Fangio and Herrmann at the 1954 French Grand Prix © LAT
3. Mercedes (27.3%)
Mercedes' return to F1 last year has yet to deliver the success of its first factory effort in 1954 and 1955. In fact, not taking the current Mercedes team into account, the marque would comfortably top this list!
Mercedes came into the world championship in 1954 with the W196. After winning on debut with Juan Manuel Fangio at the French Grand Prix, where its streamlined body made it easily faster than the rest, it won nine times in 12 starts before the 1955 Le Mans disaster led to Silver Arrows quitting racing at the end of that year.
The current team has yet to come anywhere near that level of success. To date, Mercedes part two has picked up just three podiums - a tally which, it should be noted, the original team matched in the 1955 British GP alone!
2. Vanwall (35.5%)
This was the first victory in a world championship grand prix for a British car © LAT
Terry Vandervell had already enjoyed success as a racing entrant - notably with his Thinwall Specials (named after the Thinwall bearings that he sold) - when his Vanwall marque first appeared in the hands of Peter Collins in the 1954 British Grand Prix. Within a few years, Vanwall had proved that Britain could cut it as a constructor at the top level.
In 1956, a new car designed by Colin Chapman and Frank Costin, showed real promise and in 1957 and 1958 the marque won nine races and, in the second season, the newly-created constructors' championship.
By 1958, the team's glory years were behind it with Vandervell's health failing and, after a couple of appearances for the cars in 1959 and 1960, the marque disappeared from the world championship for good.
1. Brawn (47.0%)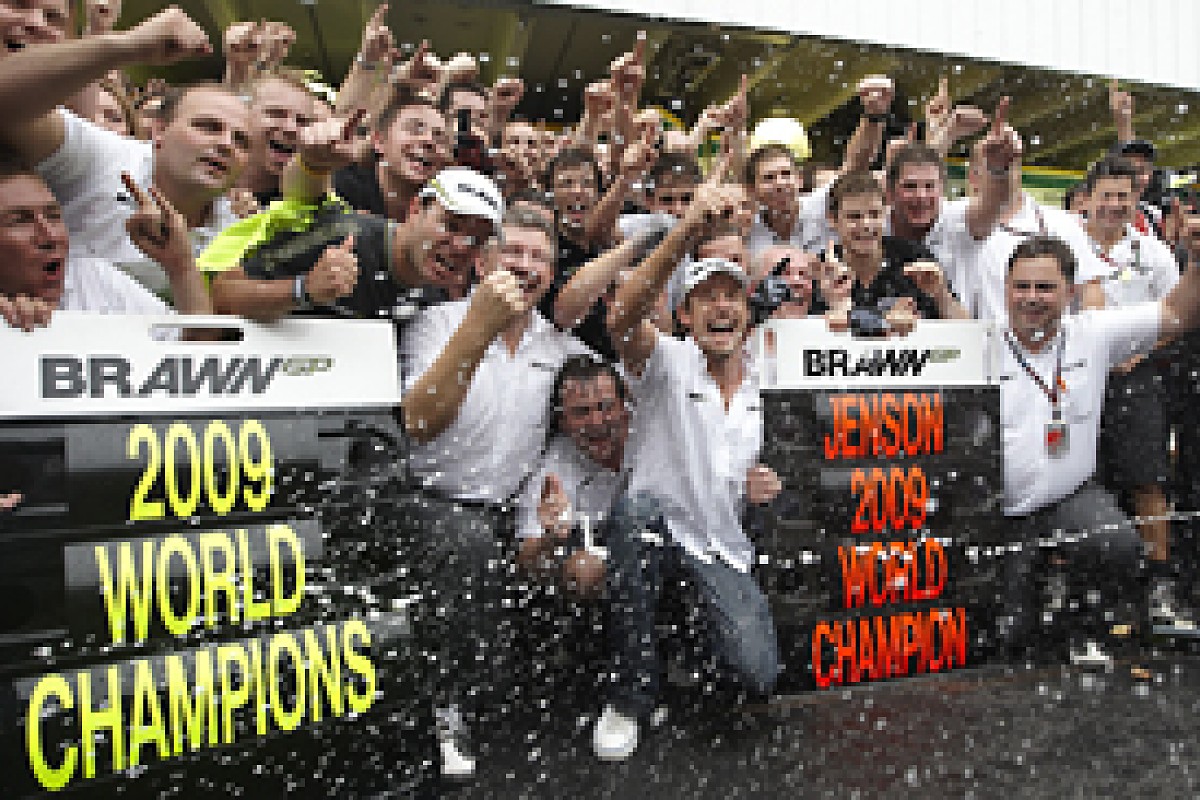 Brawn GP celebrates winning the 2009 constructors' and drivers' championship © LAT
The ultimate one-season wonder, Brawn GP is one of the most curious stories in grand prix history - albeit not one of the unlikely minnow that some would have you believe. Rescued from the ashes of Honda by a management buyout led by Ross Brawn and Nick Fry, the team benefited from a car that the Japanese marque had poured money into throughout 2008. But for all that, it remains an amazing story.
The Brawn BGP001 hit the track late in testing, raised the performance bar with its double diffuser and then won six of the first seven races of the year to lay the foundations for winning both titles.
Then Mercedes bought the team, giving it yet another identity for 2010.

To continue reading this feature, subscribe to Autosport Plus today.
Expert opinion. Technical insight. Unbeatable analysis. Subscribe today for unlimited access to the world's best motorsport journalism.
Get unlimited access now
No more monthly limits. Get complete access to all our news and Autosport Plus features.
Subscribe to Autosport Plus
Completely ad-free environment.
Access Autosport Plus - the best motorsport analysis, insight and opinion.
No monthly news limit.
Explore Forix, the world's most comprehensive motorsport stats database.