Last week's column on race circuits revealed an interesting trend. In the recent past the majority of Formula 1's new generation circuits were publicly-funded - think Sepang, Bahrain, Shanghai, Turkey, Abu Dhabi, Valencia; even Singapore's street circuit to a degree. The latest three newcomers (Korea; India; Austin, Texas) are all private initiatives.
This suggest two alternatives - likely a combination of both - namely that investors have enormous faith in the future of Formula 1 notwithstanding the sporting, commercial and political controversies which regularly threaten to rip it apart. And/or governments can no longer justify the massive investments such venues demand on tourism/international exposure grounds.
New Delhi circuit chief Sameer Gaur with Bernie Ecclestone © autosport.com
Certainly not on being seen to sign off on conspicuous excess in such challenging times...
No sooner had the column been published than Jaypee Sports International Limited - a division of India's enormous Jaypee civil engineering group and owners and developers of the New Delhi circuit scheduled to host the inaugural Indian Grand Prix on 30 October - offered an exclusive interview with its chief executive (and son of the group's founder) Sameer Gaur.
Although family-owned, three of the group's nine companies are listed. There are eight operating divisions: civil engineering and expressways, primarily highway construction and owned toll roads; power generation, India's largest private provider via hydro, thermal and transmission activities; cement, India's third-largest producer; hospitality, including a chain of deluxe five-star hotels; lifestyle housing, primarily golf-centric estates; information technology, self-explanatory activities in one of the world's most wired countries; and JayPee Sports.
The last-named was incorporated in October 2007, and is responsible for the 5.14km JPSI circuit designed by Bernie Ecclestone's favoured architect Hermann Tilke, who has the Malaysian, Bahraini, Chinese, Turkish, Korean and Texan circuits already in his portfolio. Spot the trend?
According to Gaur, one of a number of pre-Indian Grand Prix orientation party delegates to visit Sepang, the JPSI circuit forms part of Jaypee Sports City - a 2,500-acres sports development situated approximately 60 kilometres south of Delhi alongside a Jaypee-owned (what else?) highway. JPSC will include a 100,000-seater cricket stadium, hockey arena, sports training facilities and provisions for further sports genre. All form part of a premium residential development.
But, how has the project been funded?
"The financial funding has been done entirely by the Jaypee Group, but obviously we cannot move an inch without the support of the state government and central government vis-à-vis permissions and many other things," explains Gaur. "The state government, the federal government and the central government, they're all exercising their full support."
Funding has come primarily via commercial loans, but that is normal says the project's main mover and shaker.
"There are loans, but it's normal, it's normal commercial, we have equity, then we have loans. It's a part of our total group strategy. I've got projects in hand of more than five billion dollars in cement, etc," he stresses before suggesting that the F1 project is but one string in the entire Jaypee guitar. Highly visible, yes, but just another project when seen from a construction perspective.

Work at the track is continuing apace, says Gaur, with close to 10,000 people on-site at present. The project has been divided into separate operations, namely track and infrastructure. The former is now "complete in all respects" save for the final layer of asphalt, which will be laid as close to the event as possible, but will in any event be complete by the mandatory FIA inspection in July.
Total capacity will be just short of 120,000, split up as follows: 25,000 in the main grandstand, 40,000 in temporary, fully-roofed stands, another 40,000 in general admission areas, 5,000 in the Paddock Club and a further 5,000 in corporate boxes. Add in around 3,000 F1 personnel and the numbers stuck up.
All civil construction has now been completed, with mechanical, electrical and plumbing (MEP) work currently in progress in the circuit's various buildings. Gaur says there is absolutely no doubt that all should be completed well ahead of October 30, with there being no chance that JPSI will "do a Korea" by embarrassing the country. In that instance heavy rains caused additional delays.
Gaur is adamant that "Even if it rains tomorrow, no problem. I'm already inside the building, the civil work is done," adding the JP group has not embarrassed the country in the last 40 years, "and we are absolutely confident and sure that we will not embarrass our country this year."
Vijay Mallya, Force India's team boss and chairman of the Federation of Indian Motor Sports Clubs of India as well as a member of the FIA's World Motor Sport Council, agrees wholeheartedly. He adds there is "no way in which the Delhi race track is going to get into the same controversy", particularly the corruption, which blighted the Commonwealth Games.
"As for being ready, Charlie [Whiting, FIA Race Director and Safety Delegate], has been there already on a preliminary visit and was delighted with what he saw."
Friday morning in the Sepang paddock provided a perfect backdrop for the interview, particularly as the stands were glaringly empty. Is Gaur not concerned his group's $400m investment in the F1 project will be a lead balloon? After all, last year the Malaysian Grand Prix failed to attract 100,000 punters total over the three days, and this year just managed to break the magic number, but only after, one suspects, prolific mathematical massaging and cut-price ticket deals.
"No, and I'll tell you why: It's India, it's a continent (sic). We won the Cricket World Cup in 1983. Before that India was not known in cricket. India was losing in cricket, but that was a game changer. And, since then, India has become a hub of cricket.
"What I feel is that October 2011 will be a game changer for India. Motorsport in India will become very big because there are lots of motorsport lovers all across India in different states like Chennai, Bangalore, Delhi, Mumbai.
"Somebody had to take the call. We got the opportunity three years back when we signed this contract with Mr E and the FOA. And now this opportunity has come. At least the first race, the second race there will be so much hype, and the hype and the marketing will start in a month's time. I think we should be okay with the crowd, there's a lot of buzz."
Mallya, too, believes the grand prix will be a roaring success, boosted in no small part by the popularity of F1 drivers Narain Karthikeyan and Karun Chandhok, both of whom enjoy enormous support in India, plus, of course, domestic interest in Force India.
"It's a country with a population of 1.2 billion," says the Indian motorsport-loving billionaire who believes the country's younger generation has fully embraced motorsport, now viewing it as the new cricket. "We have a middle class population of 250 million, who have enormous buying power and a huge amount of aspiration. I think it a great thing for international motorsport and an exceptional thing for India."
Ticket prices will be "moderate", says Gaur. "They are not going to be very expensive because it's happening for the first time in India. We've done a study of ticket pricing all over the world, basically we have to see the ticket pricing in Singapore and Kuala Lumpur to judge what the Indian appetite can hold. We've done the entire in-house workings, and by April and the first week of May you'll have the (ticket) announcement."
With India having a middle-class population ten times larger than Malaysia's national population Gaur is convinced JPSI has less need to attract foreigners to fill its stands. Sure, foreign interest will be most welcome, but Gaur doubts the country is ready for a major tourist initiative.
"India itself has become a major economic hub right now, a major tourist hub not yet," he believes. "So for me I want to bring that hype back; I may bring that tourist to India. But let us hope and see. We have to create something more. Not only us, but the country has to create something more. We have the whole campaign, which involves the 'Incredible India', which has so many aspects to it.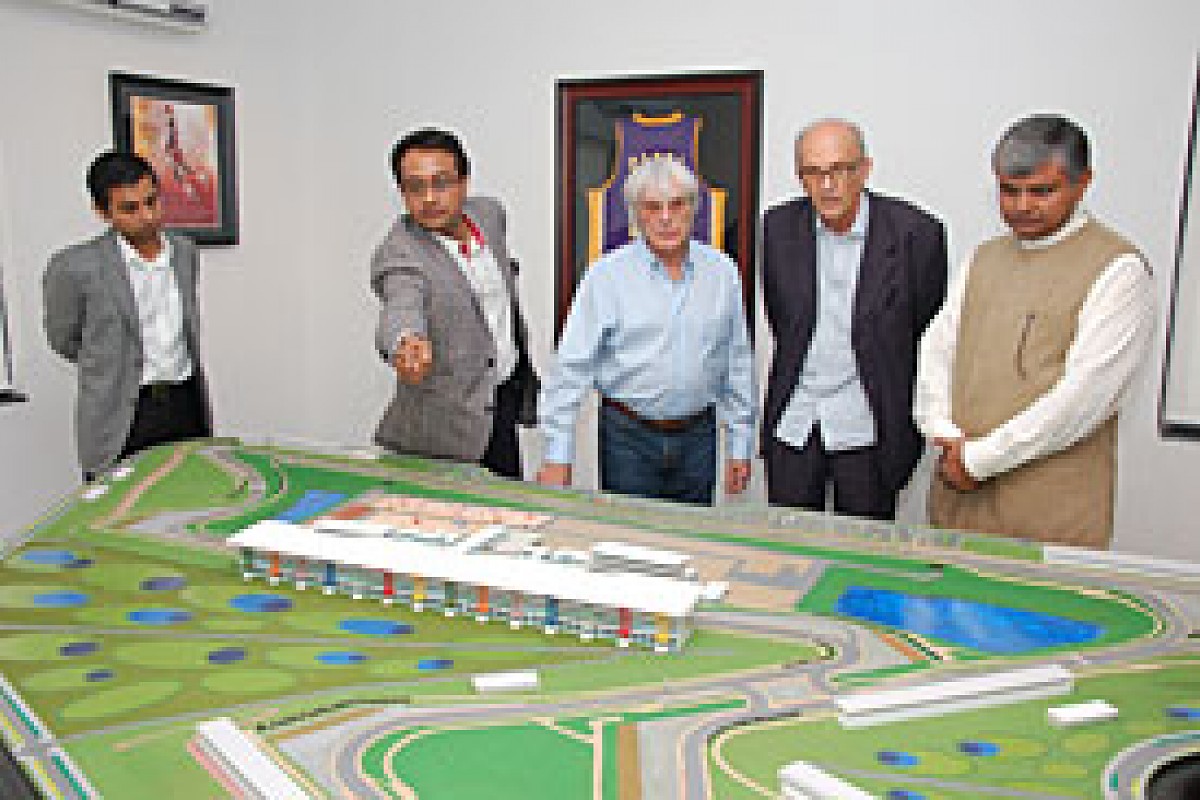 Sameer Gaur shows off the Indian GP venue plans © autosport.com
"A tourist is coming for enjoying, they will not only come for one race. Some followers will come, some petrolheads, but I would say for the other tourists to come the 'Incredible India' (programme) has to do something."
However, the weather in October is absolutely perfect (22/24C noon and 16/18C evening temperatures), says Gaur, before pointing out that the track is about the same distance from Delhi as is Sepang from Kuala Lumpur. The Indian city enjoys, of course, excellent air connections (particularly from the Middle East), the full spectrum of hotels and under-inflated prices. Thus the race should be on every self-respecting F1 fan's hit list.
The country boasts not only aforementioned drivers and team, but Tata, India's largest industrial conglomerate, has put its money where its mouth is by sponsoring Ferrari and HRT via various operating divisions. Put differently, Formula 1 enjoys greater interest from the sub-continent than it presently does from Japan, Korea and China combined...
Add in that JPSI has sunk its own funds, and not public money, into the project. The Indian Grand Prix surely deserves to succeed.
Five minutes with an Indian GP expert
Dr Walter Kafitz joined the Nurburgring GmbH as CEO in 1994 after a career in Germany's food and chemical industries. A life-long motorsport enthusiast, Kafitz is credited with returning Formula 1 to the legendary circuit, and was at the helm of the company when the rotating agreement, which sees the venue alternate with Hockenheim, was agreed with Bernie Ecclestone.
During Kafitz's tenure the circuit acquired a host of new stands and a generous pit/paddock complex, and was re-profiled to increase overtaking, resulting in steadily increasing grand prix
attendances. It was also certified as a 'green' commercial venue, a first for a motorsport circuit.
He left the circuit at the end of 2009 after a dispute with stakeholders, and established a motorsport consultancy which advises various international operations, including the JPSI circuit.
Q. You used to be at the Nurburgring as Managing Director, you're now consulting to the Delhi circuit - what do your duties entail?
Walter Kafitz: I advise them in operations, that means facility management, circuit logistics - which is very important - and sports operations.
Q. When you say sports operations, from what perspective? Marshal training...
WK: Yes, every aspect where the circuit is affected. They have their national ASN, the Federation of Motor Sport Clubs of India, and they deal with the sporting organisation and they're the sporting organiser of Formula 1 in India. But in every respect concerning operations of the sporting part (I consult).
Q. Plus of course track operations, how far down the road is the track?
WK: They are very keen to get it finished in the summer, they try to get it before the monsoon starts, but they will be ready in time.
Q. So you're not looking at a Korea situation at all?
WK: I wasn't in Korea, I just have heard it, but I am sure these problems I have heard (about) won't occur.
Q. If we take what's required to get the circuit up to F1 standards by the grand prix, what would you say? 80% finished, 70%?
WK: I would say 72%.
Q. And the remaining six months is enough to finish the remaining 28%, no problem?
WK: Yes.
Q. And you say before the monsoon period, the monsoon period is I guess July, August?
WK: It starts end of June normally, July, August and at least the track will be finished until then, the raw buildings.
Q. Capacity for the circuit will be?
WK: 120,000.
Q. Paddock Club?
WK: JPSI, the owner of the circuit, will have guests, plus the Paddock Club of Allsport.
Q. The paddock, is it very big? Like a typical (Hermann) Tilke paddock?
WK: The paddock will be very generous. I think this circuit will be a landmark for India, and especially the track itself is very demanding, it's like a roller coaster and it will be very interesting for the drivers as well as for spectators.
Q. From a TV perspective, does it lend itself well to television?
WK: I spoke to some TV guys here (in Sepang), and when I explained the circuit layout they were very happy, including photographers.
Q. From that perspective it should be a very good show, whether at the circuit or you're on a TV camera...
WK: For sure, I'm pretty sure it will be a good show.