As work on Silverstone's new 'Wing' pit complex nears completion ready for its official opening next month, AUTOSPORT was invited on a guided tour of the 16,500 square-metre, £27m facility.
The circuit's managing director Richard Phillips explains why he believes the new pit and paddock will put Silverstone right up there with the very best venues in the world, and why this is only the beginning of a larger plan to redevelop the home of the British Grand Prix for years to come.
Q. Does this finally answer all the question marks about whether Silverstone can build a world class facility?
Richard Phillips: I think with the improvements that were made to the circuit last year, introducing some overtaking and creating a better track altogether, then The Wing puts us in a different dimension. Certainly when you compare it to the old pits - you can see a huge contrast. It is a world class facility, it is equally as good as anything else in the world, but it is not the end of the story for us. We are moving seats and creating better viewing opportunities for the fans as well. We have got planning to develop on from there, so long as we can find the funding (which we are looking for at the moment), then we can go on to build bigger, better more permenant grandstands and better facilities for the public as well. So hotels and other things.
Q. So how do you pay for what you have built already?
RP: Over 2010 and '11 we will have spent somewhere in the region of £40m on the circuit and the building and we came from a position where we weren't really investing huge amounts of money in the circuit - we were very careful about what we did to this huge investment that we are involved in. Some of it came from cash we already had, we refinanced with Lloyds Bank and we got a county council loan to help us as well. The amount of money we've borrowed is around the £22m mark and we start repaying the loan in the next couple of months. It's an interesting time for us, but we are a profitable circuit and we pay our own way.
Q. You mentioned that The Wing must pay for itself, what did you mean by that?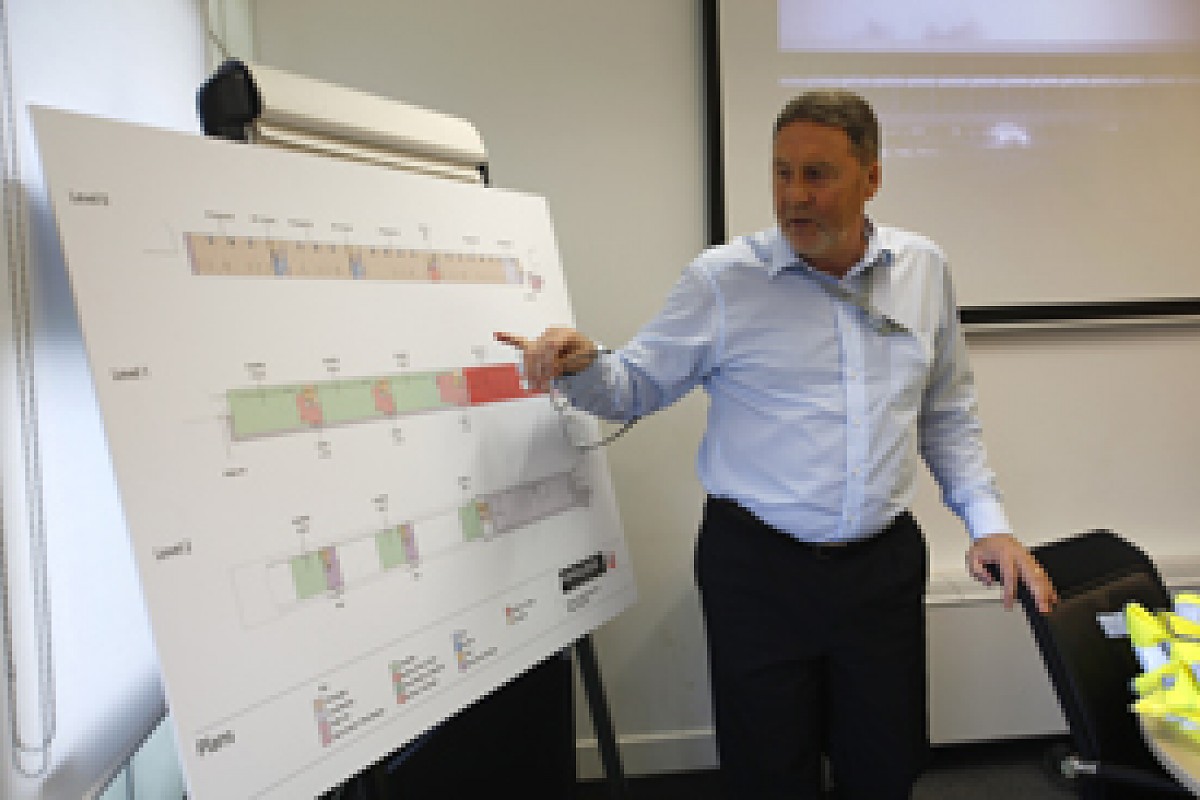 Richard Phillips talks through the plans for Silverstone © LAT
RP: Everything we do needs to be looked at. We haven't got the comfort level of some circuits, really they are funded in a different way. So we have to make profit out of things so to build a pit building that was just that would be a stupid investment for us. It's a great building, it does everything that Formula 1 requires it to do and more, but it also doubles up for conferencing, banqueting, big dinners and exhibitions, car launches etc.
That's why we have looked at the acoustic properties of the buildings as well because we are conscious that we are a motor racing circuit. If you had been here last week, you would have seen all three circuits in use, and we are busy so you have got to have that flexibility and you have to be mindful of all the pitfalls.
Q. Are you nervous in any way about moving an entire pitlane and startline to another side of the track?
RP: If you look back over the history of Silverstone the pits was where Bridge is now, it moved to the old location or 2010 location, and now it has moved to Club. We are keeping the old pits as well and trying to enhance the diversification of the whole venue by giving ourselves more than one circuit we can race on at the same time. So it's gone there on purpose.
We are licensed to run race meetings on all three circuits at the same time. That doesn't mean to say we will be doing that this year, but that is the intention in the future. Then maybe some weekends we will be doing more activities and other sorts of entertainment. But it gives us huge flexibility.
It also makes it more interesting though doesn't it? Whereas the first corner used to be Copse, now it's Abbey, and that's a very fast corner.
Q. Will the GP2 paddock go in the old F1 pits?
RP: Yes. The GP2 paddocks are staying there, but the cars will start from the new startline.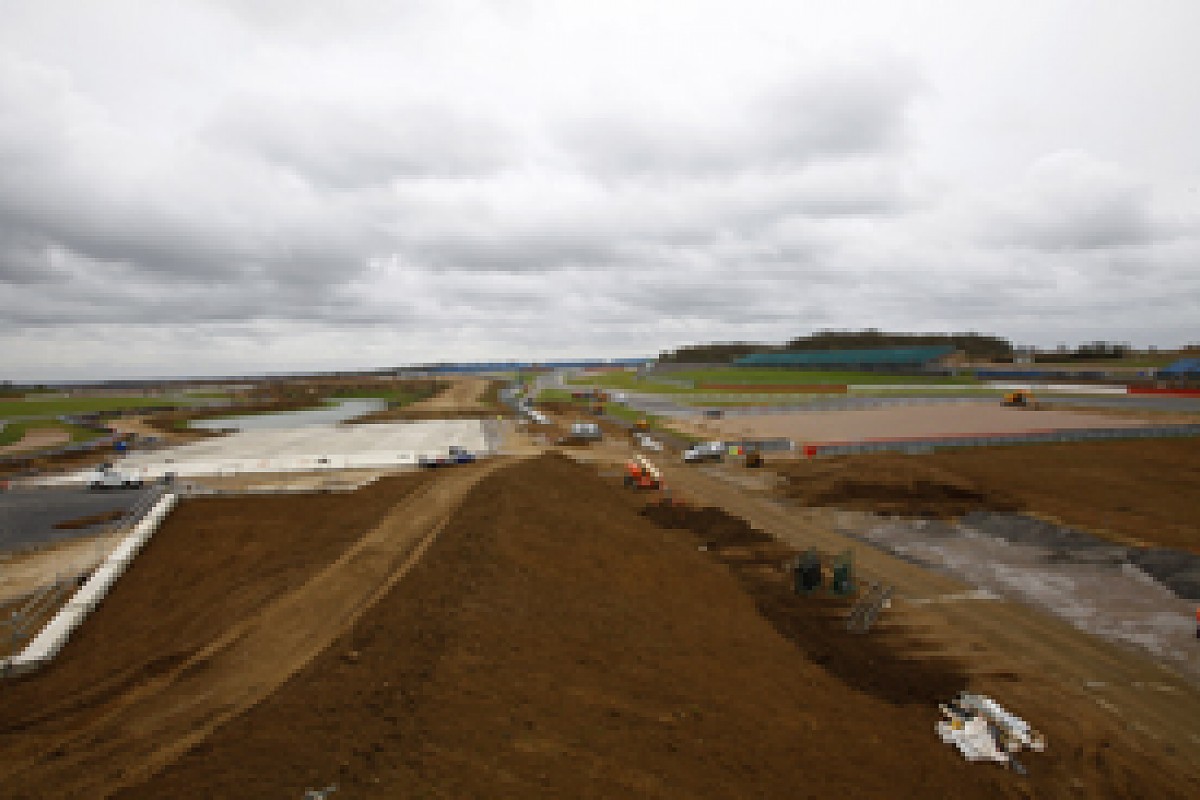 © LAT
Q. The grandstand opposite the new pitlane seems a bit small at the moment...
RP: That's because it is not finished yet! There is a roof to go on the one that exists at the moment. That has to be relatively narrow to make provision for the people moving behind it because there is a road there. But the top side of that there is still a load more seats to go in and they are much deeper grandstands.
The ambition is to have a trackside hotel with integrated grandstand and boxes and things and that would probably be canterlevered over the run-off. But that is another massive project that won't be there until at the earliest 2013.
Q. You've removed the bumps at Abbey and Copse. What was the thinking behind that because there were many who felt that they added to the personality of the circuit?
RP: There were a lot of people who watched from there, especially head-on, who quite liked the bumps, and it was a huge challenge for the drivers. But the pressure from the teams was a bit more towards changing it.
The MotoGP guys were more worried about the Copse bumps which we have taken out as well. So that has all been resurfaced. But the Abbey was actually a depression and a lump, which contributed towards that bump. But it's gone now, so we will see what they make of it now.
Q. How much of all this work will actually be ready in time for the FIA GT1 round in June?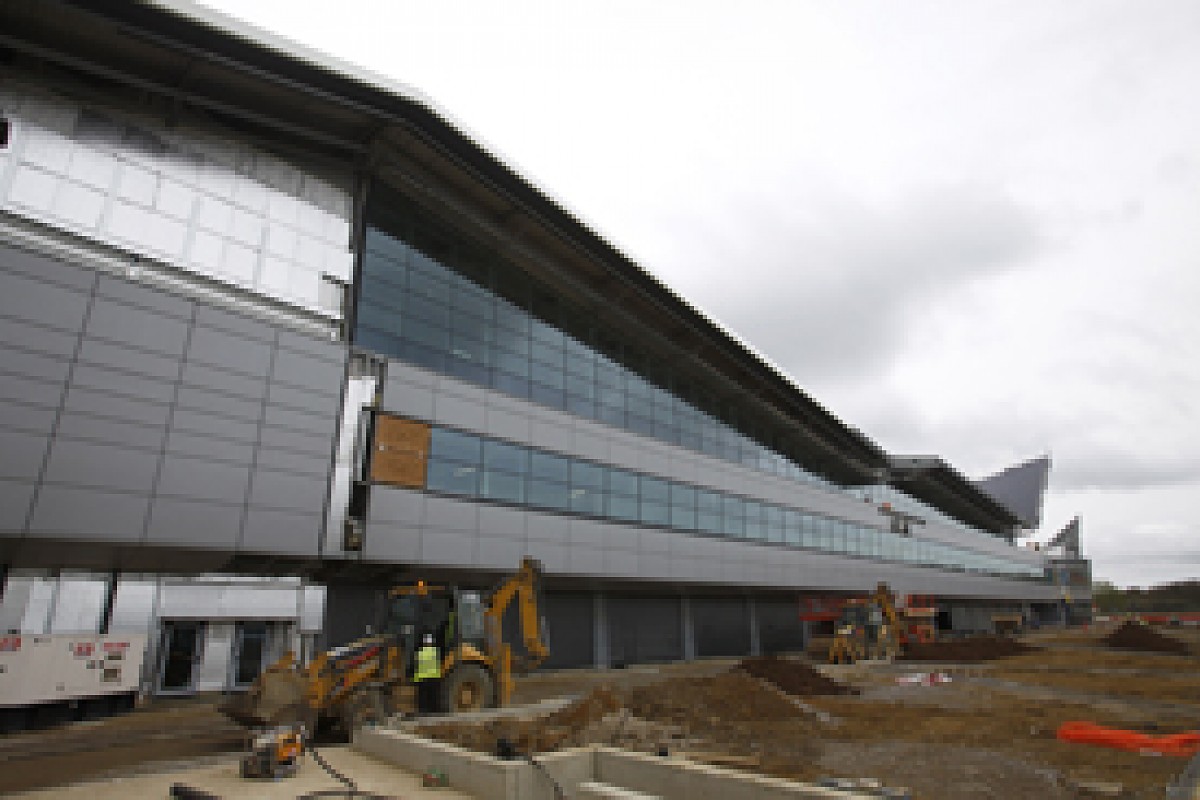 © LAT
RP: Well the building is obviously finished and the idea is that we will get all the grandstands in place for that as well. But it just depends on weather and so on... We are also moving 25,000 seats as well as improving the arena and Priory section with spectator banks.
Q. You mentioned the Henman Hill at Priory. Many fans have asked if they will see the benefit of this investment. How would you answer that?
RP: I think it has. We are a circuit that has to value its customers otherwise we can't pay our way and if we don't look after the general public then we would have failed and we won't survive as a circuit. We made a lot of improvements last year, will do a lot more this year and you can expect that to continue. We have got 27 large screens going in. Some of those aren't trackside either, they will be going in behind the grandstands. So at Priory we have a screen where they can sit and watch the action and there will be a stage behind that as well, and that will be a general admission area.
I think you have to get a blend of some good viewing who don't want to sit in seats and those that do. There are some grandstands this year, where hopefully we can get some public in front of them as well so. In general with the improvements we've made at Priory and what we did at Vale last year we've done quite a lot.
Q. You say you have now made Silverstone a world class facility, but surely the ambition now has to be the best. How do you achieve that?
RP: Well Silverstone wants to be the number one destination in the world, that's our ambition, and that's a blend of a number of different things really. We have some buildings in place now, we have invested in the track which is a good circuit. It's a flowing speedy track. We are ticking some of the boxes. But working forward we have got to improve more of the spectator facilities and have better viewing.
But you have also got to improve the overall experience, so for example, what do you do between the races? Create three days of full-on entertainment and so on. It's very much down to working with the heritage and visitor centres and those sort of things. We are starting Silverstone radio this month which will be web-streamed all over the world and will cover the events here and talk about motorsport in general. So we are building up the whole thing really.
You have got to have things for people to do and you have also got to appeal to a wider demographic than perhaps we have in the past, so if some of the family is interested in motorsport, then providing the rest a passport to be able to go and do something that they enjoy instead. It's on a big scale as well so you are not going to achieve it overnight but that is the aspiration moving forwards.