If you are a top-line grand prix driver, being given a car like the Red Bull Racing RB7 must be an absolute dream. No wonder Sebastian Vettel walks around the paddock with a huge smile on his face all the time.
Adrian Newey and his design team have done it again - and, after what we saw in Albert Park, there will be a lot of head scratching up and down the pitlane from rival teams as they bid to close down the performance gap that the reigning champions have at the moment.
Yet despite the explosive speed produced by Vettel and Red Bull at the weekend - his scintillating performance in qualifying and those blindingly fast laps in the opening stages of the race as he opened up his advantage over Lewis Hamilton - even Newey and his crew cannot quite sit back and think it is job done just yet.
In terms of the things it can influence directly, things are bubbling along quite sweetly. Newey's car has every point of downforce the RB6 had, and its pioneering use of the 2011-style blown diffuser has paid off so far.
The chief concern at the moment appears to be KERS, with the team opting to turn it off at the Australian Grand Prix because of reliability worries. While that did not hurt the team in Australia, with relatively short straights and only a brief blast to the first corner, things may well be different in the next races in Malaysia and China if it cannot get its system up and running. Paddock whispers also suggest it is not getting as much laptime out of its KERS as other teams...
The start of the race © sutton-images.com
Yet whether we have seen the true potential of the RB7 yet (ignoring the KERS factory) is a matter of debate. Rubens Barrichello is a man who knows a thing or two about having a dominant car - with experience of that at both Ferrari and Brawn GP. He knows that you never really want to show your full hand at first.
"I've been in a situation where the Ferrari was in a different league. It was a very safe one - it was great," he smiles. "We even had times when we had fuel on board just to qualify, because you didn't want to show the true pace..."
The fact Vettel used his second set of soft tyres in qualifying perhaps pointed to the fact that Red Bull Racing was pushing to its limits - and it may well be that the car, like its predecessor, is comfortably clear of the opposition over a single lap.
Yet, it may be just as true that, as happened quite often last year, the Red Bull car is not able to use the advantage it has come race day. For while Vettel was able to eek out a gap in the first few laps of the race, Hamilton was able to close him down throughout the first stint - and crucially was able to make his tyres last slightly longer.
Of more significance, perhaps, was that the length of that first stint meant Vettel was shuffled back into the pack - and only a decisive overtaking move past Button ensured he kept up his advantage over Hamilton.
But what Hamilton was ultimately capable of, as the tactics played out during the course of the event, we will not know - because his floor got damaged. This will have cost him downforce - robbing him of laptime plus, more crucially, meant his car was harder on its tyres.
That is why he could not go the extra distance beyond Vettel again, which in turn would have helped him hold the cards with a tyre advantage on the final set of rubber to the chequered flag. Without that fresher rubber boost, the difference between Vettel and Hamilton was not too big - and the German was able to comfortably maintain his gap at the front.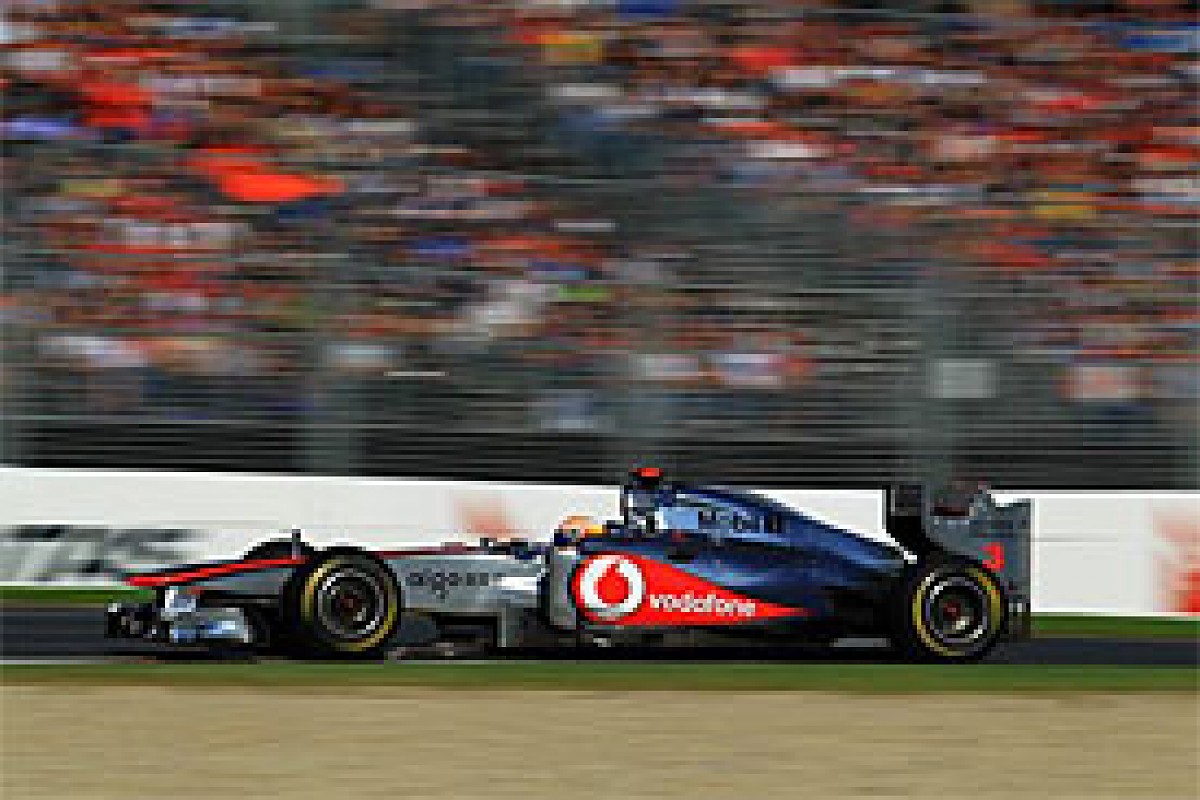 Lewis Hamilton © sutton-images.com
This tyre factor could well be crucial when we go to races with higher degradation - like the next event in Malaysia. For even if the Red Bull is quicker on a single lap, if it cannot use that speed advantage in the race, and so gets dumped into costly traffic early on each time, then things could get very interesting.
Barrichello thinks that there is so much new this year, that the days like he had at Ferrari - when a quick car would be at the front of the field and just tear off into the distance on super-consistent tyres, are over.
"If there is anything that is going to happen like that, it is this year," he said. "There are new tyres, new rules, new wings, new KERS, and plenty more pit stops, so a lot of things can happen. If everything went to plan Sebastian should have won the championship mid-year last year and he didn't.
"Yet you cannot be too pessimistic. Things can happen, but right now it is almost like the others could sit down and cry because of that speed. I think F1 is good for that. I am sure the other teams will be talking about this and that they don't have that, but the fact is Red Bull were more clever than most of the others and they just have a better car."
Looking at all we've seen from Melbourne, it looks game on for the championship. Yes, the RB7 is a wonderfully fast car - and its 17 km/h advantage over Hamilton through Turn 11 tells you all you need to know about the relative downforce of the two cars.
But, being fastest may not necessarily be the best in 2011. It's a factor that may well bring some headaches to Red Bull, but it's great news for fans.