The start of any grand prix season is always fascinating. Nobody quite knows where they are. It's a time that sharply focuses shifting sands and changing fortunes.
On Thursday in Melbourne it was Rendezvous restaurant on St Kilda's beach for a Mercedes lunch. The first man I bumped into was Nick Fry, looking ridiculously spruce for someone who'd just spent 20-odd hours on an airplane.
"As well he might," someone muttered a bit later, "I'm surprised he could carry his wallet..."
Nick Fry and Ross Brawn © sutton-images.com
To be sure, it's been a good couple of years for Nick. He took a lot of flak while presiding over the Honda earth dream years as CEO and, 24 months ago, the rumour mill was churning with stories he was being marginalised at Brawn GP. The rumours were wrong and just as that amazing '09 season was getting under way two years ago, Ross Brawn was busy defending Fry and publicly thanking Martin Whitmarsh for easing the passage towards a Mercedes engine, without which the team would not have been in Melbourne.
Formula 1's key players 'cashing in' has featured strongly in recent news. Frank Williams and Patrick Head realised some of their personal stake in Williams Grand Prix Engineering when the company floated on the Frankfurt stock exchange and nobody begrudged them after 35 years of intense graft.
By contrast, the fortunes of Brawn GP's shareholders could not have been more spectacular if you'd made it up. In a management buyout, for $1, they got hold of the Honda assets that, as we saw, happened to include a championship-winning car and a reasonable operating budget. Okay, they may not have expected to win the championship but they will have known they had a pretty darned good car.
Then, with perfect timing, the iron still steaming, they managed to unload the whole shebang to Mercedes-Benz before being having to defend the title with dwindling resources. Ross and Nick could have walked away, of course, no doubt with a healthy severance, but that would not have helped the 700-odd people depending on the team for a job.
According to accounts filed by Mercedes-Benz, Brawn GP made a profit of £98.5m in 2009, which squares pretty well with the £92.5m that Honda paid towards that season despite announcing its withdrawal in December 2008. Apparently it would have cost Honda a similar amount to pay off contracts and close the place down. Passing it on for a dollar as a going concern with an operating budget saved both jobs and face.
Certainly though, you weren't going to run on £92.5m with 700-plus staff and the 40% cull that happened in early '09 was inevitable. And, just as inevitable, was the fact that 2010 was going to be compromised as a result.
The accounts show that in '09 the Brawn directors - Brawn, Fry, Caroline McGrory (legal), Nigel Kerr (finance) and John Marsden (human resources) - were paid a total of £8.4m. The highest earning of them, Ross presumably, netted £4.7m. In the course of the season they injected a loan of £3.4m, which was then repaid.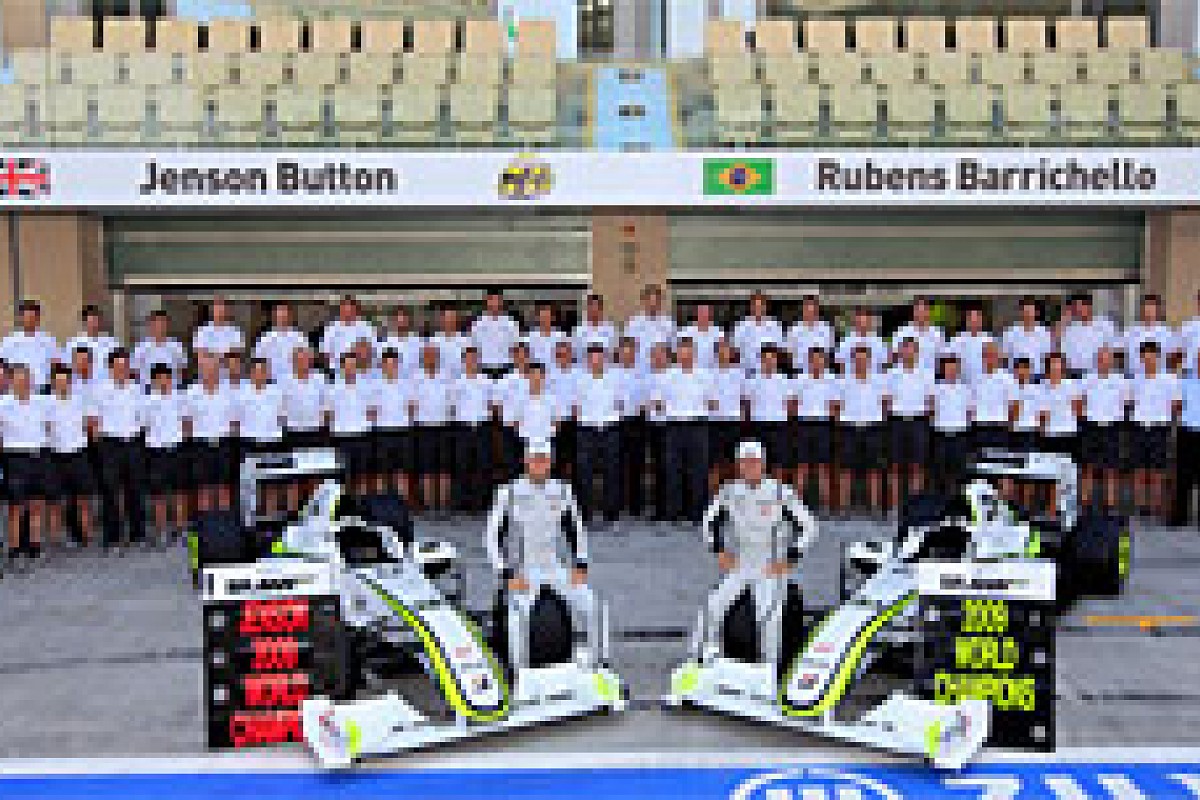 Brawn GP won both titles in 2009 © LAT
Nobody is saying exactly what Daimler and Abu Dhabi-owned Aabar Investments paid for its initial 75.1% in December '09, an ownership stake which saw just Ross of the Brawn GP directors retain a place on the board as representatives of the new owners, including Norbert Haug, took over.
This became 100% ownership recently and Brawn will imminently resign his board position and concentrate on the team principal role he performed for Honda before the whole thing kicked off. One of the figures you hear bandied around is $150m. Whatever it was will have been split in the relevant proportions between the Brawn shareholders.
Of course, speculation has already begun about how long Brawn and Fry, Nick in particular, will remain part of the picture at Mercedes GP. And, you'd imagine, there'd be multiple millions of reasons why they won't care!
Fry, who's 54 but looks nothing like it, has not long ago become a father again and Brawn, who's 56, has been at the F1 coal face since as early in his career as Frank and Patrick. You'd imagine they might already have hitched up the saddle bags and ridden off into the sunset. There's something addictive about F1 though. You fly to nice places, do interesting things and there's always something happening.
The story would make a good book someone suggested over lunch but Fry said he wouldn't be doing one just yet, thank you. In this business, like any other, there are plenty of egos and the numbers involved in F1 mean that people can have their noses knocked out of joint quicker than a Lotus in FP1. Sorry, Karun...
On the way out to Melbourne I watched a film, Made in Dagenham (Ford is ironically where Fry, with an economics degree, began his career). It was about the striking women upholstery sewers in the sixties who temporarily closed down the plant and ultimately won equal pay for women thanks to Barbara Castle.
A very good watch it was (Bob Hoskins was excellent) and there was a scene when, with the wages no longer being paid, one of the women came home to find her fridge being repossessed. I hope things didn't get that bad for those that were unfortunate enough to lose their jobs at Honda but you can see how there may be a few green horns and feelings of resentment towards the accidental multi millionaires.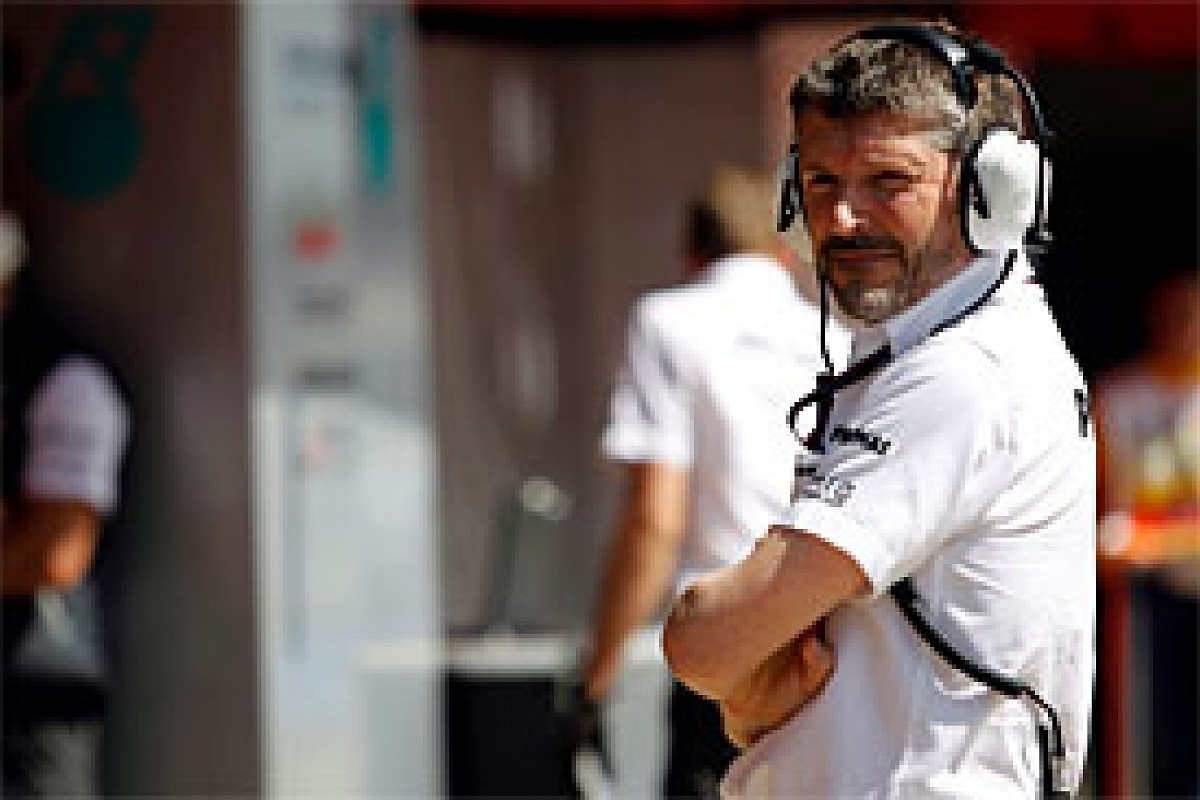 Nick Fry © LAT
"It's not as if they did something really dangerous, like borrowing a 100 mill from Bernie," someone said. "There was no risk and you've got to wonder why Mercedes didn't just wait for it to struggle and pick it up for a song."
Fry, too, has just been appointed one of the UK government's new Business Ambassadors and will now be responsible for briefing ministers and the UKTI (UK Trade & Investment) about our motorsport industry. He was appointed along with 32 others, including such luminaries as Lord Digby Jones of HSBC, Dick Oliver of BAE, Vodafone's Sir John Bond and Anthony Bamford.
Fry had to endure some gentle ribbing over lunch about his new best mate David Cameron and how long it will be before we are greeted by Sir Nick of Brackley! You have to wonder what a man like Ron Dennis, recently in the news only for the loss of his driving licence, would make of that. Not everyone in the paddock appreciates Ron's manner but you'd have to say, if anyone deserves a knighthood...
With Ross, the doomsayers pronounce that his resignation from the board will signal his setting up as the fall guy and that as soon as success does not follow, he will be out of the door. That's always a much better story than the simple fact that boards tend to be inhabited by shareholders, which Brawn no longer is, and that he will still report and make recommendations to the MB board.
"This is not the smoke going up, it was all part of the plan," Brawn said in Australia, while denying that retirement was in his mind. "It only strengthens our situation. We are building this over the next few years and there is no timetable. The task is simply to succeed, so as long as I can physically do it then I will keep going. But this will be my last team in F1."
So that was the smiley story in Melbourne. Then, down at the other end of the pitlane you had Colin Kolles, Geoff Willis and HRT.
Ironically, as Fry collected his baggage from the luggage carousel and headed for customs he found himself behind Kolles. He figured he better overtake because Colin was man-handling several boxes, having evidently brought half the car with him, and was odds-on to be detained.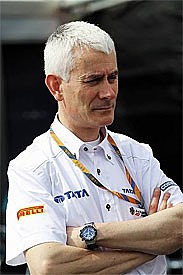 Geoff Willis © sutton-images.com
At the track, as FP1 started, there was no sign of an HRT. Tonio Liuzzi appeared two minutes and twenty-four seconds before the end of FP2 on Friday afternoon. Narain Karthikeyan, returning to F1 for the first time since his 2005 season with Jordan, got out for his installation lap just as FP3 was coming to a conclusion on Saturday morning.
Much to the consternation of everyone else, busy trying to put hot laps together ahead of the season's first qualifying session... For Narain, it must have made Jordan seem like Ferrari.
HRT owner and Spanish businessman Jose Ramon Carabante evidently has some money but, say some, doesn't spend it as quickly as he might. You hear stories such as the team's dampers, flown in from Penske in America, being detained in customs because the bill for their release had not been paid. These things tend to get top spun a bit in F1 but I do have a fair amount of sympathy for Kolles, who worked every hour God sent and then some to get the cars on the track in Bahrain last year.
That they did not make the 107% cut-off was no surprise but with Willis's technical input, a Williams gearbox and a Cosworth engine, there is no reason to suspect that they shouldn't hassle Virgin when they get themselves together.
Willis is a respected figure with a long history in F1. With a degree in fluid dynamics he was part of the design team of Peter de Savary's British Americas Cup challenger before working as a consultant at Leyton House in the early 90s, where he met Adrian Newey, who recommended him to Williams, where he headed the aerodynamics department when Newey was technical director during the team's dominant period in the early to mid nineties.
From there Willis joined BAR, where he became friendly with Fry. Talk to many of the people involved in the team at the time and they don't have a bad word. When Honda became more directly involved, however, and with Brawn targeted, Willis found his situation untenable when the Japanese brought in Shuhei Nakamoto as senior technical director above him.
It's probably scant consolation to Willis that when you talk to the Button camp they speak highly of Geoff but found the Japanese to be largely clueless. Willis was sore about the manner of his removal and it can't help that he now finds himself down the other end of the pit lane after another spell with Newey at Red Bull between 2007-9. When you contemplate the accidental millionaires and then consider Geoff's situation, it makes you wonder whether he has seen Sliding Doors.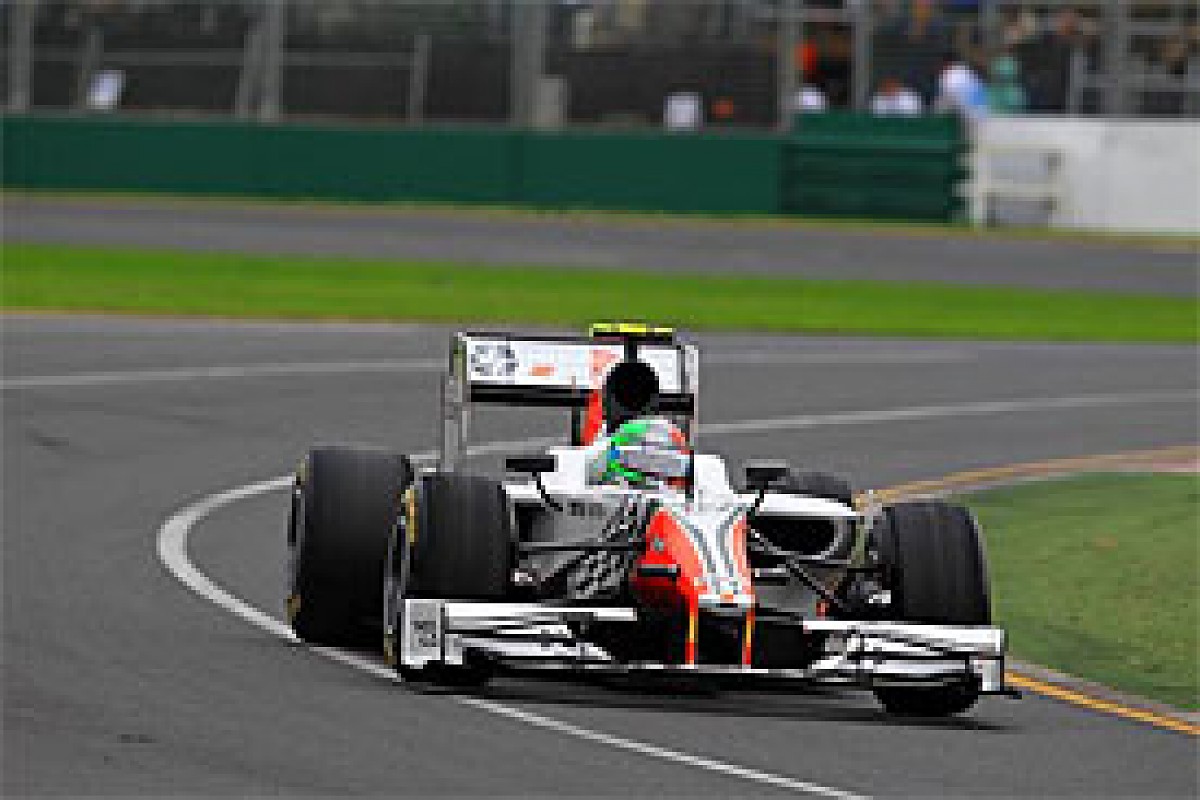 Tonio Liuzzi on track in Australia © sutton-images.com
Instead, he'll get a load of flak from people who don't understand that he is lumbered with basically last year's Dallara monocoque, onto which he has overseen much-needed detailed improvement in an environment where nobody seems to want to sanction the spending of money until the 11th hour and 59th minute. Hence you end up with the kind of debacle we saw in Australia.
Most F1 teams turn their attention to the following year's car around June time. If Willis was given the go-ahead right now, HRT might, at a push, have a new monocoque in time for Spa. But that would require money. Kolles, someone said, didn't look too well by the time he got to Melbourne and, with his own cash invested in the team too, you can appreciate why.
Opposite ends of the spectrum. The on-track stories in F1 are fascinating, the human stories even more so.