So have the new rules made F1 more interesting? Well anyone who has any doubts should look back at the opening race of last season and have a good think about how unpredictable and entertaining that event was...
Any race where the guy on pole has an 0.8-second margin, leads all but the three laps after his first pitstop, and wins at a canter is hardly going to go down in the history books. But look beyond that and there were many layers of intrigue and interest in Australia that will play out over the coming months.
As a pointer to where this season is going, Australia provided just a hint of what we might see at tracks where a) the Pirellis will be under more stress and b) longer straights allow the DRS wing to promote more overtaking moves and c) KERS plays more of a role at the start, and through the race distance. Melbourne was the calm before the storm...
KERS and the DRS provided plenty of talking points - especially the absence of the former at Red Bull - but the first weekend of the season was really about the Pirellis. After the two Barcelona tests there was doom and gloom from the drivers and suggestions that four or five pitstops might become the norm. And that would perhaps push the sport over the borderline between being strategy being interesting or becoming a farce.
In the end that didn't happen, at least in Melbourne. From the very beginning of practice on Friday it became clear that the tyres were lasting a lot longer than expected, and thus teams had to rethink some of the strategies that they had come to Australia with.
Pirelli had always said that higher temperatures would help the tyres get into their preferred working range, and while last weekend was far from the sort of levels that we expect in Australia, it was still far warmer than it had been through most of the tests, although there were a few sunny spikes at Barcelona. The specific characteristics of the track also ensured that it was kinder on the rubber than Barcelona.
The influence of tyres did not just extend to how long they would last in the race. Getting them up to temperature proved to be a fine art, and one that some teams struggled with. Ferrari was perhaps the highest profile sufferer, but the likes of Force India and Lotus also struggled more than most.

Massa's tyre temperature issues saw him spinning on a Q3 out-lap © sutton-images.com
It was a disaster especially for Felipe Massa, who latterly really had problems getting temperature into the Bridgestones, but appeared to be happy with the Pirellis in earlier tests. In qualifying he even had a spin thanks to the cold tyres.
A lot of elements contribute to how hard a car works its tyres - and driving style plays a role too - but in simple terms it is usually a handicap in qualifying that can turn into a benefit come the race.
"Felipe is struggling more than Fernando," admitted Ferrari technical director Aldo Costa after qualifying. "It's a problem that we saw in the past and never really solved. In some years it was a benefit to have this kind of car. We have done a race simulation in Barcelona, mainly with Fernando, and we were pretty happy about the result.
"We hope to gain some ground tomorrow [Sunday]. In the past it has worked - now everything is different, tyre, cars. Let's see tomorrow and understand if it's then something we can, let's say, have back in other conditions for the rest of the season."
The warm-up issue is not just one for qualifying, for in the race we saw drivers coming out of the pits being vulnerable to attack well into their first lap out. We knew that those struggling on old tyres might be under threat, but clearly so are those on brand new rubber, albeit temporarily. A nice twist.
The talk of there being fewer pitstops come Sunday suggested that we might be in for a rather more boring show than we expected. But in the end we did have the sort of convoluted spectacle that Pirelli had been charged with creating, with three, two and - now famously - one stop strategies being tried. And even within those basic choices there was variety in terms of when the primes and options were used, and the lengths of the stints.
In the end the guy with the maximum flexibility was Sebastian Vettel. KERS or no KERS, he had so much margin he could have run a whole variety of strategies, and still won the race.
In the end he went for a simple two-stop, going option/option/prime. It was very interesting to see that the first driver to stop on lap 11, after making clear on the team radio that the rears were going away, was Mark Webber. Vettel too was picked up on the team radio saying his rears were going, and came in on lap 14.
Webber suffered with tyre wear in the race © LAT
Can we draw conclusions about the Red Bull working its tyres hard? That certainly tallies with the RB7's qualifying pace, but then subsequently Vettel was able to safely complete a two-stopper. Webber in contrast needed three stops, getting just 15 laps out of the primes that he took on at his first change.
"It was a bit of a voyage into the unknown because nobody fully knew how the tyres were going to react," said Christian Horner. "But I think we got our strategy just right and it was great to win Pirelli's first race back in F1.
"There was one crucial stage where after the first stop, Sebastian emerged behind Jenson [Button] who got a drive-through penalty anyway, and tactically if they could have held Sebastian up it would have put us behind Lewis [Hamilton] after the stop.
"But he made a fast and fair move on Jenson and that was decisive for the rest of the race and then it was a matter of controlling his pace. We were unsure if we were going to do an additional stop or not, but at it was the tyres worked out very well, and we got away with a two-stop.
"We went into the race planning to do both to the same strategy, but Mark quite quickly got into more issues with his own tyres..."
The curious thing was what happened to Ferrari. After Costa's comments after qualifying it was intriguing to see Alonso and Massa also making very early stops on lap 12 and 13. Both then ran three-stoppers, with the Brazilian having to run a final stint of just 10 laps, which was hardly ideal.
With fresher tyres than everyone else he subsequently set the fastest lap of the race just three laps from home, while fellow late stoppers Alonso and Webber were next fastest. That gave us a hint of a scenario that many expect to see this year, with those on new tyres reeling in those who have stuck it out and pay the price when they go over the edge.
McLaren meanwhile didn't seem to have any tyre issues, with Hamilton and Button running 16 and 17 laps on their opening sets of primes.
"We saw that Mark's tyres went off very quickly, we saw Sebastian's go off," said Martin Whitmarsh. "At that point Lewis was in reasonable shape. But we didn't really know at the first stop. I think we were slightly lighter on tyre wear, but by the time we got to the second stop we already had the floor damage, and therefore it really didn't matter too much.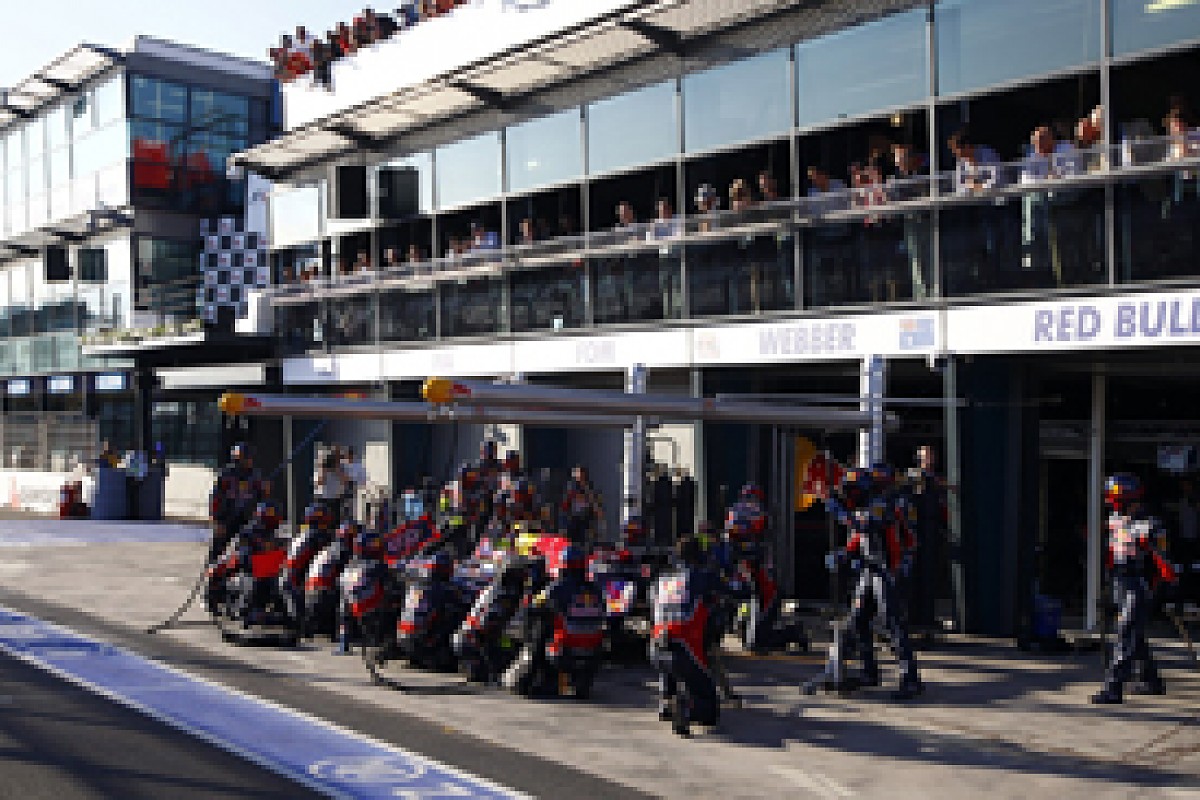 McLaren seemed kind to its tyres © LAT
"I don't think we could have one-stopped, but who knows? I think here if you can stop before the cars around you, and still make it to the end of the race with the nominated number of stops that you planned, then you're going to be quicker after the stop quite clearly. But if you stop too early, you've really got to stretch - if you're two-stopping - the second and third stint."
The big tyre talking point of the race - even among the bosses of the top teams such as Whitmarsh - was the extraordinary performance of rookie Sergio Perez. He may now have been expunged from the results, but that should not detract from an amazing drive by the youngster, and an opportunistic strategy by a team that last year showed us more than once that it was prepared to try something different.
If you'd asked any technical director or race engineer before the race about a one-stopper, he would have laughed. Suggest that someone could do 23 laps on primes - and then 35 to the flag on options - and they would have thought you'd lost your senses. But that's exactly what happened. And yet going into the race, even Sauber hadn't banked on it working out.
"The problem is coming here no one knew who was where, it was so difficult to understand who was quick and who was not," said technical director James Key. "But today I'm really delighted. I didn't expect to be able to do a one stop with a rookie driver..."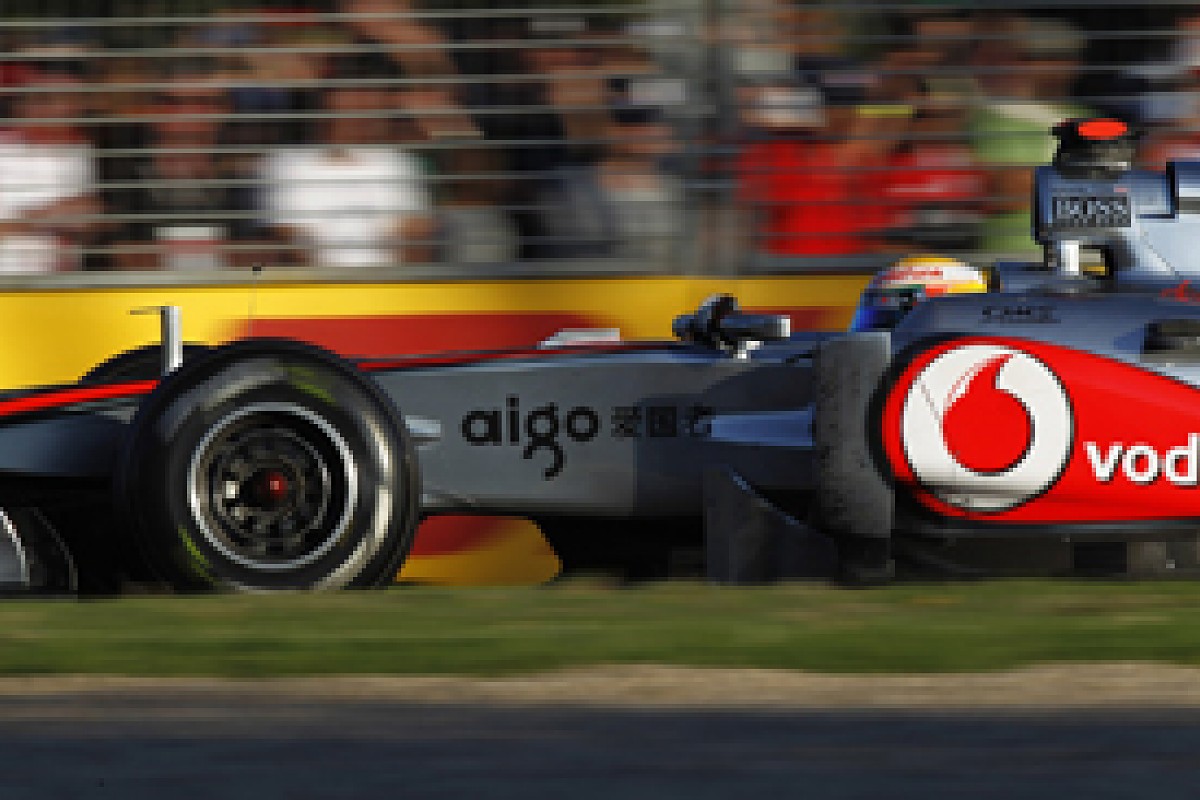 Peter Sauber congratulates Perez © sutton-images.com
Last year's experiences at least gave the team a hint that anything is possible. With Kamui Kobayashi in the top 10 and committed to starting on well used soft tyres, it was worth a punt and starting Perez on the primes.
"What we did last year was split the strategy, and we felt where they qualified yesterday, it was probably worth doing that. We were quite surprised when everyone started on options, and we were one of the few prime runners with Sergio," said Key. "For him we intended to probably do two, and maybe three if we had to. I guess the legacy from last year is the fact that we split it, and tried to do something different between them.
"We said to both of them before the race, 'Just tell us what's happening with the tyres, we don't know what to expect here...'"
Perez managed to get his primes all the way to lap 23, going five laps longer to the first stop than anyone else. Kobayashi meanwhile had eked out his options to lap 16, which gave the team some useful information. Still, when he originally set out on his options, the team had no idea that Sergio could get away without stopping again.
"We weren't sure at all. There were some pretty nervy moments actually, because any time at all the tyres could have suddenly gone off. We tracked closely where he would have come out if we had to stop again, and we felt it was around about P10. So we would still pick up a point, but we didn't want to do that if we could get away with it. But pretty much up until the last couple of laps, the times were pretty consistent.
"Pirelli were there and they were keeping us informed. They wear checked the tyres that came off after the first stops, so we had a bit of information to work with. We were watching the data very closely, and it was really a case of if we have to bring him in, that's what we'll have to do, but as long as he's lapping really well, we'll leave him out.
"We were leaning towards two, but we also noticed that the soft was hanging on a helluva lot better than expected. Kamui was still putting in green sectors quite late. He started on quite heavily used softs, with six laps on them. We felt that the soft tyre was working well.
"We had three sets of new primes left which we figured may have to be the case, because we all saw what happened in winter testing. We were going to do a quick stint on the softs, maybe for 17 laps or something, and go back to the hards. But he just kept going..."
In the end of course his lap times did fade relative to the opposition - and the fuel load was going down all the time of course which hid that a bit - but there was no point in bringing him because he still had a margin to the car behind, which was in any case team-mate Kobayashi.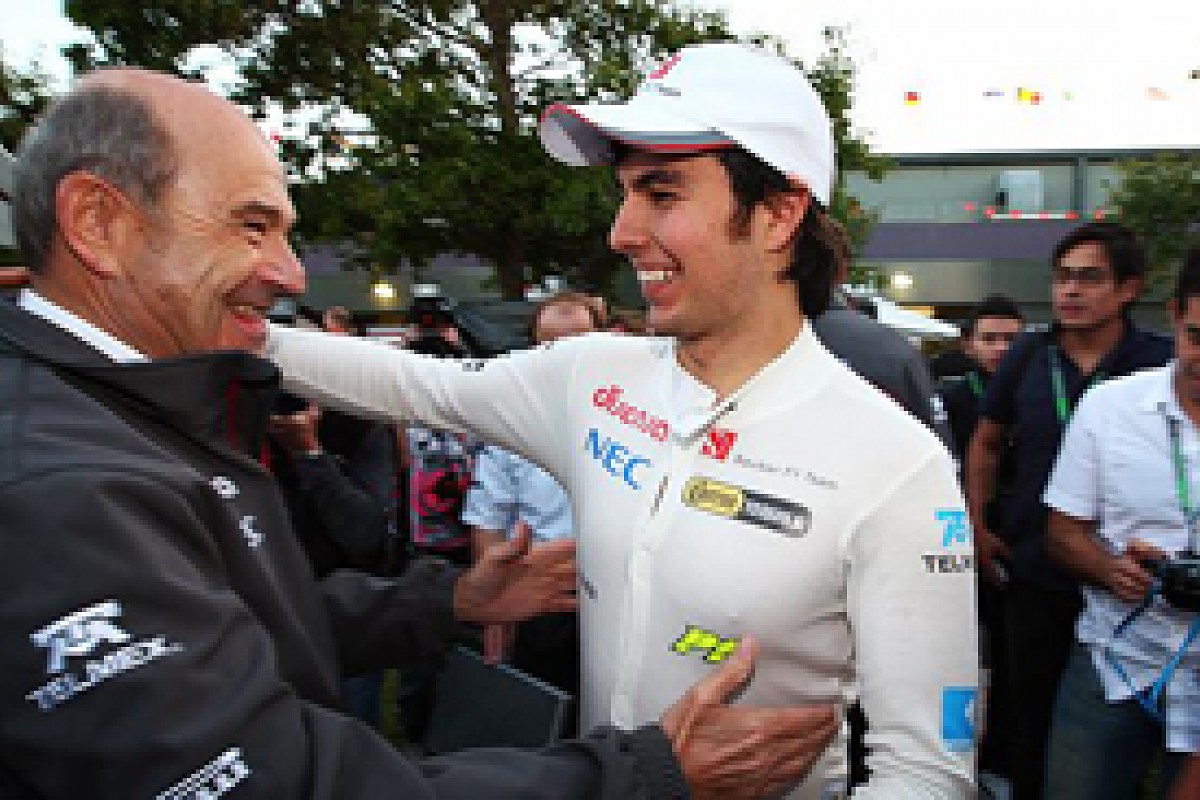 Perez started quietly but went on and on and on with his tyres © LAT
"We kept him informed about how may laps there were to go, we were speaking to Pirelli about where we were with them. We were in the 1m30s for a long time, and we knew that as soon as we started going to 1m31s/32s/33s in quick succession, the tyres were gone. That was the thing that we were looking for. And it didn't happen.
"His times were slightly slower, but he was a long way ahead. He had several seconds to Kamui, and we told him to bring it home anyway. He knew he had to control the end of the race."
The performance opened a lot of people's eyes as to what might be possible this year, at least at tracks where wear is less extreme. We've all been talking about guys on new tyres going quickly towards the end and eating up those who had maybe stopped a little earlier, pushed their luck too far, and taken the tyres over the edge.
But here was someone who had done one less stop - saving himself about 27 seconds - and in effect had that margin to play with as he began to struggle in the closing laps.
In contrast, Massa may have had new tyres for his final 10 lap sprint, but had he stayed out, he would probably have finished ahead of Kobayashi. Ferrari's Pat Fry admitted the team had made a mistake.
"I think it's changed things," said Key. "It's changed things for us, as well. We never thought we'd do a one-stop. So I think we'll go into the next race maybe reconsidering how well these tyres are lasting, and perhaps we'll see a few more diverse strategies."
But can Key explain how the car was able to do it? Was it a case of the way the car worked its tyres?
"We were always quite easy on tyres last year. I think we wanted to maintain that with our new supplier. Like every team we looked at our suspension geometry, we looked at stiffnesses on the car and all this sort of stuff, to try and give ourselves good flexibility over using the tyre. Some of the first meetings we had at Pirelli after the first couple of tests, we seemed to be on the easier side of the tyre. We were happy that we had a car that wasn't eating tyres too quickly.
"There's a lot of analysis that needs to go on now. Both our drivers had pretty bad first stints. Kamui lost some time, didn't really start to get some lap times together until he was in free air and the tyres were old, and we thought this was not so good.
"And Sergio really struggled in the opening laps with the hard tyre. That was a bit of a concern so it all turned itself around after the first stops. We need to understand why that was and look at what other people are doing. Massa came in at the end I guess because he was losing out on lap time. Maybe it's because we were on a knife edge, we were in a happy place today and next event it could be worse."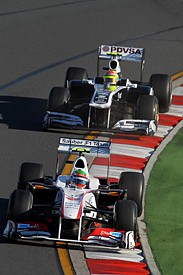 All eyes were on Pirelli this weekend © LAT
One intriguing point is that while those at the front who started on options had done some hard qualifying runs - and in the case of the Red Bulls an unusual out lap, slow lap, qualifying lap, in lap strategy - Perez's were almost new. He'd done an out lap, albeit a hard one to heat them up, but then aborted his flying early after Rubens Barrichello spun. Did the team stumble across some kind of curing schedule that perfectly prepared them for the race? Would brand new options have done better or worse? Who knows.
"They had an out and in lap on. They were nearly new, and he was putting temperature into them when he went out on his out lap. We looked at the way tyres behaved in winter testing, and it seemed they've almost got a memory for how many laps they've done, they just pick up from where they left off.
"Kamui put the new primes on quite early, and they were also consistent all the way through. It wasn't the soft tyre, but it was fresh rubber, and he did go out and straight away get the lap times. But equally with the soft tyres you had to get temperature in as quickly as possible."
The big question now is what happens in Malaysia. It's a completely different type of track, and temperatures will be in a range not seen since the November Abu Dhabi test, since when the tyres have changed considerably.
"Pirelli have always said the track temperature should help the situation a lot, and Malaysia is another step," Key said. "So either it's going to make it even easier to do the longer runs, or it's going to be the flipside. It's a bit more high speed there, so probably there will be a bit more wear. Wear has always been the issue in winter testing.
"It wasn't too bad here, we expected to be rear limited here, but we weren't. It was winter testing suggested that the issue here would be traction, and with the higher track temperatures we expected the front to last a lot longer. But with what we've seen here, it was actually quite neutral.
"We're still a bit front limited, but it's nothing like it was at Barcelona. It will be interesting to see whether the high speed corners in Kuala Lumpur offset that a bit, so you still wear the front a lot, and that balances out the rear, or whether they just degrade quicker and maybe even blister. I don't know what to expect."
And if the teams don't know, the chances are we're in for an entertaining weekend. Roll on Sepang...