In a sport that generates a fanatical following, the question of who is Formula 1's best driver is perhaps the most emotive one of all.
In essence though, the question itself illustrates the gap between external perception and participant reality. From the driver's perspective, the whole nature of the game is to get oneself into a position to win. He's endeavouring to have the right team of people and resource around him, to build that team to enable him to then beat everyone else.
The fact that there are differences between the performance of the cars is part of the game, part of the sport's sophistication. It's a contest between engineers as well as between drivers and it's the driver's task to ensure he's at the wheel of the fastest car. Who is actually the 'best' driver in the cockpit is almost of secondary importance; they are very closely matched and the performance differentiators are likely to be elsewhere.
That's certainly how Fernando Alonso or Sebastian Vettel or Mark Webber look at it. Lewis Hamilton is probably an exception to this rule: like most fans, he would really like all the cars to be equally matched, so that the game became just a straight driving contest.
But it isn't and it's never going to be, not in F1. So that leaves a permanently tantalising question of just who is the best. Most fans are unconcerned about who the best aerodynamicist is, or the best race engineer, or tyre technician, or sponsorship finder. All these people, and many more, determine the result, but it's the driver that generates the human interest and fascination.
How they actually rank can never be definitively answered. In terms of turning the wheel and pressing the pedals, it is likely that one man will be doing it fractionally better than everyone else - someone has to be the best, after all. But it's likely to be different guys at different times and under different circumstances.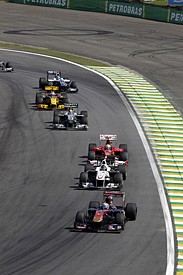 It can be hard to show talent in the midfield © LAT
There are times when circumstances present no opportunity for a driver to do his best stuff. You might be stuck in traffic in a mediocre car at a track at which passing is not possible and all you can do is be patient and error-free and pounce on any opportunities - which may or may not come. Your fantastic in-lap capability, the huge ability on cold tyres, the uncanny way of reading a race, of knowing when to push, when to conserve, can all be of no value on the day.
Whereas another guy, up at the front in a better car, may be able to exercise those skills - purely because of better circumstance. In that instance he will have done a better job than you. But that doesn't mean you couldn't have done a yet better one, had you been in his circumstances. But you didn't, and you can only be judged on what you did.
The specifics of driving style and how that dovetails or doesn't with the type of car demanded by the regs (or what the team has provided) is immensely important. Yes, a top driver should be able to adapt. But even if he does, it can be that he possesses specific skills that are beyond the others in that department but which are simply not required.
It happened this way with Robert Kubica when the tyre war came to an end and he went from super-grippy Michelins to very ordinary control Bridgestones. His ability to use every bit of grip by taking huge momentum into the corner but still somehow making the apex, an ability beyond anyone else's with regard to that specific skill, was wasted because it was suddenly so much easier to do. When a driver has to pull back from what he could do because of the car/tyre being the limitation rather than pushing himself up to what the car can do, it can change the picture significantly.
The specific dynamics of a race, or a title battle, bring their own very specific challenges and pressures. And these can reveal strengths/weaknesses and it might be that your rivals aren't being subject to the same challenges - and again this can give a misleading picture.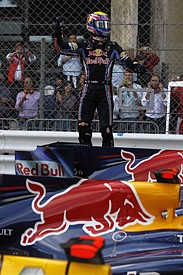 It took many years for Webbe to get his hands on a winning car © LAT
You can see a driver grow as these challenges are met and conquered - and we saw it particularly with Webber when he finally got into a car his raw ability had long warranted. It made him look like a late bloomer, but you can be sure he would have developed these skills earlier had he been in a fast car earlier.
As a journalist analysing relative merits of performance all you can do is learn as much as possible about the specifics, talk to the drivers, to the engineers who spend their time looking at the telemetry traces, who know from the recorded tyre loadings what is possible and how close to achieving the maximum they are. Those guys are in a position to give detailed perspective.
Talk to the team principals for a broader view about how well the driver integrates, leads and inspires. Then trawl through the lap history charts and relate what you find there with what was happening and have more questions for drivers and engineers. Go out and watch trackside close-up repeatedly, preferably with at least some track experience of your own, and compare what you see there with what the data is saying. Do it over years and years and a picture builds. But reality is never black and white definitive.
Within all the above provisos, the three drivers, in my opinion, with probably the best range and depth of abilities are, in alphabetical order: Alonso, Hamilton, Vettel. They are each capable of being the 'best' on any given day and probably achieve that more regularly than the others. But which among them turns in the best performance over a season will almost certainly vary because the demands, circumstances and actual performance do not remain constant.
Based on last season, forced to make a ranking for AUTOSPORT magazine, I put them in the order of Hamilton, Kubica, Alonso, Vettel and made the relevant justifications for that. With Robert sadly out of the game for the time being, we are left with the list below, but based, I must emphasise, on last year. How the demands play to their various and different skills this year may be completely different.
Lewis Hamilton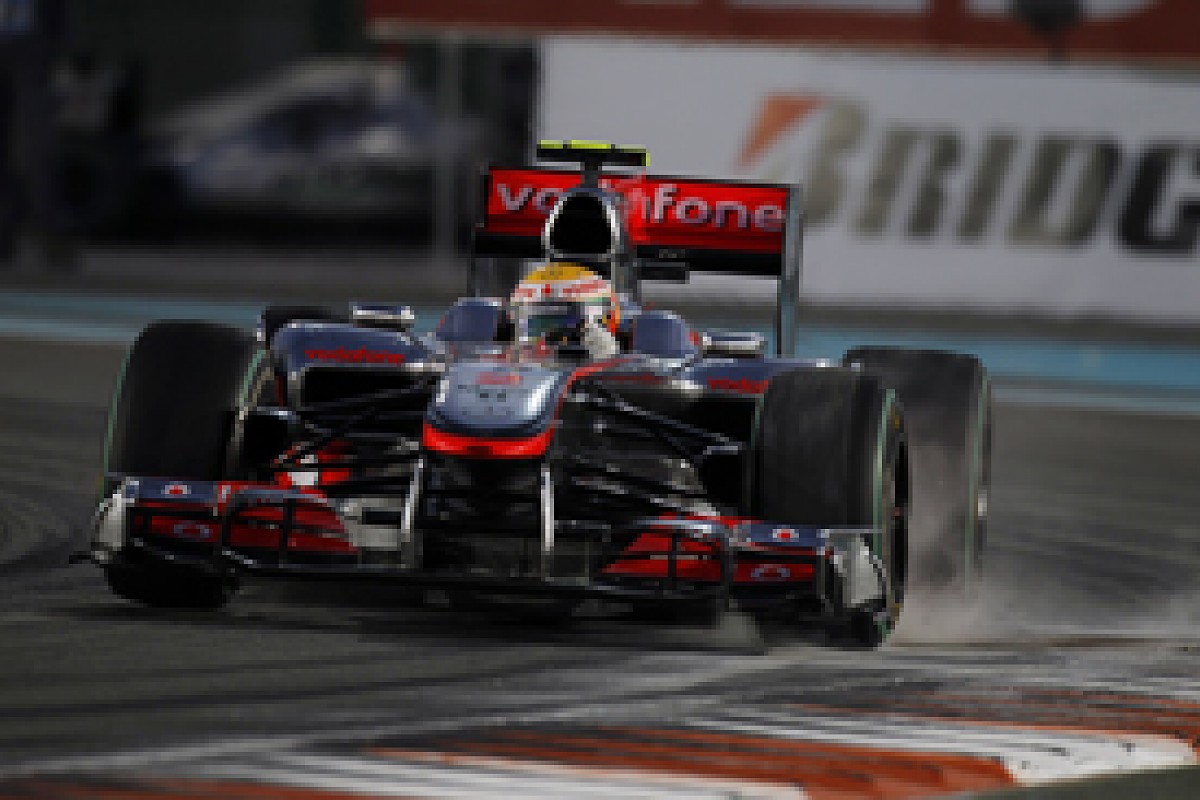 © LAT
What he actually does with the car, the things he can make it do, are beyond anyone else, in much the same way that was true of Ronnie Peterson in the 1970s. When McLaren was testing with him in earnest in the 2006-07 off-season, the engineers were stunned to discover how he adapted to wildly varying handling characteristics and also to how relaxed he was with levels of oversteer that none of their previous drivers - Senna, Hakkinen and Raikkonen included - would have lived with. Davey Ryan's words, not mine. It is pure, raw, undiluted talent of a massive order.
But he needs guidance more than most top drivers, is less adept at making his own calls than Alonso, Webber or Jenson Button. All of his being seems consumed with driving faster than any man on earth and often that is all that's required. But sometimes - see Australia or China last year - the demands are more multi-layered than that. It was noticeable too that Button was more usually relied upon to give technical direction post-Fridays.
Fernando Alonso
He has a multi-dimensional understanding of what is required and the talent to deliver on every level. Central to this is an inner rage to win and he can control and direct this rage wonderfully well.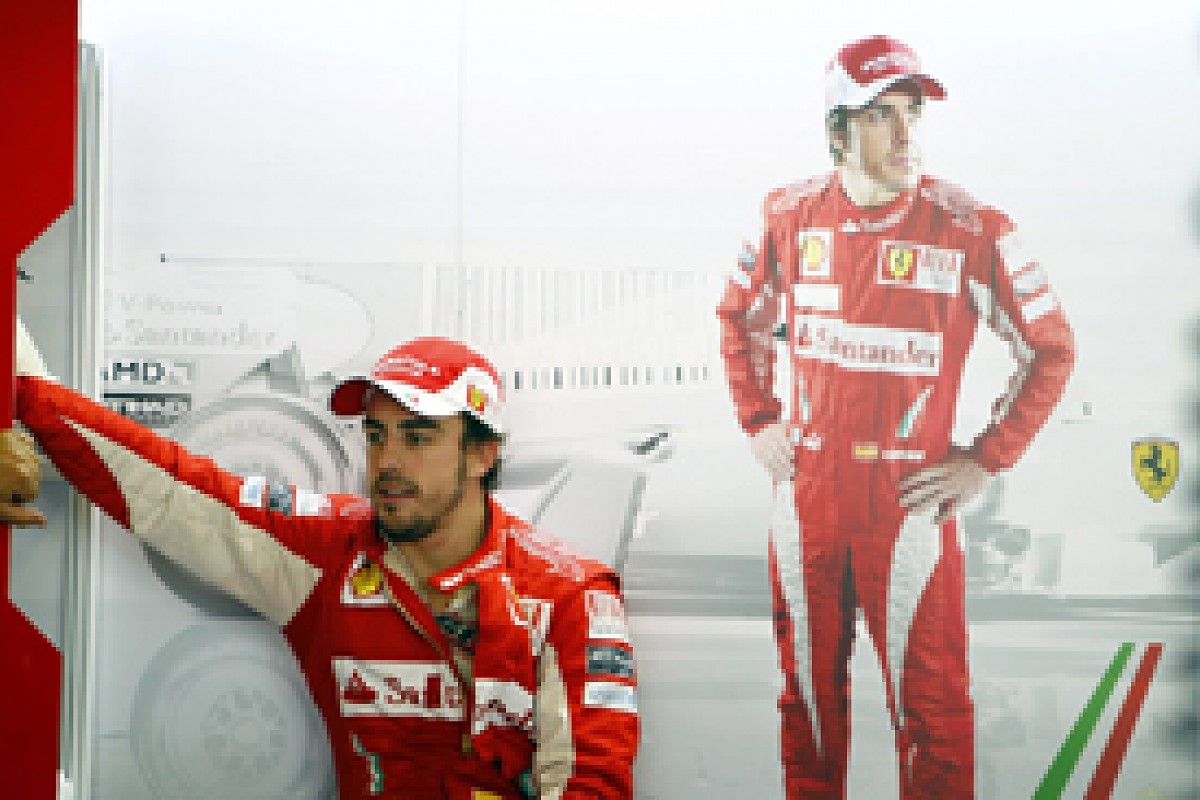 © LAT
He also demands that the team be centred around him, in much the way that previous greats did. Understanding the crucial moments of a race, a fine-honed awareness of the strategic implications within the ebb and flow of a race and a very solid technical direction are additional to his core basic speed - and Ferrari adores him for all those things.
He is less convincing when the car does not allow him to be in contention and Hamilton revealed his Achilles heel by being as fast or faster during that infamous '07 season. His emotional reaction there led to several bad decisions.
Sebastian Vettel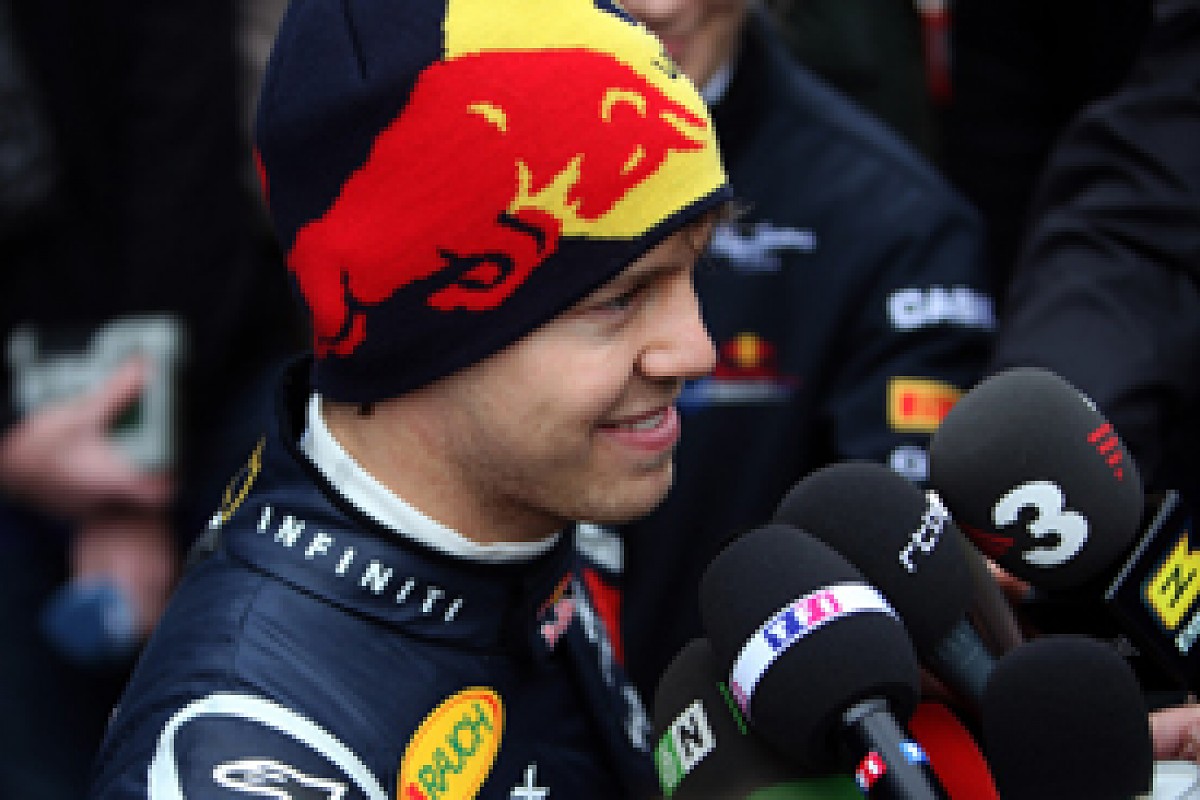 © LAT
His free and easy spirit is translated directly in the way he effortlessly extracts the maximum from a great talent: that's his default setting.
He is quick regardless of handling traits and never happier than when the car is edgily darty on turn-in. He's razor sharp too and at his best makes the whole thing look ludicrously easy.
There is an inner fierceness behind the smiles and it is this which drives him. He has the raw desire of all the greats, though occasionally that can boil over into irrationality. They are niggles though, and likely to be eradicated as his experience builds.
Look out for more great preview features and our exclusive 2011 season guide in the next few days