Whether it is a Ferrari, Red Bull Racing, McLaren or A.N.Other that comes out on top of the season-opening Australian Grand Prix is anyone's guess right now, but one thing is at least guaranteed from Melbourne: the main talking point on Sunday night is going to be tyres.
After a winter of intense development from the teams to recover the downforce lost by the ban on double diffusers, and come up with clever ways to get exhausts blowing through the floors, the real big issue for everyone in the pitlane has been getting to grips with the new Pirelli rubber.
And although the characteristics of the tyres - and in particular the high levels of degradation seen - have left drivers speaking out about fears of trouble in Australia, the actual situation is one that fans should be relishing as the hours tick away until Australia 2011.
The road to Melbourne
To understand better the tyre situation as we head into Australia, we have to wind the clock back 12 months to last March, when the first seeds were sewn for Pirelli's F1 return.
As grand prix chiefs began looking around for a replacement for Bridgestone - which had laid out its plans to quit the previous winter - most of the speculation was centred around Avon Cooper and Michelin.
Pirelli appeared to have its future more linked to rallying, but a change in tyre policy for the World Rally Championship caused a rethink. Thoughts soon shifted to F1. And, within a matter of weeks, the Italian company's board had confirmed its interest in pushing for a deal.
The man who was given the role of setting forth and getting Pirelli back into F1 was its motorsport director Paul Hembery.
His first stop was to AUTOSPORT in early April when he spoke openly about wanting to begin discussions with teams. It was a move firmly designed to set the ball rolling - and was not just a kite-flying exercise.
"There was a genuine determination," Hembery tells AUTOSPORT ahead of the Australian GP, reflecting on how the deal came together. "It is not something you can joke about really.
"You have to take it so seriously because it is such a big project. It covers all aspects of your business: from the factory to what you see on event, so it is a massive project.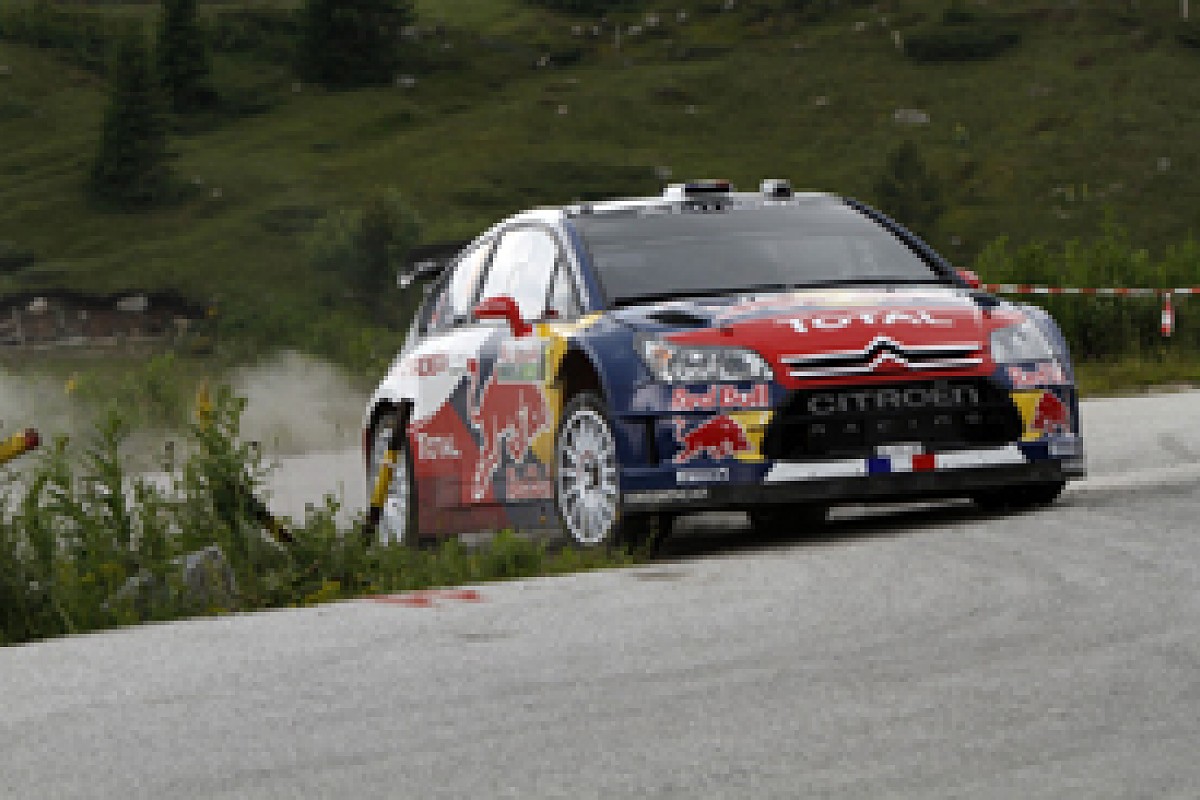 Pirelli had thought its future plans would focus on rallying © LAT
"The first thoughts really occurred around March time, and came from the fact that it was quite clear there had been a change of ideas about the WRC. They no longer wanted a supplier for three years, so that forced us to start looking at what else we might do, because we had no longer term strategy then.
"We were in a situation where we had been involved in rallying for a long time. We had done an excellent job in rallying, and we enjoyed very much our experience in rallying. So to go from a three-year plan that we had agreed with the board to suddenly being told 'no, it's a one-year plan at most', made us go - 'oh we'd better look at everything again now'.
"And, at the same time, F1 was looking at what it was doing, so the two things came together. We had to take it seriously then. So we said: 'let's go for it.'"
The negotiations to appoint a new F1 tyre supplier became a hot topic during the early stages of last year - as discussions between the teams, Bernie Ecclestone and the FIA got increasingly drawn out.
At one point even Bridgestone re-entered the fray as a possible contender - and executives from all the major tyre companies flew in for meetings to try and get things sorted.
It was only at the Canadian Grand Prix in June, where Hembery was snuck into the paddock for a low-key visit to speak directly to the teams, that Pirelli's deal finally looked like it was happening.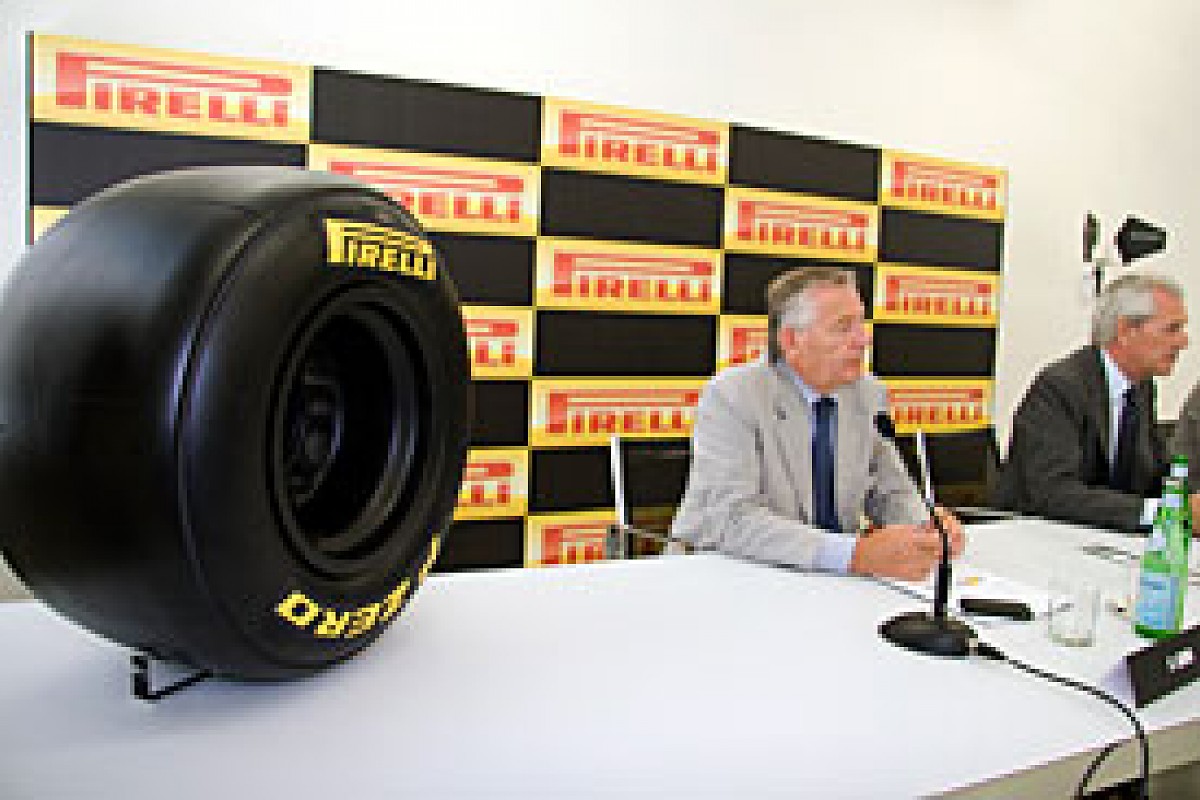 Pirelli announcing its F1 deal
"They were very complex times," says Hembery. "It wasn't clean and straightforward, but we had some ideas on how we wanted to approach it. We went to the major stakeholders, which were the teams and Bernie, to try and understand what they wanted from the sport, to see if it matched what we wanted to do, and then it really went from there.
"The other solutions, for whatever reason, were not followed up and in the end they chose us. So, it was complex. A decision was taken in reality late, far too late in June, and we really wanted something decided a couple of months before that. But the process was complex. We had to get everybody working in the same direction. And, if you add in the FIA at the end as well, you have ended up with three groups. It was always going to be very hard to get all those three entities agreeing on something."
Choosing the right approach
Although the delays in sorting out contracts may have been immensely frustrating for Pirelli, which was itching to get on with developing its 2011 rubber, the timing of the deal coming together in Canada proved quite significant.
For the incredible degradation witnessed over the Montreal weekend proved key to delivering an exciting Canadian GP - and left onlookers and those inside the sport adamant that having the right tyres was a vital ingredient for delivering good entertainment.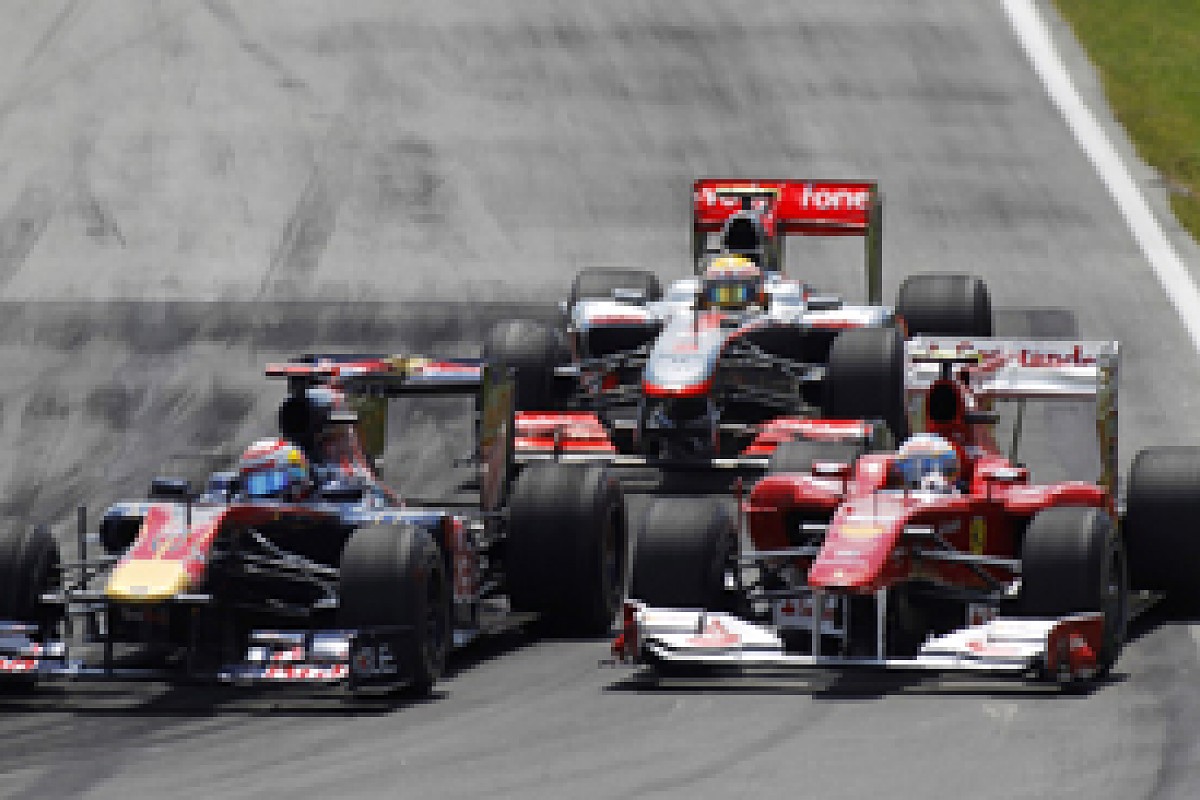 The 2010 Canadian GP was held up of an example of why tyre wear can be great for F1 © LAT
It meant by the time Pirelli and the teams sat down to discuss the technical aspects of what was wanted from the rubber, the message was clear: more like Canada please.
Hembery recalls: "Ross Brawn was chairman of the [FOTA] tyre working group and I said, 'what do you want?' He said, 'Canada'. I nodded while he said, 'but without the graining'.
"I said 'okay'. He asked how I was going to achieve that. I said, 'It is very, very complex but we have got some ideas'.
"We went to all the teams and Bernie and asked what they wanted, and they said they want more show. So to achieve that, we said that the only way to do that is to do what we believe we are trying to achieve right now with these tyres.
"It is quite a big change, but equally what is the other alternative? You could go down an extremely conservative route and probably do the whole race without any changes. There are not any fuel stops any more, so you would have qualifying, and that would be it until the end of the race.
"It would be a race of reliability and very little strategy. The fastest car would stay the fastest car and would stay out in front. That would not be very exciting."
The fact that Pirelli was asked to produce tyres that degrade - and has gone about delivering exactly what it said it would do - has therefore left Hembery slightly nonplussed about why drivers have been so critical of his products.
"It has been a bit harsh to come into descriptions of what we have done, describing it as a defect - when it is in fact what we set out to do.
"We might have got the number or laps right or wrong, we don't know yet as we have got 20 surfaces to work to and we might have to adjust it if we have got it slightly wrong. We are not saying we have got everything right, but the mechanism that we have tried to develop to improve the show, we believe is valid and will provide more interest."
He added: "The drivers are the ones who have been the most vocal, but maybe they haven't had it explained to them about what we are trying to do. It is frustrating because they are often the voice of the teams, but equally you can see they make comments - even about their own teams - that their bosses do not appreciate.
"At the end of the day, the sport that pays everyone's wages is an entertainment sport and the more entertaining it is, the more sponsors there will be - and ultimately we will all have a job for longer, and the drivers will get paid more.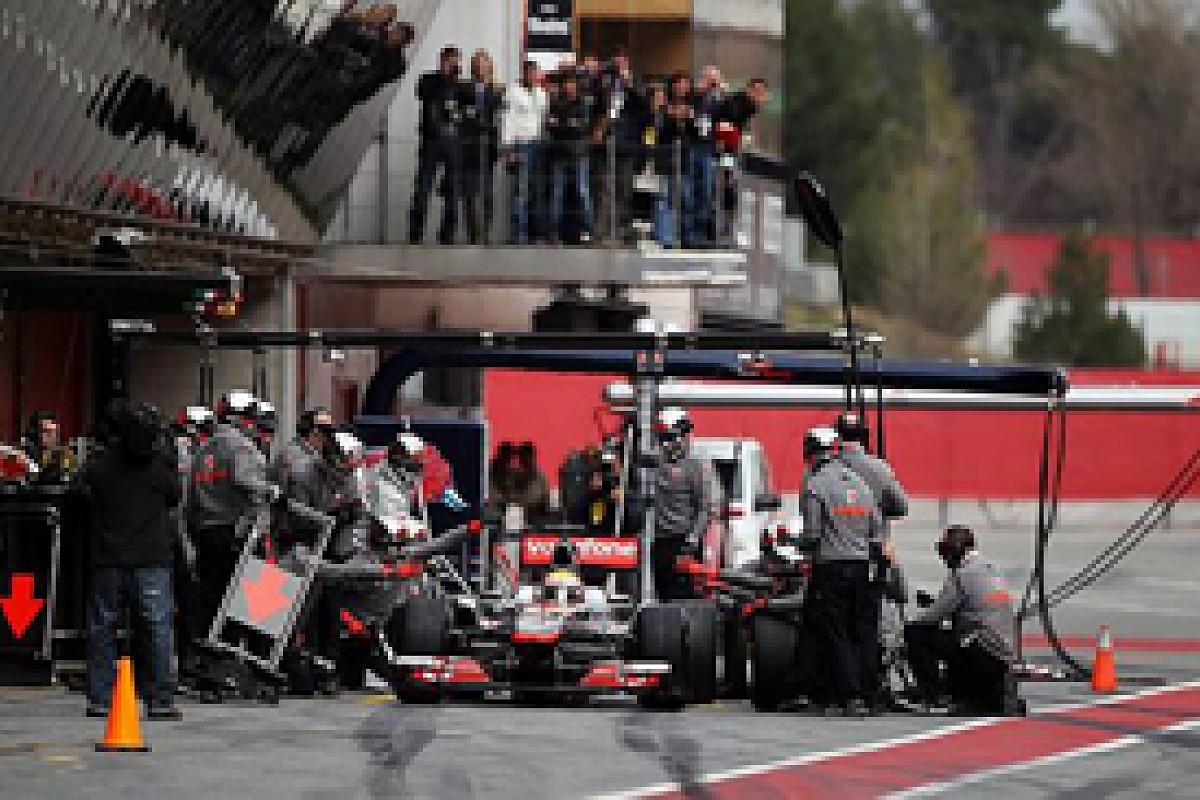 Drivers will have to get used to pitting more often © sutton-images.com
"You have to be careful with what you say. There is a balance between describing a situation and creating false alarms, and that is something that everyone has to be aware of. We are a partner of the sport, we are not here to fight the sport or impose ourselves on it. We are doing what we have been asked to do. So I think when the racing gets underway, some of the drivers will shine because they are good tacticians - and that has been true in all forms of motorsport, particularly in F1.
"The greatest driver of all time, Michael Schumacher, was known fantastically well for getting the calls right on strategy all the time, and I have to assume this will be the case again in the future.
"Maybe people have forgotten that, and the last few years have taken people away from where the sport has been over the past 10-15 years where fuel stops and tyre stops have been an integral part of the sport and the tactics have been quite predominant. All we are doing is trying to go back a little bit to those days."
The challenge of creating degradation
While Pirelli's tyres during its last spell in F1 were well known for having brilliant peak performance, but also high degradation, it would be totally wrong to suggest that there is any similarity between the characteristics then and what we are seeing now.
Tyre technology and knowledge have moved on immensely in the 20 years separating Pirelli's time in F1, and the degradation we are seeing now is not through Pirelli's inability to make a tyre that lasts - it is through the deliberate choice of chemicals and compounds.
When asked if it was now actually quite hard to create tyres that degrade in a controlled way, Hembery says: "It is actually. Probably 20 years ago I would have said no, but technology has moved on - so you spend 20 years doing something and then going completely in the other direction.
"Just remember we are working in a window of between 20 and 30 laps of maximum durability, because grands prix are roughly 50-60 laps. That really does mean that the window of operating is very limited.
"Then, added to that, you have the situation of how do you actually force people to change? We could have made a tyre that consumed very fast but didn't decay, which would have kept performance very level and that would force a change. But we thought that two things could happen there - one, it could become dangerous because you don't feel the decay, and second, you would be worrying about the wear all the time. The whole objective is to try to create differences in the speed of cars on different levels, so you want someone lapping two or three seconds different to the cars around them. It took us a long time to get there."
The attention to detail that Pirelli has put into delivering products that degrade without compromising safety are highlighted by the way that different compounds are used throughout each tyre's structure.
Nothing shows this better than taking a closer look at the way the tyres degrade over a long stint. If you analyse tyre data figures from testing you will see that the tyres have a one or two lap window of peak performance, then drop off quite a bit before entering a phase of steady degradation. After a certain time, however, the lap times then drop off considerably - perhaps by as much as three to four seconds per lap.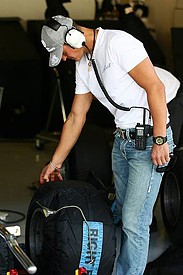 Michael Schumacher ponders the Pirellis © Sutton
That timing data has been said by some to be evidence of Pirelli not being able to create a tyre that can last longer than that. However, Hembery reveals that such dramatic drop-off is a deliberate design feature - because it is produced due to the tyres wearing down to a harder [and therefore slower] compound.
"That big drop-off period is when drivers need to change the tyres, and that is on purpose. That is their warning sign!" says Hembery.
"If all you had was wear and very light degradation, then the risk is you don't know when you have got to change. So the point of that is that when you hit the big drop-off, it is because you are starting to use a different compound. It is a message: to go change! You don't want drivers going beyond that point, because that is when you have integrity issues.
"It is a material thing - so you see, we have done some intelligent things..."
What can we expect from the races?
The quest to create degrading tyres, and the difficulties that drivers and teams have faced in dealing with them, all point to an exciting season ahead of us.
And Hembery says that early indications from race runs in testing show that as well as making the outcome of the races difficult to predict - it should also help create plenty of overtaking moves.
"We did a simulation of the first Barcelona test and from what we saw it would have been fascinating," he said. "We plotted where the cars were during the race, and we saw some cars dropping away, and then at the end they all came together again. There were some very surprising results.
"We estimated 54-56 overtaking opportunities where there was a faster car coming up behind a slower one, and that was only with eight or nine cars on track - so if we add in all the other cars running we could have had a lot of fun!
"Okay, they were not racing against each other, so a lot of pit calls would be done in the race as it happens to protect positions, but it did show to us that there is an ability, with different wear rates on different cars at different stages or changeover points, to have slower cars being overtaken by quicker cars who have just changed. That is our hope."
Hembery also believes that the days of teams being able to pick an ideal lap for the tyre stops, based on uniform degradation, are over - and that there will be plenty more thinking on the feet needed in 2011.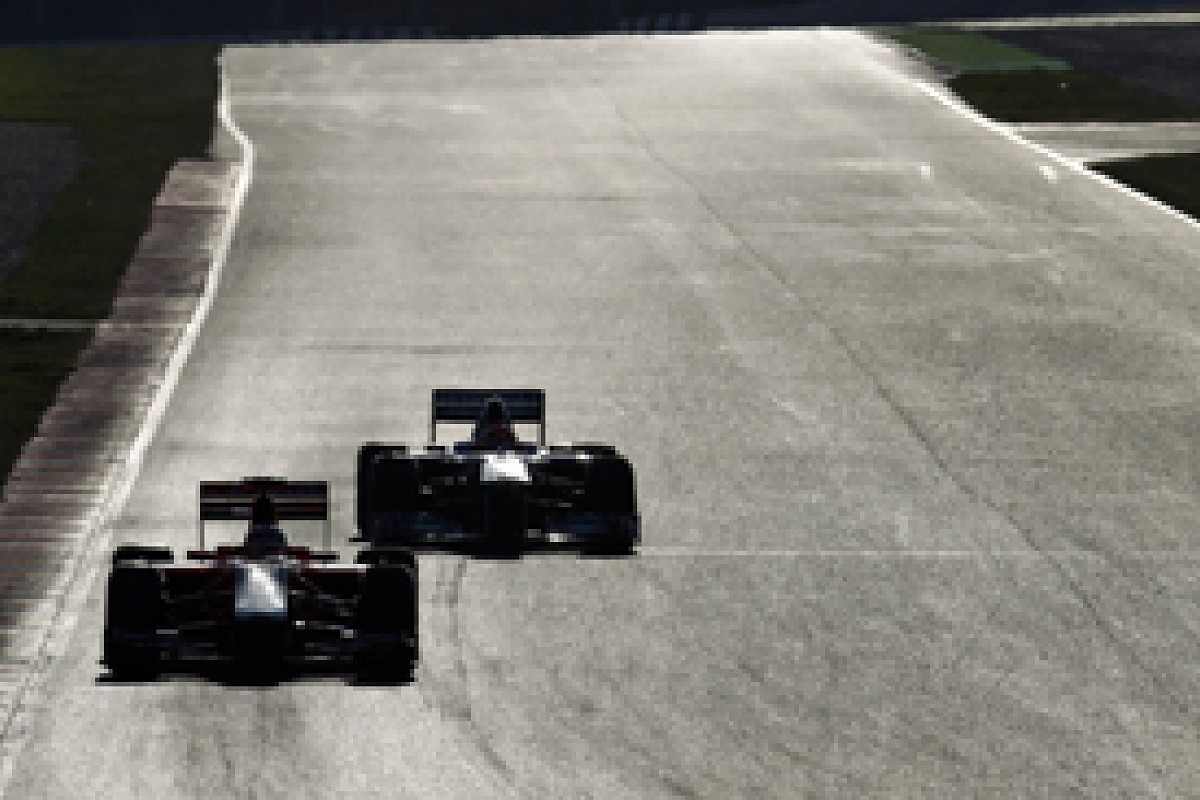 Pirelli expects lots of catching and passing as cars' paces vary depending on their tyre plans © LAT
"From what we have seen, there are large differences in wear and the impact of the driver. They are not huge differences, but they are enough of a difference that the strategy will be different for all of the teams. It won't be a lap 20 for everyone now, it might be a lap 18 or a lap 23 - and there will probably be a five lap window there. That is going to have to come with the experience of watching it.
"The dream is getting everyone bunching together at the end of the race, but the reality is probably different to that. I think if you are watching as a spectator and you see changing positions during the race, with slower cars getting overtaken by faster cars - then the fans will love it. The drivers won't though because they are not in control of that situation."
Not sitting back
Even if Melbourne and the early-season races do deliver plenty of excitement for fans, and the complaints of the drivers are silenced, Pirelli is well aware that it is cannot sit on its laurels.
It already has a list of things that it wants to get sorted early on - including the high level of 'marbles' that was witnessed in testing. There is no panic about that situation yet - as it wants to see whether or not the marbles were a product of cold weather running - but it is open to making improvements when it feels necessary.
"We don't claim to be the world's experts overnight in F1, we are here to learn and assist the show. If we have got anything wrong we will put it right. So I think it will be a case of let's see how the first races go, and if we need to modify it we will.
"That is why we put in place before the season the ability to test on Fridays, because we didn't want to get involved in any politics mid-season about when do we test. You would then have some teams saying, 'let's put in a week's test session for tyres', some saying 'let's do a full day on the Monday', and probably the teams in front saying 'Friday is fine', because they are in front and don't want others testing.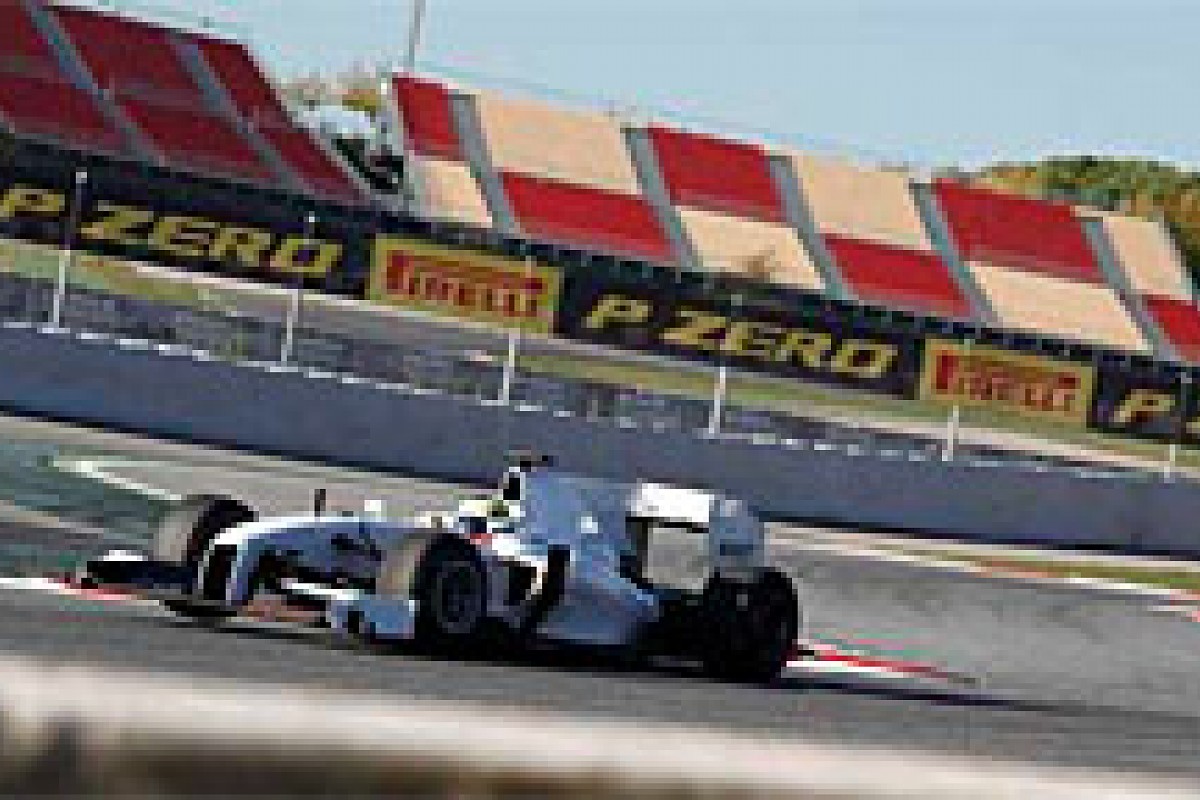 Pirelli has conducted private tests with a 2009 Toyota
"I recognised that possibility very early and I spoke to Charlie [Whiting] about it, as we needed to know before the season what the mechanism would be. And it is no fixed amount. We might do one session, two, or five sessions, I don't know how many times, and it depends on how we are. But it was important to put in place a pre-defined approach to it to avoid getting involved in a political debate during the season."
Hembery thinks that the first time experimental sets of tyres to be tried out will be the Friday in Malaysia, with a further private test planned for Turkey in April with its updated Toyota F1 car.
By then, it hopes that it has got to the bottom of the marble issue - and Istanbul could result in a substitution of the current hard compound for something better.
"There is an issue possibly with marbles that we want to understand, and maybe with temperature it will go away. But if it doesn't, then we have already done some work to try and understand that. Overtaking is fine, but if there is a dirty track it is not going to assist, and we recognise that. That would be a substitution of the hard compound ultimately, if it is better for the marbles."
And beyond tweaks that could be introduced over this season, Hembery reckons that ever more dramatic changes are in the pipeline for next year.
"For 2012 we will probably make some big changes, certainly to the rear tyre, but then you start working in areas where you do need extended testing, and also time to understand what you are achieving - going back to that reliability issue.
"When you look at the performance of tyres, you are looking at the balance between performance and integrity. And, if you go too far, as has happened in the past when companies were chasing performance, you start getting to a situation where you put the integrity of the product at risk. That is clearly not good for any tyre manufacturer at all.
"We don't look at anyone having tyre problems and going 'great, how funny' because you know you can have the same yourself. Things change so much, the cars get quicker, the downforce gets greater, and the asphalt can change. There are so many variables in our world, and trying to preview them in advance is almost impossible."
The future for Pirelli in F1 looks exciting though. Roll on Melbourne...
Look out for more great preview features and our exclusive 2011 season guide in the next few days