A Formula 1 car is the sum of more than 6,000 parts, each designed to function better in every respect than its superseded counterpart; each, crucially, required to outperform the opposition's equivalent. This process requires voracious amounts of money and inordinate time; yet, in modern-day F1 time and money are - more than ever before - of the essence.
Grand prix cars consist of six basic component groups: powertrain, chassis, drivetrain dynamics (suspension/brakes), electronics/hydraulics, aerodynamics and tyres. Each of those groups faces a total revamp under the 2013 regulations, whose stated aim is to increase the spectacle via a 30 per cent more eco-friendly Formula 1 while providing a greater level of road car/consumer relevance.
A tall order, indeed.
As outlined here, Formula 1's engine designers already face a gruelling race against time in shaping (750 bhp) 1600cc compounded turbo inline fours, all boosted by ambitious kinetic energy recovery systems.
These introduced after the regulations were published in early December following extended dialogue between all players which ultimately produced eight drafts before the ninth version was rubber-stamped by the FIA's World Motor Sport Council.
Yet their chassis equivalents have to date seen only a single draft of the chassis regulations despite their challenges being arguably more complex and time-consuming. And, according to one insider, the technical directors they have hardly been consulted.
Then there is another factor which compounds the issue: where the current engines are effectively frozen - meaning engine departments can focus fully on 2013 units - their colleagues in various non-engine departments are required to develop existing cars throughout the coming seasons. Plus engineer entirely new designs for 2012 before being able to concentrate on regulations which require radically new cars.
Sauber's James Key © sutton-images.com
The clock is ticking, as Sauber technical director James Key says, "One year is going to be pretty tight, although again everyone will be in the same situation.
"It's a bit like when the 2009 regulations happened; you've got a parallel programme developing because you have to start as soon as you know what to do, but you've got to develop your existing car.
"The smaller teams are [more] disadvantaged, [because] you have to set up a separate programme with the limited resources you have, but it's still possible and doable.
"If it's a little bit earlier than that it's definitely better, it gives everyone more time, and in many ways you can save a bit of cost. I would say a year is certainly possible but tight and if you had 18 months it's far better and cheaper too."
Effectively the draft is described by one technical director as having been "published, by which I mean it's not public but it's not confidential either, many people have it. It's out there within the teams and the FIA."
Thus, although an estimated 200 sets of eyes have had sight of the draft, no copies have leaked out into the media domain - which speaks volumes for the levels of confidentiality currently reigning within the 'unholy trinity' - FIA, FOM and FOTA - which governs F1.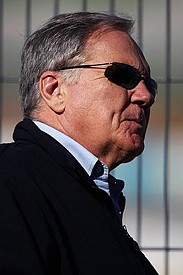 Patrick Head is helping shape F1's future © sutton-images.com
The FIA appointed Williams's soon-to-retire Patrick Head and former Ferrari chief designer Rory Byrne as consultants to the project, and with both having led teams which designed some fairly radical machinery during their respective careers - their designs have lifted some 30 constructors'/drivers' titles between them over the past 30 years - some lateral thinking can be expected.
According to a team source the draft calls for a ground effect (twin) tunnel chassis running on low(er) profile 15-inch (possibly taller) diameter wheel rims, long sidepods, prescription rear wings, and simplified front wings and end plates. (For the record, this column has long campaigned for low tyre profiles, refer here and here)
However, the nuts and bolts of the rules are not as important as the spirit of the regulations.
The main objectives are: a 30 per cent reduction in fuel consumption, to be achieved mainly through more efficient power units, complemented, though, by a massive cut in drag (and therefore downforce) combined with a reduction in full-throttle "so it's deemed harder to drive (the car)".
As F1 (presently) numbers just four engine suppliers - one or two newcomers are said to be in the offing, but whether the Volkswagen Group makes the leap remains unclear for it now appears committed to rallying under its VW brand, with an announcement expected during Rally Portugal at month-end - and 12 teams (and hopeful of attracting a 13th entrant), it is clear chassis builders outnumber powertrain providers by a factor of at least 2:1.
"For us it's very difficult to say because as a customer team at this stage you don't know what to expect," says Key. "Data will obviously emerge as the engines develop, [but] it's certainly a challenge. I think structurally it's going to be a completely different situation, these lighter engines being a part of the structure of the car. We don't know yet what to expect from vibration levels but for sure they'll change. Things like the load cases for the transmission and this sort of thing are also all unknown."
Many teams do not even know the identity of future powertrain partners, yet will shortly be required to turn their attention to designing chassis to accommodate inline engines with vertical cylinder bores, a configuration not seen in the sport since the fifties.
Engine packaging is critical in F1 © sutton-images.com
Consider the challenges: cradles, or at the very least, struts have not been ruled out by engineers on both sides of the chassis/engine divide; that before the power units' numerous ancillaries such as KERS batteries and motor/generators and complex turbo plumbing are factored into the equation.
"The first thing is it is a brand new engine layout, you've basically got a turbo war, because the turbo is free; there's also turbo compounding [via a turbo-driven KERS system] that's being introduced," says Sam Michael, Williams technical director.
Then the Australian suggests that specified dimensions for the powertrains (as previously outlined in this column) both simplify and complicate the task: "Especially because there's regulations within the engine that stipulate the size of the engine, the box it fits in, the weight, the engine mounting positions for the chassis and the gearbox, so all that stuff affects the chassis as well."
Key, too, foresees packaging challenges: "We've seen clearly this year with the diffuser reg changes bodywork has become increasingly tight, so packaging is increasingly important. If you had to increase the capacity of KERS and start having other systems on the car, it wouldn't be a compromise because everyone has to do it, but it would be quite a different approach the way you put these volumes around the car.
"Now for example installing a KERS in the car we kind of understand what the impact on it could be, because there'll be architectural implications, stiffness implications and so on, but to take a set of chassis regs and a set of powertrain regs which are completely different, and try to add them together and understand whether your packaging should be here or there - that's also part of the challenge.
"I think you almost have to carry out separate programmes of powertrain and chassis development to understand what the optimum is for each, then begin to join them together. Trying to get the two [chassis/engine] to be compatible is going to be the challenge."
The Briton, who moved to Switzerland last year and expects his family to follow imminently, also foresees a change in the ratios between aero grip and mechanical grip; however, once again there still exist too many unknowns.
"I guess we'd also expect the characteristics [such as] the power curve, the torque curve etc. to be different as well. We're used to designing our cars around a V10 and then a V8, and it (the latter) wasn't that different.
"The way we treat the ratios, the way we treat the efficiency of the car, the way it's driven by the drivers, I'd imagine all that also would be subject to quite a bit of change. So there are definitely challenges on the way but they are yet to be fully understood."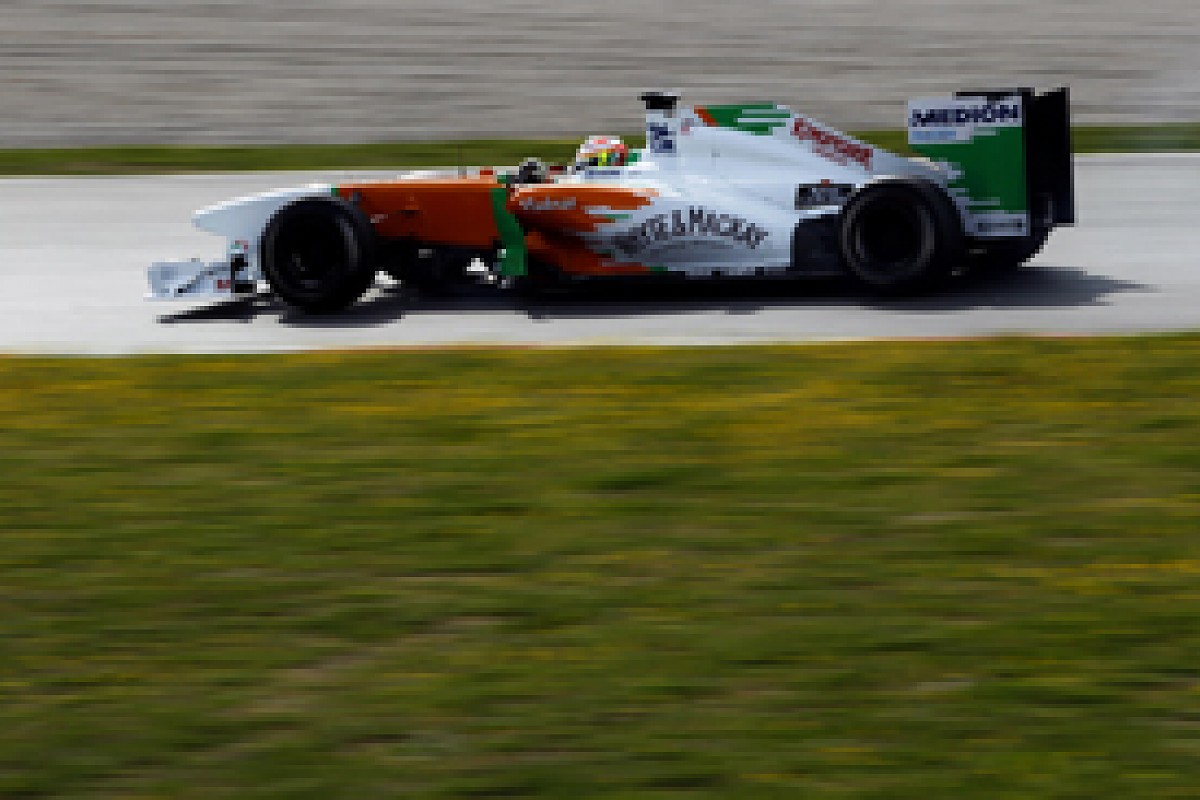 Another cut in downforce is on the cards © LAT
Michael believes downforce will be cut by 50 per cent over (the already reduced) current levels. But, by how much?
"50 per cent, that's the target. It's going to be a lot clearer in a month's time," he says, referring to the end of March meeting of the FIA's Technical Working Group ahead of the early May WMSC session at which the FIA is hopeful of approving the regulations.
This reduction equates to current Monza levels of downforce on all tracks, including the likes of Monaco and Hungary, placing a premium on car control and a reduction in full-throttle periods. However, drivers are unlikely to find compensatory mechanical or chemical grip (the latter being the interaction between tyre compound and track surface), for, while responsiveness increases with reduction in sidewall profile, grip levels actually decrease according to Michael.
"The tyres will be about the same, so the tyres will have about the same rubber surface area if you like. If they increase the profile, if they increase the size of the rim, in actual fact the tyre grip will drop. So as you reduce the profile you end up with a peakier tyre with less grip," he explains.
Key believes the tyres' vertical stiffness will be dramatically different, which is significant in that engineers currently allow for "a fair amount of movement in the tyre. There'll be a lot more emphasis on the chassis to give the vertical stiffness and characteristics of the car, which is okay, because it's damped and controlled and changeable.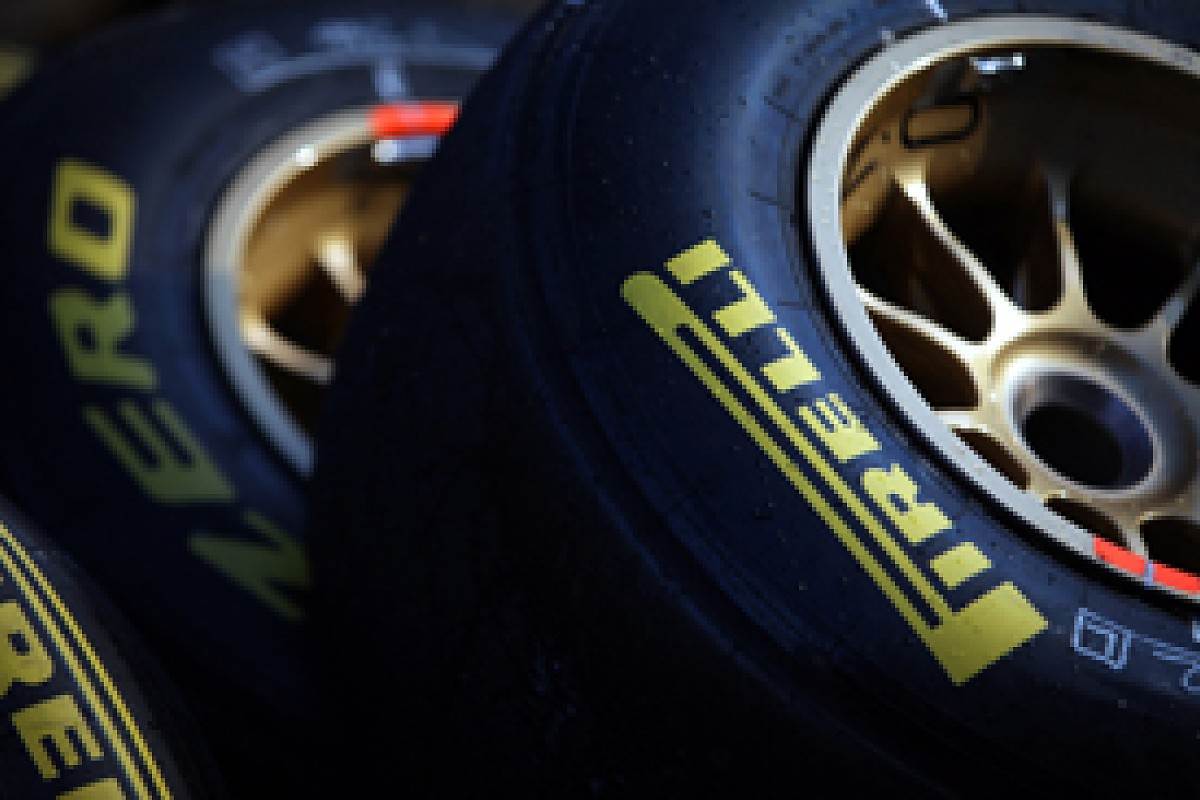 Pirelli could have an influence on the shape of the rules © LAT
"As far as the rest of the tyre is concerned, again it's difficult to say, but obviously it's going to be stiffer laterally as well, so the cornering stiffness of the tyre is probably going to increase. This will make it more responsive and maybe more peaky, so we'd have to look at what we need to do with the car to make it more benign potentially for a tyre which is generally more peaky than the current tyres we have."
Intriguingly no decision has yet been taken on rim size, despite the draft referring to 15-inch diameters.
"That's something that's being discussed at the moment, because we've got a 13-inch rim and our first thought inside the TWG was that potentially a 17- or 18-inch rim would be better than going halfway to 15. Either leave it as it is, or go the full hog. But that's still being debated; it could become anything. It could stay as it is..."
Interestingly, current tyre supplier Pirelli declined a request for comment. Crucially, though, the company's current tyre supply contract expires at the end of 2013, so the company could well push for 13-inch rims to be retained for that season on cost grounds, which would be bad news for those seeking increased road car relevance. It remains a crazy F1 anomaly that the trucks carrying the cars around Europe have lower sidewall profiles than do their high performance cargo.
However, when all is said and done, the (proposed) regulations appear to be a step in the right direction in virtually every aspect - from spectacle through sporting and technical challenge to eco-friendliness - subject, of course, to costs being contained (requiring early notice) and the engine, chassis and dynamics, aero, and tyre regulations being fully integrated, with electronics and hydraulics tightly controlled.
Key, for one, is, well, keyed up: "It's a complete car change, it would be I think technically a fantastic challenge for everyone. So I relish it on the engineering front - yes we have to look at the costs and be sensible about what we can accommodate in one go - but from a purely technical point of view I don't mind the challenge; whatever the regulations finish up being, I think it's great to have something fresh to think about."
And that is something many believe has been sorely lacking in F1 for close on a decade now.