Friday at Barcelona
And then there were 12. A couple of minutes after the track fell silent for the daily lunchbreak, the doors to the only garage that had remained shut throughout the previous three-and-a-half days finally opened a crack.
Narain Karthikeyan and Tonio Liuzzi were already milling about in the pitlane; the Spanish midday sun making their brand new white racesuits seem all the brighter.
The door behind them raised a little higher, revealing the first glimpse of an altogether larger white shape in the gloom. Within a few moments the door had retracted into the ceiling, and a few mechanics wheeled a shrouded Formula 1 car out into the daylight and positioned it before a battery of photographers.
Launch time, Hispania style © LAT
The cloth over the car represented the full extent of the ceremony. No speeches, no declarations, no pretense. Just a couple of shouted instructions from a photographer, and Karthikeyan and Liuzzi self-consciously peeled the sheet away. And that was how Hispania Racing's F111 was introduced to the world, and the 2011 grid finally reached its full complement of 12 teams.
The launch of every F1 car is an event, even if expectations for the car in question are conservative. Nevertheless, there was a bit of a reality check for the team when all of the photographers who were snapping the car suddenly turned around and rushed over to shoot a GT40 that was about to be driven out of pitlane by Adrian Newey instead. Can one man be bigger than a team? Depending on the man and team in question, it would appear so.
A press conference was scheduled for after the unveiling, but rather than the formal Q&A sessions that are the norm, this one was a room filled with canapes, a smiling man pouring beers, and various team members milling around for anyone to grab at their leisure.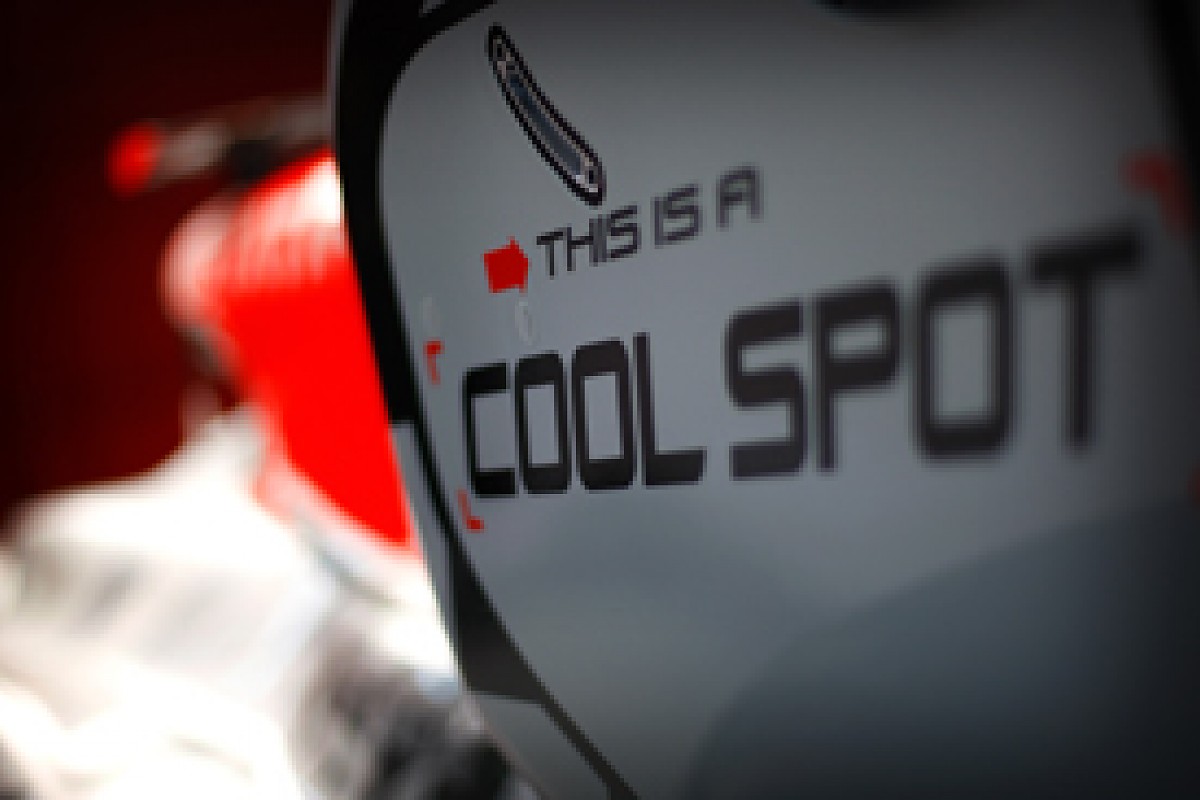 Sponsors still required... © sutton-images.com
The question of whether the car would run that afternoon was answered by the revelation that the dampers were still tied up in customs, but there was still plenty to talk about. Karthikeyan admitted to being slightly frustrated at not being able to just jump into the car and get on with it, but the flipside is that he'd spent the previous three days sitting around at the track waiting for something to happen. Merely having a car in the garage represents progress of sorts, even if it was not quite ready to roll out under its own steam yet.
HRT faces a tough trial over the coming weeks. Its lack of testing means that it will go into the first races undercooked; yet the fact that it cannot match the development pace of any of the other teams means that it will probably never be closer to the rest of the field than it is at the start of the season.
All those challenges lie ahead; for now, it has cleared a hurdle simply by being there. Kolles is confident that the car is a vast improvement on last year's. Let's see what they can do with it.
Thursday at Barcelona
On the long-ish trip from the hotel to the track this morning - I swear that the town we're staying in doesn't exist on any maps - I made a private pledge to get out and watch the cars from the side of the track at some point during the day.

Instead, I barely even saw a car go past the press centre window.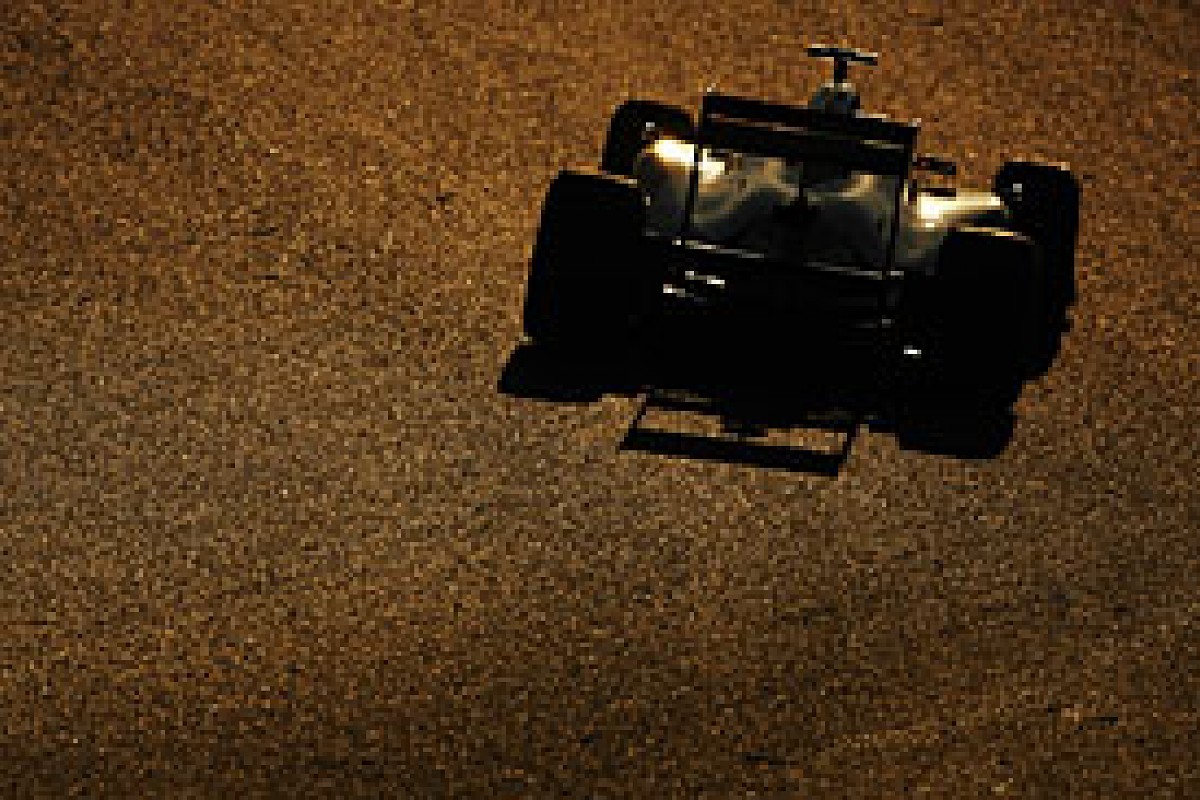 Sergio Perez set the pace on day three for Sauber © sutton-images.com
A lot of the interviews that I needed to get sorted out for both this website and AUTOSPORT magazine ended up being scheduled for today, meaning that for the most part, the cars were just the noisy things in the background while I was trying to talk to someone. It's one of the great contradictions of motorsport journalism - sometimes you're too busy to actually take in the motorsport.

Another of the contradictions was the amount of time spent talking about things that weren't here. McLaren wasn't around today, having opted to split its week into two two-day bursts, and there was plenty of interest in the paddock about what fruits the team's labours could bear over the remaining days.

Also missing, obviously, was Robert Kubica, but Renault doctor Riccardo Ceccarelli was on hand to give an update on the Pole's condition. You've probably already read his verdict that it's still a waiting game, but when he declared himself delighted with Kubica's progress, it was clear that he was being genuine.
The message seemed to be that Kubica was in the best shape that could be hoped for someone who had suffered his degree of injuries, and at this stage, that's the best possible news we could wish for.

The third missing element was once again HRT, but at last there were signs of life in the shape of Tonio Liuzzi, who held a press conference to talk about his new challenge. Easy to get along with as the Italian is, we would still have rather seen the car, but that awaits us at lunchtime tomorrow.

The few opportunities I did get to catch up with what was happening on the track indicated that Mercedes was among the teams with some reason to feel good about their day's work. I was curious to hear Michael Schumacher's thoughts on his car now that it has had the first phase of the promised major update fitted.

My colleague Glenn Freeman's encounter with Schumacher at Jerez a few weeks ago came at a time when the German was wondering how long he was going to have to spend in damage control, and ended with a slightly strained (if entertaining) exchange between the two when Freeman asked him if he'd set out to silence the doubters.

This time around, Schumacher was clearly in a better mood because he took my first question - a fairly banal one, yes, but the standard sort of thing you ask to get the ball rolling - as an opportunity to ever-so-slightly take the piss.

Me: "So, how was your day?"
Schumacher: "Nice. Sunny. Relaxed."

He was obviously happier with the car, although still unwilling to commit to saying how much of a step they'd made. If anything, he downplayed it slightly, which was odd because when Ross Brawn spoke later on he was relatively bullish.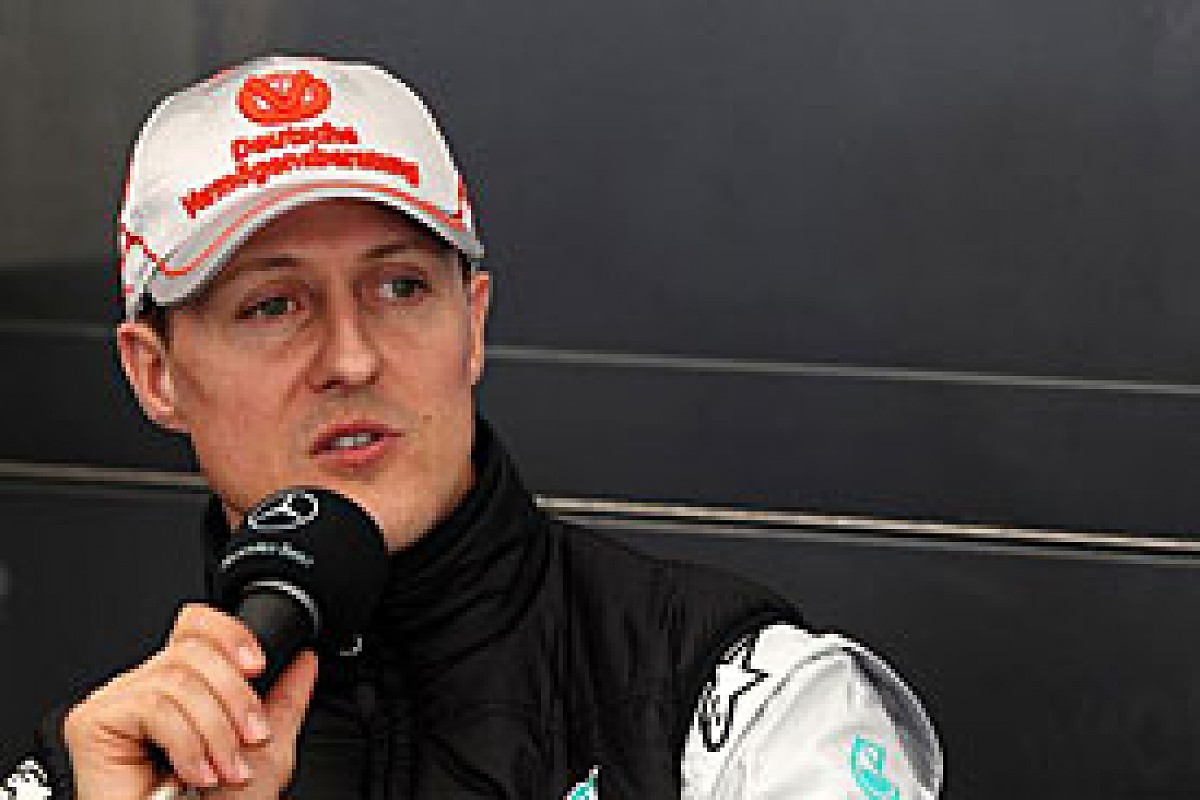 Michael Schumacher is happier with his car in Barcelona © sutton-images.com
Also looking happy was Virgin. Timo Glock's misfortune has proved an unexpected boon for Jerome d'Ambrosio, who finds himself with a solid four days' running ahead of his grand prix debut ("My neck is okay - so far," he reported.) But there's a spring in the whole team's step, not least because unlike last year, they've actually gotten to complete a proper test programme before the season.

"For the first couple of days we kept looking at each other and saying, 'Wow, so this is testing,' said president and sporting director Graeme Lowdon. "You wouldn't believe the difference it makes".

HRT still has that pleasure to come. Although the one-and-a-half days it is scheduled to do here is still one-and-a-half days more than it managed before the first race last year.
Barcelona second test: Image gallery
Wednesday at Barcelona
Had the Bahrain Grand Prix gone ahead as scheduled, then Lewis Hamilton's problems during the second day at Barcelona suggested that both McLarens would have retired.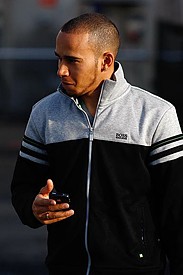 Tough times for Lewis Hamilton © sutton-images.com
A hydraulic problem and two exhaust failures made for some frustrating waits in the garage for the 2008 world champion; his irritation at the delays no doubt being amplified by the knowledge that the MP4-26 currently needs all the track time it can get. It's possible that it could be shaped into a championship-contender before the season is out, but the last two days have only served to confirm suspicions that it currently has neither the performance nor the reliability to expect an easy weekend in Melbourne.
Jenson Button mentioned yesterday that he was reluctant to even place the McLaren firmly among the top three at this point, and on that basis he won't have been happy to hear that Nico Rosberg likes what he's seen of the Mercedes updates so far. Only part of the new package was rolled out today, and while he never threatened the top of the timing screens - Sebastian Vettel made that his own very early in the day - Rosberg claimed that the early signs were all good. The battle of the silver cars starts here.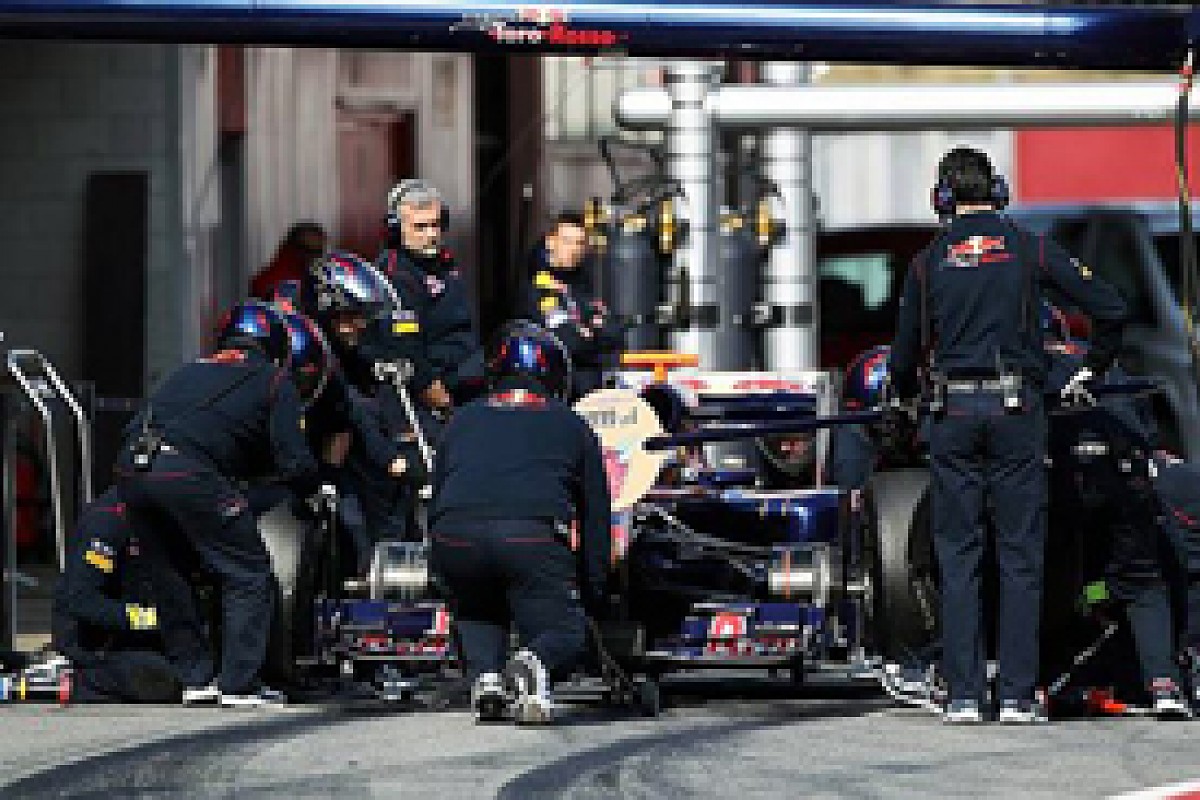 Buemi and Toro Rosso practice yet another pitstop © sutton-images.com
Elsewhere, the teams with reliability on their side focused on longer runs and pitstops, and we saw quite a few teams run through race simulations. The window next to the AUTOSPORT desk in the media centre is directly above the Toro Rosso garage, so we were also able to witness an impressively prolonged sequence of practice stops by Setastien Buemi. The Swiss driver seemed to spend half the afternoon driving out of the pits, around the track, and back in to have his tyres changed - we tried keeping count for a while, but got bored and gave up at about 15 pitstops. It's certainly the only time I've seen a driver lap continually for more than an hour without actually setting a time.
But this is testing, and times don't always matter. The fact that the Red Bull mechanics next door were also occasionally running a stopwatch on Buemi's stops told you all you needed to know. The characteristics of the Pirellis mean that pitstops are going to be a major factor this season, and Toro Rosso is one team with no intention of being caught short.
Tuesday at Barcelona
It's been a couple of years since I last attended one of the final pre-season tests. The 2009 one was memorable mainly for the immediate and systematic downgrading of expectations along the pitlane as the Brawn BGP001 rolled up for its only group test before the season and proceeded to thump everyone.
It's safe to say that this time around, the opening day was less eventful. Having only eight teams on the track didn't help, with Ferrari, Mercedes, Williams and HRT all opting to start their running on Wednesday. Force India, Renault and Lotus helped to pad the timesheet out a bit by working with two drivers, but it made for a slow start.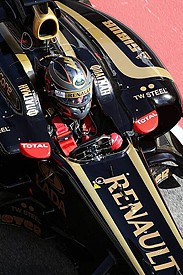 Nick Heidfeld only had a half-day today © sutton-images.com
Virtually the only unexpected twist was Nick Heidfeld handing the Renault over to Vitaly Petrov just after lunch due to an illness. Despite not feeling up to spending the afternoon strapped to an R31, the German stuck around just long enough to do a press briefing before returning to his hotel to tuck himself up in bed with a mug of Lemsip.
You always feel slightly awkward in any situation where you're talking to someone who clearly wants to be somewhere else, and it was clear just by looking at Heidfeld that he felt like crap. He's a trooper though, and not only did he stick around to answer questions, but he proved to be pretty good value. He didn't want to be drawn on where he thought Renault was at in terms of the competitive order, but one thing he felt sure of was that Red Bull still has something up its sleeve.
Considering that at the moment he was speaking, Mark Webber was bombing around towards an eventual total of just under 100 laps and seemed glued to the top of the timing screens, this is not great news for everyone else. At any other test we'd have been getting a reply from Ferrari in real time, but on this occasion, that will have to wait until tomorrow.
Barcelona second test: Image gallery