Reports that the board of CVC Capital Partners has ordered an investigation into its 2006 acquisition of a majority in the company which holds the lease to Formula 1's commercial rights for the next century have come as no surprise. The matter has now festered since the turn of the year, when it became a matter of public record that Dr Gerhard Gribkowsky, formerly chairman of the then-holding company SLEC, via his senior position with Bayerische Landesbank, had been arrested over a probe in connection with a mysterious payment of $50m.
CVC is the majority shareholder in Delta Topco, which holds the rights to exploit F1's commercial properties, and counts among its officers many of Britain's business heavyweights, including advertising mogul Sir Martin Sorrell - who 18 months ago publicly hit out at DT's CEO Bernie Ecclestone after the F1 tsar commented on Adolf Hitler in an interview.
To date CVC has made no official comment save to state that it had no knowledge of the investigations, nor the circumstances surrounding the situation.
But the latest developments indicate the private equity fund may have moved into full damage limitation mode, for allegations - even if loose - that a sum of that magnitude mysteriously found its way into the private trust fund of a high-ranking German banker are unwelcome, to say the least.
What is significant is not only that CVC has appointed a commission of enquiry into the affair, but its reported make-up: accounting giant Ernest and Young and the respected City law partnership Freshfields Bruckhaus Deringer have been jointly commissioned to investigate the affair, and report back within weeks.
Whilst F1 and its legion of fans await the outcome of the investigation - and, obviously, that of the Bavarian state's prosecuting office - any such discussions and accusations are best left to rumour mongers. To date nothing has been proven, and, while the German media has carried reports of various paper trails, these are in many cases pure speculation. What is, though, of far greater interest to this column are the overall ramifications of the three possible scenarios as they exist at present:
1. That Gribkowsky is found absolutely innocent of any possible misdemeanour, and is released from his Munich cell to enjoy his sudden riches, however they may have been acquired.
2. That there were indeed underhand dealings of some sort, which were not though, perpetrated by any party connected with CVC, and that CVC, its officers, employees and associates are totally innocent of any misdemeanours in this regard.
3. That CVC and/or its officers were implicitly involved in such dealings, and that the company's officers had full knowledge thereof.
Should Scenario 1 be the outcome (of both investigations), then obviously all are off the hook and free to pursue their present activities, with F1's reputation as a somewhat 'wide' business merely further tarnished, but indelibly so. However, Gribkowsky could well seek damages from certain media outlets if found totally innocent and above board.
Scenario 2 is patently more serious - particularly for Gribkowsky - but, again, CVC and its officers would be innocent of all allegations, and court cases can be expected to follow, particularly against speculatory media outlets in Germany and elsewhere. However, depending upon the full nature of the verdict, investigations by the FIA and the EU Commission could well result, for both had given their blessings to the deal which saw CVC obtain a controlling interest in what mutated into Delta Topco.
However, should Scenario 3 be the outcome, and depending upon the level of any culpability, then CVC - and, by extension, F1 - is likely to find itself under a microscope: both in Paris and Brussels, for the FIA and EU obviously gave their go-aheads on the basis of a clean deal.
The FIA holds what is referred to as a 'Don King Clause' (after the boxing promoter) in its contracts with the commercial rights holder, which in turn grants it right of veto over any change of ownership of the CRH.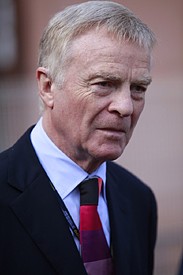 Max Mosley © LAT
While Ecclestone's long-standing friend Max Mosley held presidential office in the corridors of power of the sport's controlling body, such approval was thought to be a matter of routine, and so it proved on no less than three occasions. First when Muppets owner EM TV acquired a 50% share in the CRH, then when German media company Kirch took over EM TV's holding before increasing its interest to 75% shortly before being declared bankrupt, and, finally, when CVC negotiated its deal.
Now, though, Mosley is gone, and sources within the FIA indicate his successor Jean Todt is intent on restoring the FIA's overall control of the rights. The Munich matter, plus CVC's investigation - which is expected to be extremely thorough, given the standing of the commission's members - could well provide Todt with the means of doing just that, possibly in conjunction with Abu Dhabi's sovereign wealth fund, as first disclosed here or the teams' collective.
Then, the EU, which investigated the deal on monopolistic grounds before approving it (CVC was required to divest itself of its MotoGP franchise), will no doubt cast a beady eye over whatever reports are made public (or even demand sight of those that are kept confidential), and, if any breaches are discovered and are serious enough, could well call for the deal to be dissolved.
Equally salient here is that the FIA holds a B share in Formula 1 Asset Management Ltd, which is a subsidiary of SLEC, in turn a subsidiary of Delta Topco. The primary purpose of this share is not financial, but control in that it enables the FIA to keep a watchful eye on proceedings within its lessee. Thus the FIA is bound to have access to the commission's report.
Then matters get exceedingly interesting, for the previous majority owners - predominantly a consortium of banks, including Bayern LB, JP Morgan and Lehman Bros, who reluctantly acquired their holdings through Kirch's insolvency - have no intrinsic interest in the F1 business, while Lehman is to intents and purposes now a dead duck after being split in three through its own Chapter 11 bankruptcy.
Thus F1 (again) stands on the threshold of uncertainty, with its fate hanging in the balance between London and Munich, with Paris and Brussels possibly also in the equation - with one man seemingly knowing the source of that mysterious $50m. To date he has been, in high German, stumm.