Rewind two years to the various unveilings of Formula 1's 2009 cars. All present were bubbling with enthusiasm for the FIA's newly-introduced kinetic energy recovery system rules. BMW Motorsport boss Mario Theissen at the time even stated that 'To win the world championship a team will need to be KERS-equipped...'
As we now know BMW failed to win even a race despite having been an active proponent of the device - which it eventually discarded well before the rest. It could be argued that the team's resultant embarrassment contributed, indirectly if no more, to the BMW board's decision to abruptly exit the sport at the end of the season.
Across at Toyota, which, admittedly, had always been rather sceptical about KERS on account of already offering more sophisticated hybrid drive systems in its road car range, things were not much better.
Its version of the device, which too provided the statutory 82 bhp/60kW for around six seconds per lap, was tested pre-season at Portimao, and then was never seen again!
Renault also had an early dalliance with KERS, then quickly consigned its device to the skip, while Red Bull Racing geared up for it - even suffering a fire when a device exploded early in the development process - before discarding it. Tellingly, Brawn GP (nee Honda, which spent a fortune on investigating not one but two separate 'solutions' before abandoning not just the system but the entire sport at the end of 2008) did not even bother to tool up for KERS for cost and practicalities' sake. It then went on to walk both titles with Jenson Button!
Second in both championships were Red Bull Racing and its young star Sebastian Vettel, while the next two places in the drivers' standings were filled by Rubens Barrichello (Brawn) and RBR's Mark Webber. Not a KERS button among the quartet.
The record shows that just two teams won with KERS - McLaren twice, in Hungary and Singapore and Ferrari in Spa-Francorchamps - and on all three occasions the advantage of having the boost for an effective 13.4 seconds during qualifying and 6.7s at the start proved crucial to their victories.
The teams collectively agreed to cancel KERS for 2010, so while its use remained optional in the regulations, they voluntarily agreed not to avail themselves of the gadget - although at one stage there existed a theory that Williams, which always ploughs a lone furrow, would fit one its in-house Williams Hybrid Power flywheeled units to the FW32 and go racing totally legally.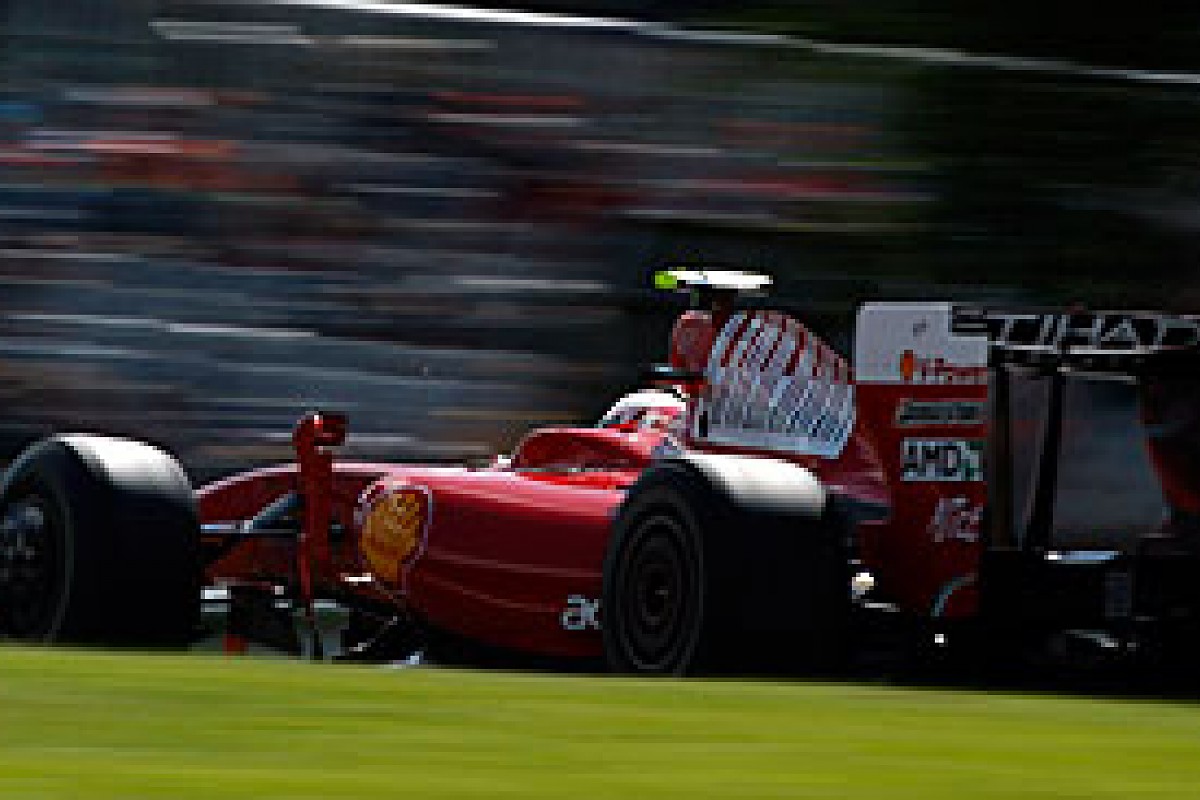 That agreement had a life of one season, and so now KERS is back for 2011. And, again, all and sundry are suggesting that KERS will be crucial to success. All teams bar the three 'budget' outfits (Virgin, Lotus and HRT) gearing up to run hybrid assist from Bahrain onwards.
However, back to the main topic: since 2009 nothing substantial has changed about the device's three constituent units - storage device, motor/generator of sorts, and electronic control unit - with a maximum output per lap of400kJ - +-60kW for around six seconds. And though most teams pushed for double the power it was scuppered, allegedly, by Mercedes, whose system is believed to be capped at 60kW.
Given that refuelling is now banned, if anything the packaging situation facing the teams has worsened, since the space previously taken up by KERS components is now given over to fuel tanks of double and more the size they were pre-2010.
Taking all that into account, why then should KERS suddenly be a magic bullet in 2011? Why should team bosses who less than two years ago voted to scrap the device suddenly feel extremely bullish about its future to the degree that the likes of Renaults' Eric Boullier and his engine counter-part Rob White predict the hybrid device will be used by those at the sharp end in all 20 races?
First off there have been detailed changes to the constituent parts of KERS, resulting in all being lighter and more compact. So the lithium-ion battery packs now provide more bang per cell and buck.
Yes, it remains a massive challenge to accommodate the various components, but improved fuel economy, downsized parts and improved integration have alleviated many of the headaches, as have improved energy management (i.e. fire and electrical shocks) measures. And, as will be seen, the fact that refuelling has been banned has, rather perversely, increased the attraction of KERS.
Then there is the question of weight distribution. In 2009 KERS hampered packaging and weight distribution, resulting in a rearwards bias. For this year front:rear distribution has been fixed at 45:55, with a 0.5% tolerance in either direction. The weight distribution stipulation has its roots in F1's switch of tyre supplier to Pirelli, which due to time constraints was unable to provide full tyre modelling data. Thus for this year the sport settled on a prescribed weight distribution formula to ensure a level playing field for all teams.
The minimum weight has also been increased - from 605kg to 640kg - primarily to cater for KERS, it also takes into account the doubling of wheel tethers and increased underfloor protection for drivers' legs following Timo Glock's nasty qualifying shunt in Japan 2009.
This increased weight and its front:rear distribution has played straight into the hands of KERS advocates however - and more particularly those with heavier drivers. For whether teams choose to run midgets in non-KERS cars or portly drivers in a KERS-equipped machine, the previously critical issues of weight, and therefore restricted ballast options, have largely been eliminated.
It is the ban on refuelling which provides the biggest carrot to run KERS, for, where in 2009, positions could be made up via stop strategies, this is no longer the case making qualifying absolutely crucial to the race.
Here KERS comes totally into its own, for, although the system can be deployed for just 6.7s per lap, there is nothing preventing drivers from doing so prior to crossing the line during qualifying - thus benefitting down the start/finish straight - and again during their actual qualifying laps. Thus they can gain the advantage of an additional 82 horsepower for a total of 13.4s, or around five percent of each qualifying lap. That equates to at least 0.5s in qualifying - enough, during some 2010 sessions, to make the difference between pole and seventh on the grid.
Finally, in 2011 moveable rear wings are permitted for the first time since the late sixties.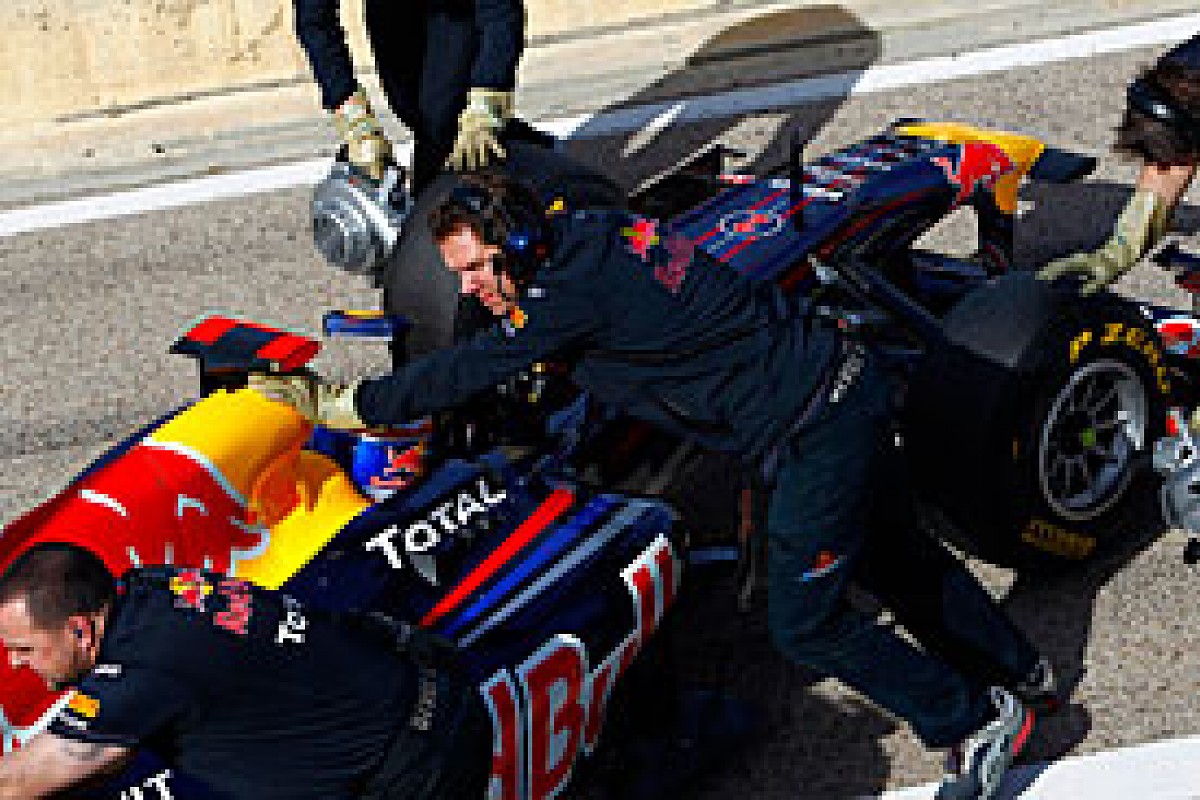 Red Bull rolls its KERs-equipped RB7 into the garages during testing © LAT
These though may only be deployed under certain circumstances during races (their use is free during qualifying); more specifically to aid overtaking, but not defend. Thus the leader of any given pack is effectively a sitting duck down the straight once a follower closes in. But with KERS he has the opportunity of using his 60kW defensively, provided of course he has not depleted his KERS reserve while his challenger has. This adds a strategic element.
Thus, two years on, KERS has come full circle: from bullish predictions about its potential, through disillusionment after just two teams won three of the season's 17 races despite a total sport spend of upwards of $100m, to an effective ban on the system and now to positive potential once more.
This time, through a combination of continued development, targeted and serendipitous regulatory changes, the sheer dogged determination and ingenuity for which F1 is rightly recognised and the will of all affected players - the FIA, the commercial rights holder, the teams and their technical partners - to make a fist of it this time for the sake of a sport in dire need of an environmentally-friendly image, it seems KERS's time has finally arrived.
F1's trick now is to persuade the fans of its relevance as a precursor to 2013, when the new regulations under which KERS will contribute up to one-third of the power-train's output, kick in.