As has become his wont, Bernie Ecclestone sprung a surprise on Formula 1 with the announcement that grands prix would be broadcast in high definition as from the 2011 season opener in Bahrain in mid-March.
After all, it was only in June last year that the man, reckoned by those in his daily orbit as having a distrust of modern communications channels, confirmed that there would need to be more 'interest' in HD broadcasts before he would consider making this 21st Century technology available to broadcasters for onward transmissions to F1 fans.
This despite last May's F1 Racing/FOTA fan survey, sponsored by Formula One Management technology partner LG, finding that out of 85,000 fans questioned, over 70% called for F1 broadcasts in HD. (F1 Racing is AUTOSPORT's sister publication).
Cynics immediately took Ecclestone's comments to mean one thing: the CEO of F1's commercial rights holding company was intent on squeezing broadcasters for increased rights fees, for it seemed unfathomable that Korean hi-tech electronics company LG would have agreed terms without insisting upon HD broadcasts sooner rather than later. (The same logic applies to 3D TV, but that is a topic for another week...)
However, recent developments - notably announcements by Sky Germany, the BBC and then pan-African broadcaster SuperSport that they were going with HD TV - suggest it was not a case of geld, but of FOM kit.
In discussions it seems the final shove came from premium (pay-per-view) Sky Germany, whose contract was up for renewal, was loathe to commit to an additional term unless HD TV broadcasts were available. Sky, part of Rupert Murdoch's News Group, enjoys a mixed relationship with the sport and its masters (recall the FIA vs Martin Brundle/Sunday Times affair; reflect on Max Mosley vs News), and recently the word in the paddock was that Sky had gone cold on F1. Certainly, Sky Italia dropped its F1 when up for renewal - despite it being fronted by Tamara Ecclestone.
So, Sky Germany is believed to have insisted upon HD TV before putting pen to paper, and for that fans across the world should be truly thankful.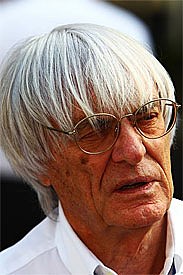 Bernie Ecclestone © Sutton
During Ferrari's recent Wrooom ski camp in the Italian Dolomites this column took the opportunity of discussing HD TV with various broadcasting executives, and all stated Ecclestone had been committed to HD TV for some time now, but had refused to make any announcement until all equipment had been acquired, tested and put in place.
"I think Mr Ecclestone's been looking at HD for a while," said Mark Wilkin, the BBC's Editor for Sport with overall responsibility for F1 and MotoGP. "The equipment he's been buying has all been HD-ready equipment. He was just putting into place the final pieces of equipment he didn't have, some of the recording devices, slow-motion devices, stuff like that."
However, viewerships, potential and 'HDers', obviously played a role in persuading FOM to upgrade, with Sky Germany plus World Cup's numbers providing the final catalyst.
Wilkin, who stressed the BBC pushed for HD while negotiating its five-year (2009-2013) rights' deal back in 2008, made the point that it was not number of potential viewers that swayed the decision, but the actual number of viewers who would watch HD, citing an example of a South American broadcaster who agitated for upscaling.
"It's how many people have the equipment at home and are going to watch. I'm told that (broadcaster) were after HD, and he asked 'how many people?'. 'Oh, millions can watch it', and he said, 'No, how many people are watching?'. The answer was three, or five, or whatever.

"We showed him the numbers from the World Cup," added Wilkin, "because we broadcast the World Cup in HD on BBC1 and BBC1 HD channels, and the numbers from there - we have separate reporting of those numbers - were phenomenal.
"I think quite a few people in England bought new televisions for the World Cup. Those numbers were clearly reflected in the viewing figures, and I think that impressed Mr Ecclestone enough for him to realise that the time had come to make the switch.' So what sort of audience does the Beeb anticipate?
"I don't know exactly, but we're talking well over 1 million people watching on HD channels (BBC HD and BBC1 HD), which is getting into - with an audience of about 10 million - 10% of the audience. That's a fair percentage.' Unsaid is the expected upwards curve as fans note the glorious difference HD makes to their sport.
"I'd hesitate to put a number on it, but we're confident that a larger percentage than normal of sports fans will be taking HD.' 20 percent? 'I'd certainly say between 10 and 20 percent."
Motorsport's first HD-Ready category was A1GP back in 2005, which, though, had virtually zero broadcasters able to transmit HD due to bandwidth costs and hardware constraints. In gearing up for its own broadcasts the short-lived formula went the whole nine yards on HD technology at a time when the cost of even a single camera was prohibitive, which no doubt contributed to its downfall...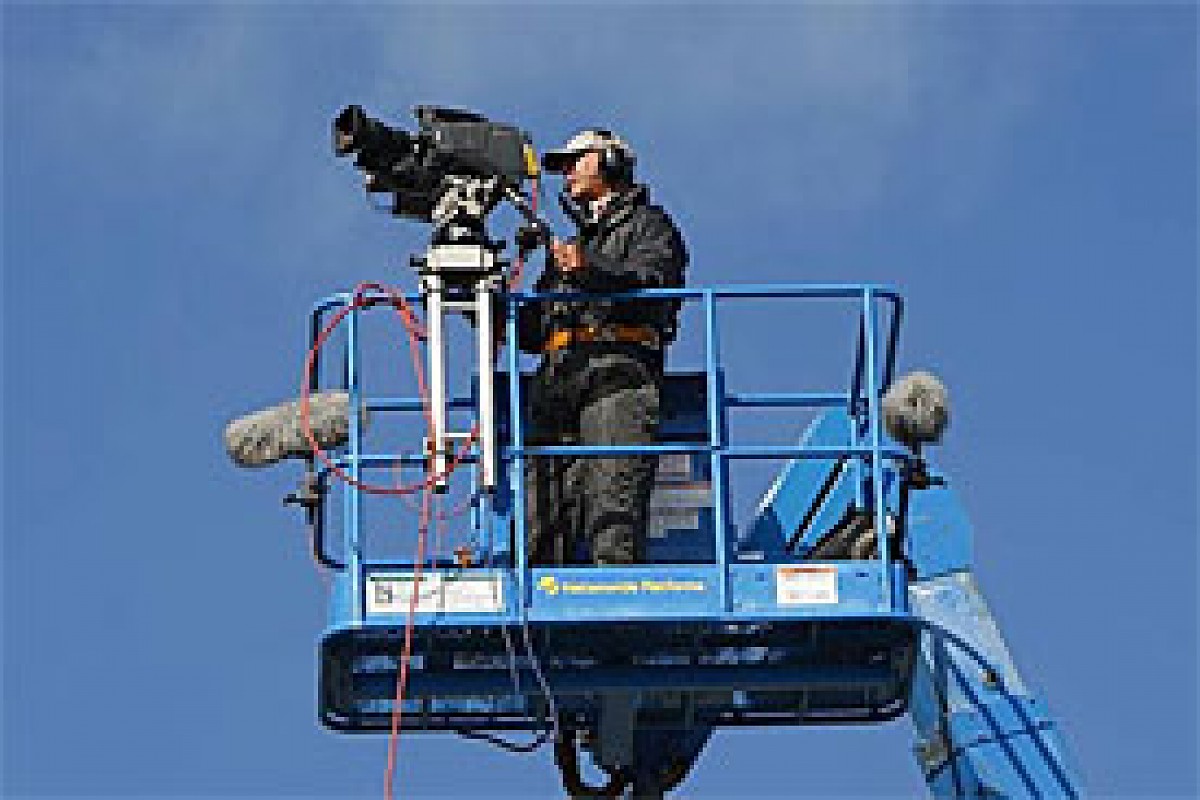 A TV cameraman © Sutton
Shortly thereafter NASCAR and the World Touring Car Championship went HD, the former not as affected by satellite costs due to its broadcast outlets being mainly on the same continent, while Eurosport's initial HD WTCC transmissions were restricted to European events for the same reason, although the need to overcome technical challenges no doubt played a part in the decision. Then MotoGP followed suit in selected countries.
"Yes, it (the technical aspect) is interesting," confirmed Wilkin, who stated HD F1 broadcasts would be simulcast on BBC and BBC 1 HD. 'We were looking just recently at booking satellite paths from India, a new race and we have to find new ways of doing that sort of thing, and they've actually only got some of the older equipment. And if you're trying to book something on that you need much more (transmission) power to be able to do it, and that, again, is hard to find in some places.
"We've actually sourced a much newer uplink trunk, and we're going to be fine,' the man who ultimately took the decision to promote Martin Brundle to the anchor seat continued. 'It's things like that where you have to make bespoke solutions for each place. As soon as you go outside Europe, the parameters change slightly. It depends on what path you're going to come back. From Australia you can come back on fibre, you can come back on satellite, (or) on two hops of the satellite."
As part of the BBC's 'HD Ready' evaluation the BBC broadcast the final two 2010 MotoGP races in HD, so Wilkin is qualified to judge on quality, particularly in-car stuff.
"There's been criticism of fast-moving action events in HD," he concedes, "but that's all to do with transmission paths and actually the bit rate of how fast you transfer signal from one place to another.
"There was some thought that you could get away with the same sort of numbers as used with SD (Standard definition, AKA lo-def), and that clearly isn't the case. So it was good for us to try. We tried at 40Mbps, which works within the BBC spec, but it's also acceptable for the viewer, and that's the point. It looks good on telly."
One of the technical issues experienced by NASCAR and the WTCC was variances in quality between trackside HD footage and in-car material (by necessity recorded in SD format) due to camera 'shake', which is magnified by HD.
Wilkin does not, though, foresee a problem: "There have always been technical differences between the full-broadcast cameras and little cameras used for in-car shots. That's always been the case, whether with helmet cameras on skiers (Wilkin previous produced Ski Sunday for the BBC) or the mini-cams placed beside the track that cars run over. I think people accept those cameras are (of) a slightly different quality. I mean, they used to be CCTV cameras in the old days, and for a long time you couldn't get 16x9 versions, so you stretched the picture, blew it up, zoomed in - which made it even worse.
"But because it was such a recognizable shot and so clearly different from track cameras, people accept that. If you just had one of those cameras alongside others, say at Turn 1, you'd say 'this is ridiculous'... but here they accept it. I think they will here, too. Standard definition cameras upscaled to HD look better anyway, even if you're observing them in SD."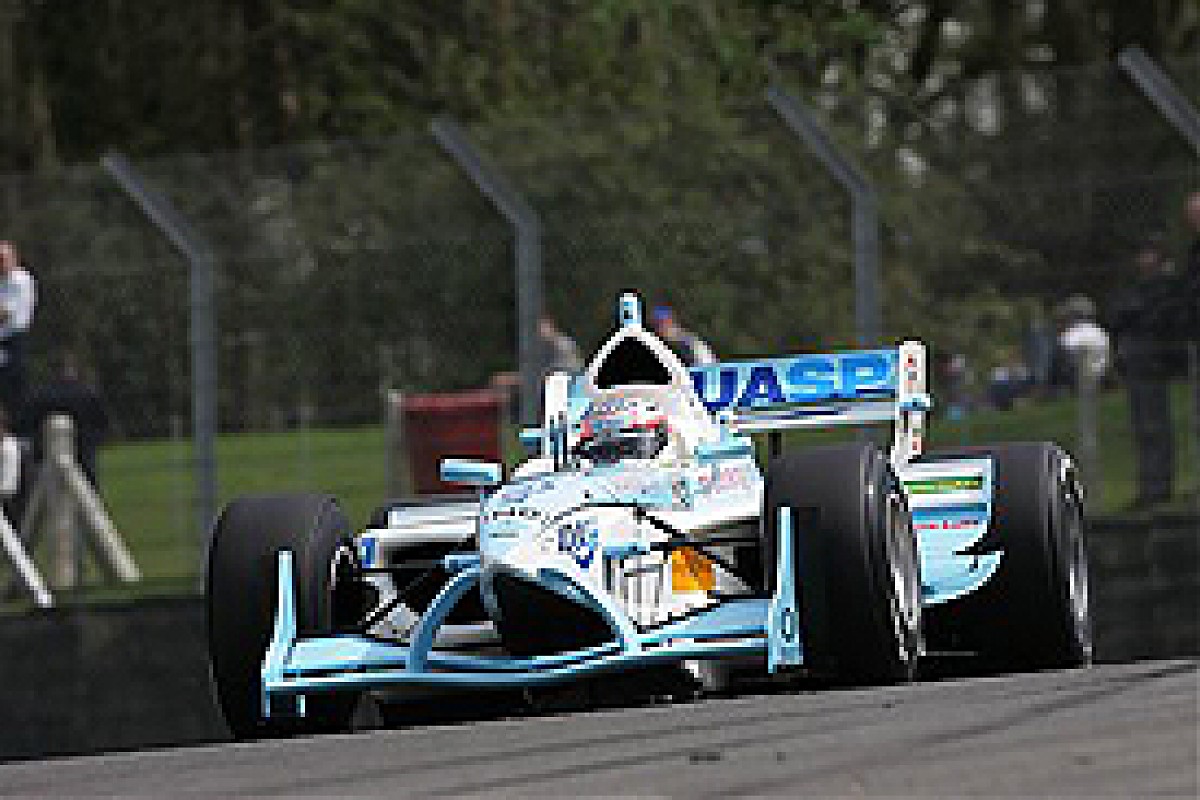 A1GP was broadcast in HD in 2005 © LAT
However, Wilkin believes such blip to be justified: "If that (quality contrast) is the price that needs to be paid, it's going to be worth paying. They've done a lot of research with in-car cameras, with on-board cameras. FOM bought a whole load of new technical equipment last year, and the quality of their receivers and that sort of thing (is top class) - it used to be every time you went under a bridge there was a blip. That's gone. They're rock solid, they're pretty good quality."
The good news for BBC viewers is there are no direct cost implications, for the BBC is state funded, with, unlike transmissions by commercial or PPV broadcasters, no subscriptions of interruptions for what commentator Brundle calls 'retail opportunities'. However, there are additional costs; can the Corporation justify these on the basis of higher definition?
"It's a different argument for us. There's no bottom line, no 'how much will we spend, how much is it bringing in?'; it's a much more esoteric argument, and the whole 'should we pay for rights for this, how much are production fees, how much production costs are acceptable?' is an argument the BBC has to have with itself.
"It's felt at the moment that (with) the viewing figures we're getting, it's well worth it. In terms of costs per hour we're very comparable with a lot of other sports, and in terms of audiences, BBC1 have a huge increase in viewership for each weekend that there's a Formula 1 race. The sort of people we're talking about are technically literate. We're going to attract a lot of people with this.
"We have a duty to the public in lots of areas apart from inform, entertain them, and all those sorts of editorial values. We also have a duty to bring them the highest quality that we can."
Apart from bandwidth costs, what other financial implications?
"There will be slight differences in terms of production work-stream in that it will take slightly longer to edit things. We'll have to get edited features ready slightly earlier, because the rendering time is longer. You're just crunching, the computers are crunching a whole load more numbers. So the very idea that sometimes we're changing an edit piece within minutes of it being transmitted, it may now be five minutes now, not one."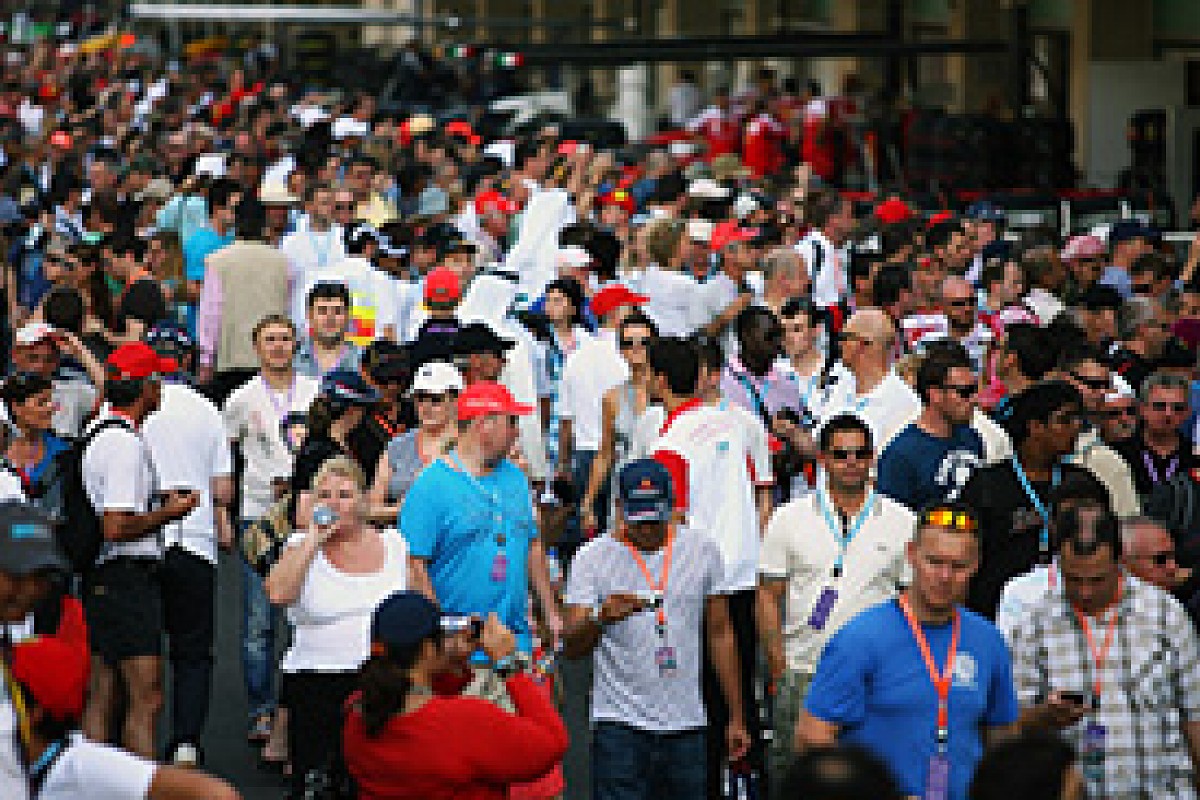 Fans demanded HD for F1 © Sutton
In addition to the above and cost of transmission, cost of recording will increase due a tripling of recorded information - which requires additional storage capacity. However, according to Wilkin the BBC has been using HD cameras and technical equipment since the inception of the BBC's return to F1, so all is HD ready and it will simply be a matter of "flicking the switch into HD".
There will also by necessity be an increase in headcount by one: with the (often hot, sweaty and/or frequently teeming) F1 paddock effectively being the BBC's studio, a make-up artist will need to accompany the crew at all times as HD magnifies every sweat bead or facial blemish. Sounds facetious, but is indicative of the amount of planning that goes into broadcasting.
So, F1 is on the brink on the brave new world, one that brings true HD to this hi-tech sport - and as anyone who saw A1GP's test transmissions (or the Formula One Management's HD/3D recordings in Canada and Abu Dhabi) can attest, the move has not come a season too soon. Last season was absolutely thrilling; fast forward that spectacle to high definition...