As of the morning of Friday October 2 2009 Kamui Kobayashi was a GP2 driver with a solid but unspectacular record, a man who had done little to suggest that he had any future in grand prix racing. He'd always been a step behind fellow Toyota protege Kazuki Nakajima, who'd been given a push into Formula 1 as part of the Williams engine supply deal.
Any thoughts Kobayashi might have entertained about following his old rival to the top level were set to be dashed, since well before the end of the season the Toyota management had taken the decision to pull out. There would be no works team and no Williams deal in 2010, and thus very little prospect of Nakajima getting a drive, never mind total rookie Kobayashi.
And then fate played him a hand. Timo Glock was feeling under the weather on his arrival at Suzuka for the Japanese GP, and with no notice at all Kobayashi was called upon to stand in for him on Friday morning. He did a respectable job, and the team made a note.
Nevertheless, that could well have been the last time he ever sat in an F1 car. But the following day Glock had a huge crash on the exit of the chicane, and was soon deemed to be out not just for Sunday's race, but the last two races of the season.
The rest of course is history. Kobayashi was in the right place at the right time, and he took his chance. The TF109 was pretty competitive at that end of the season. Jarno Trulli had qualified second in Japan, and was then fourth on the grid in Brazil, and sixth in Abu Dhabi.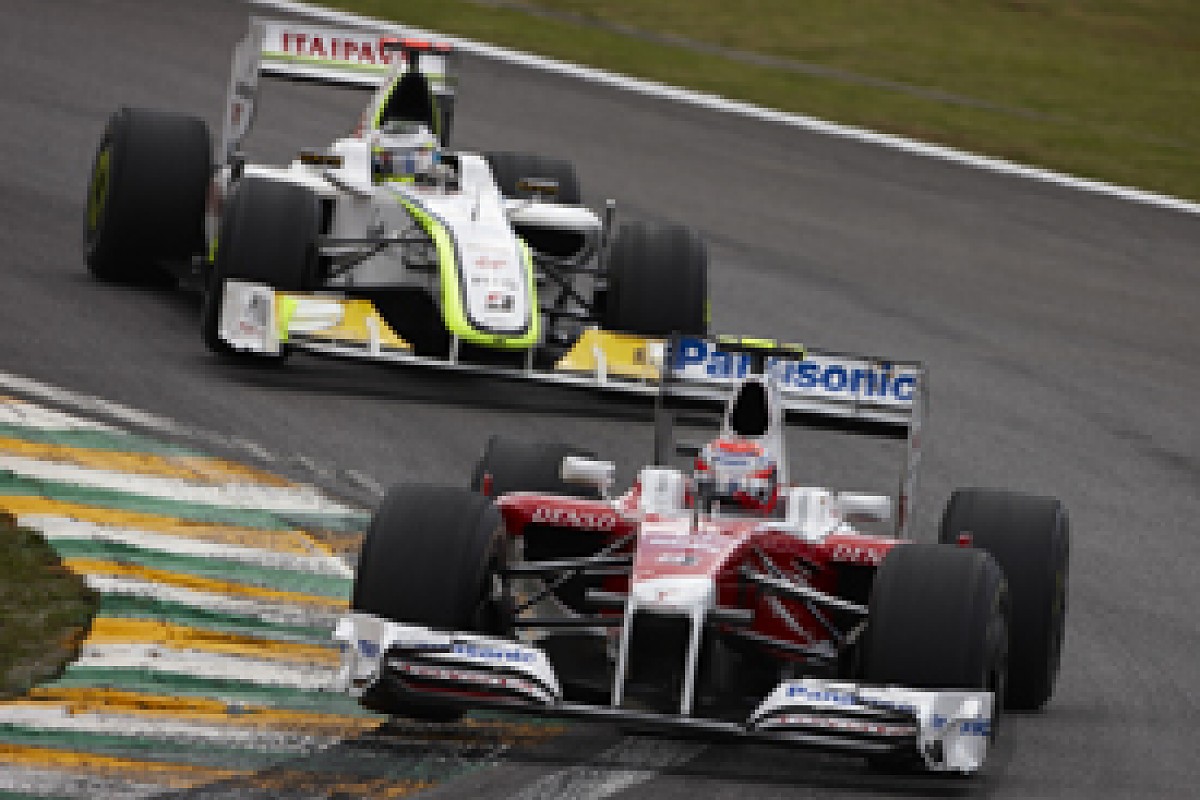 Kobayashi wasn't afraid to battle with world champion Jenson Button in his very first F1 race © LAT
But no one was paying too much attention to the Italian veteran. In two charging race performances Kobayashi made more of an impact than Nakajima had in two seasons, taking an astonishing sixth place in the final race. The timing was perfect. From nowhere he became a contender for a 2010 race seat, and once it was clear that Toyota was gone, Peter Sauber pounced.
Against the expectations of some, Kobayashi maintained his upward momentum last year with a series of great drives that more than repaid Sauber's faith. The team in turn gave often gave him the chance to run novel strategies that underlined the lack of imagination of many rivals, and he took full advantage. He eventually finished 12th in the world championship, making the points eight times.
His performance also finished Pedro de la Rosa's F1 career - although they were actually evenly matched, that wasn't good enough for Sauber, who felt the experienced driver should have been significantly ahead.
This year Kobayashi finds himself in the position of team leader alongside Sauber new boy Sergio Perez. It's a big responsibility, but one that he will no doubt accept with the same lack of pretension that has characterised his F1 career to date.
"I think it was a very tough 12 months!" he says. "It's a short period, but I think many things happened. I've been learning a lot of things and it was very challenging. It was a really great experience for me."
Kobayashi says that his Toyota outings had generated interest from others, and not just Sauber. The Swiss team proved to be the best option.
"Yeah, maybe I had a couple of opportunities, but finally I had really good confidence with Peter, and that's why I chose to drive for Sauber. I really feel that it was the right choice, and I'm very happy to work here. I think this is a really good place to learn."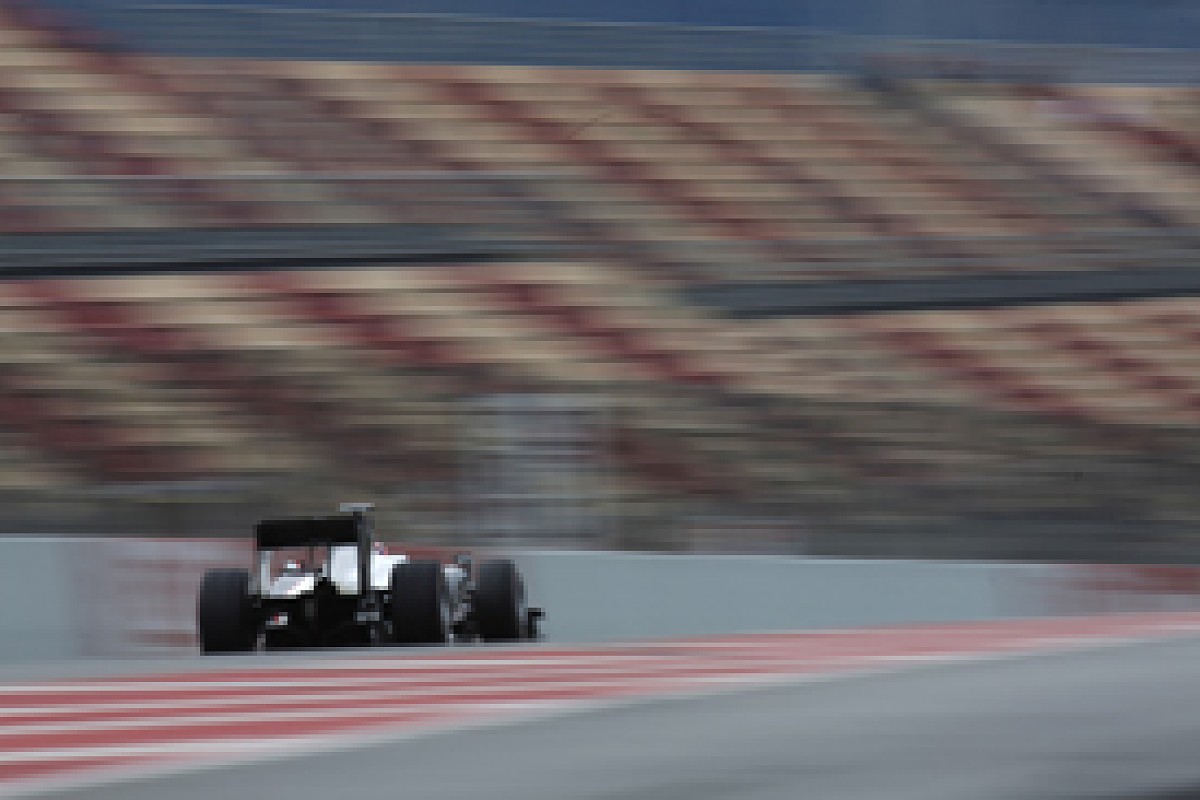 Sauber was the sensation of winter testing, but then the championship started... © LAT
In February his decision to join Sauber looked inspired, as the car appeared to be very quick in testing. Alas, reality hit home by the first race, a lack of straightline speed among the main issues.
"It was very exciting, but in Bahrain we fell down completely! We had reliability problems of course, and poor performance as well. We were quite surprised, we expected a little bit better. But many things happened at the same moment, and we didn't know what we should do. At that point what we had to improve was difficult to say, you know.
"I think everybody worked really hard, and finally we had no reliability problems, and performance-wise, we came back to where we had to be. I think we had a good middle of the season."
The year could hardly have started any worse for Kobayashi, and for the first few races he struggled even to see the chequered flag. The car was hopelessly unreliable, and he had a habit of getting drawn into incidents.
"A lot of frustration of course because I couldn't race, I was just watching races so many times. I wanted to race but I had a lot of bad luck. It was really tough. But it's my job to be faster, and it was difficult. Also I was a rookie and I had to learn many things in a short time.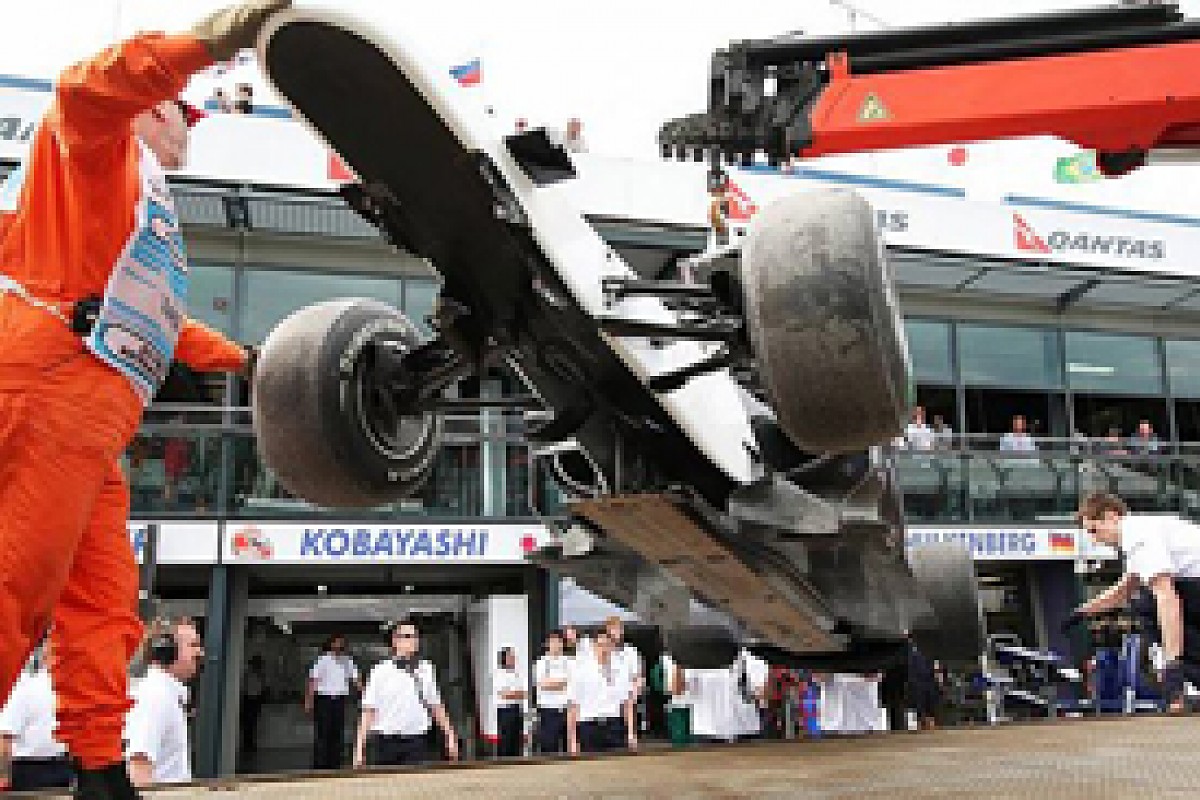 Wing breakages in Melbourne practice were followed by a very short race © Sutton
"I think it went quite well, and I was learning quite a lot in a short period, so I was happy. But I wasn't happy that I could not race! In the first four races I did 19 laps - 11 in Bahrain, and eight in Malaysia! Bahrain was hydraulics or whatever. In Australia the front wing fell down and I couldn't control the car. In Malaysia it was engine failure, and in China [Tonio] Liuzzi hit me. It was just bad luck, I would say."
Monaco was something of a turning point, as not for the last time the team ran a different strategy that helped Kobayashi to climb the order.
"I had a gearbox problem, but I think it was okay. I was running in the points, and I think we were quite convinced to get points there. But in Barcelona we had a lot of chance to score points, but at the start I had an accident with Robert [Kubica], and I lost my position. After that I couldn't overtake Vitaly [Petrov]."
Valencia was the race where he really made his mark. By staying out when everyone else pitted under the safety car he got to the sharp end of the field. After the restart, he was swept along, confidently holding off Jenson Button's McLaren.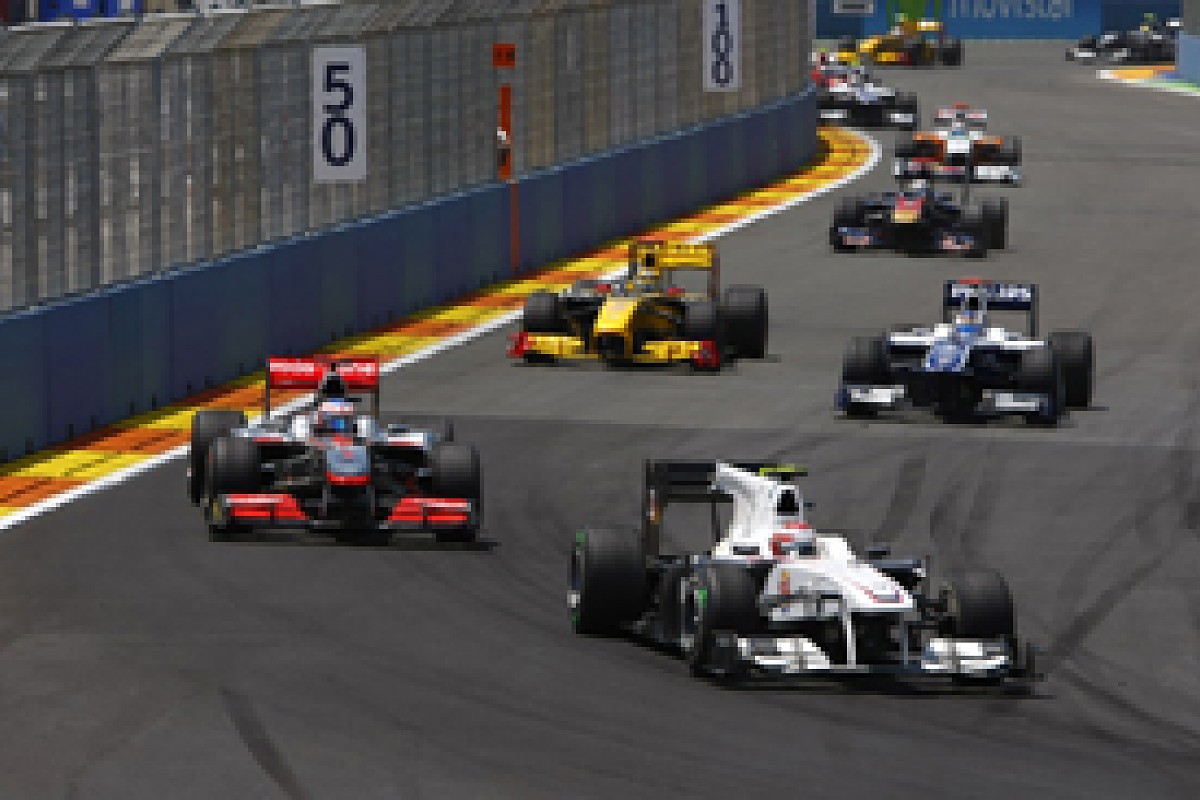 Kobayashi really made his mark in Valencia © LAT
"It was a good time. Definitely I feel it was a different category of car, so it was quite difficult to fight! But I had to bring back maximum points for the team. I did it, so it was okay.
"At that point I got quite good confidence, although I had that after Barcelona, where I finished P12 but in fact pace-wise I think I could get points definitely. And Monaco I was running in the points as well. In Turkey I scored points. In Canada I crashed on the first lap, which was bad!
"Then Europe I scored points. So if you look at that I was quite constantly in the points. I was quite confident that if I could finish races with no accident, I would always be fighting for the points.
"Turkey was good for me, but the best race was Silverstone. Qualifying was quite okay, and in the race I finished sixth. Pace-wise, it was not too bad, and the strategy was okay as well."
Kobayashi had saved the best until the anniversary of his first GP weekend appearance. Starved of real excitement since the departure of Takuma Sato - and strangely unmoved by Nakajima - Japanese fans had warmed to Kobayashi over the previous 12 months. He didn't let them down, putting in an astonishing performance to finish seventh.
"I made a mistake on the last corner during my best qualifying lap, and otherwise maybe I could fight for Q3. It's always easy to say, but difficult to do. We had quite good performance overall.
"It was a very special day because we had qualifying in the morning and the race in the afternoon, so we didn't have time to think like usual about strategy. But I was quite confident to start with the prime, and also the team said we have to do something different because I'm 14th. We had to do some different strategy."
So how come he could overtake at the hairpin when others couldn't?
"Because I can see a special line there - maybe there's special tarmac there! It's a joke... I don't know, I could just feel I could overtake. Our car was quite poor on the straight line, so I could not use normal overtaking points. So we had to find somewhere! And it was only the hairpin for us. This was the only reason."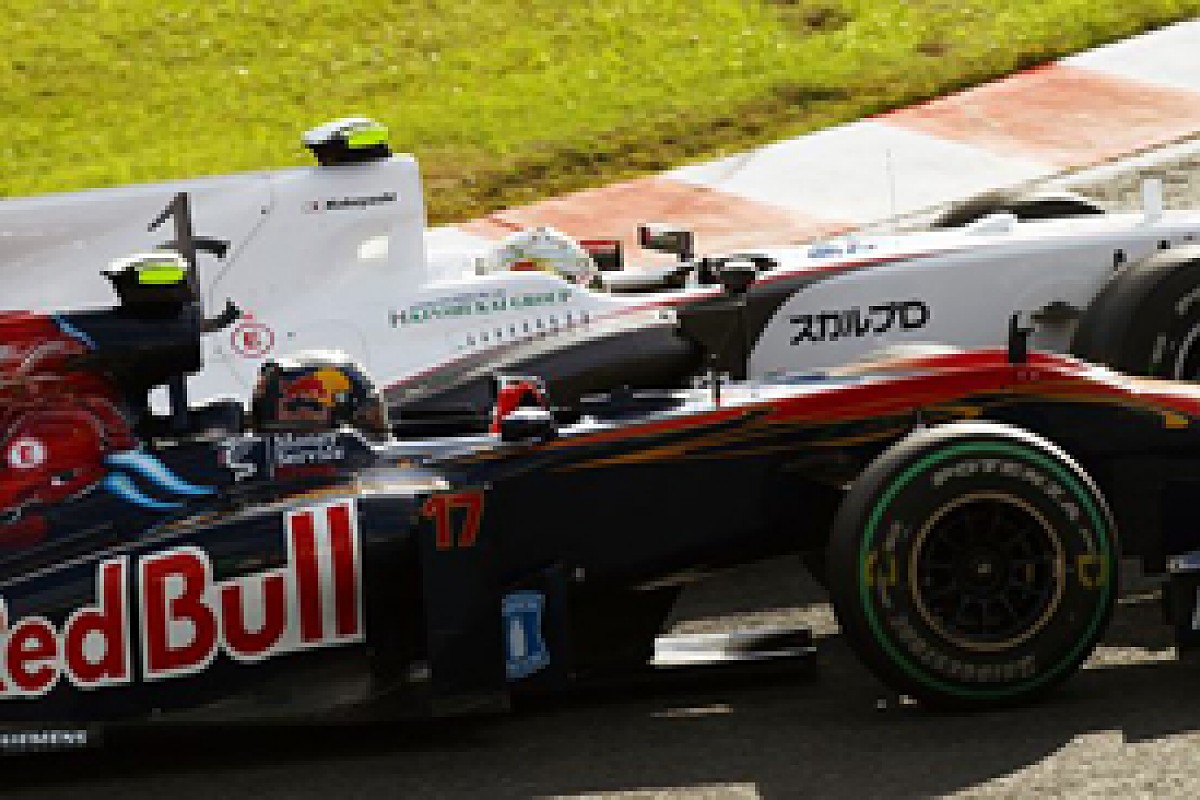 Kobayashi and Alguersuari go wheel to wheel at Suzuka © Sutton
In parc ferme his car looked like it had just been pulled out of a gravel trap, so battled scarred was the bodywork after various clashes. Along the way he had not one but two collisions with Jaime Alguersuari.
"First one was a little bit risky, but it was okay, because the car was not damaged. He was a little bit angry, maybe! The second one was a little bit damaged, but I finished the race, so everything was fine. It was very special. After seven years going back to Japan to race I felt really good. It was a first experience for me."
It's extraordinary how Kobayashi's life has changed since the Toyota opportunity fell into his lap. Without it he might have struggled even to find a GP2 seat for 2010 - just consider the way Nakajima has disappeared off the map.
In some ways it's a story that will give encouragement to many young drivers, since it is so hard to get started in F1 without massive sponsorship. Of course Toyota paid his way through Formula 3 and GP2, but ultimately Kobayashi made that final step on merit. Right place, right time.
"Everything depends on the results. Once I get a good result everyone says 'good, good,' but once I have a bad result, everyone says 's**t.' It's very simple. I'm quite happy, I'm learning quite a lot of things in F1, and the results as well as not too bad. I have to keep working hard, I still have to improve for this season."
This year he has the advantage of knowing all the circuits, and knowing the team. In some ways the change of tyre supplier may favour drivers with a lot of experience on which to draw, but on the other it levels the playing field for new boys in terms of specific Bridgestone experience not being a factor. Kobayashi is confident that things can only get better.
"It's really easy to work now for me, and it's very enjoyable to work here. Sometimes we don't have luck, and we miss points, but we believe in what we can do. We are not fighting for wins, but if we score points, it's enough."