The 2010 season was a mixed one for Nico Rosberg. On the one hand he put in some great performances and thoroughly trounced his team-mate Michael Schumacher, but on the other, Mercedes was at best scrabbling for a place on the podium. And that was not why Rosberg signed up for the team that had won the previous year's championship.
In the end he reached the podium on three occasions, taking third places in Malaysia, China and Silverstone. More importantly, he made the points 15 times in 19 attempts, missing out only in Spain (delayed pitstop after early nudge from Robert Kubica), Hungary (lost wheel in pits), Japan (lost wheel on track) and Korea (hit by the spinning Mark Webber).
That ability to bring the car home, and usually in the best position it could achieve on the day, did not go unnoticed. In the end he outran Kubica to finish seventh in the World Championship, beaten only by the six drivers from the top three teams. Indeed, he came within a couple of points - a humble ninth place - of Felipe Massa.
Given that he almost doubled the score of team-mate Michael Schumacher, it was not a bad outcome, and he certainly repaid the faith of Ross Brawn. But as he admits, it wasn't what he had anticipated.
"There are two sides to this season," he says. "In general, results-wise I came into the year thinking I would win races and have a really strong season. And it's definitely gone completely the opposite way, so that's been a big disappointment. In terms of results it's not even been a progress for me from last year. I finished seventh in the championship last year, seventh in the championship this year.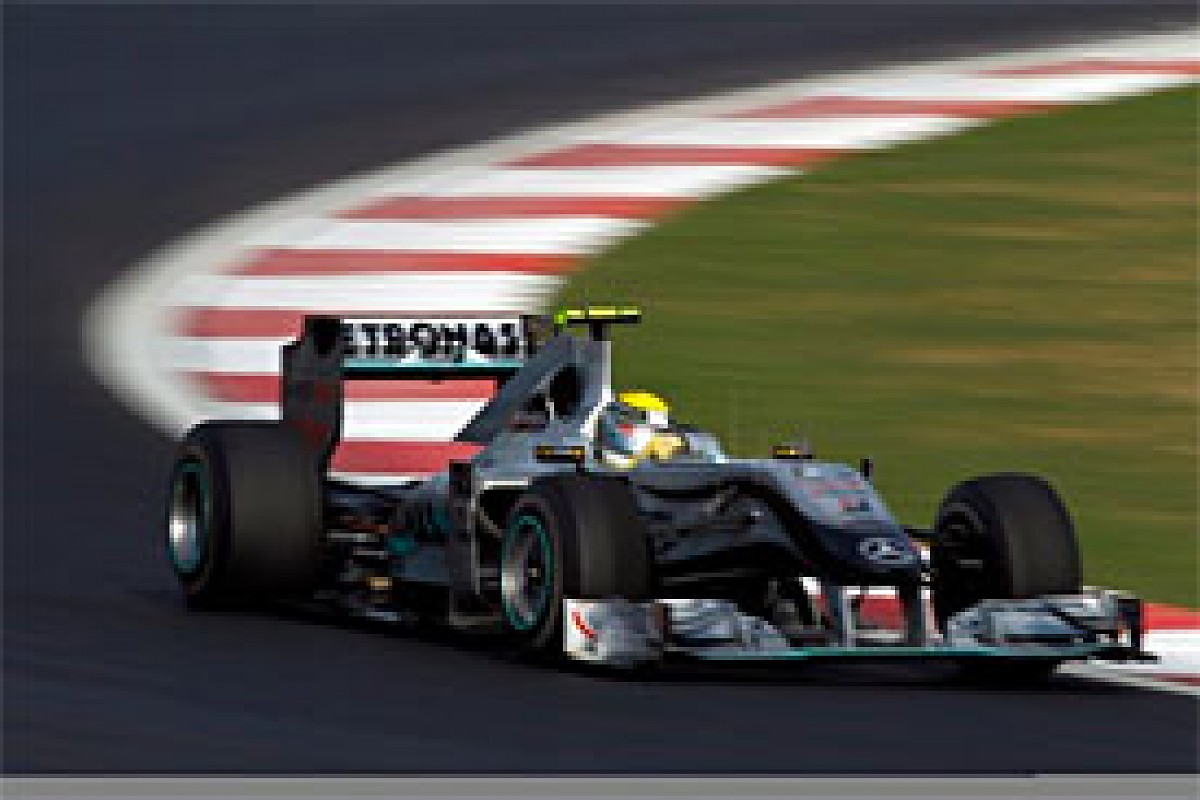 Nico Rosberg, Mercedes, Korean GP © LAT
"But then there's the other side where the change has been very good for me. It's opened my eyes a little bit. And how I compare to my team mate has been very, very good for me, obviously, which has been very important. Getting the best out of the car has been good for me, because I think I've done well on that side of things too. So, there's different ways of seeing it."
Rosberg admits that the car was much less competitive than anyone had expected, even if Brawn's form in the latter part of 2009 had suggested that things wouldn't be as easy.
"It was a surprise where we were. There was a likelihood that we wouldn't be winning the championship this year, looking at last year, and how it kind of tailed off towards the end. But fourth in the constructors, often getting beaten by Renault, that was a surprise. I didn't see that coming, that it would be that bad."
It's easy to forget now that Nico finished in the top five at each of the first four races, taking third places in Malaysia and China. With long scheduled new bits on the way for the European season, the mood was optimistic. Then things became complicated by the ubiquitous F-Duct and blown diffuser, and the need to fast track new developments.
"We were expecting big things. We expected to win races after those first couple of races, because we had so many big steps coming, but that's just one more weakness that showed, we just didn't do a good enough job putting those steps on the car."
He says that he's been satisfied with his own performances: "I've been happy with most of the races from my perspective. Monaco was probably not good, other than that there are not many like that. Hungary was frustrating, and Valencia was frustrating because we were just so slow, and Canada, being so far off in qualifying."
He also has no doubts about which of the three podiums was the most memorable.
"Silverstone. That was at a time that we were struggling with the car, and especially going to a quick track like that, we got the best out of it on the weekend."
The big question is, what went wrong? Intriguingly, Rosberg blames the organisation.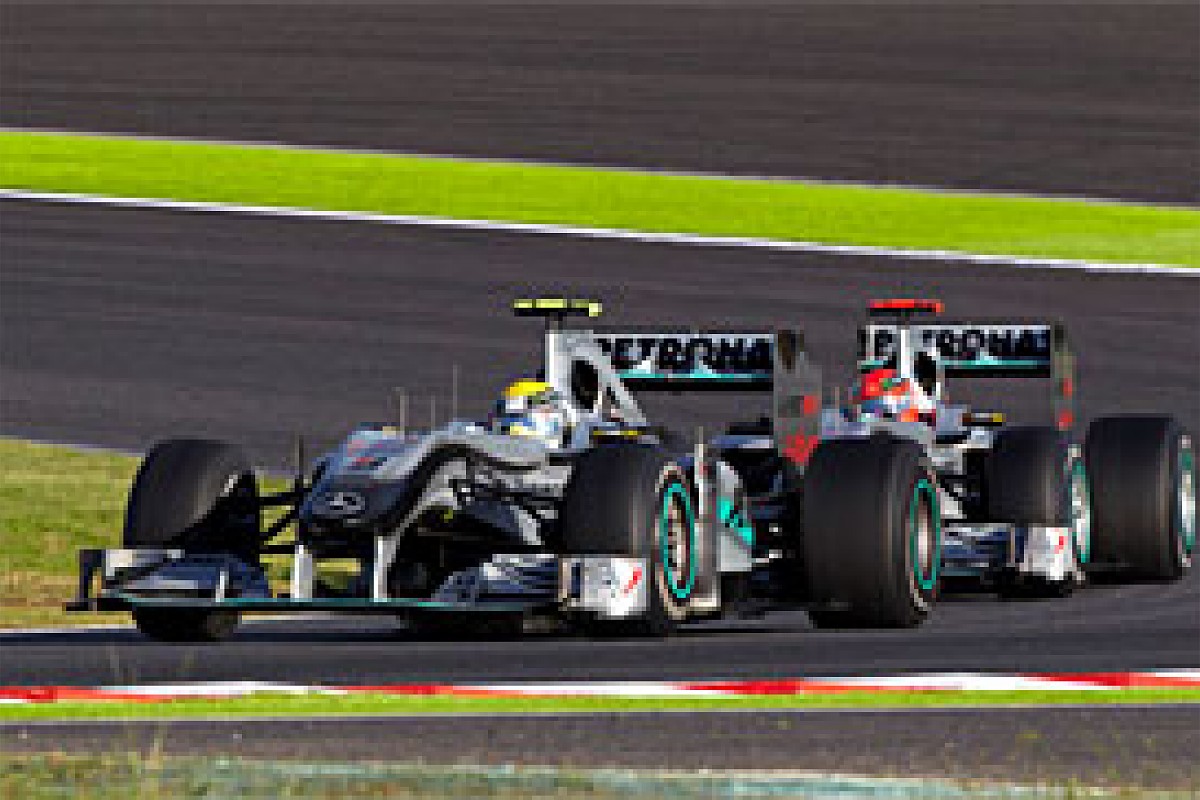 Rosberg dominated Schumacher for most of 2010 © LAT
"We were just not the best team in the way that the factory is set-up and everything. But I think we have the best people, starting off with Ross, so I have a lot of confidence that we'll get there. It's just that Ross's process hasn't finished yet, and he's learning along the way also, I think.
"He probably learned a lot last year - and especially this year - about where the weaknesses are in the organisation. So he's still in the process of making a lot of changes and getting the best out of every individual, getting the people to work together well, things like that.
"There's been a lot of change in the team. The last three years it's been a huge rollercoaster. It's just going to take some time to get it to work as everybody wants.
"Ross is making changes all the time, so yes, pieces are falling into place. But it's difficult for me to judge how quickly and how efficiently, because I'm not really inside. It's still in the recovery period.
"But it's been a great experience for me, and I look forward to the coming years also. Driving a Mercedes is brilliant. I believe in the people that work here, I believe in the Brackley people, and I see it as a long term thing."
The actual results might have been disappointing, but as Rosberg suggested earlier, changing teams after four seasons at Williams was in itself a positive step.
"An amazing experience. Four years in one place... In the end with all the respect to Kazuki [Nakajima] I didn't have pressure on that side of things. So it's been for me personally a great step. I've progressed so much as a driver as a result, also. I've made such a big step just because of the change of team.
"You start to question things again, which maybe you stopped questioning. Here I came in and started questioning. It's not so much on the driving, because the driving I don't think you improve a lot as a driver, but it's the capacity to use your mind to set-up and help yourself driving round the track a little but with things you are doing. It's just the use of the mind."
Rosberg says that he's learned a lot from Brawn himself.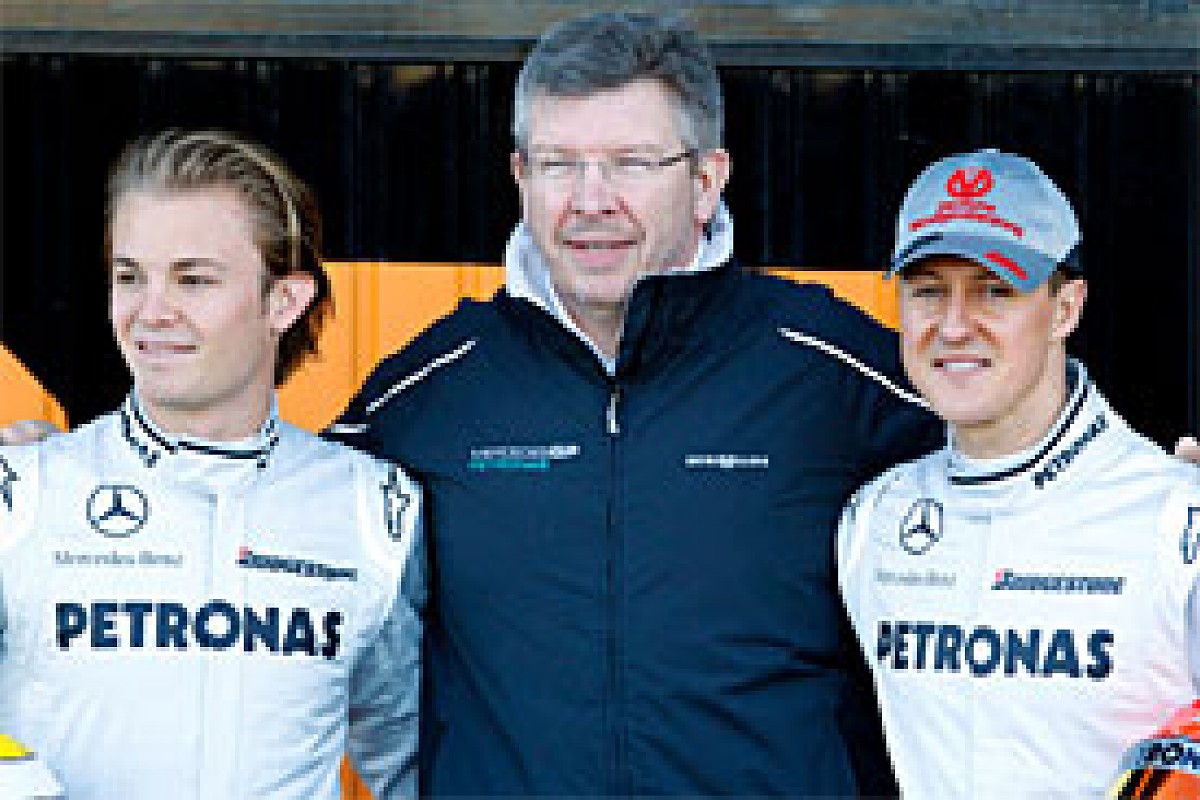 Rosberg is happy to work with Brawn and Schumacher © LAT
"I'm very fortunate to have the chance to work with Ross and Michael, it's a great experience. Ross's way of going about things is very impressive and very nice to see. The best quality is his leadership quality. I not only see it, but I receive it myself, because he's also leading me in a way, how he points out the weaknesses, how he points out the strengths, all these things."
He seems to have an easy relationship with Schumacher, and never lacking in confidence, he certainly hasn't been overawed by him on or off the track. It's interesting to note that Rosberg is Schumacher's first German-speaking team-mate.
"I expected so many bad things, but he's not a bad person. We're not friends or anything, we just get on OK. Does it help to share a language? I don't know. I speak German but I don't live the German culture in a way, I'm a bit more international."
Of course what really mattered this year was how he fared against Schumacher on the stopwatch, and beating him so regularly has done a lot for Rosberg's reputation.
"For my career it's important that it's clear to people that were in charge of the sport. So it's been a good season for me, but in general you need the results to make an impact, and I still haven't had that. It's still not fully there."
Given that he has a long-term deal with Mercedes, should he be that concerned about what other team bosses think?
"It's always important to keep the value high, even when you're renegotiating with your own team or whatever."
That sounds like something he learned from his canny father.
"Yes, that's one of the areas where I learned quite a lot from him..."