After the Abu Dhabi GP Mark Webber travelled with Sebastian Vettel first to Austria and then Milton Keynes as Red Bull celebrated its double world championship victory. It can't have been easy for the Aussie, who must have spent at least part of the journey ruminating over what might have been.
While Vettel dashed back to Abu Dhabi for Pirelli testing and then continued on his victory tour, Webber slipped away to enjoy some quiet time at home. He popped up on Twitter last week, reporting not on some glamorous celebration, but a trip to the vet. His dog had had a go at eating one of the family chickens...
At the weekend he was back on Red Bull duty, this time in front of an appreciative home crowd at Western Australia's Wanneroo Park. The title might have slipped away at the last minute, but he still has plenty to celebrate when he looks back at 2010.
"We're elated with what Sebastian's achieved, but also very proud of the way Mark's driven this year," says RBR team principal Christian Horner. "He's had an unbelievable year, and he can look back with great pride at what he's achieved. He's the only guy that's had 100% reliability out of the big four, and he led throughout the summer months.
"It's hurting quite a bit but he can be very, very proud. He's contributed to this championship hugely. He's pushed Sebastian all the way, and he's brought the best out of him."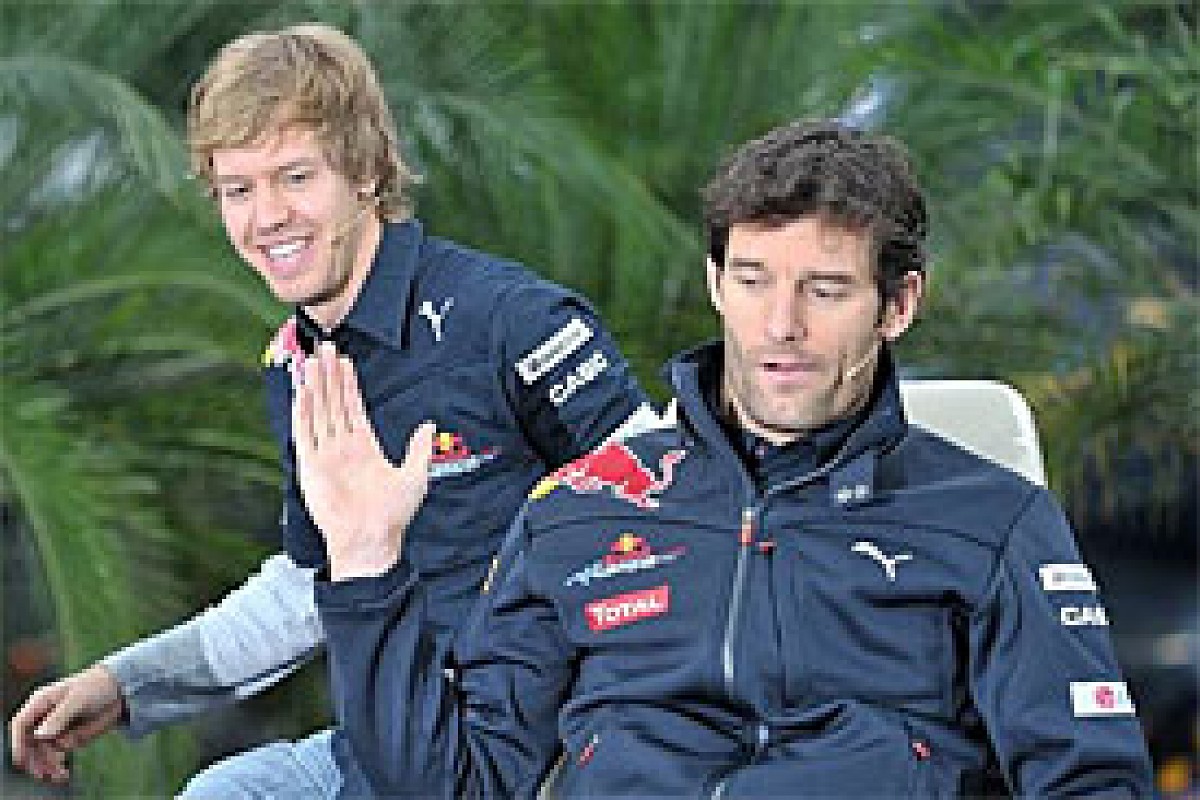 Webber lost out to Vetttel in the end © Sutton
"It's been an absolutely incredibly rewarding season, just lots of races and special situations that have really been unique, I suppose," says Webber himself. "As my old man says to me, they can never take those away from you, you've got them, and they were fair and square. And that's the most important thing for me, and always has been, that if I got to win at this level I wanted to make sure it was fair and square.
"Obviously I was never supposed to survive against Sebastian, and that's worked out pretty well. Yes, there have been a few incidents this year, which are never to be desired. I wouldn't say it was inevitable, but when you're at the front with two drivers always close together as a team incidents can happen."
In this business you're only as good as your last race, and unfortunately Webber ended 2010 with his most frustrating performance of the season. That should not detract from his superb achievements earlier in the year, not least that astonishing sequence of two wins from pole in eight days in Spain and Monaco. His performance in the latter race was sublime, as more than once he built up a lead only to have to do it again after a safety car period.
"Clear highlights were obviously the victories, especially Monaco," he says. "If I could have that race again it would have been beautiful to win there by over 25 seconds, instead of under the safety car, but that's being greedy obviously. It was just an incredibly unique day to tame that circuit. I always say it's not a track where you race against other people. It's you and the track, you race against the track. That was a very, very special day to join the other winners there.
"The British GP, obviously mustn't forget the team's home race and my other home race. It was beautiful to win at Silverstone as well. Budapest was a different type of victory, a very unique strategy, and that required something very different from me again, and that was very rewarding. Barcelona was pretty much a straightforward race, if you like."
Aside from the wins, what caught the eye most was Webber's qualifying form. Between Malaysia and Turkey he took four poles in five races, and while Vettel subsequently had the edge - often by a tiny margin - that early run was impressive.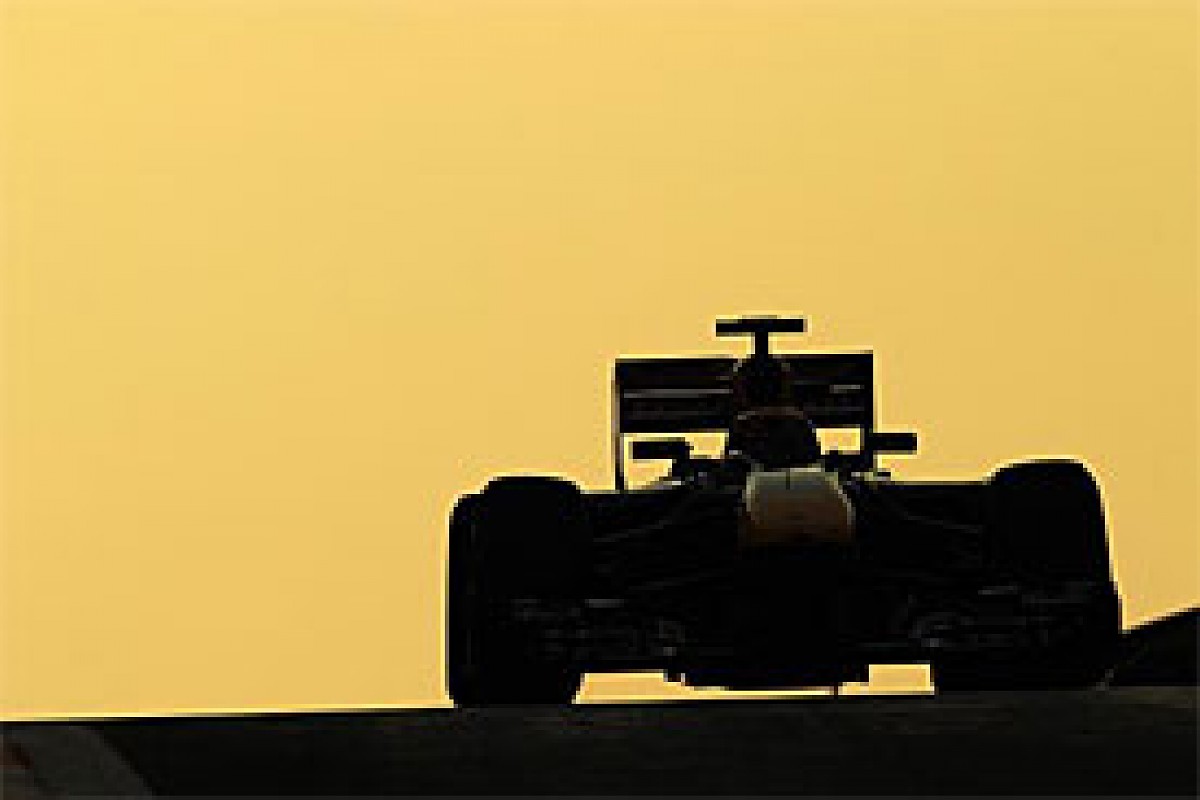 Webber was very strong in qualifying in 2010 © Sutton
"I knew how important qualifying was with these new regulations, but it really hit you between the eyes after you'd done a few races. It was everything, so it was 'Now I need to get my finger out.'
"It sounds stupid, it's not like I was cruising in qualifying before, but now it was you couldn't do anything in a race if you don't qualify that well. There's a huge amount of energy and focus that goes into Saturday afternoon, and I have had some very good Saturday afternoons. Obviously Seb has done on paper a little bit better on those days, but there's a few reasons for that I suppose."
A championship campaign is about picking up results as and when you can, and while things went wrong towards the end, for most of the year Webber was scoring with brilliant consistency, bringing the thing home and collecting points on days when things didn't always go smoothly. Even in Turkey he managed to salvage third after the clash with Vettel and a stop for a new nose.
"Other ones that stand out, I think when you look at it Belgium was a very, very easy Grand Prix to screw up for all of us. I was seventh after the first lap, a shocking start. To come back from there.... OK, there was a bit of attrition with Jenson and Seb, but I had to keep the pressure on Robert at the second pit stop, and he made a mistake there. Lewis made a mistake on the slicks. It was a tricky race for all of us, and you'd expect nothing different from that track.
"That was a testing race, and then I think Singapore as well, those two together. Singapore was probably the most rewarding Grand Prix for third place that I've ever had, in terms of rolling the dice with the strategy, clearing the backmarkers when I had Lewis behind me on fresh prime tyres when mine had already done 25 laps, so there were some key parts to that race. I finished the race with a big vibration. Team communication was just awesome, it was amazing how we just knew we had to hang in there. The tyres had done 58 laps, we had JB doing his best, which still wasn't enough. Very rewarding."
In Singapore we also saw the aggressive side of Webber, holding his ground when Hamilton went round the outside. It showed everyone - including his rivals - that he was prepared to fight for this title, and fight hard. Banging wheels was a huge risk, but while Lewis was out on the spot, Webber just got away with it.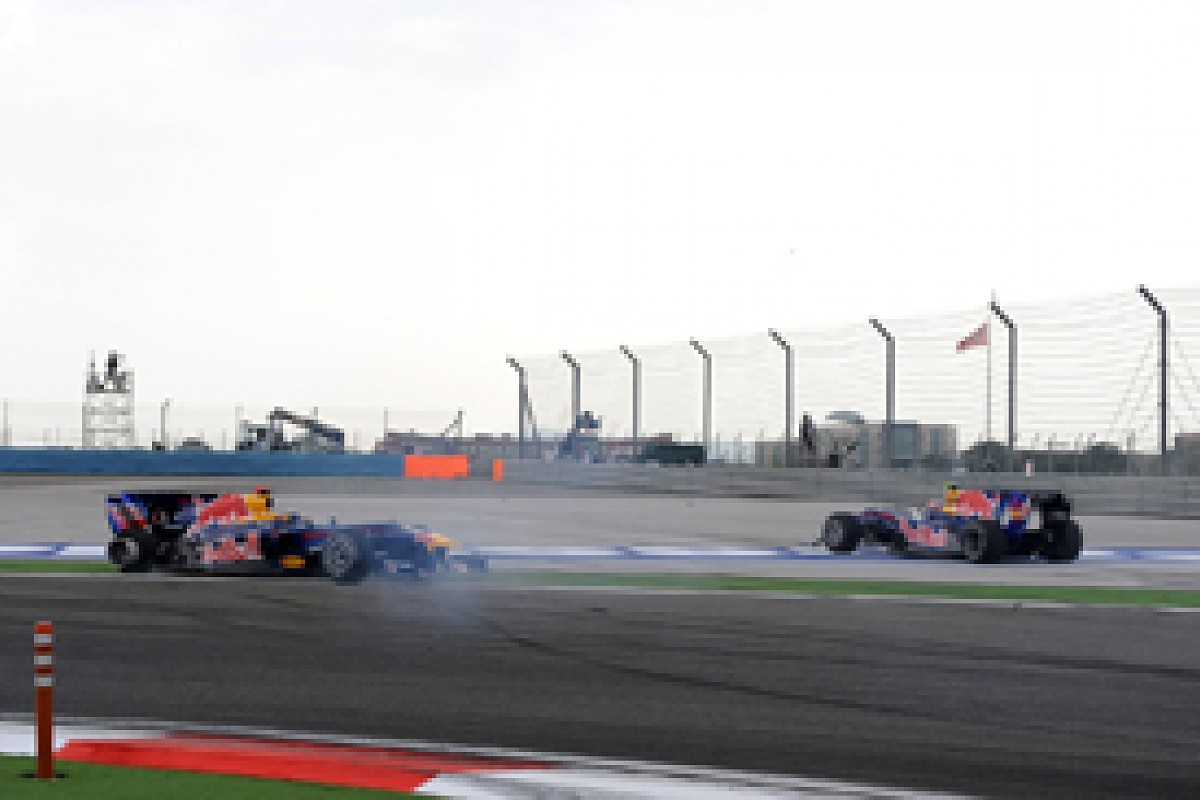 Turkey was Red Bull's low moment of 2010 © LAT
"Look, there's been a lot of people that took points in the championship. If I let Seb go through, no problem at all, in Turkey, it could have taken a different spin as well in terms of how the team might have operated. That worked out OK for me. We raced hard, as Lewis and I did in Singapore.
"Really that tyre shouldn't have finished the race, or I should have had a pit stop with a puncture, which would have put me out of the points probably. In the end, it didn't happen."
There were times when things didn't go his way, of course. In Melbourne he lost vital points when he tangled with Hamilton.
"In Australia, Seb and I went for the front row, again it was a couple of thousandths or whatever for pole, and the race start was wet. That's not the ideal thing when both of you have an advantage. I was very, very fast in the race in Australia, but we sort of snookered ourselves by being too conservative on the intermediates and waiting for the track to come to us. Then I had to come out behind other people.
"Early in the championship the car was very hard to race, because we didn't have the F-Duct, top speed was a bit down. So you had to risk a lot in the braking areas. It was still slippery. I'll put my hand up for the Lewis one, totally my fault."
And then of course there was the collision with Heikki Kovalainen in the European GP.
"I was happy to walk away from that one, let alone get quite a few podiums and victories afterwards. Look, I've been in a Minardi, I've been in a situation where a fast guy who had a poor first lap or had broken a front wing is coming back through the field. I thought it was not very beneficial to fight against Michael or Rubens or Montoya in a Williams because it's just very, very good nuisance value, and it's just not the way to make... At the end of the day you're actually slowing your race down as well. You're slowing both races down, which is for nothing.
"I was a bit surprised by what he was doing, given what was at stake for him. I might have got a few points out of it. Obviously there was some carnage going on with safety cars and whatnot. But I didn't lose double figures in points."
Apart from those events and of course the season-defining low of the crash in Korea, there weren't too many races where Webber squandered points. As Horner says he did have good reliability in the races, but things didn't always go to plan.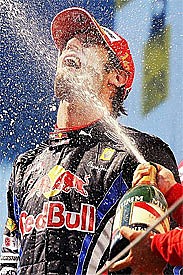 Webber enjoyed 2010 despite no title © Sutton
"The gearbox penalty in Canada put me back off the front row, that was something that hurt a bit in terms of my race there. There have been a lot of races where we were hurt in terms of preparation, we've had a lot of stoppages in practice and stuff.
"But that's the way it goes, you have some of those. There's not a driver in the pitlane that can say I've put together 19 perfect qualifying laps or 19 perfect races, it just doesn't happen for lots of different reasons."
The progress that both Webber and the team have made since the middle of 2009 is impressive. But what of the future? There's a widely held view that this was Webber's big chance, and that the moment may have passed for him.
But there's no reason to suppose that RBR will be any less competitive next year, and it would be foolish to assume that as champion Vettel will now automatically have everything his own way. Take a snapshot of the last three or four races and you might have a case, but as we found out this year, don't underestimate Mark Webber. If the RB7 is as good as its predecessor, he'll be a contender.
"Singapore last year was our first step performance wise to understand the car even more, or these regulations even more. The team is now a lot more experienced, and we've learned a lot this year. The team's learned how to handle two drivers racing at the front all the time, which is a great problem. There are teams who would love to have that problem.
"We've been adding reliability, addressing priority in terms of what parts go to the car, what work we do in the field, there's lot of things that we've sharpened up on. When you have more wisdom as a team, as a unit, because we're all the same people, that can only help you."