Just before the cars left the garages to join the grid in Abu Dhabi loud dance music was blasting out of the Red Bull garage, its beat so infectious that even camera crews waiting outside couldn't resist bopping along.
It seemed an odd way to keep your crew calm and chilled before the biggest race that any of them have been involved with. However, team manager Jonathan Wheatley, sitting on the pit wall watching the last minute preparations, disagreed.
"We got the monkey off our back last week," he smiled, referring to the teams' title. "The guys in the garage are very relaxed. I think we've got the fastest car here, and I've got a very good feeling about today. Alonso is due some bad luck..."
A few minutes later there was a slightly surreal scene on the grid when some German journalists dropped a banana skin right in front of Alonso's car. It was a silly, tactless joke, and the Ferrari communications boss - who angrily kicked it out of the way - didn't see the funny side. Although Ron Dennis - standing nearby with a 'who, me?' look on his face - clearly did.
Whether there was karma involved or not, something went badly wrong on the pit wall when Ferrari made the call that brought Fernando Alonso into the pits and sent him out behind Nico Rosberg and Vitaly Petrov.
"I don't want to say who decided what, because as always the team has to be protected, and this is what we're going to do up to the end," said Stefano Domenicali after the flag. "But for sure the point was to cover from Webber. We had the doubt of the soft tyres disappearing. And we thought it was much easier to overtake on the track."
The tyre issue is also what brought Webber in, and clearly the concern at Ferrari was that the Australian would go fast enough on his fresh primes to ultimately jump ahead of Alonso on deteriorating options. But weighing that possibility against the certainty of dropping behind two cars that had stopped behind the safety car was a no brainer, at least as far as every other engineer along the pit wall was concerned.
It was not a snap decision. Four laps passed between Webber's stop and that of Alonso, and in the middle of that gap, the team brought in the car of Felipe Massa.
Domenicali implies that the team thought that it would be easier to pass Petrov than it was - certainly it's hard to believe that all those engineers and strategists completely overlooked the possibility that the Mercedes and Renault could run to the end. But whatever the thought process, it was the biggest own goal the sport has seen in years.
Ferrari hasn't given us much detail about what transpired on the pit wall, and probably never will, although we may yet hear about heads rolling at Maranello. So let's instead look at what the other key players did in Abu Dhabi that led to Sebastian Vettel taking the title - and what they thought about Ferrari's strategy.
Red Bull: It takes two to tango...
The conspiracy theorists would argue that Webber's early pit stop was designed to throw Ferrari a curve ball, and while RBR may have hoped that it might distract the Italian team, no one could guarantee that Ferrari would take the bait.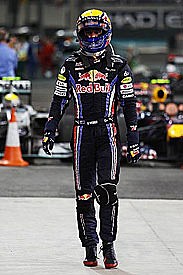 Defeat was hard to take for Mark Webber © Sutton
Equally it could be argued that when RBR pitted Webber it was making as silly an error as Ferrari did in responding. Mark too was destined to become trapped behind Petrov and Webber, and even with slightly newer primes that could go to the end, he was always going to struggle. Would the Renault-powered Petrov have been a bit more amenable to letting Webber by? We'll never know.
In fact RBR did give serious consideration to pitting Webber under an early safety car. That worked with Mark in Singapore, while a long stint on primes - with a stop at the end - didn't hurt Vettel at Monza.
"The initial decision was should we bring Mark in on that first safety car or not," says Adrian Newey.
"We had debated it prior to the start, felt that if he was in position, then we wouldn't respond to a first lap safety car, so we stayed with that plan."
Christian Horner says that pitting Webber on lap 11 was a throw of the dice. He insists that Mark could take a risk at that point, whole Alonso - safely ensconced in the fourth place he needed - had everything to lose.
"Going into the race we just thought let's go for it," says Horner. "He came on the radio reasonably early and said he was losing the rear tyres, so at that point we thought we had nothing to lose, so let's get onto the other tyre and have a crack at it.
"Obviously Sebastian running in clean air at the front did a great job in looking after his tyres, was able to build on that performance.
"The guys that stopped very early on, [Nico] Rosberg and Petrov, we always knew that Mark was going to have to pass them, but we saw by adopting that strategy in Singapore, by doing it in a few other events, going longer on new set of tyres, sometimes worked for you.
"We dropped him into a bit of clear air, he got a little bit held up by [Jaime] Alguersuari before getting past him. Ferrari reacted to that, and I wasn't expecting them to do that. And they reacted with both cars."
Here's the funny thing. Having started on the super soft and then pitted for primes with Rosberg and Petrov, Alguersuari had jumped up the order and was racing hard for points. But talk about being caught between a rock and a hard place - a Red Bull owned team, a Ferrari engine supply that carries with it certain, shall we say, commitments...
The bottom line was the guy was just doing his own thing, but he held up Webber just enough for Ferrari to calculate that Alonso could now safely get in and out of the pits and stay in front of the Aussie.
"The irony is that had Alguersuari not held Mark up, Ferrari wouldn't have bothered covering, because it would have been too late," says Newey. "It was only because Mark got held up that they were able to go for the cover. Actually STR did us a real favour..."
Alonso successfully stayed ahead of course, but Webber wasn't the car the team should have been worried about.
"It just seemed odd to take the risk," says Horner. "They just had to finish in the top four, and they were in that position. But we've given Ferrari a few points this year in Korea, Bahrain, Budapest, to name but a few. So those were gratefully received today..."
Jaime Alguersuari's charge hindered Webber © LAT
In the end the Webber pit stop did nothing to help Mark: "The option tyre seemed to go through a graining phase and then come back again," says Horner. "I've never been happier to see Petrov driving so well! There was no intention there [to get help from Renault], that's for sure.
"It was a surprise for us because Ferrari didn't need to take so many risks. That then opened the race up beautifully for Sebastian who then just got his head down and knocked in the times. I just think it's great that we've managed to win it with what we've done on the circuit."
As Newey made clear, having two contenders in the fight really did make the difference: "Obviously with hindsight, they almost certainly made a mistake. If Fernando had stayed out, he would almost certainly have finished fourth.
"It depended on what they wanted to focus on, whether they wanted to focus on covering Mark for the championship, or covering Sebastian for the championship. And that's where our policy of allowing the drivers to compete with each other got us into the position where they had to worry about two of our drivers, rather than just one.
"It had to be key as it turned out, because they didn't know which one to cover. As it happened they chose to cover the wrong one. In fairness to Ferrari I think it would have been hard to predict that at the time."
McLaren: So close and yet...
Lewis Hamilton's bid for the title depended on A) winning and B) everyone else having trouble, and while those criteria were not necessarily unrelated, it was always going to be a long shot.
It didn't work out, but the team played a crucial role in determining the destination of the title. When Jenson Button got ahead of Alonso at the start he put the Spaniard on the bubble, in the fourth place he needed but with no safety net. That extra pressure must surely have contributed to the Ferrari mistake.
And then there was the question of Hamilton v Vettel. If the Englishman had been able to get closer to Seb, then the RBR man might have been forced into a mistake, or Lewis might have found a way past. Either way if he'd got ahead of Vettel, he would have given the championship to Alonso.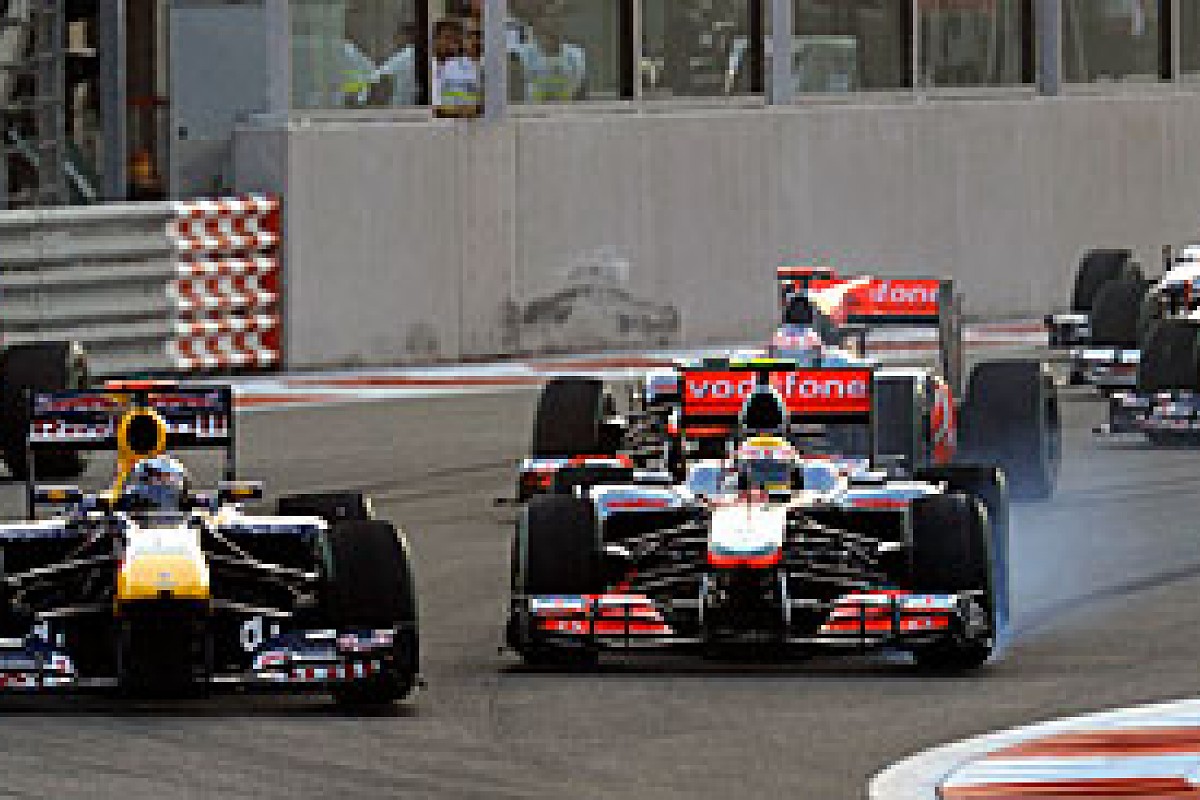 But he didn't get close because he got stuck behind [Robert] Kubica. His life was also made harder when Vettel j-u-s-t got out of the pits ahead of [Kamui] Kobayashi/Kubica, after a great stop that saw the front of the car slamming down onto the pit lane. But he was also helped by Kobayashi making a mistake at the first corner just as Vettel was powering out of the pitlane. Had Seb got trapped behind the Sauber and lost some momentum, Hamilton might have had a better chance.
"We felt we had the pace to take on Sebastian," says McLaren engineering boss Paddy Lowe. "But we had to take a bit of a gamble, because being ahead of us, he was going to get the gap to Kubica or rather Kobayashi time first. Our only hope was to box into the gap behind those two guys and force Red Bull to consider boxing Vettel into the same gap. But we'd have a lap advantage over them, and therefore hopefully beat them in the pit stop.
"As it turned out, they only just managed it, by doing a really quick stop - not just the stop but the whole sequence was particularly quick. I don't think that they could have had the confidence that they would get out in front of those two guys, but that was the gamble we took which didn't pay off."
Jenson Button meanwhile stayed out for a late stop, as it ultimately didn't make any difference to his third place.
"We kept him out because there didn't seem any point in bringing him in, and then eventually we did bring him in, more for issues of tyre wear rather than anything else," said Lowe. "He had a reasonable pace, and because the whole train behind was being held up Jenson really had a safe third place after a certain point. There was a point where we could have stopped in and that passed, so you may as well leave him.
"It would have been really nice to win the race, even if it didn't win us the championship. But two cars on the podium as a way to leave the 2010 season is a much better way than it could have been. It was nice to see both our guys up there, because they're both such great drivers and so it's a kind of shared finish for them."
Like everyone else, the guys at McLaren were astonished when Alonso pitted after Webber: "It seemed like the classic thing that you would have done if you were fighting for position with the people around you. If you analyse it, it seemed like an odd thing to do when all he had to do was come fourth. He boxed into a gap behind two cars that had already stopped, so if you need to come fourth you only need to find two more people ahead, which surely existed in the form of at least Vettel and Lewis, and then it's finished.
"They perhaps felt that they need to take a gamble, and that seemed like the wrong gamble to take, unless they had a problem..."
Renault: Keep it in the family...
Many people missed it in the frenzied aftermath of the race - including Domenicali, who knew nothing about it - but the FOM TV director did a great job to deliver us that replay of Alonso making a gesture at Petrov on the slowing down lap.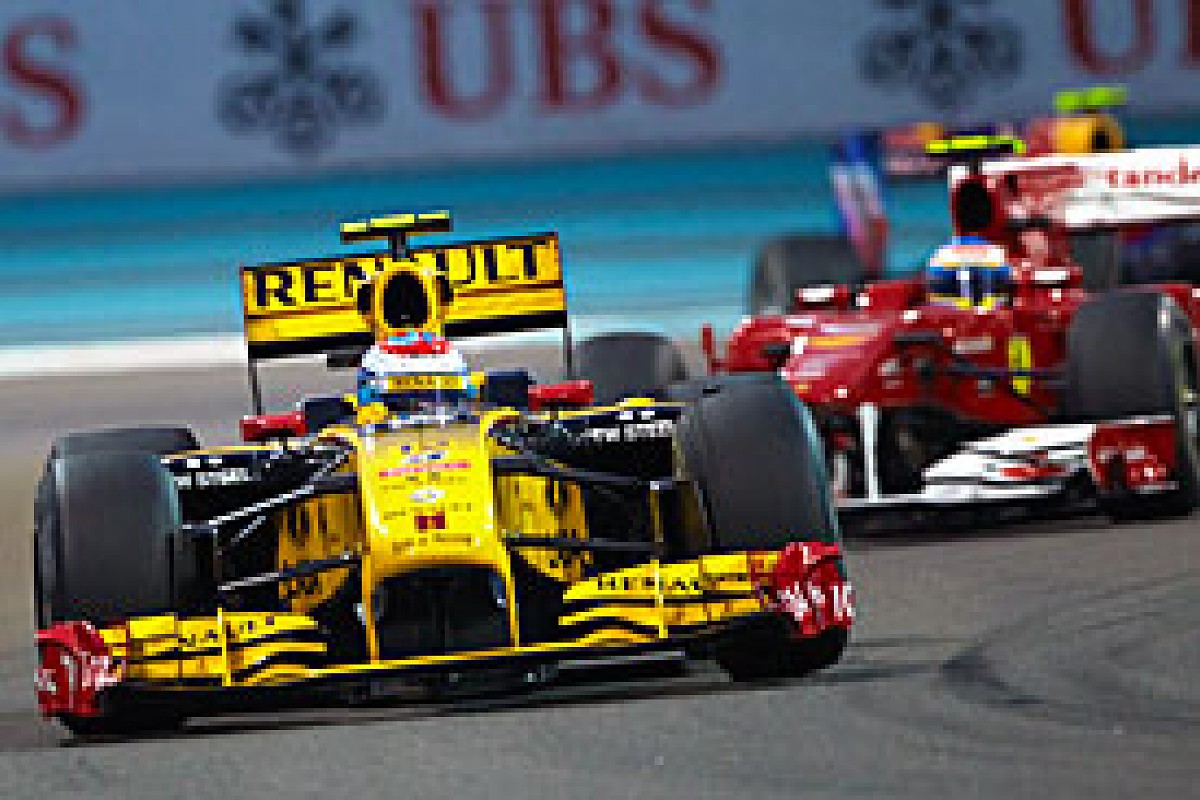 Vitaly Petrov holds off Fernando Alonso © LAT
While the Spaniard's frustration was understandable, there was no excuse for such a reaction. On Sunday night Petrov himself admitted that as someone who liked Alonso, he was disappointed. Vitaly was racing, not just for points, but in effect to save his career.
Even if he had got by any earlier, Alonso would still have had to deal with Rosberg, who would have been a formidable customer. And if that wasn't enough, as the race progressed Kubica dropped into the mix and also put himself between Alonso and the title.
There was a huge irony of course in the fact that two of the three cars that ultimately frustrated Alonso were from the team for which he is so closely associated with, and which also of course supplies engines to Red Bull. On Tuesday morning, newspapers around the world carried a large Renault ad pointing out who powered the new world champion.
It was the ultimate example of customer service, but even Ferrari would have to acknowledge that no one could have planned it. Who could possibly predict that the drivers who started 10th and 11th on the grid would play such a key role?
Nevertheless is was not by chance that the yellow cars jumped up the order, as the Renault guys simply made a couple of great calls.
"The way it worked was we sat down after our disappointing qualifying and really thought long and hard about what we could do to get us out of things," says engineering chief Alan Permane. "One of the things we decided, because you have very little time to think, was that if we had a safety car on lap one we would stop Vitaly and put him on the prime.
"And the other thing was we thought we'd have a little bit of a gamble and put Robert on the prime tyre from the start. Honestly if it hadn't been for Kobayashi holding us up for quite a while on the option, it would have worked even better. The prime tyre worked sensationally well, much better than any of us expected."
We saw earlier in the year that on his day Petrov can be a formidable racer, and he's afraid of no one. But to keep Alonso at bay for 40 laps was an incredible feat, even allowing for the Renault's clear straightline speed advantage. In the end it was Fernando who cracked and went off track at least a couple of times.
"I didn't see anything unfair," says Permane. "I'm sure Fernando is frustrated, but I'm sure in the cold light of day he'll realise it's a race. We're not here to help Red Bull, we're not here to help Ferrari, we're just here to do our own race and score as many points as we can.
"It's our job - my job - to get both cars up as high as we can, and that's what we did. This car since we've put the F-duct on it has basically had good straightline speed wherever we've gone. We were never worried about that side of things."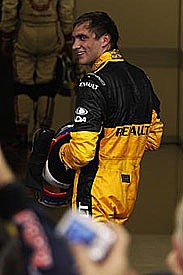 Vitaly Petrov was pleased with one of his best drives so far © Sutton
It was perhaps less surprising to see Kubica stay safely ahead of Hamilton from laps 23 to 46, a period that was more than long enough to end any hopes Lewis had of catching Vettel and perhaps having a pop at the lead.
"We said to Robert on the radio 'You're not in a race with Hamilton, so don't lose any time defending to him.' You can see that Robert never chopped in front of him, never did anything, because we didn't want to lose any time. If it had been quicker to let Hamilton go, we would have let him go, honestly, because we knew we couldn't beat him. So that's what we did. As it happened it was relatively easy to stay in front. The prime tyres just got quicker and quicker and quicker."
By any standards getting from 10th and 11th to fifth and sixth - with only Schumacher's retirement providing any outside assistance - was a great effort. The big question now of course is did Petrov do enough to keep his job?