For Jenson Button, the return to Brazil this weekend brings back happy memories of last year, when he finally clinched the world championship with a humble but oh-so-valuable fifth place.
As well as being a special anniversary, this could also be his last weekend as champion since Fernando Alonso can secure the 2010 crown on Sunday. Four other drivers still have a say in that and, mathematically at least, Button is still in it.
He'll certainly be hoping the matter isn't resolved in the Spaniard's favour this weekend, and in the mean time he can enjoy being back at Interlagos.
"It was a great race for me last year," he says with some understatement. "It was full of emotion. And my team-mate was Brazilian! I think it makes it very difficult for any driver who has a Brazilian team-mate in Brazil. Brazilians are very patriotic, they're very supportive of their home-grown drivers.
"So I didn't have a lot of support. But the good thing is after the race the Brazilian fans were clapping me. They love their sport, and I understand that they support their drivers.
"But it was a very tough Saturday with a bad qualifying, a lot of people cheering when I qualified 14th. But I had a good chat with myself that evening and came back saying, 'I've got to win it today, I've got to win the championship today'. And luckily enough it all worked out.
"So it was a very special weekend, but wow, the emotion was unbelievable. I was just so tired after the race. I celebrated at the circuit. I planned to go out in the evening and celebrate with all the guys, the mechanics and the whole team. I stayed for five minutes and left, I couldn't take it anymore, I was so tired and drained. I just wanted a quiet room, locked the door, and had some quiet time with myself."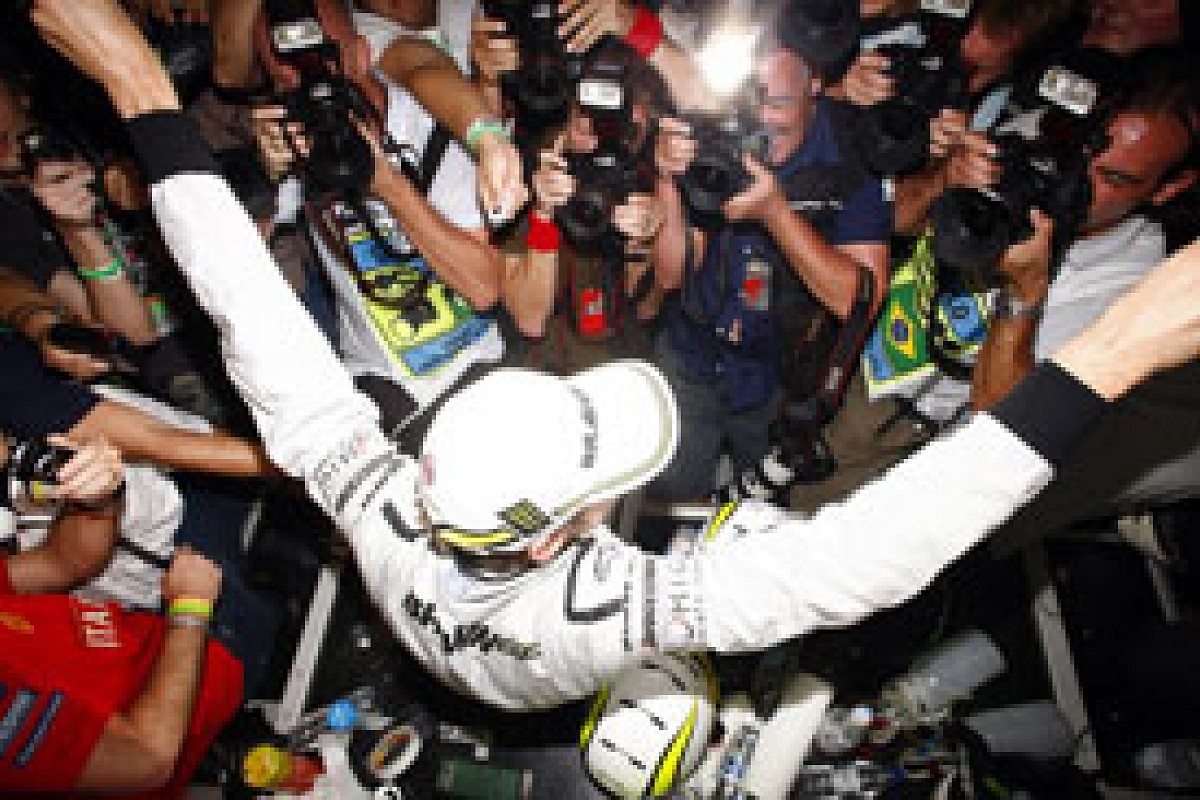 © LAT
There was plenty of time for celebrating later on. He still had the Abu Dhabi finale to come, and both that weekend and the winter turned into an extended victory lap, with endless events to attend. Has being world champion changed him at all?
"I'm a lot more confident. I've achieved something that I set out to do when I was eight years old, so it's a massive achievement, something that most people don't get to achieve, to win the world championship doing something they love.
"So it definitely changes you. For me, I'm a lot more confident in my ability, and also confident to make decisions, whereas maybe last year I wouldn't have been so confident. And also I think people listen to your opinions a lot more when you've achieved what I've achieved. That's made a difference this year as well, having the confidence to make a decision when it has to be made, and be making the right decisions."
It wasn't long after the season ended that Button made the momentous decision to join McLaren. He faced a lot of criticism for so doing, mostly on the basis that it was Lewis Hamilton's team, and trying to take him on would be a fruitless task - even for someone with his talent.
Hamilton may have had a headstart, but Button's easygoing manner, work ethic and sheer enthusiasm ensured that the integration process was straightforward.
"For me it was easy because everyone was great and really good to work with. They didn't judge me at all, they waited for me to get the results. The great thing is I gave as much feedback as I could over the winter, so I could find some direction with the car, and I could give my input.
"So even though the car was designed before I arrived at the team, and I didn't get to drive or have any input until January 1, I still felt that over the couple of months before the first race I could have some input that made a difference and made it a better car for both Lewis and myself.
"I think that makes a big difference, the team realises you're dedicated, they realise that it's not just about driving fast, it's about being good with your team-mates, and being dedicated to try and make the car quicker, and not just driving it.
"I'm happy with the season. The most important thing for me was to get used to working with new people. And after seven years of working with the same engineers, working in the same factory, it's a big change to move to another team.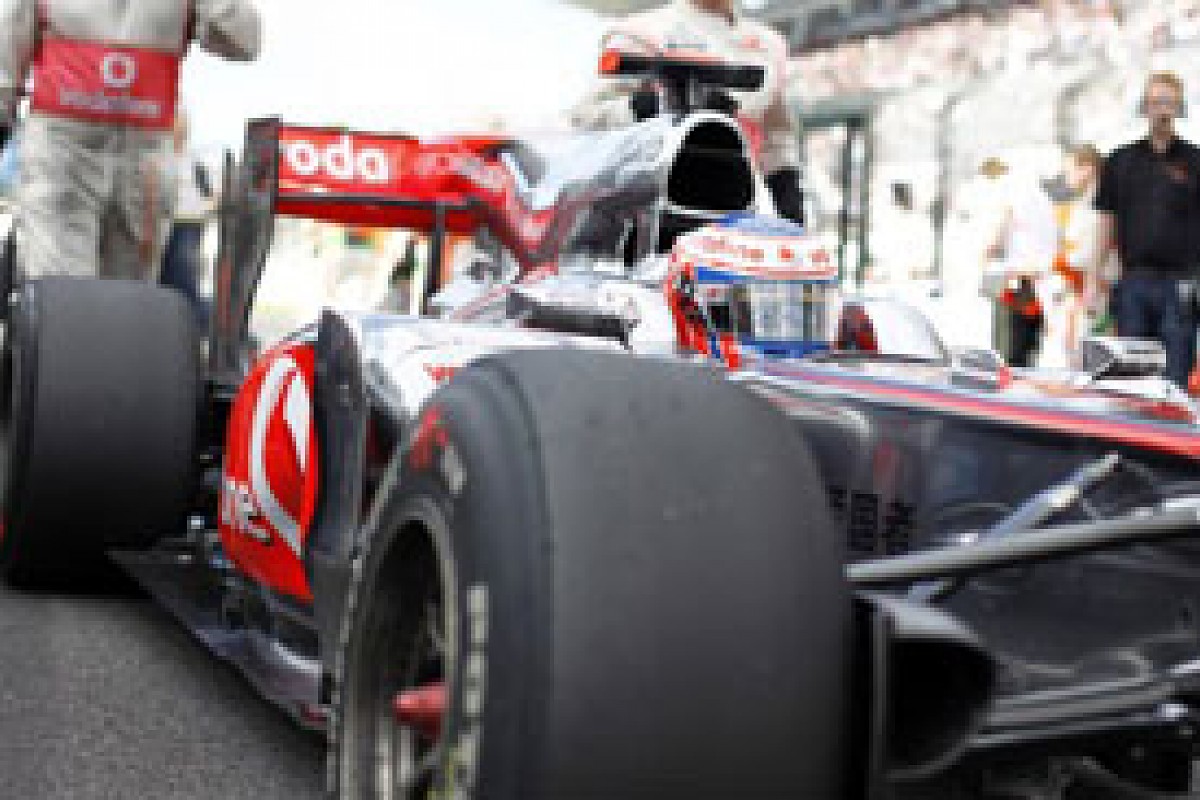 © LAT
"I felt I got to grips with the team very quickly and that was because the team really welcomed me in, which was great. I feel I've developed the car in a direction that I'm happy with, reasonably pleased with, but I still think there's more to come. Especially next year, I think we'll see that.
"A few of the qualifying sessions haven't been great for me. It's something I've really worked on, and it's been getting a lot better - finding a balance that really suits me in qualifying and on low fuel. But it's improved quite a bit, so I'm happy with that. I'm reasonably happy to be still just about in contention to win the world championship. It's not a bad position to be in the first year in a team when I have equal equipment to my team-mate."
Crucially, Jenson made a big impact with those two early wins in Australia and China, both of which combined great strategic calls with a faultless performance behind the wheel.
"I think it was important to position myself in the team, make sure that I had people around me that supported me and wanted me to achieve. And I definitely have that here. It is a great team, and they're very supportive towards their drivers. It's something that I didn't quite expect, moving here. They really listen to what the driver has to say, and that's massively important.
"The wins were in tricky conditions and I really enjoyed that situation of making the right call at the right time. You can't always make the right call, but I did over those two weekends. Some people might have said I was lucky in Australia, but three weeks later I did the same thing in China - you can't be that lucky!
"I think making the right call at the right time, it's not just down to you, it's also down to the team. You win and lose as a team. But it's important to have an opinion in that situation, and that will make the difference."
Since then the nearest he has come to victory was at Monza. Taking a different path on aero set-up from Hamilton, he nipped past Fernando Alonso on the first lap, only to lose the lead at the pitstops. Nevertheless it was a timely demonstration that he doesn't need a damp track to challenge for a win.
© LAT
"It was frustrating that we didn't win that. That was really frustrating for me, because I thought I could come away with that victory, but for whatever reason it didn't happen. We were very close, and it would have been interesting trying to get out of the paddock if I had beaten both Ferraris!
"Silverstone was another great race, I really enjoyed that in front of the home crowd. I didn't get on the podium, but to come from 14th to fourth on a circuit where it's difficult to overtake, I really enjoyed that. It was definitely a British GP that I'll remember."
Low points this year were the two retirements that were no fault of his own, namely the bung-related engine failure in Monaco and the assault from Sebastian Vettel at Spa. But he cites another race as the biggest disappointment.
"Barcelona was possibly the most frustrating race for me. Qualifying wasn't great and I got stuck behind Michael [Schumacher], which completely destroyed my race. That was the most frustrating race for me. I was in fifth and I should have been so much higher up, the pace was very good.
"Monaco was a mistake that happens. I was obviously upset not to finish, so early in the race, and something you would say was so simple to remove from the car. But when all the action's happening, those sort of things happen. We move on.
"Spa was very frustrating because I didn't make a mistake in any way. It was made by a competitor. It wasn't even an overtaking attempt that wiped us out of the race, and he carried on! That was a lot of points lost. So far I don't think I've made any big mistakes in the races. A couple of times in qualifying I have, and with set-up I think we have sometimes gone slightly in the wrong direction - and also a couple of times I've made a mistake and lost time. But in the races, no, I don't think I've made any mistakes."
In Jenson's first year, way back in 2000, half the season had passed before he damaged a Williams for the first time. The comment at the time was that perhaps he could have been pushing even harder than he had been, and you could argue that could apply this year.
"Maybe, but I won the world championship like this last year. And I think Fernando would agree with me that when he won his world championships it was won on consistency.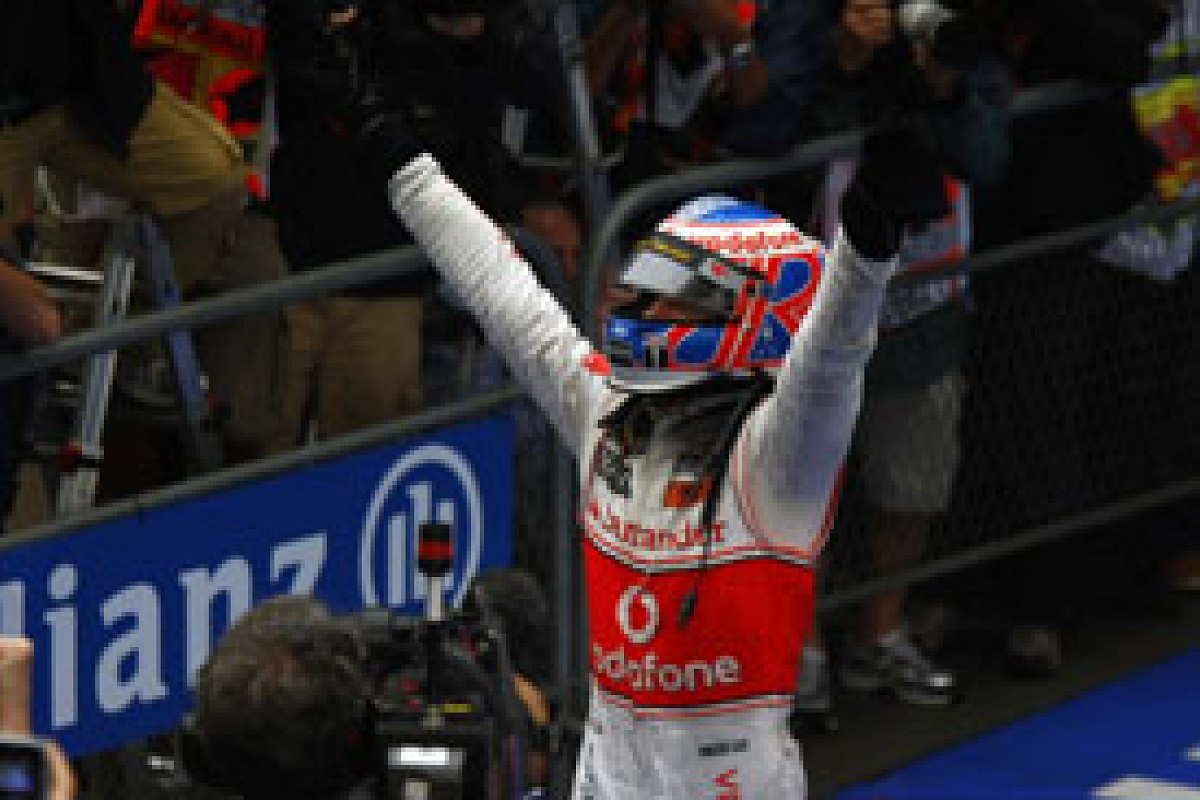 © LAT
"If there's any overtaking move to be done, I'm going to take the opportunity - but you still judge your manoeuvres. If you think you're going to get alongside and bang wheels, you're going to give it a go. If you think you're going to drive into the side of the car in front, you're not. So you still understand your limits. You don't suddenly become this crazy person and say it's win or bust. You still know where your limits are. That's why we're good at what we do.
"It's tricky. If you look at the pace in qualifying of the Red Bull, if they'd actually turned that into results they'd be 150 points in front of everyone and it would have been over three races ago. It shows you that even with the quickest car sometimes it's very difficult to win a world championship. It shows how competitive the whole field is and how few mistakes teams and drivers make.
"Possibly there have been more mistakes than in the last few seasons, but still it's a limited amount of mistakes from the drivers and teams. It's the way F1 is now, there seem to be fewer issues with reliability and fewer mistakes by drivers, and it makes it very difficult for anyone to win a championship. There's so many top teams and drivers still involved, it's tough because if you make one mistake, you're going to lose so many points."
The outside world anticipated some tension between the two McLaren drivers, given that they were both British, both champions and both used to being the focus of attention. However, Button says they haven't had any problems.
"Not yet. We get on well, but we don't spend time together away from the circuit. I don't spend more time with him than other drivers. It's a working relationship and it's a good one. We understand that we've both achieved what we set out to do in F1 already, first world championship, that's what you set out to do when you're young. You don't think I want to be a five-time world champion, you just want to be a world champion.
"I think we both know we've been through lots of experiences and we have lots of information to share. You're in a much better position when you use your team-mate's information as well as your own. I'm guessing Lewis feels the same way, because we wouldn't work so well together if we didn't agree on that.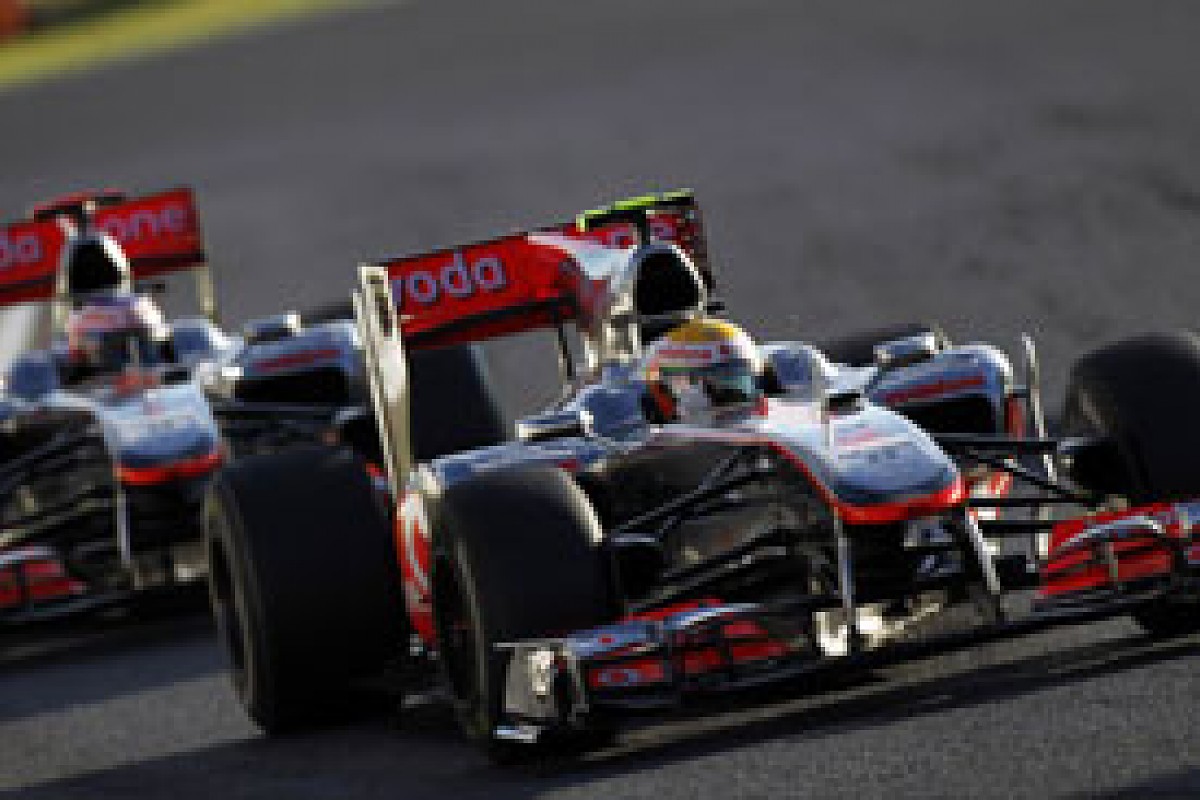 © LAT
"We run a very similar set-up, but we drive completely differently. I don't mean in terms of being more aggressive or smoother, if you look at the data, the traces of throttle and braking, everything's the opposite. It couldn't be more different. So we do learn from each other. It's always interesting to see what your team-mate can do with a car, and he is very different to my previous team-mates, the way he drives.
"He's super fast and it's always tough to be quicker than Lewis in a car that he's comfortable with. But that's what's exciting, that's what's a challenge, and that's why I wanted to be here in the first place."
So what of next year - can Button be in a stronger position relative to Hamilton, given that he will have found his feet at McLaren?
"Every driver is going to say he's stronger. It's nice to go into a winter and have input, whereas last year I was still thinking where am I going to be racing? It's a lovely feeling to go into a winter and know I'm going to have input and help the team develop the car, because one driver is great, but two drivers developing the car really helps."
If his 2010 chance does slip away on Sunday, he'll be back for more next year. Winning one title hasn't made him any less hungry to get another.
"I feel relaxed but not in a negative way. I feel relaxed because I've achieved my goal. It doesn't mean that I'm less hungry to win. If I won the championship this year I'd be the first British driver ever to do it back-to-back, and I'd be the first driver since Fangio to win with two different teams back-to-back. Of course I'm hungry, why wouldn't I be?
"We all want to win. That never changes, we go into a race, we want to win. I think when you're not hungry any more that's the time to give up, because it can become dangerous."