The Brazilian Grand Prix divides opinion among the Formula 1 paddock. Some love coming to a country that is enthusiastic about F1, hospitable and provides a classic track steeped in old-world charm. Others gripe about questionable security and a background level of disorganisation that recurs throughout the country. Fortunately, the latter are in the minority.
That's not to say that there aren't some lively stories produced in Sao Paulo, with tales of attempted car-jackings and the odd wallet theft commonplace (the Brazilians, it seems, have no fears about stealing even a Scotsman's wallet!). Nick Heidfeld has the right idea, admitting that he booked a bullet-proof car for his trip to Brazil's most populous city - although he quickly denied that his Sauber was the machine in question, despite the seeming indestructibility of team-mate Kamui Kobayashi's C29.
Aside from the mixed bag of the sprawl that is Sao Paulo, with all of its associated madcap drivers and suicidal motorcyclists, more than anything it's the fans that really make this event. The proximity of the main grandstands to the start/finish straight creates a fantastically intimate atmosphere in the build-up to the race - and you can bet that much of their attention will be focused on Felipe Massa this weekend.
Massa, who has not won a grand prix since his world championship near-miss here two years and two days ago, has taken a big hit in popularity terms among his home crowd since handing victory to Fernando Alonso in the German Grand Prix. Rubens Barrichello suffered similar treatment during his Ferrari days - although it seems that his robust response to Michael Schumacher pushing him towards the pit-wall in Hungary earlier this year has led to the rehabilitation of his popularity to hero status - but after Hockenheim it was Massa who was dubbed the "new Barrichello" in some quarters.
It's a harsh way to treat a driver who was only following the instructions of his team - instructions that subsequent events have proved to be fully justified - but it means he is in a tricky position this weekend. Massa has a stunning record at Interlagos, winning twice, handing another win to Kimi Raikkonen and even putting a Sauber on the second row in 2004. If there is any race in 2010 that will give him the chance to recapture his form of 2008, it's this one.
Unfortunately, if he were to find himself leading with Alonso second, there's a fair chance that he might have a radio call that demands his understanding. How will the home crowd react to that? Not well, you'd assume.
For Felipe's part, he's playing the consummate professional. Asked in today's press conference, shortly after being besieged by an angry moth, he gave a short answer when asked if he would let the Spaniard through if required.
"Well, I already did that, you know?" he said. "In 2007 - you don't remember. I'm a professional driver."
It's happened more recently than that too, but although his handing victory and the title to Raikkonen in '07 was generally interpreted as a noble and inevitable gesture, it might be different this weekend. Alonso is not the most popular driver in Brazil since Hockenheim, and Massa will know full well the consequences of having to acquiesce to him. Perhaps it might be easier just to stay behind him throughout as already Felipe's thoughts seem to be turning to regrouping for 2011.
The emphasis on Massa is fuelled largely by this most remarkable of world championship denouements. The drivers' title has been sealed at Interlagos for the past five seasons and if that pattern holds it will be very good news for a certain Spaniard.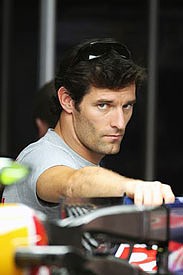 Mark Webber © Sutton
More realistically, we can expect Red Bull to have the opportunity to close the gap. That makes all of the noises coming out of Scuderia Milton Keynes about continuing their equal treatment of drivers despite Mark Webber's 25-point advantage over Sebastian Vettel all the more interesting. No wonder the Australian has been so forthright in his views about the situation.
Throughout this season, the championship has ebbed and flowed as one driver and then another has taken control. In a season of big stories at the front of the field, expect a race that traditionally produces its own dramatic narratives - see Lewis Hamilton taking the title 20 seconds before crossing the line in 2008 - you can bet your house on this not being a quiet one.
Which of the title contenders will regret not having a bullet-proof car come Sunday night?