That the Korean Grand Prix was not the roaring success many made it out to be is obvious from local media reports, most of which slated the event's organisation, plus chaotic traffic conditions.
After all, the attendance numbers tell their own story: while the circuit was designed for a crowd of 130,000, according to the Korea Herald and JoongAng Daily publications, only around 70,000 actually made it to the Yeongam circuit, with as many as 20,000 having gained entrance via freebie tickets distributed to bolster grandstands.
Yes, the stands appeared choc-full on television, but those in the media centre had, as is becoming increasingly the norm in modern Tilkedromes, no line of sight to the circuit - and a peek around the far end on race day showed vast swathes of unfinished stands which were unoccupied for safety reasons. Thus the promoters were forced to crowd the punters onto completed stands via 'upgrades'.
With those present, whether local or international, whether fan or worker, having extremely low expectations about Korea's inaugural grand prix (read on, for there had been a previous attempt), the mere fact that the race went ahead at all at 15.00 local time was rated a success.
The race was in doubt until just 10 days ahead of free practice, when the circuit's Formula 1 superlicence was issued after a raft of missed deadlines.
Of course there were the inevitable wise guys who 'always knew the event would go ahead', but, frankly, they would be better served by gaining employment with Tilke GmbH...
As it turned out, the race came within a whisker of cancellation due to inclement weather which caused massive visibility problems - which can be put down to circuit design and/or late completion: the slippery surface, laid within a fortnight of the race had cured thoroughly, with resultant seepage of bitumen. Then the 'drainage' system left much to be desired. Worse, though, was the proximity of walls to the circuit - the bigger picture has parts of the circuit doubling as streets in a yet-to-be-built high-end marina, and hence the walls.
Their presence caused spray to 'hang', with resultant visibility problems. The net effect was that 40 per cent of the race's 53 laps were run under safety car conditions despite precipitation at times being little more than strong drizzle - with the overall event taking 168 minutes during which just 31 laps were completed at racing speeds. That pans out at an average of three minutes per five kilometre lap!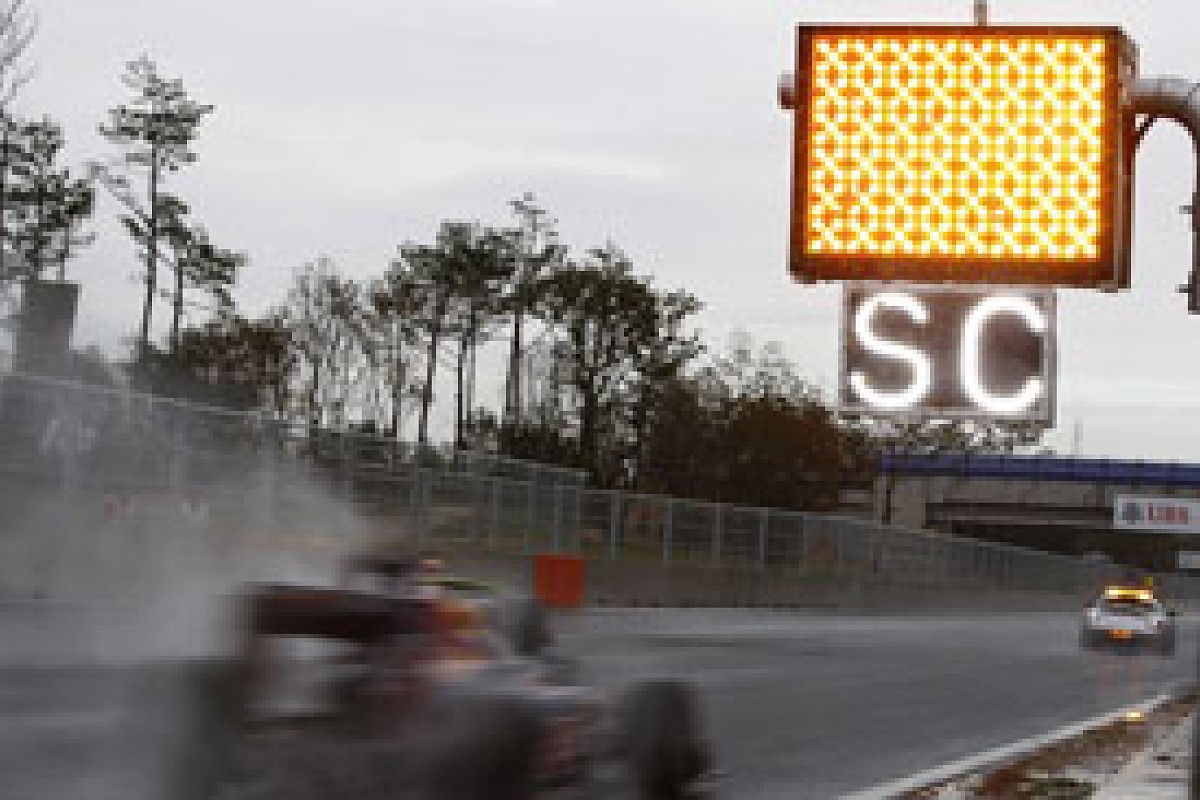 © LAT
Satellite feeds across the world were rejigged and rebooked, TV schedules chronically disrupted and F1 virgins sitting in stands wondered what on earth they had got themselves into given that many faced (considerably delayed) 350 kilometre journeys to Seoul in similar weather, with millions of fans having got up across Europe to be treated to lap after lap of slow-coaching.
All this due to an event which, frankly, should have been better planned - yes, the region experienced heavy rains both during the construction period and race weekend, but according to locals the rains were far from unseasonal. In any event, surely such factors should be considered when building world-class sporting facilities on reclaimed swampland.
In Japan qualifying was delayed by a day due to rain, with interruptions and safety car lappery becoming increasingly frequent on account of spray and aquaplaning caused by lack of drainage, and if the powers-that-be (FIA, FOM, FOTA) really have the best interests of F1's fans at heart, surely these issues should be rectified post-haste - even before they commence bargaining over revenue distribution under the 2013-onwards Concorde Agreement.
If F1 really is as clever as it regularly makes itself out to be, then surely suitable drainage, capable of handling worst-case weather scenarios, should be incorporated in all circuits and tracks graded accordingly. 'No drain, no race' should be the mantra, regardless of commercial pressures.
Then, cars should be fitted with some form of spray deflector - whether permanent fixtures or added in the event of wet races, is neither here nor there. Such systems would surely have greater road relevance than KERS devices upon which millions have (and will be) spent in order to kick out 80 bhp for six seconds per lap for the sake of appearing to be green. Which device would better serve F1's customers (the fans): anti-spray devices or KERS? For that matter, which, in these straitened times, would be cheaper?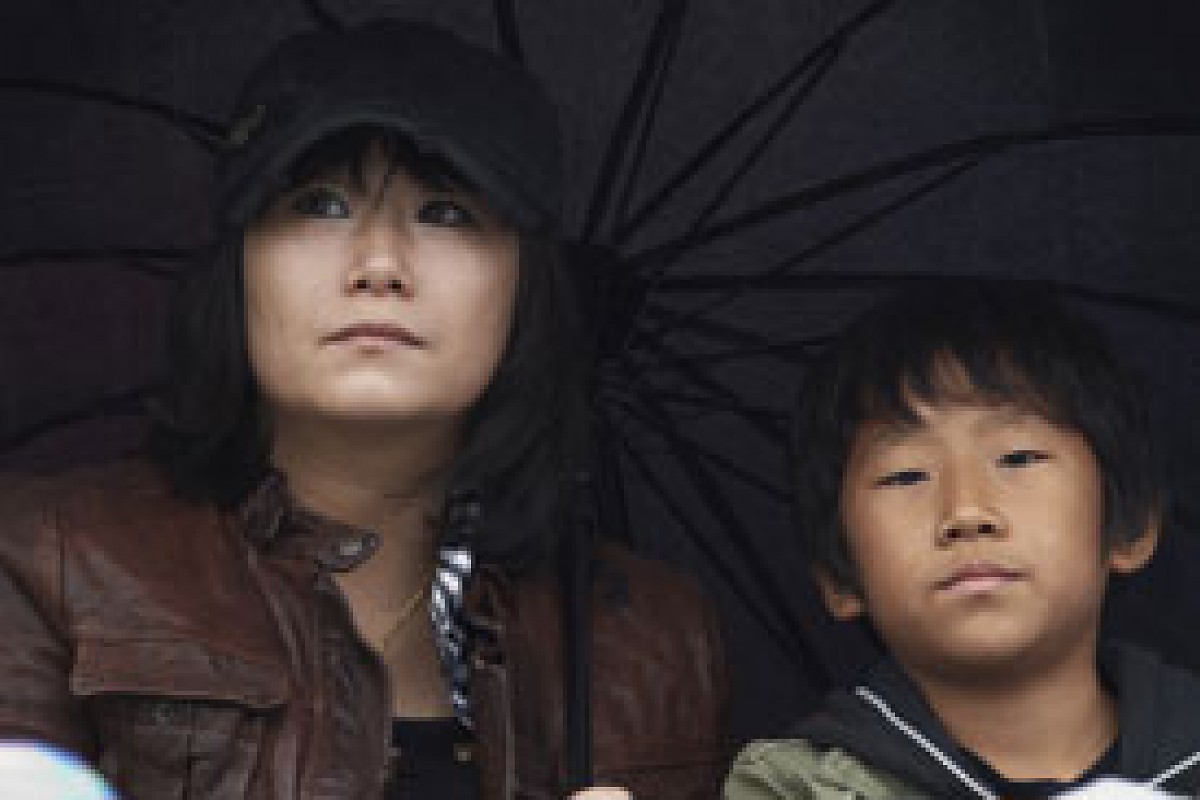 © LAT
All of which begs the question what Korea's new-found F1 audience thought of the day, more saliently, thought of the sport. Yes, they stuck it out, but will they do so in future?
Recent experience shows that after countries' maiden events the audiences head in one of two directions: do a Turkey (or China), with crowds dwindling with each passing event until such situations become unbearable to the sport (and local politicians), or do a Malaysia (or Bahrain or Abu Dhabi), with local interests positively embracing the sport.
The first 'new world' event was Malaysia back in 1999, and since then the country has delivered a Formula 1 driver (Alex Yoong), plus provided various test drivers. More importantly, though, Malaysia 1 Racing, the company behind the resurrected Team Lotus, performed respectably in its maiden season. In fact, so desperate for a slice of the F1 pie are Malaysian motor industry interests that a court case between Lotus Cars and Team Lotus is bubbling under - see Tony Dodgins' analysis of the situation here.
Malaysia's national oil company Petronas has been a regular sponsor, having partnered Sauber, BMW and now Mercedes, while the grand prix has become a respected fixture on the calendar.
In the Middle East the situation is not dissimilar: no sooner had Bahrain joined the F1 fray than its Kingdon-owned Mumtalakat Holding.company purchased a 30 per cent share in McLaren, while further down the Gulf Abu Dhabi's sovereign wealth fund Mubadala acquired a slice of Ferrari, and built the world's largest indoor theme park - Ferrari World - due to be opened this week. Emirates Airline (Dubai) sponsored McLaren for a season, while Abu Dhabi's Etihad now backs Ferrari, having entered the sport with Spyker/Force India.
As though that was not enough, Aabar Investments (Abu Dhabi) holds 30 per cent of the Mercedes Grand Prix team, while Qatar and Williams are currently firming up their partnership, meaning the Gulf region not only hosts two grands prix (with Qatar putting in a strong punt for race at its Losail circuit), but Middle Eastern entities have shares in arguably the four best known teams and have sponsored the last three world championship winners.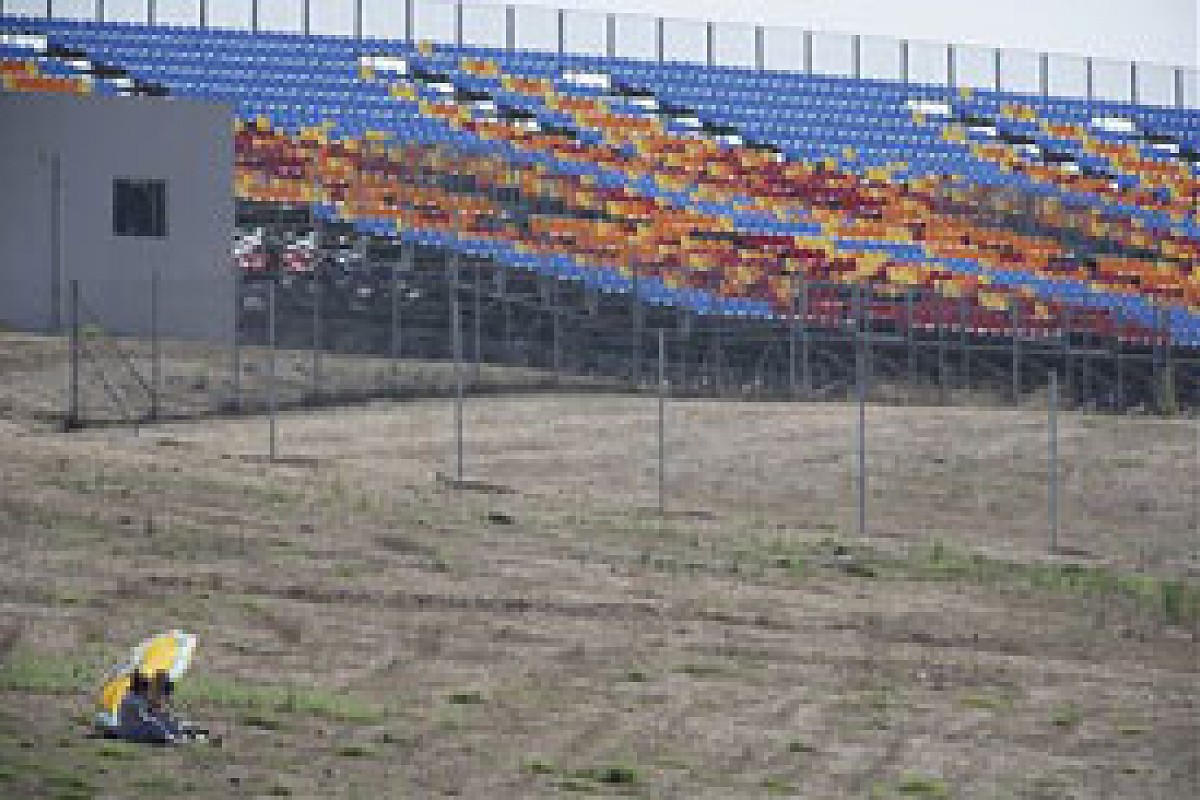 © LAT
By way of contrast, China and Turkey have singularly failed to embrace the sport despite the former (now) being the world's largest producer of automobiles, while the latter is home to a massive Toyota production facility, with Ford, Renault and others all having production facilities.
One wonders why their maiden events were packed to the gills, with subsequent races playing to increasingly empty houses, wonders why the fans stay away.
Korea now stands at that crossroads: after a bewildering race one wonders how many fans will return next year. That they braved it out bears testimony to their enthusiasm and the strength of the sport, but the event's promoters will need to ensure that absolutely every aspect is ship-shape next year.
Otherwise the China Syndrome surely beckons, which would be absolutely criminal, for Korea is visibly booming. Samsung is the world's largest conglomerate, with 2008 revenues of $174bn, while the country's second-largest chaebol LG is a corporate partner of Formula One Management. The Hyundai-Kia organisation, after a shaky start in the US due to (now sorted) quality problems, is on course to shortly overtake Ford for fourth in the world output stakes, with GM next in its sights. Thereafter just VW and Toyota remain...
The country has, though, burnt numerous motorsport fingers in the past: in 1998 a project aimed at bringing a grand prix to Seoul collapsed, with the London High Court subsequently awarding Bernie Ecclestone's company an eight-figure sum in compensation, while Hyundai's foray into the World Rally Championship ended with a $1m fine levied by the FIA after the company failed to contest the final four rounds of the 2003 season. The company promised to return to the WRC in 2006, but rally fans have long ceased holding their breath.
Champ Car made two (failed) attempts at conquering Korea, while A1GP's amateurish structure saw a proposed race aborted, with the country's 'national' team being one of the first to disappear, and, of course, the latest attempt came extremely close to disaster.
On the bright side, a Daewoo product is currently ruling the World Touring Car Championship roost under the Chevrolet brand, and the team looks set to lift both titles in Macau in a fortnight. But will home grown tin-top successes prove sufficient to retain Korea's interest in international motorsport until the next grand prix, particularly as a local source indicated that grands prix are not currently broadcast nationally?
For F1 to 'lose' this vibrant, technically advanced country, as it has China and Turkey, would be an absolute tragedy. Worse, it would not bode well for India.