Wind back the clock a couple of years to Interlagos 2008. Remember that last lap? Felipe Massa world champion at the start of it, Lewis Hamilton the new king at the end of it. Hamilton's McLaren going by Timo Glock's slithering, slick-shod Toyota in the nick of time to seal the vital points. Idiots who thought that Timo had handed it to Lewis.
It all added up to the most incredible sporting theatre, BAFTAs for British broadcaster ITV and the feeling that as cliffhangers go, it would be impossible to beat. Ever. Well, that might not be quite the case, and I'll tell you why.
It made good television for BBC pundit Eddie Jordan to be telling Christian Horner that "surely" Red Bull needs to be getting behind Mark Webber now, with Vettel supporting him and taking points off Alonso, but it's nonsense. At least at the moment. Clearly EJ hadn't had time to get his calculator out.
Lewis Hamilton celebrates becoming world champion in 2008 © LAT
Horner humoured him - again - and pointed out that McLaren's position is a no-brainer - Button is as good as out of it and should therefore support Hamilton - but the Red Bull situation is somewhat different.
"For the time being we will continue to push with both drivers," Horner said, which is absolutely right.
As much as I think Webber has done a superb job this year, love what the bloke stands for and would dearly love to see him win this year's championship, Vettel is a good guy too and you can't be other than impressed by his current form under pressure.
For the second successive race there was just seven hundredths of a second between the pair in Korean qualifying, which equates to around four metres, or less than the length of a Red Bull RB6 if you prefer.
Every time that happens I feel frustrated on Webber's behalf because, probably, he's done the better job. Why? Because when you're 6ft2ins and at least 10 kilos heavier than the little guy in the other car no matter how drawn your face looks, you can't play with the ballast and optimise set-up as much as he can. It's fractions, but that's all we're talking about.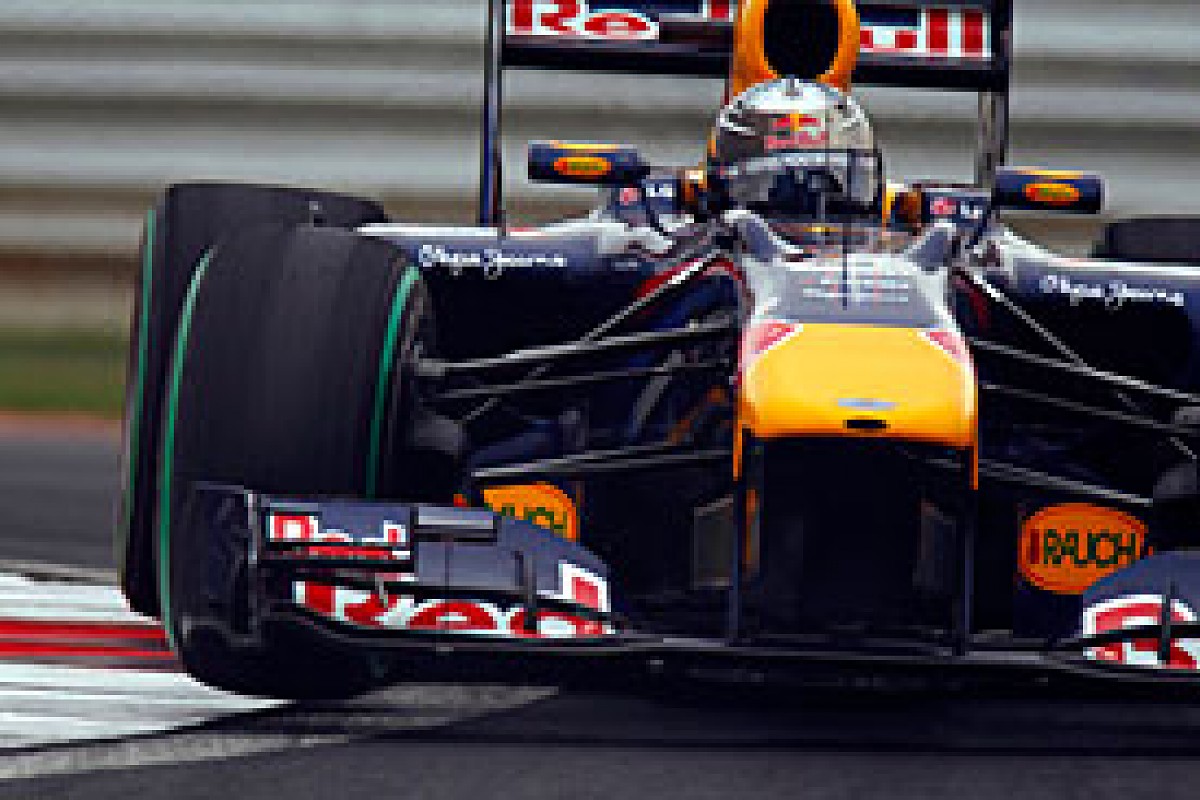 Sebastian Vettel en route to pole in Korea © LAT
You can't saw your legs off and the problem is never going to go away but to consistently get that close to someone as quick as Vettel and often beat him, is a damned good effort. Compounding the problem, every time it happens you get lumbered with the dirty side of the grid and are often disadvantaged against the guy starting behind you, which is a rude slap in the face when these cars are as hard to pass as they are.
You wonder if it's an issue that needs to exist. Why do they use both sides of the grid just because they always have? Grids used to be 3x2x3, then 2x2, but today they're 1x1, with 8m between each slot. So why not form them up line astern in the middle of the grid and give them all the same grip level?
It would look a bit odd on TV but we'd soon get used to it. It would make it much harder to cover someone making a better start. At the moment he's sat there in your mirror and you can see what he's doing, but start line astern and he'd be coming out of your blind spot, as Vettel did when he mugged Webber into the first corner in Malaysia. You wouldn't see which way he'd gone until the last moment. That going on all the way down the grid could lead to carnage come to think about it, so it probably wouldn't pass muster with health and safety, but it's worth a thought.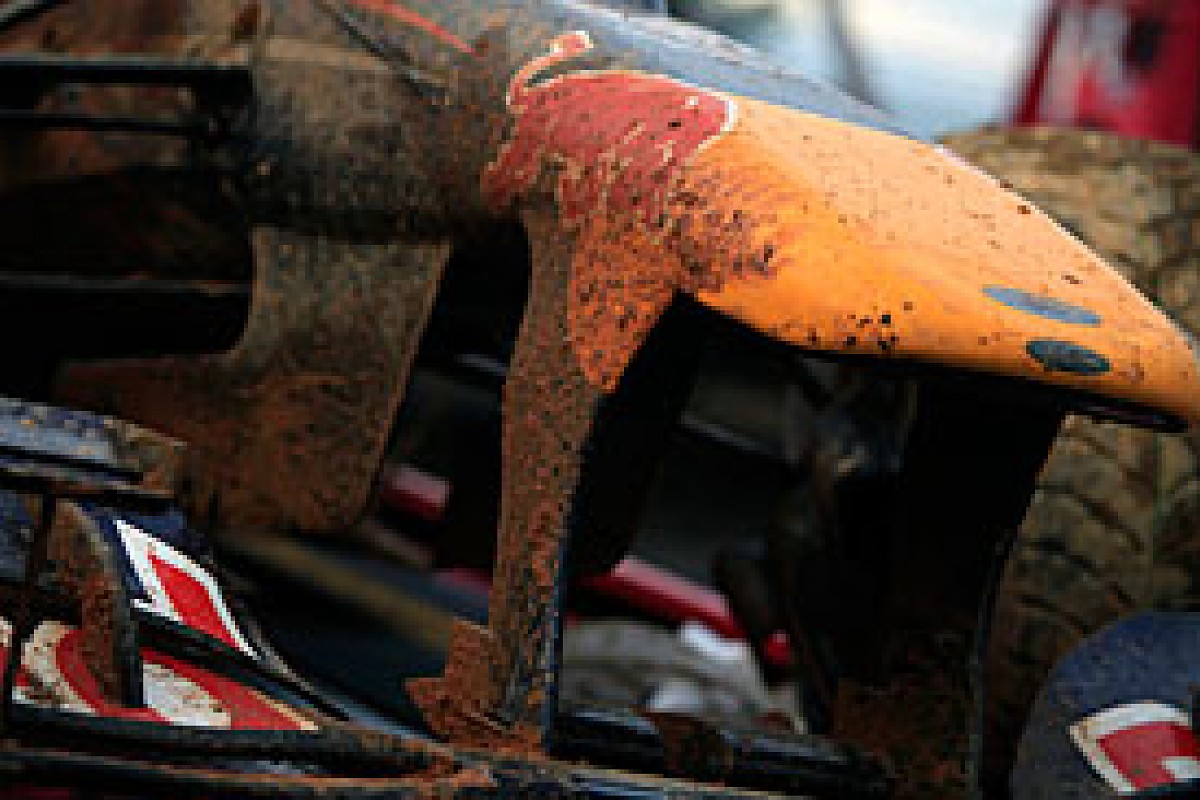 The wreckage of Webber's Red Bull in Korea © LAT
Back to Korea though and it was Vettel's race that was so impressive.
Okay, absence of spray is a big plus but it's tough to lead in those circumstances without any reference points from earlier in the weekend. It didn't look as if anyone had told Sebastian. He was majestic all weekend. It could have been interesting in the last few laps because Fernando Alonso's intermediates were in such good shape but, with Webber out, it's debatable whether Fernando would have attacked and risked a shunt.
When Vettel complained about the light on the lap after the race had reached 75% and hence full points distance, you did wonder whether the real reason was concern about his intermediates and the strength of the Ferrari. You also had to wonder why he was using a mid-tint visor for a race that was evidently going to finish in the dark. But for his afternoon to end as it did was cruel beyond words. Korean prime minister Hwang Kim won't have been the only one in Yeongam whose middle name was Sik...
These guys obviously know the eyes of the world are upon them but, even so, huge credit to Vettel, just 23, for managing a smile and a light manner so soon after such savage disappointment. But if Sebastian has a cat it will probably wake up in Austria sometime this week. Webber, who has a couple of enormous dogs, will probably think better of assaulting the family pets, but will no doubt beat himself up a few times before he gets to Interlagos. He'll know he could have left Korea 21 points in front of Alonso with his team-mate in deep trouble.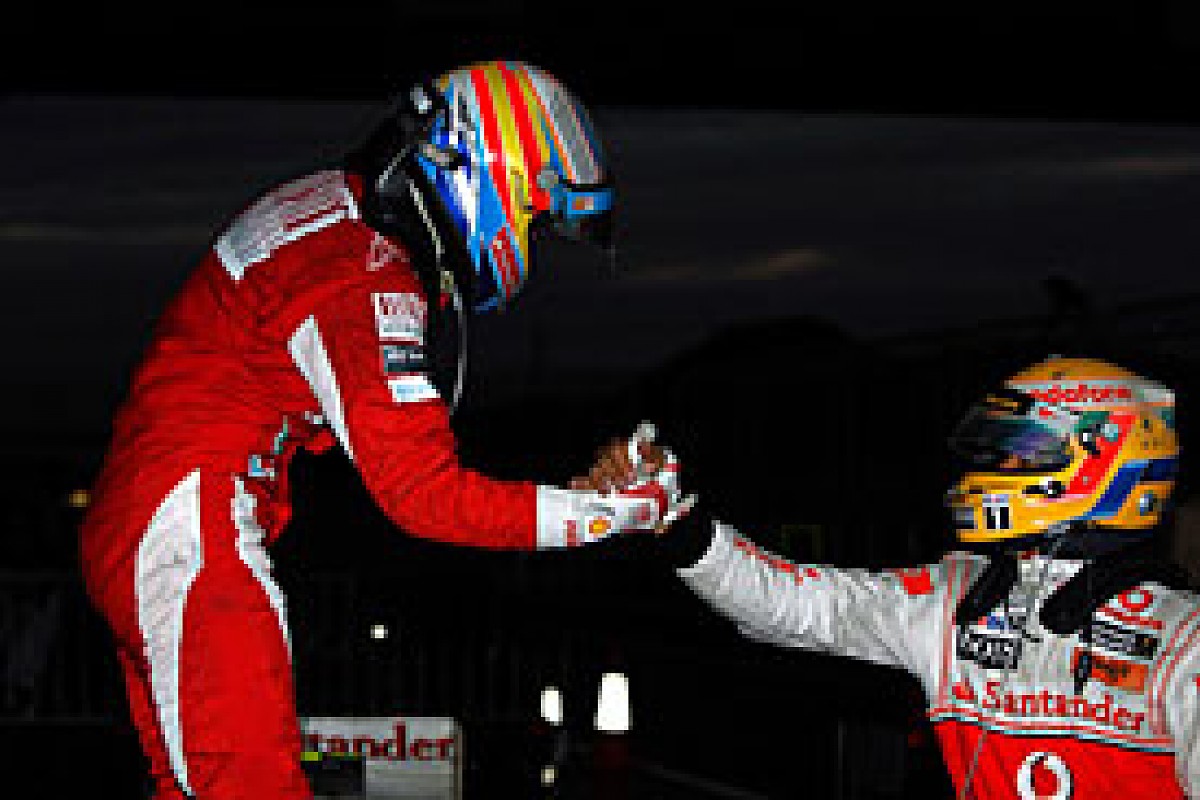 Fernando Alonso has had a strong run in © LAT
Webber though, is far more likely to hit back hard than to trip himself up in the treacle of ifs, buts and maybes. When Red Bull does the maths, it will see that if Sebastian heads 1-2s in both Brazil and Abu Dhabi, both he and Mark would finish the season on 256 points, with Sebastian ahead by five victories to four. The problem with that scenario is that Alonso could cruise home third both times and finish on 261, champion for the third time.
If Webber was to win one of the races, however, he would finish on 263. But, after circumstances such as Korea, where Webber's problem was self-inflicted and Vettel's wasn't, it would be unreasonable to expect Sebastian to drive for Mark in the final two races, especially with the sums as they are.
Lewis Hamilton on 210 points is a potential nightmare banana skin for all three of them. Although the McLaren does not appear to have the dry pace of the Red Bull or Ferrari, we could easily have rain at Interlagos and if they don't want to scare themselves too much, the other three shouldn't look that closely at Hamilton's '09 Abu Dhabi pole time.
The Red Bull guys were split by their usual tenth but Hamilton, only a tad lighter, was quickest by almost 0.7s! Okay, the MP4-24 had a relatively greater affinity with slow corners than its successor and although the others will probably calm themselves with the notion that it was the car, I'd feel deep unease about quite how much of that margin was actually Lewis himself. He loved the place, said its adverse cambers and tail-endy stuff reminded him of a kart track, and Heikki Kovalainen was nowhere near him.
A brake issue took care of Hamilton on Sunday but that's unlikely to happen twice.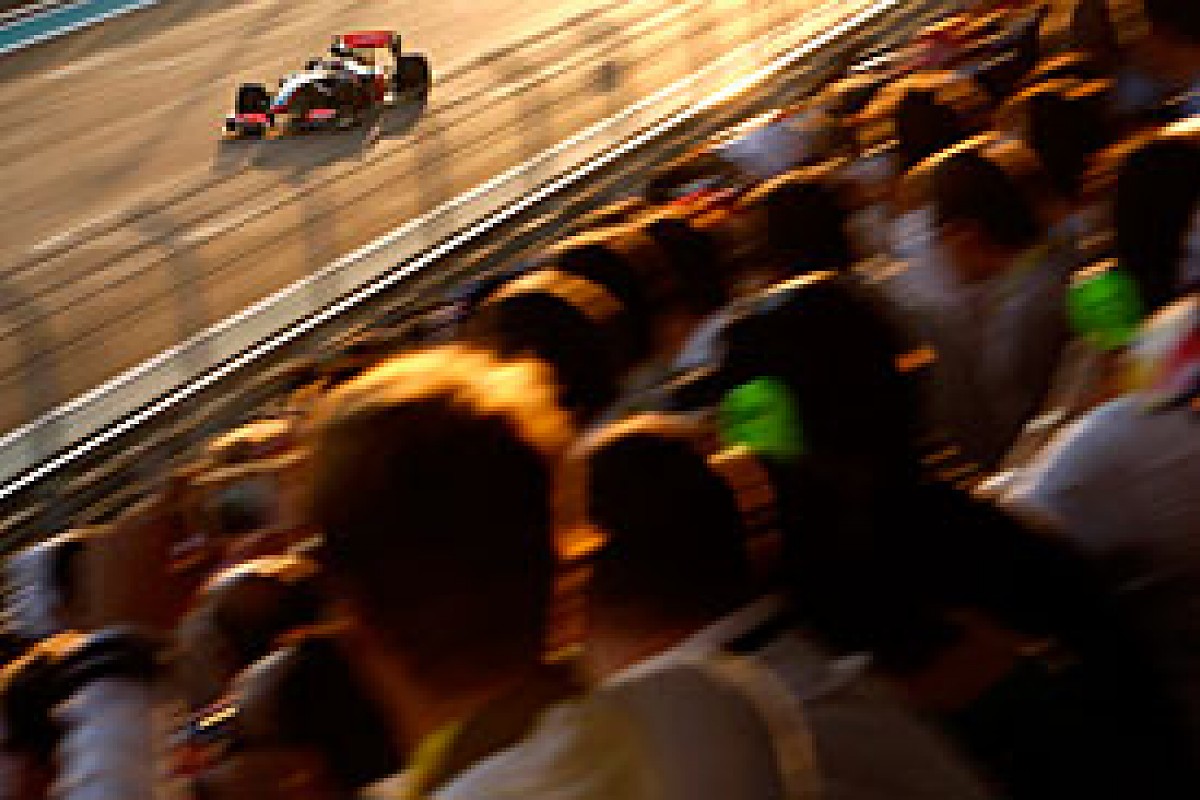 Hamilton was super-fast in Abu Dhabi last year © LAT
The cars are different this time of course, and in the normal course of events you've got to still see Lewis as a long shot. So getting back to why I think the drama could rival 08, you only have to look at the manner of Vettel's retirement in Korea.
As Renault's support engineer Fabrice Lom pointed out, Vettel's failure obviously wasn't expected but it was an engine at its third grand prix. The drivers each have eight engines available to them over the season and if ever they are going to be up against mileage limits and failure worries, it's now.
Nobody's going to come out and say, "Jesus, if I have to rev the knackers of this thing to get pole or get pushed the whole way on Sunday I'm terrified it's going to grenade itself !" But you can bet that's what they're thinking. If you're up against it on engine mileage you sure as hell aren't going to admit it, which is why it's pretty pointless asking the question.
At the moment you can't help wondering if Alonso has a secret remote control anti-German engine detonating device with him in the cockpit (remember Schumacher leading at Suzuka '06 for 17 laps with Alonso behind him...). But even if Charlie Whiting doesn't find it, you have to remember that Ferrari itself had a rough start to the season with engines and at Monza Chris Dyer admitted that the situation would need careful management over the remainder of the season.
Let's say we do get the Vettel-Webber-Alonso finish at Interlagos and we've got the same scenario in the closing laps at Yas Marina. Guillaume 'Rocky' Rocquelin comes on the radio to Sebastian, although someone would probably have to torture him first, and says, 'Mark. Is. Faster. Than. You! Please confirm that you understand.' Some would see a nice line in irony with that but it's just the way the sport is and always has been.
But imagine if, starting the last lap, Vettel stays wide into Turn 1 and allows Webber through on the inside to complete a championship-crowning last lap. Then Alonso's engine goes pop on the back straight! If I was Vettel I sure as hell wouldn't move over until I'd come out of Turn 21 on the last lap and I could see that the Ferrari was still running... It could be that tight.