Can it be only three-and-a-half years since Lewis Hamilton burst onto the grand prix scene? It seems so much longer. Since that debut podium finish in Melbourne in 2007, the 25-year-old has both won and lost championships in the most remarkable circumstances, charged to sensational victories, become embroiled in the McLaren spy scandal, pulled off many of the greatest F1 overtaking moves of the 21st century, been shamed by last year's Australian Grand Prix lying controversy and recovered after a half-season slump when poor machinery condemned him to midfielder status. What a story.
In 2010, the rollercoaster has levelled off. The virtuoso on-track performances haven't changed, but Hamilton comes across as a far more relaxed individual. At times during his early years, certainly once the initial exuberance of his arrival had calmed, he seemed stifled by his environment and ill-at-ease with being a global megastar - particularly when facing the media. But that has changed.
To say that a man who won the world championship two years ago has come of age seems ridiculous, patronising even, but that's an impression formed by many in the paddock who have witnessed the change in Hamilton.
"I don't think that I'm more relaxed this year," says Hamilton, just a couple of moments after stepping out of his post-free practice engineering meeting. "It's just that my approach to life in general is a little bit more relaxed. Whilst there is always stress, there's a little bit less stress then I had before.
"Part of it is experience, part of it is growing up and part of it is having my own control now. I only have myself to answer to, apart from my boss! If I make mistakes, I have got to deal with them myself."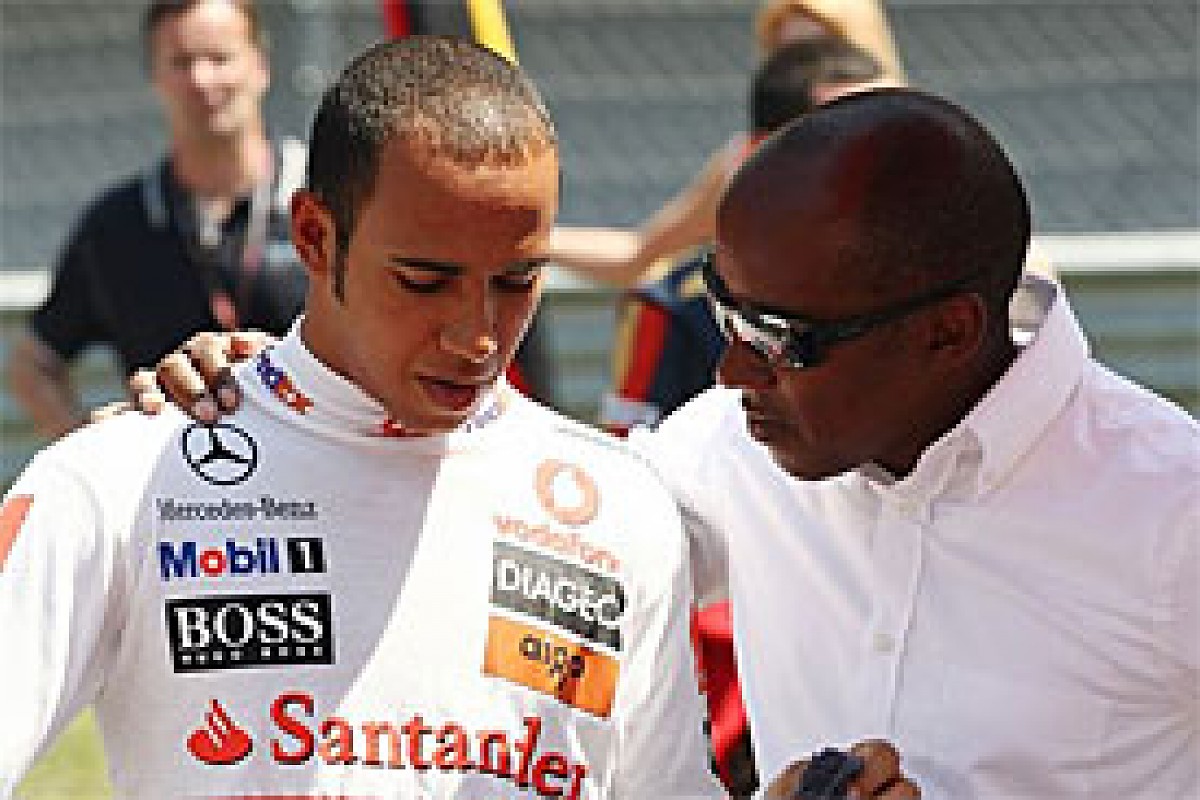 Hamilton manages himself after splitting with his father © LAT
So does the reason for the apparent change in Hamilton lie away from track? It seems so. His high-profile separation from manager and father Anthony came over the winter and has made Lewis emphatically his own boss. The relationship between the two had become strained for all sorts of reasons, so little wonder that Hamilton feels a new sense of personal freedom.
And that's despite the fact that some drivers would find it impossible to manage themselves and would forget to get out of bed in the morning and head to the circuit without being prompted to do so. Instead, Hamilton seems to be revelling in it. He remains manager-less, and does not feel any pressing need to recruit one. That's not to say it has been easy, but perhaps having to focus on his business affairs while away from the track has been a welcome diversion to the pressure of fighting for the world championship.
"It has definitely been hard this year taking a lot on," he says. "I manage myself generally now. It's a lot to do and there's a lot of things I've had to learn - and I'm still learning. But that's dealing mostly with stuff outside. At the track, everything is mostly the same and I'm able to deal with everything no problems. It's more in my private life.
"I like being on my own. Obviously in the past I had all of my family around, but they had nothing to do. If I had my girlfriend come and sit there from Thursday to Sunday, she's got nothing to do because I've got a job to do. I like to sit in my room, listen to music, read the news or a book...I don't mind having visitors every now and again, but I kind of like it on my own. I don't have any weight on me - I just have some decisions to make and I can decide whether I want to make them now or later."
It would be easy to characterise Hamilton as having been set free from some kind of restrictive parental regime, but like all father-son relationships it's sure to be far more complicated than any outsider can understand. Anthony has attended only one race this year - Silverstone - where he conspicuously spent his time in the Force India camp as Paul di Resta's manager. Unlike team-mate Jenson Button, whose dad John is a welcome ever-present, Hamilton is happy to operate without family support on site.
"He's just very, very busy," says Hamilton of his father. "He's been working on his house for that long - I think it has been more stressful than working for me! He's also been trying to get the GP Prep project going, which has really been tough. And he's been working with my brother a lot - he's now into driving and he might be racing at some stage - who knows? Not in F1, but something else.
"I don't chat to him any more than we did before and it's probably a lot less than we did. Before, we didn't chat that much unless it was about business, and we have no business to talk about anymore."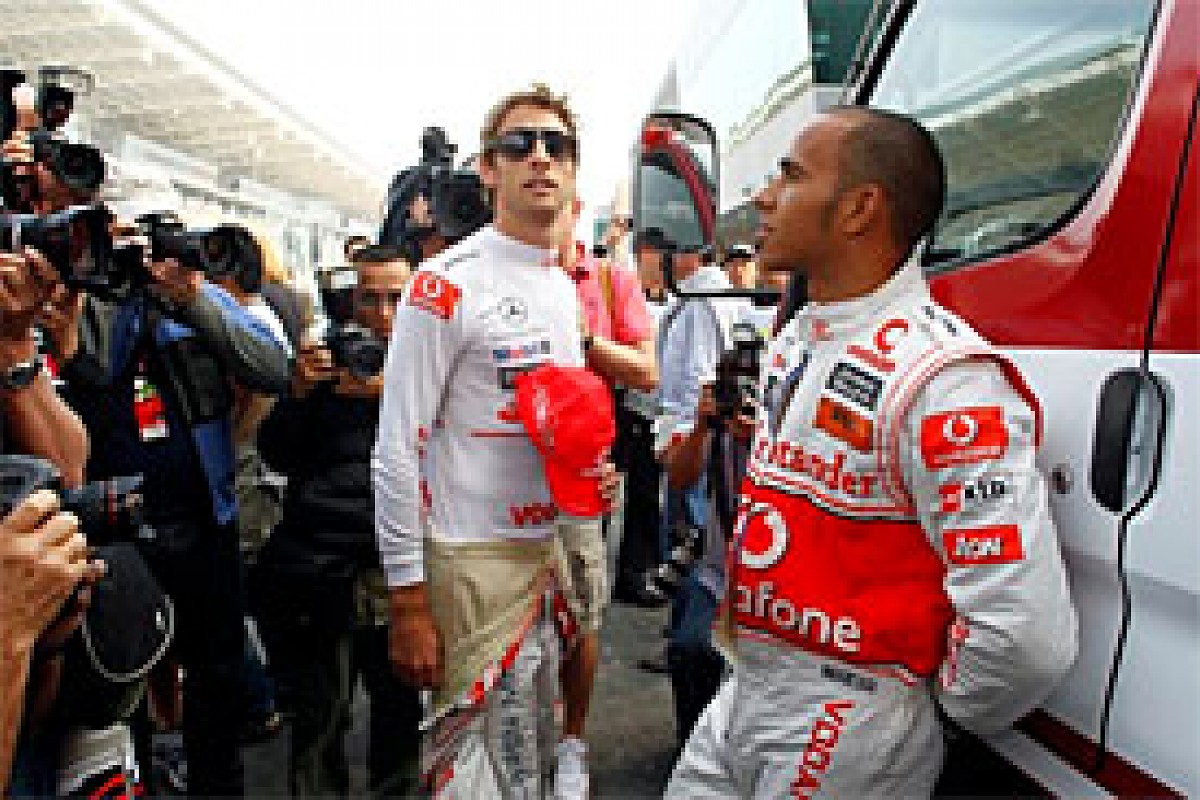 Button has kept Hamilon honest this year © LAT
On track, Hamilton has been much the same as ever. Lightning fast, never afraid of attempting to make up a place and continuing to rack up the wins. For much of the season, he has looked like the champion-in-waiting, especially with his speed tempered by cutting out the on-track mistakes. Prior to the Italian Grand Prix, while not flawless, he hadn't cost himself any serious points and even showed the genius's touch of getting away with errors that might have been more serious (see his tyre-wall flypast at Spa, for example).
Then, at Monza he left his nose inside Felipe Massa's Ferrari on the run to the second chicane. The Brazilian turned in, Hamilton's front-left track rod broke and he plunged into the gravel at Lesmo 1, just across the track from where his 2009 Italian Grand Prix ended in the wall on the last lap.
Two weeks later, he clashed with Webber while trying to take third place in Singapore. Those two DNFs are largely responsible for him being 28 points behind the Australian with just 75 left to play for. Food for thought for a driver widely characterised as the most aggressive of the title-chasing quintet.
"I don't look at it saying I was aggressive," he says. "I would say I was more opportunistic. I see an opportunity, and I go for it, generally. I don't feel it's being aggressive.
"Aggressive is quite a strong term that people seem to use for me and I don't believe that I'm anywhere near as aggressive as Michael Schumacher. I've never put anyone into the wall or close to the wall. I don't believe that my driving style is any more aggressive than Fernando's. He pushes his car to the ragged edge and so does Sebastian.
"Then you have got Jenson and Mark, who seem to be a little smoother, but in terms of overtaking I'm not scared of going for manoeuvres. You don't see much overtaking in Formula 1 and it just so happens that I've done most of the overtaking this year! I've done a hell of a lot of manoeuvres and not all are going to work.
"I don't feel that I've made more mistakes this year than in other years. Others, like Jenson, have made less mistakes and finished all of the races except for one where he had a failure and another where he was taken out, but he hasn't qualified as high as I have every race. He's generally not as attacking as I am. I can learn from him, and I'm sure that he can learn from me."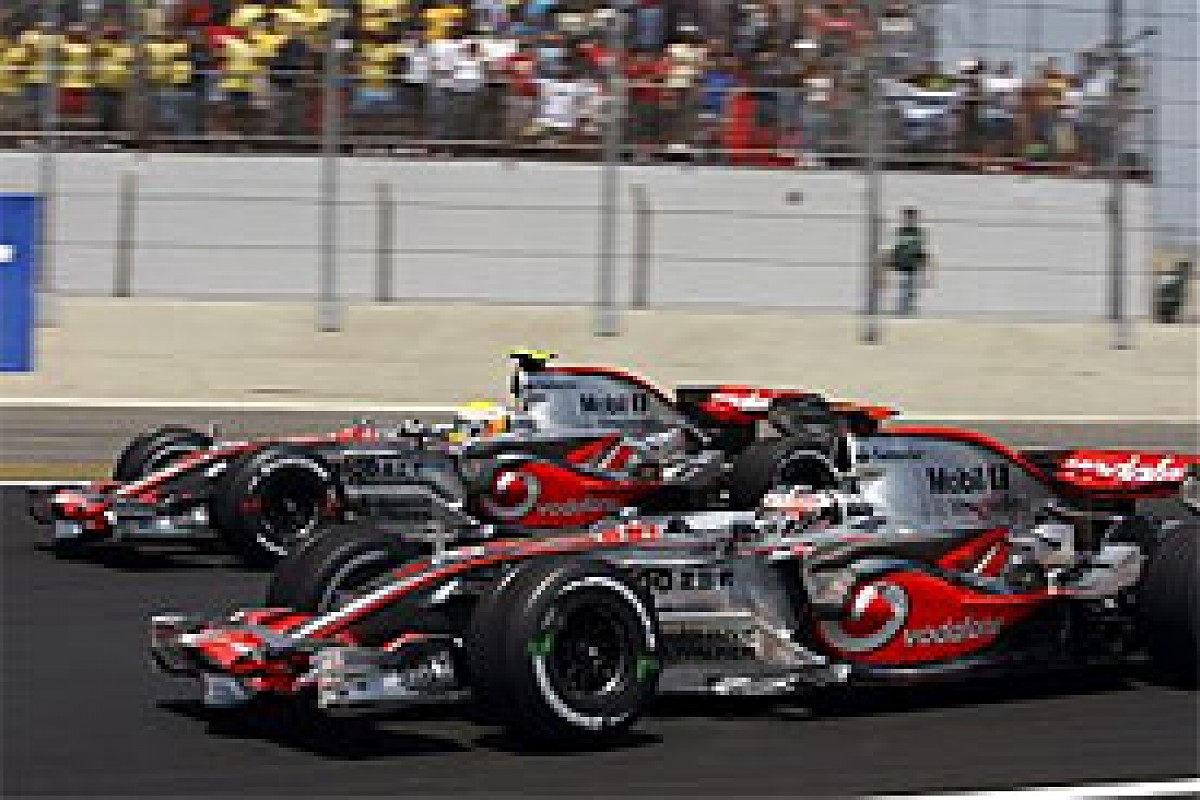 Hamilton beat team-mate Alonso in 2007 © LAT
You might think that after two years with Heikki Kovalainen alongside him, it would be Button's pace that has given Hamilton much to think about. In raw, single-lap speed, Lewis still has the upper hand in the McLaren garage, but with such a quick team-mate he knows that if he underperforms by a couple of tenths in qualifying he will likely be behind the reigning world champion.
But that's not what matters for Hamilton - what he thinks that he can learn from Button is when to unleash that aggression. Or, as Hamilton would doubtless prefer was said, attacking mentality.
"I've always been able to find the pace without anyone else next to me," says Hamilton. "If we were a one-man team, I would have no problem getting to the pace.
"Jenson has been very consistent all year. If you try to balance a knife on its edge, it's almost impossible. When you are driving a car and you are pushing, there is a very fine line between being over the top or at 98/99 per cent. Jenson is more of a guy who seems to be at 99 per cent and is consistent, so it's something to learn from. I'm always 100%, 101%, 102% - I'm always over the limit and a lot of times it works for me, but sometimes it doesn't."
But that doesn't mean that he's going to set aside the approach that has served him well throughout his career. Central to Hamilton's popularity is his all-out approach, and F1 fans can rest assured that he's not going to turn from a charger into an accumulator. Perhaps he might take the cautious approach once in a while - although when McLaren tried that in Brazil in 2008 they were left with little margin for error and almost lost the title - but he rails at suggestions that he needs to change.
And rightly so, for over the past four seasons he has already had enough success to be considered among the greats of grand prix racing.
"I won the world championship," he says. "I lost the world championship in my first year with a team-mate who was a two-time world champion and I beat him. I've won grands prix and I don't feel that I need to change.
"I always give this comment to young kids - don't let anyone tell you to be different. Be who you are. This is who I am and I've won many races in my career because of the way I am and I've won many races in my career because of the way I am. You do adjust, and I have adjusted - you have to have an open mind, accept other people's opinions and try to take the good from it."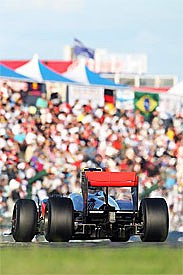 The Briton is not planning to change his driving approach © Sutton
To maintain his swashbuckling approach despite staring the possibility of ending 2010 as a one-time world champion rather than the triple champion he might have been is impressive. What's more, that mindset will serve him well when it comes to trying to claw back the 28-point deficit to Mark Webber in the final three races of the season.
"Of course, I would have loved to have won in 2007, but I didn't and there's nothing you can do about it. This year, if we don't win the championship it's sad in the sense that everyone is so devoted to winning in the team, but it's the same up and down the pitlane.
"It's not over. We won't go down without a fight - it is still possible. The car seems to be very competitive here, so it's not impossible that we can win this weekend."
The new, improved 2010-specification Hamilton might be more at ease with his world than before away from the track, but he's the same as ever on it.
Realistically, the world championship might already be lost - even if he wins all three remaining races it is no guarantee to be enough - but having experienced so many highs, lows and dramatic turnarounds during his short career he knows as well as anybody that fortunes can reverse at any moment.
Either way, Hamilton is happy enough in his own world to take it on the chin and come back for another go next year. He'll be stronger, he'll doubtless say, and that will be a frightening prospect for anyone hoping to win the title in 2011.