The FIA has given the green light. The teams are setting up in Yeongam. The drivers have been exploring the track on foot. The inaugural Korean Grand Prix - despite all the fears and rumours - is going to go ahead.
That's good news for both the title battle, which would have seemed a little bit less wide open had there only been 50 points on the table rather than 75, and for Formula 1's credibility. History will forget a few teething troubles, but a race cancellation would have been a huge embarrassment, especially as it would have come so late in the day, with the teams potentially leaving Japan not knowing where they were heading next.
The last few new additions to the F1 calendar have all had quirks to them - a night race, a street race, or both. Korea is more a return to the late-1990s/early-2000s habit of creating a vast circuit complex in a nation without much motorsport heritage, and which may or may not be totally indifferent to F1.
Singapore and Abu Dhabi's venues have enough attraction to lure an international crowd while the domestic motorsport following develops. It remains to be seen whether F1's arrival in Korea immediately triggers local interest, or sees grandstands as empty as Turkey and China's. In a way, the 'will it/won't it' issue of whether the race would go ahead has been a useful distraction from the topic of whether there is actually a market for it, and with some of the planned grandstands unlikely to actually be built for this year, there will be less empty seats than there might have been...
Three tracks for the price of one
When it comes to the layout, there is plenty of cause for optimism. Designer Hermann Tilke has certainly packed some variety into its 3.493 miles, with each sector almost a different racetrack.
Part one is built to the now-standard 'massive straight + big braking into tight corner + complex that turns back on itself = great racing' formula, and sees Yeongam become the latest track to wear the 'longest straight in F1' crown with the 0.7-mile trek from Turn 2 to Turn 3. With 200mph+ inevitable on such a long straight but Turn 3 a second-gear affair, that's a very significant braking area. After a shorter straight, second gear Turns 4, 5 and 6 should offer chances for cars still sorting themselves out from a Turn 3 dice to cut back in, out and around each other.
The final corner at Yeongam © Sutton
The middle of the track is the 'sweeping bit'. There's nothing here that's likely to join Istanbul's Turn 8 as a modern legend, but it has enough fifth and sixth-gear high-speed action to test the drivers' boldness and their cars' aerodynamics.
Then it all slows down again for the final sector, which features the close confines, walls and limited run-off areas of a street track. When the circuit and area is fully developed, Tilke expects this section to effectively be part of a city, so the design is no coincidence.
There are enough high and medium speed, and long, corners for Red Bull to do what it does best, but unlike Suzuka, you can't say the whole track is an opportunity for Adrian Newey to advertise his genius. McLaren likes the look of sector one's long straights and big braking moments, for instance.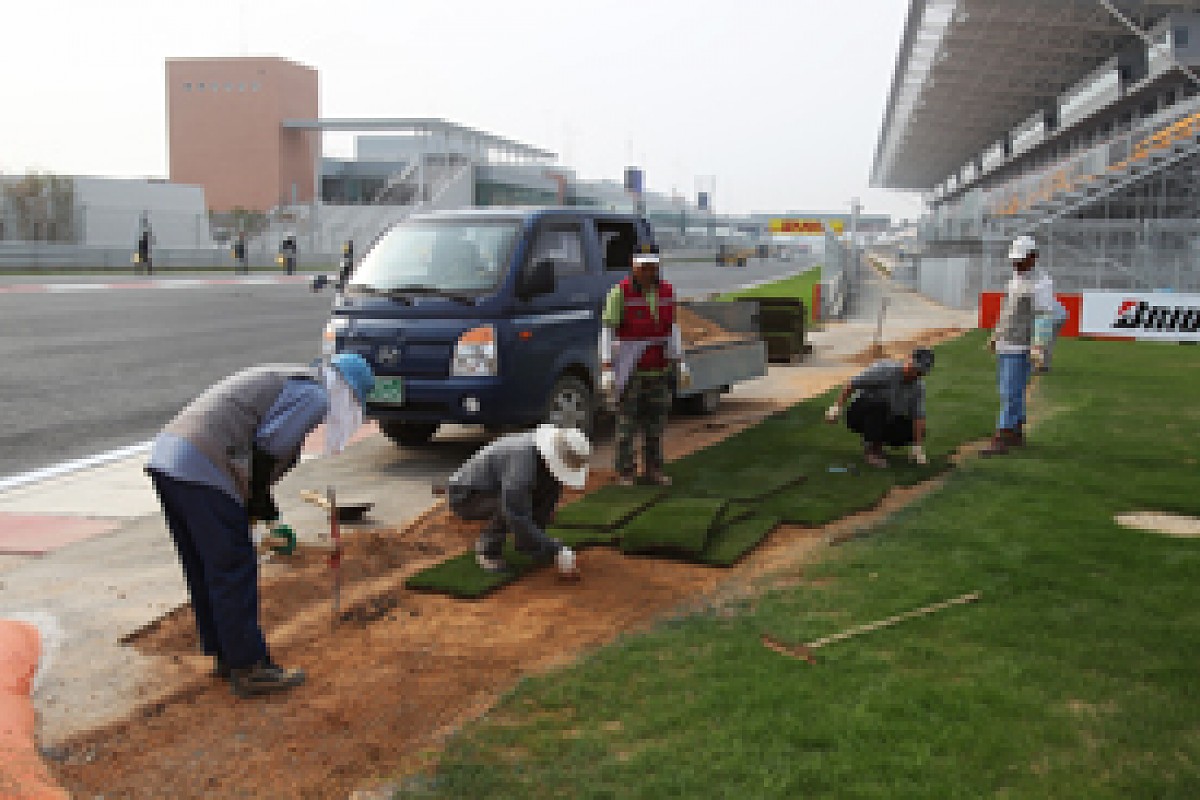 Work continues to finish off the circuit © Sutton
That 'bit of everything' layout could mean that no one is able to dominate, that it offers something for all three title-contending cars' strengths. That's probably - and hopefully - more likely than one team finding the ideal compromise set-up and utterly blitzing everyone else.
This time, though, it might not be the corners themselves that make the difference, but their surface, which was only completed at the last minute. The concern isn't that it will prove inadequate and start breaking up, but that oils still seeping through and the top layer having not fully bedded in yet will mean an incredibly low-grip surface. That's sure to provoke complaints from drivers, but as Tilke pointed out in an exclusive interview with AUTOSPORT today, it should also guarantee thrills and spills, and possibly an epic race. With the surface characteristics likely to change throughout the weekend, no one is going to be able to guarantee that what works on Saturday will be equally good on Sunday, or that a car quick in the opening laps will still have that pace at the end. Uncertainty, in this case, could be very good.
Now or never time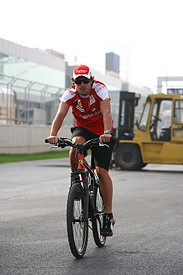 Alonso checks out the new track © Sutton
For weeks the title contenders have been dismissing attempts to bill events as 'pivotal' to the championship battle. But as the number of races remaining diminishes, each one really does get critical. Mark Webber could mathematically knock both McLaren drivers out of the title hunt in Korea if things go very well for him, and very badly for Lewis Hamilton and Jenson Button. Certainly the British duo's chances will look very remote if they don't out-score Webber by a healthy margin here.
The top three are still close enough that Korea won't be utterly decisive. But if Red Bull is unstoppable again, it will not only have an increasingly-healthy points gap on its side, but also momentum and confidence.
Or will Ferrari - the car that's not as good on straights as McLaren or as good around fast corners as Red Bull, but is near enough in both elements to be right in the hunt at every race - prove to be the perfect compromise blend for Yeongam's 'pick and mix' configuration, putting Fernando Alonso in the title driving seat? It looks like a completed-just-in-time, rough-around-the-edges race track could spice things up just as much as any Brazilian rainstorm.
Weather