Could the comparatively crude V8 engines that have powered Formula 1 for the past five years turn out be pawns in the expected power struggle for control of Formula 1 come the end of the current Concorde Agreement at end-2012?
It would appear so, certainly if the seemingly throw-away remark made by a senior F1 team when asked about what progress had made on the new engines regulations since the last race in Monza.
Before confirming that yet another meeting of the FIA's Engine Working Group - convened by Gilles Simon, the ex-Ferrari engine director who has accepted responsibility for propelling F1 technology into the 21st century - had been scheduled for the Tuesday after the night race, our source threw "I think the next step is for the FIA to establish how many takers it has for the new engine, because we know how many we have for ours..." into the mix before scuttling off into darkness.
Cosworth F1 engines © Sutton
Excuse me?
Then the penny dropped: certain factions within the FOTA alliance are pitching for retention of the current V8 units - not only on cost grounds, but also for sporting, technical and, crucially, political reasons.
Consider: of the four current F1 engine suppliers, only one (Cosworth) is not aligned to a motor manufacturer. Thus there is much political power vested in the remaining three engine suppliers, namely Ferrari, Mercedes and Renault.
However, while true that the last two are separate legal entities from the F1 teams of the same names - Mercedes manufactures and supplies engines via its High Performance Engines subsidiary, whereas the former Brawn GP team has a different shareholding structure; at Renault, Genii Capital is the controlling lessee of the British-based Renault F1 Team, whereas Renault's F1 engines are manufactured by a separate company based within Renault's Viry-Chatillon complex outside Paris.
Thus Ferrari is the only FOTA member in control of its own engine F1 division, but the fact remains that the Mercedes GP or Renault F1 entities are unlikely to ignore the call of their eponymous engine suppliers when push comes to shove. And vice versa.
But, why would the "FIA [need] to establish how many takers it has for the new engine" if F1 as a whole favours turbocharged 1600cc four cylinder units complemented by sophisticated energy recovery units, as had generally been believed it did?
Now it seems universal acceptance is lacking, for, as Mark Gallagher, leader of Cosworth's F1 Business Unit, exclusively told this column in Japan: "I don't think retaining the V8s has ever been off the table." Adding: "It is simply an option that, if we can't get the details sorted, there is the option there to extend the current regulations."
After a year of talking once a month for a day on each occasion they can't get the details sorted?
Gallagher would not be drawn on the political aspect, not least because by the nature of Cosworth's engine operation, the company is non-political, but, having admitted that retention of current engine architecture - likely updated - remains optional for the teams after expiration of the current regulations at end-2012, political power through engine power can be but a short step away, particularly with the threat posed by the Volkswagen Group potential entry into F1.
Is it purely coincidental that discussions about retaining V8s have mounted in direct proportion to the chances of the German auto giant entering F1 under either its Audi or Porsche brands?
The group has effectively dominated every category it entered recently - from IMSA through Dakar and Le Mans to WTCC, whether under its Porsche, VW, Audi/Bentley or SEAT brands - in many instances by throwing large amounts of Geld at campaigns or arguing to have rules amended in line with its aspirations. Here think diesels in endurance racing or touring cars.
Against that background, what better (read 'cheaper') way of warding off that threat than through the retention of those faithful V8s - despite their basic architecture being firmly rooted in the last century, and their emissions being right up there with Chinese power stations.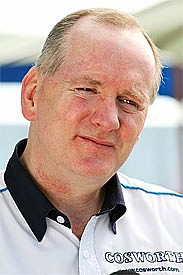 Mark Gallagher © Sutton
In fact, being faced with the need to cobble up V8s to the frozen, distinctly non-green engine formula under which VW's market competitors have all won world championships in the past five years could well prove to be the final barrier for the world third-largest motor manufacturer...
However, there are also cost considerations in favour of retaining the V8s: already manufacturers are talking in terms of $100m (at least) to develop new engines, and, as Gallagher says, "You only have to look at the paddock to see that there is not the sponsorship available that there used to be, and the appetite of teams and car manufacturers to spend hundreds of millions of dollars on engines is gone. Nobody's interested in that."
So, where the original concept was for a basic 1600cc four-cylinder with sophisticated ancillaries, the plan now is for control turbochargers and energy recovery systems and suchlike should the 2013 regulations get the nod.
"If you choose one particular aspect of the engine, such as the turbocharger, if you say we are going to have a turbocharger war," says Gallagher, "you can spend an awful lot of money on that. Alternatively, you can say actually, we're going to have one type of turbocharger and that's it. That applies to all the different elements of the engine [if F1 aims to prevent a space race of the type experienced until very recently]."
In which case the base engines, while costing in the region of $30m-$50m according to estimates by engine directors, are unlikely to deliver much more than 500bhp, boosted by around 150bhp through composite KERS units. Given that current 2400cc V8s produce around 780bhp (plus KERS) it should be a no-brainer, particularly as they have effectively paid for themselves. And, that is before a raft of sporting and/or political considerations are factored into the equation.
However, it is a fact that F1 needs to consider the ecology, even if only around 3% of the sport's emissions are produced on-track, for the perception exists in certain quarters that the sport is nothing other than a fuel-guzzling, dirty pastime. Perceptions, of course, remain real until categorically disproven.
"There are many teams in F1 who say the current V8s create a barrier to entry for sponsors, because of the image of Formula 1 as being [about] multi-cylinder gas-guzzling engines," believes Gallagher. "We're sitting here (Japan) in a market where the best-selling car, every month for the last 16 months in Japan is the Toyota Prius. So we're living in a world where people's requirements are changing, and therefore there's a feeling that Formula 1 needs to reflect that."
However, an engine company man who did not wish to be identified, countered with "Why be seen to be green by blowing a 100 million bucks on engines which won't in any way change the amount of pollution F1 produces in the first place?"
As though to back him up, press agency AP last week reported that sales of Prius dropped like a lead balloon in the 17th month (September) after the Japanese government ended its 'green' car financial subsidies, so it seems F1 is mirroring the real world when it comes to balancing ecology and economics...
The teams are (rightly) concerned about the 'show' under the proposed regulations, as the proposed engines, silenced by turbochargers and restricted to around 10,000 rpm, are likely to be aural disasters, particularly as the shrieking sounds of high-revving pedigree engines are one of F1's primary attractions.
Question fans on whether their preference be for the muffled sounds of four pots running to 11,000 rpm or open exhaust V8s at double that, and the answer is obvious. Add in that 780 horses (plus KERS) are considerably trickier to control than 650 bhp (including energy recovery), and said sporting concerns are justified.
However, all these arguments about the relative merits of current iron versus the FIA's proposed engines fade into total insignificance, for, make no mistake, all three factions affected by the tripartite agreement which governs the sport are squaring up for a battle which will make the 2009 negotiations appear like a nursery school skirmish.
The current agreement expires concurrently - but wholly coincidentally - with the end of the current technical regulations, and the stakes could not be higher.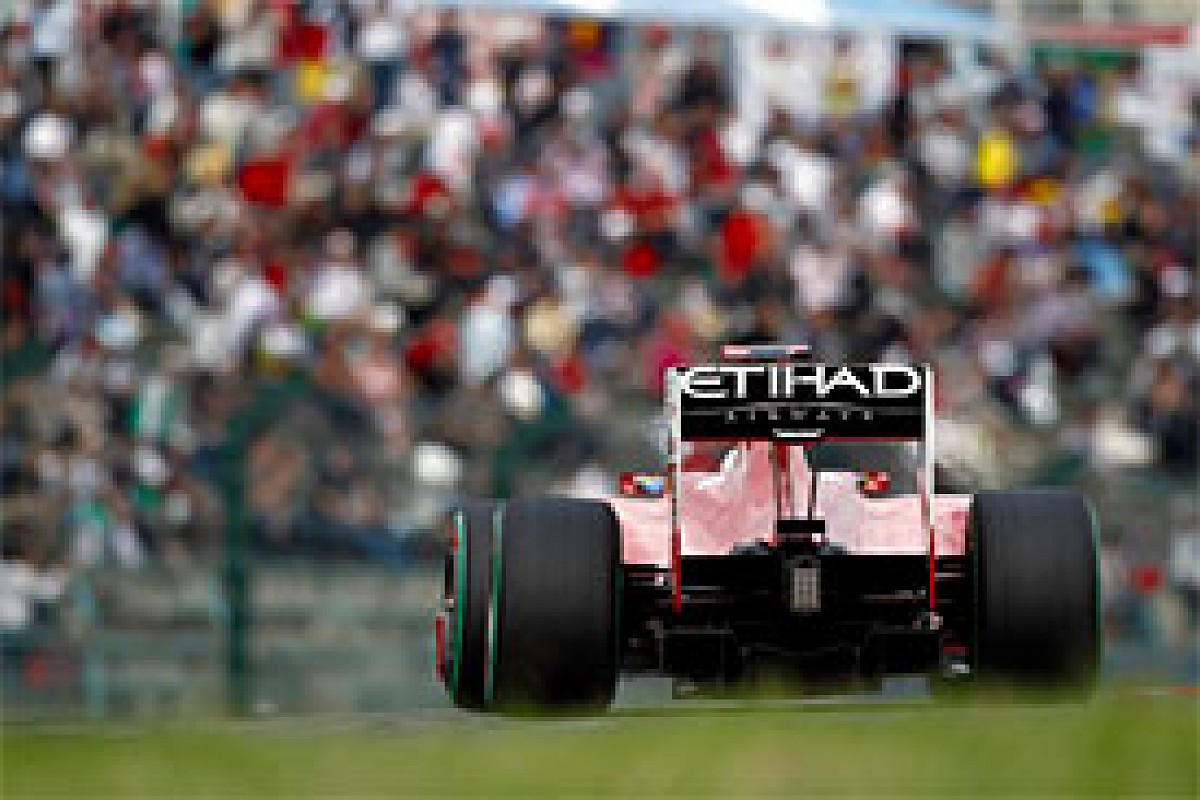 Another power struggle looms in F1 © LAT
On the one side FOTA is preparing the ground for an increased share of the sport's revenues (75%, up from the present 50%) plus greater marketing and operational commitments from the commercial rights' holder while pushing for increased regulatory control, concurrently the sport's governing body is bidding to wrestle back a large portion of the control the FIA's previous regime ceded to the CRH as part of its 113-year agreement with the CRH, which is, of course, resisting the bilateral pressures by all means fair, and not so.
Where before the fight was two-way (effectively the FIA and FOM, the CRH against the teams), now it is basically three-way, with all three sides fighting to lengthen their own patches of the triangle.
And, the teams hold an ace in this fight for technical, financial and regulatory control of this most complex of all sports - threat of a breakaway series which would effectively render the CRH's property valueless while reducing the FIA's hold on the sport. FOTA did precisely that in June 2009, and boldened by that success, will no doubt play the card again.
If the FIA has but a single taker for its 'green' engine concept yet refuses to cede to their demands, and the CRH plays hard ball over money and marketing, the teams will likely pull out their tried and trusted V8s and go racing for their own account, even if said units are by then seven years old, having been derived from V10s first raced in the late 1990s.
But, all is said to be fair in love and war, and in this case engine power truly equals political power. Thus, don't be surprised if the teams refuse to accept the EWG's proposals any time soon...