One of the more intriguing stories of the Italian GP weekend was the decision by the two McLaren drivers to go completely different ways on set-up from Saturday onwards. The unique demands of Monza, made more complex this year by the presence of the F-duct on the leading cars, led to this highly unusual situation.
Jenson Button's high downforce F-duct package had the upper hand in qualifying, but sadly we never got to find out how Lewis Hamilton's ultra low drag car would have performed in the race, for he was out of it within the first lap.
Button leads the Ferraris at the start © Sutton
You could argue that their choices reflected the way the two men go motor racing. Hamilton went for out and out top speed, convinced that he could handle the tricky, skittish handling that would inevitably result. Button went for the more stable configuration, although to call it a conservative choice would be unfair, because in some ways he was taking the bigger gamble.
In the end, Button's route paid off. He might not have earned the win that McLaren had quietly expected before coming to Monza, but second place was a useful contribution towards his title aspirations.
But for Hamilton, it was all over before it started, and he was on the sharp end of some criticism.
Hamilton hasn't really lost points to mistakes this year, and given the stress of the title fight, he can be forgiven for making this one. It was to his credit that, when he emerged from the motorhome to meet the media, he held his hand up to it.
He was a little unfortunate that at the time he made contact with Felipe Massa, his onboard camera was carrying millions of viewers with him, so we could all see exactly what unfolded. He was unlucky too that the double impact with Hamilton's rear wheel snapped his suspension, because he could well have got away with it.
We've seen a lot of first-lap contact at the front this year, and sometimes you win, sometimes you lose. Indeed at Monza Alonso gave Button a nudge, poking a little hole in his nose. He could easily have damaged his wing and come piling into the pits at the end of the first lap, but all was fine.
Equally it's worth recalling that Hamilton tapped Sebastian Vettel at the start at both Valencia and Silverstone. The first time he was able to change his tweaked front wing under safety car conditions, without penalty, and the second he escaped unharmed and sent Vettel into the pits for a new rear tyre. Monza was thus a case of three strikes and you're out...
"He had a great chance to get up there, he made a good start," said Martin Whitmarsh. "He was obviously attacking for third place, that's what you've got to do if you're a racing driver. There was wheel contact, a real, pure racing incident. Unfortunately it broke his track-rod, and that was the end of his race.
"You can't take no risks and score the points. He is a racing driver, he's going to push, that's a hallmark of what makes him the great racing driver that he is. Clearly with hindsight conserving the points would have been the right thing to do. But if you drive like that it affects your whole mentality, and he wouldn't be the winner that he is.
"He's been there, he's done it, he's been a World Champion. At the same time you have to take some risks. You can't go through a whole championship without taking risks. He wanted to get up into third place. In hindsight of course now he should have eased back, settled into fourth place, banked the points, which would have been relatively easy to achieve, and he'd be leading the championship still. He's still only a few points behind, it's all to play for."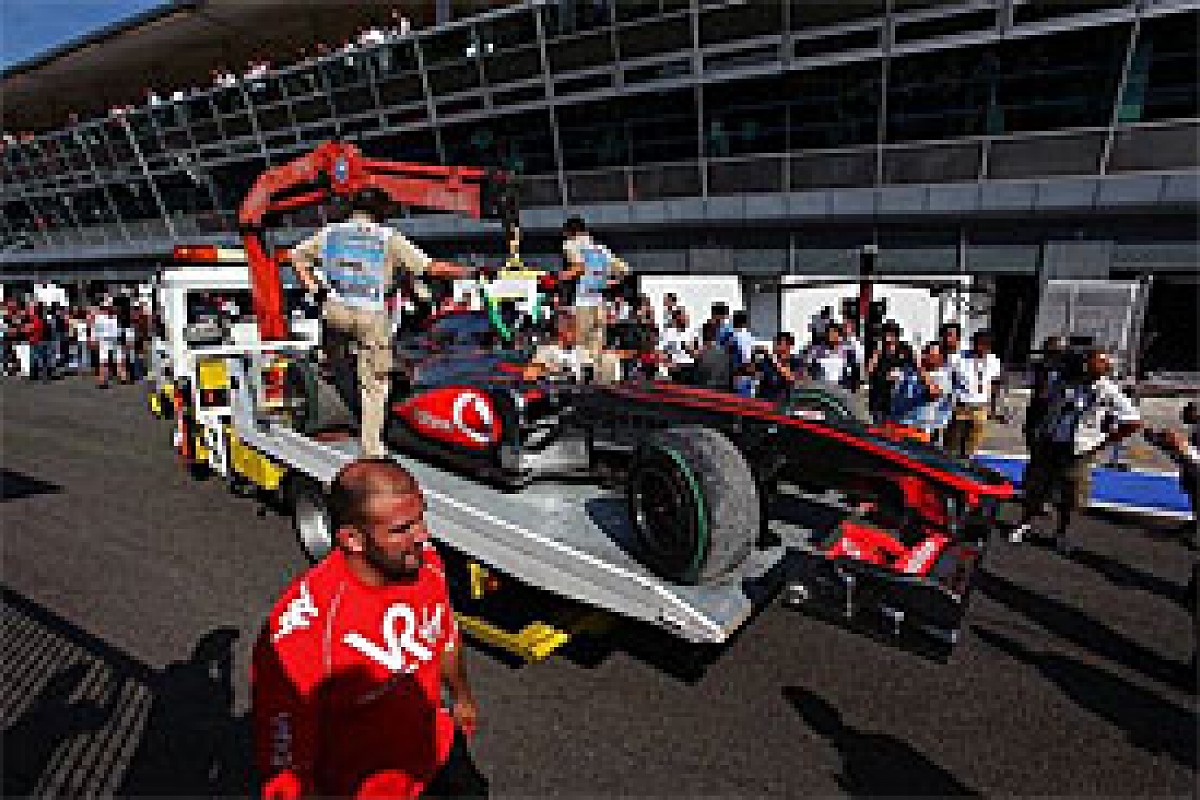 Hamilton's car after his DNF © Sutton
It's easy to suggest that Hamilton should have mentally logged the fact that he'd already got ahead of championship leader Webber, and perhaps he should have consolidated at the second chicane. Clearly he was concerned that Massa wouldn't have the pace of the two title contenders up ahead, and as such, he was keen to get past him.
What we'll never know is how he might have fared against Massa around the rest of the first lap, or on the run at the first chicane at the start of the second, given the good top speed that he had.
"It would have been interesting to have seen it, but we didn't!," said Whitmarsh. "I think Lewis had a package that would have given him a good attacking opportunity during the race. He was destined clearly to have been fourth, and we would have tried to have been third. Who knows, maybe he would have pushed up higher than that. We haven't spent too much time speculating, because it didn't happen."
Whitmarsh has no regrets about the set-up choice: "I don't think it was a mistake. He was quick without the F-duct. We were unfortunate to catch Webber in qualifying, so we underperformed, I think he had the pace to be on the front row, or at least third. That didn't happen. Thereafter he had a car that was going to allow him to race aggressively and potentially to overtake."
Hamilton himself made some interesting comments about the aero package on his website this week.
"You can look at the numbers forever, but, at some point, you've just got to get in the car and drive it. After qualifying, maybe I felt it wasn't the right way to go, but we had a look at how the race could have gone, and there were definitely some positives.
"Mainly, I needed less fuel than the high downforce cars, because I was carrying less drag, and, most importantly, I had the potential to pick off cars on the straights, because of my top-speed advantage.
"That wasn't guaranteed, of course, because we didn't get to see how the car would be affected in the slipstream through the corners, but we saw in the race that it was pretty much a stalemate out there. I'd like to think that if I'd stayed in the race, I could have done some passing."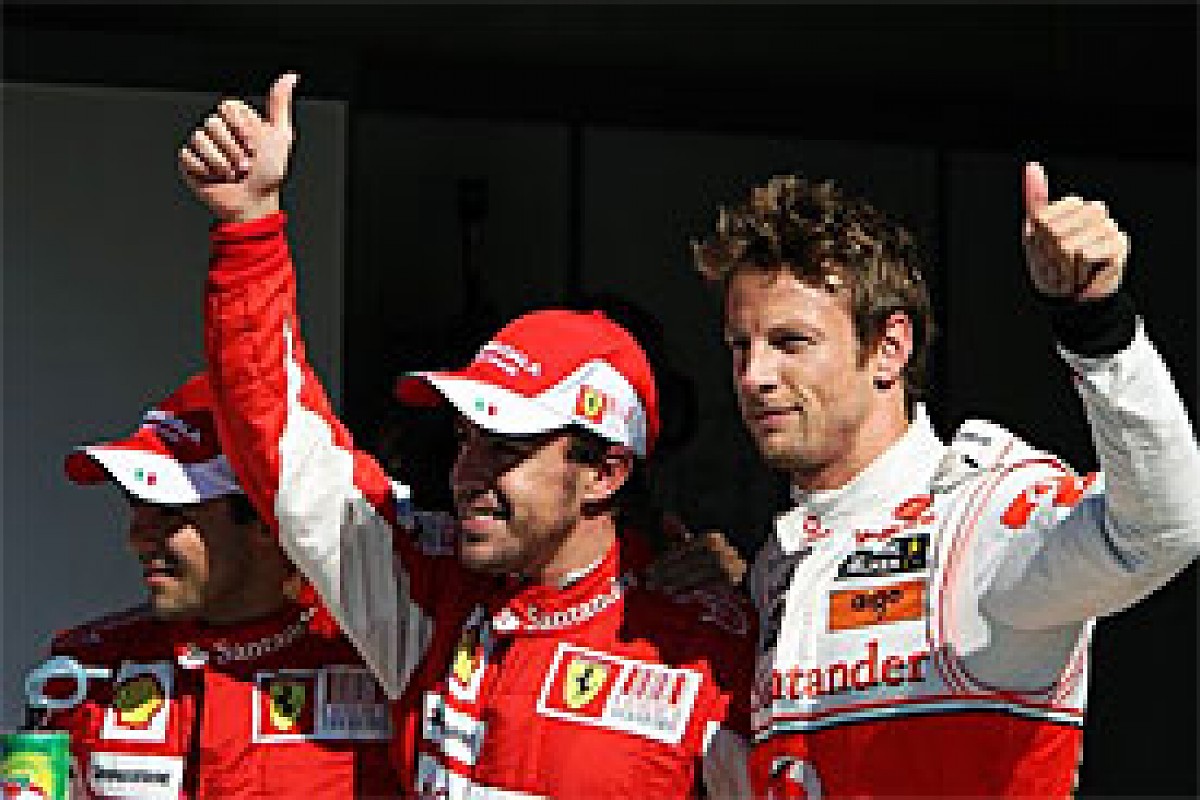 Button lost out to the Ferraris © Sutton
Clearly he believes that he could have been in the fight.
So what then of Button's afternoon? It was a brilliant drive, with a little necessary aggression at the start, and then a faultless performance thereafter. For 36 laps he had Alonso in his mirrors, and even after their place swap at the stops, he had to keep an eye on Massa, while also controlling his fuel consumption in the closing stages.
He was all smiles when he chatted to the Ferrari drivers after the race, but that disguised the frustration of seeing Alonso emerge from the pits in front of him.
Monza races have traditionally been about a single late pitstop, although in the past fuel has of course been a factor. This time it was only about tyres, and that's what drove McLaren to bring Button in first.
Between them the guys on the pit wall and the strategists back at Woking determined that new hard tyres were faster, giving an instant advantage to anyone pitting before their immediate rivals. Whether they were guaranteed to work as early as the first lap out, which is when Button needed a boost, was less clear.
McLaren didn't have too many samples to draw on, at least in terms of quicker cars, but the key ones were Robert Kubica and Sebastien Buemi. When they pitted on lap 33 the new tyre advantage was apparent, and that's what led McLaren into a three lap countdown to Button's stop at the end of lap 36.
When Alonso emerged in front it was easy to criticise the team's strategy, and Button himself asked the question - and got a clear explanation from his engineer. The McLaren guys had done the sums, but it just didn't work out for them.
"The new tyres were quicker, so had Ferrari stopped before us they would have been further ahead after we stopped," said Whitmarsh. "So we had to play that card."
It would have been nice if they'd come in and raced us in the pitlane, but that would have been the wrong thing for them to do, and sadly they didn't do the wrong thing!
"The facts are the facts. They were quicker than us, they were behind, and the new tyres were quicker. What were the three scenarios there? They could have stopped in front of us, got onto the quicker tyre, and been further ahead. They could have stopped at the same time, which they weren't likely to do. They had the luxury of knowing when we were going to stop, and they were going to cover it, or not cover it I should say. And they had to stop quickly after we stopped.
"It was touch and go, a few metres. Inevitably people will say what would have happened? If we had stayed out another three laps, they would have stayed out another three laps, or if they had jumped in before us, then they would have been further ahead. When you're racing a car that's quicker than you, strategically it's quite difficult to outdo that, unless they make a mistake. They didn't make a mistake of coming in with us, which would have been nice."
In the end McLaren brought Button in because of a fear that Alonso would pit on that lap.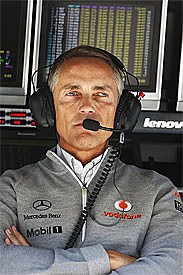 Martin Whitmarsh © Sutton
"The backmarkers had cleared that we were all monitoring, so we could all stop without dropping into traffic. So they could have stopped at any moment. Had we not stopped, I think they would have stopped on that lap, and then the question would have been, why didn't you stop at the same time?
"The fact that we stopped meant that they stayed out, so it was never going to happen like that. We made the right call, they made the right call. They were a bit quicker than us, and that's how they beat us..."
And that's the crux of the matter. It wasn't so much about a great in-lap from Alonso as what went on in the pitlane. Indeed, Button did a great first lap out, his out lap time (including that spent in the stop) faster than anybody else's all race, apart from Vettel, who of course had an empty tank when he did his out lap.
And that was despite what Button felt was a lack of grip: "I struggled when I got out on the circuit on the prime tyre, it just didn't work. The second lap it was great, but it was too late."
The pitstop times tell the story. Button spent 22.955s in the pitlane, Alonso just 22.154s. Furthermore, the McLaren spent 4.2s at rest, and the Ferrari just 3.4s. Those numbers more than account for the crucial advantage that Alonso had when he burst out of the pit exit.
"It was very close, we were a few metres away from pulling it off. Jenson had the warm tyres and he had to attack, but we know he's a sensible driver, he was going to take some points here. Another two or three metres, and it would have been a very different race. They were quicker, and we have to accept that. For us to beat the car that was quicker was reasonable difficult."
Clearly McLaren will have some collective soul searching to do about that stop. Whitmarsh pointed out that the presence of the Ferrari crew - waiting for a stop that didn't take place for another lap - created an extra obstacle. However the damage was done in the actual stop, although the need to steer round the Ferrari crew could not have helped.
"That didn't help us get out of the pitlane very quickly, but I think in fairness had we not come in, Ferrari would have come in. Inevitably paranoia in F1 suggests they did that deliberately to slow our stop. It did slow the stop, but I think they did what they could legitimately do. If we hadn't come in, they would have come in, gone on to some fresh new rubber, and been quicker than us. I think we had to what we did."
Things might not have gone according to plan, but Button can't be faulted. He was after all carrying some diffuser damage, and that alone may explain why the Ferraris were closer than he expected, and why for example he didn't have the advantage under braking that he'd anticipated.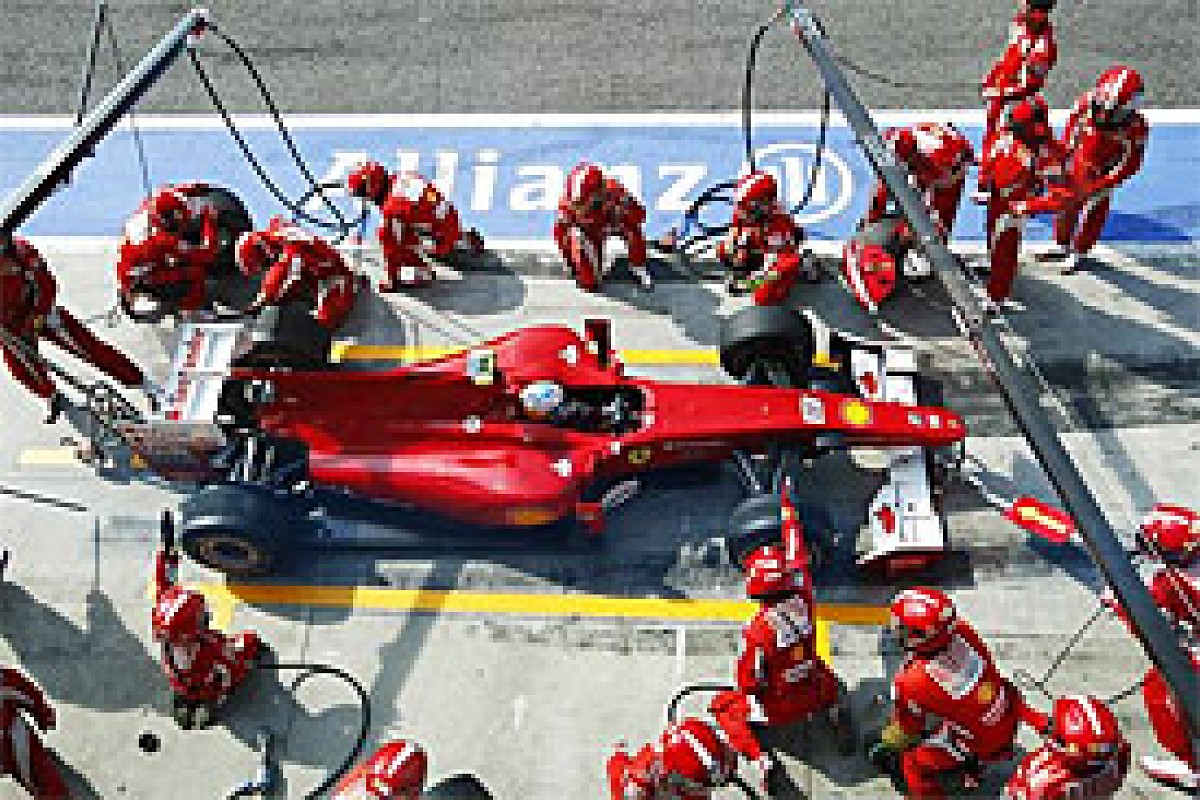 Alonso won the race in the pits © Sutton
"The whole race Jenson did an absolutely fantastic job. We have to congratulate Ferrari because they were quick, they deserved to win. Jenson made a great start, absorbed huge pressure, made no mistakes, and it was very close.
"Thereafter Jenson had to look after the car, look after his fuel consumption, but was never really threatened. A solid second place, he was conserving the points, and he's now very firmly back in the championship race."
He certainly is, since he now lies fourth, 22 points off Webber, and 17 behind his team-mate. The points he lost in Monaco (to a mistake by a mechanic) and Spa (after the assault from Vettel) are starting to look very expensive. Alone of the stop runners, Button has not made a critical error of his own this year, and that's why he's where he is.
But he now has less to lose than some of the others in the title fight. That gap may be less than a win, but the races are ticking by, and the consensus is that the tracks to come will suit the RB6 more than the McLaren. If Webber or Vettel get back on a winning streak, they are going to be hard to beat, so Button has to log some big points.
Rain in Japan or Brazil might give him a timely boost, but it's time to push the boat out a little, take the sort of risks that he couldn't at this time last year, when he felt the weight of the world on his shoulders. Third or fourth places are not going to win this title because one of his rivals will by definition be winning, so he has to go for it, as he did on the run to Turn One in Monza.
Button himself acknowledged that on Sunday: "I'm fed up of trying not to take risks and be consistent. That's what I had to do last year, and the position I was in allowed that. But this year I've got to me more aggressive, and that's exactly what I am being, and enjoying it as well."
Hamilton, you could argue, knows no other way.
"He won Singapore last year, that's what he'll want to do in two weeks' time," said Whitmarsh. "You don't win races or championships without pulling out all the stops. They're tough things to do. So we'll be pushing hard to see where we can be in Singapore."