On October 2 2004, Adrian Sutil was just one of a plethora German single-seater drivers hoping to follow in the footsteps of Michael Schumacher. He had made little impression during his first season in the F3 Euro Series driving for Colin Kolles's team, save for an unlikely pole position in damp conditions at Adria and was an unobtrusive 16th in the championship heading to the Hockenheim finale.
Then former Renault junior Eric Salignon suffered a road car crash. Promoted to the crack ASM team (now ART Grand Prix), Sutil stunned the paddock with a shock pole position. Since then, the German has made a habit of defying expectations to become a well-established Formula 1 driver.
"That was definitely a turning point," says Sutil. "It was a big chance and normally it wouldn't have been possible because I had a contract with Colin Kolles. Somehow we got the green light for it, I changed team and put it on pole position.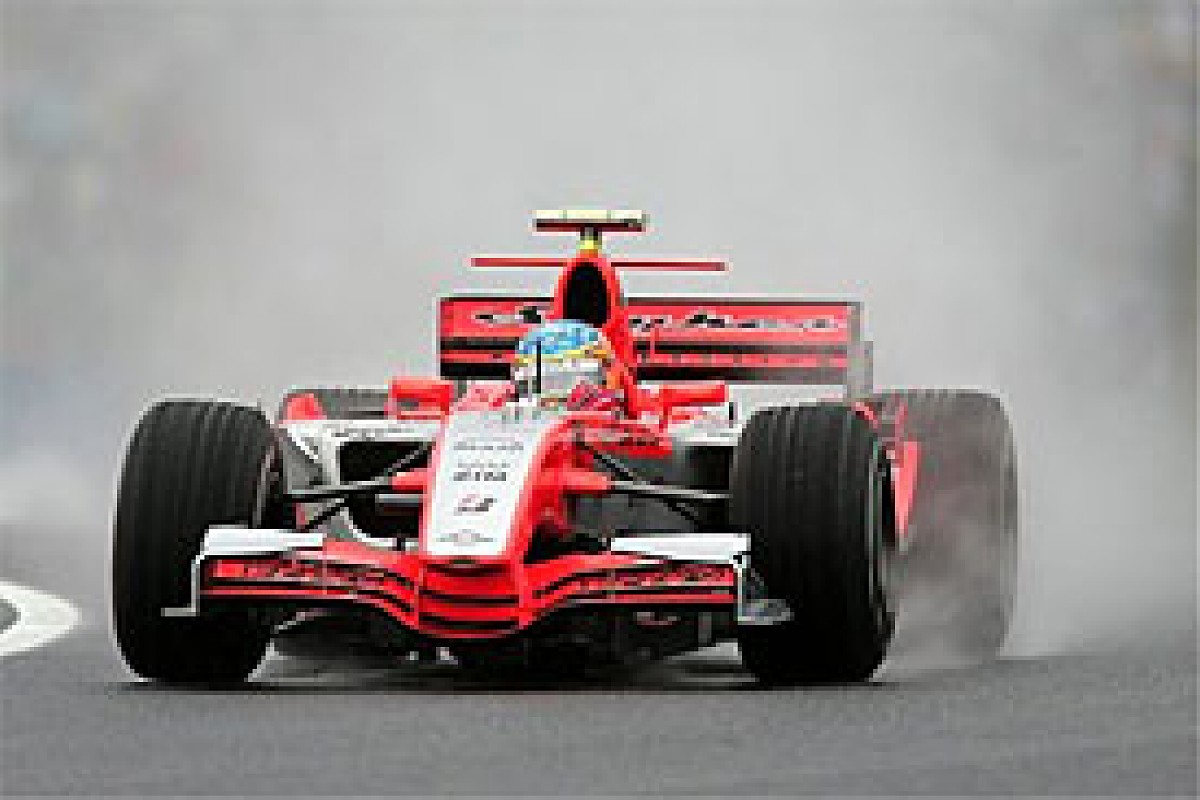 Sutil during practice in Japan, 2006 © LAT
"That opened everyone's eyes in the paddock because everyone always said that the drivers at ASM were exceptional. I thought that they were good but that I could probably do something very similar.
"When I got in the car, it was a different world. It was an amazing car and suddenly it became very easy. After a few laps I was on pole.
"That got me the drive with ASM for the next year and saved my career."
The following season, Sutil finished a distant runner-up to team-mate Lewis Hamilton in F3 Euro Series, with two wins to the future world champion's 15 wins. Good, but nothing special, and he regrouped in the Japanese F3 championship driving for the crack TOM'S operation.
Winning that was a given - nothing else was good enough - and Sutil delivered with relative ease. But it was his three Formula 1 practice outings for the Midland team at the Nurburgring, Magny-Cours and Suzuka that gave him the platform to land a drive in 2007 for the team that had, but then, morphed into Spyker.
"Those drives were very important," says Sutil. "It was the only chance for me to show my potential and it was a good link from F3 in Japan. I'd gone from an international championship to a national championship, so that was one step back, but it was a good move.
"It was clear that I had to win F3 and then with a few Friday drives, I thought that I would have a good chance of a race drive, which is how it turned out."
Long-time sponsors Medion, a company specialising in electrical products such as laptops and TVs, played a part in getting him into the race seat in Fuji in 2007. The Spyker wasn't a good car - the tenth row was as good as it got - and Sutil was generally regarded as nothing more than a pay driver.
A strong wet weather performance - a perennial Sutil trademark - gave him a point for eighth in 2007 - but save for occasional suggestions that he might move to McLaren (largely based on his friendship with Hamilton) there wasn't a great deal of excitement about Sutil.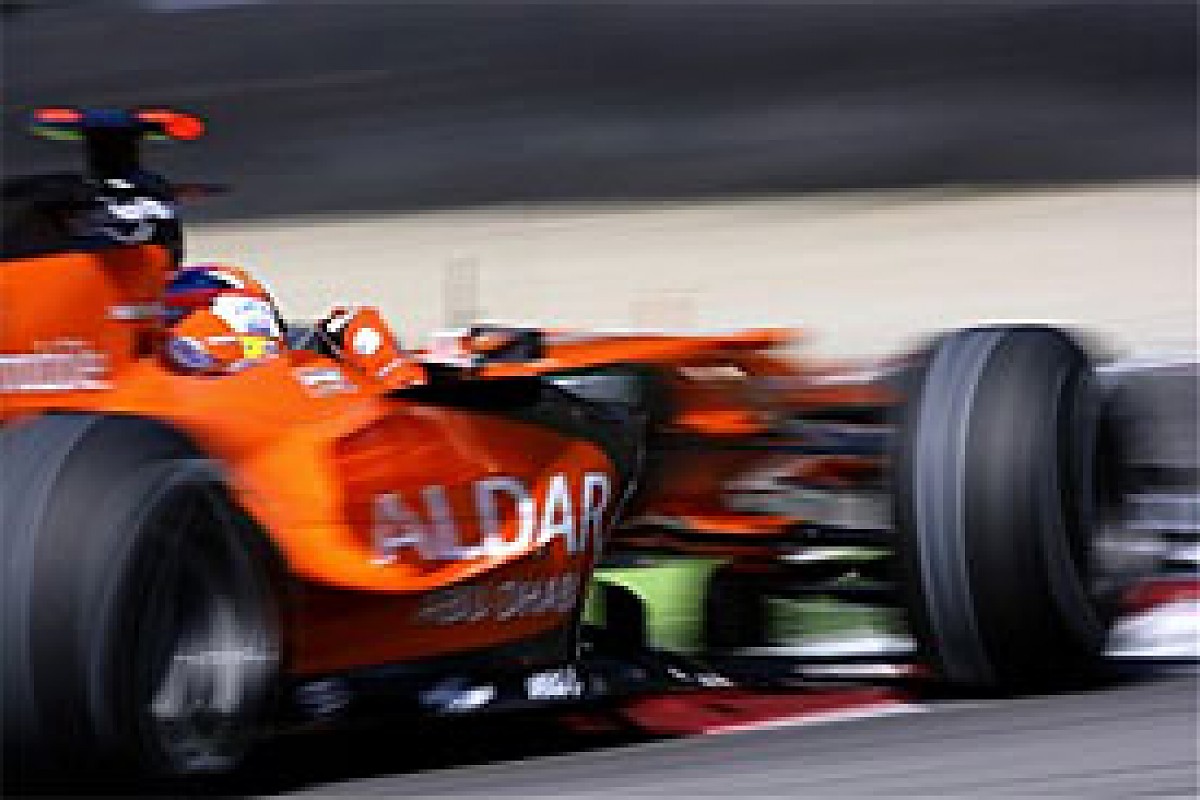 In 2007 with Spyker © LAT
In 2008, the team became Force India after Vijay Mallya took control. Only then did Sutil begin to see the potential of the team.
"It took a little while before I realised that this team had a future," said Sutil. "At Spyker, it was a bit of a mess and I didn't know what was going to happen. My plan was to stay for one more year, maybe two, and then get a drive somewhere else.
"But once Vijay Mallya took over the team, I had a much better feeling. From that moment, I was absolutely happy here and I believed in the team. It took a while to get where we are, because it was nowhere a few years ago."
That process of rebuilding meant that the 2008 season wasn't much better than the one before. Performance was marginally better, and Sutil seized his opportunity at Monaco that year to prove that he had the ability to get top results.
In the rain-hit race, he had climbed to fourth place in the closing stages when, shortly after a restart, Kimi Raikkonen lost control of his Ferrari and rear-ended the Force India. The crestfallen Sutil was out with nine laps to go, but the point had been made.
"It was one of those races when I risked everything and it was all going perfectly," says Sutil. "I didn't make any mistakes, but another driver did and took that success away. It was very unlucky and you ask yourself why all the bad luck comes to you!
"But that was another turning point where people really saw my potential. It gave me some extra time in the team for the following year to the point where I could really show my potential in the dry conditions."
The high-risk strategy was one that has characterised much of Sutil's career. There was, at one stage, a standing joke in the media centre whereby amazement would be expressed if Sutil made it round the first lap with a clash of some sort or a pitstop to replace a broken nose. Harsh, but not without foundation as his 50 per cent finishing record during his first two seasons (not all from driver error, it should be noted, attested). But there was method in the approach.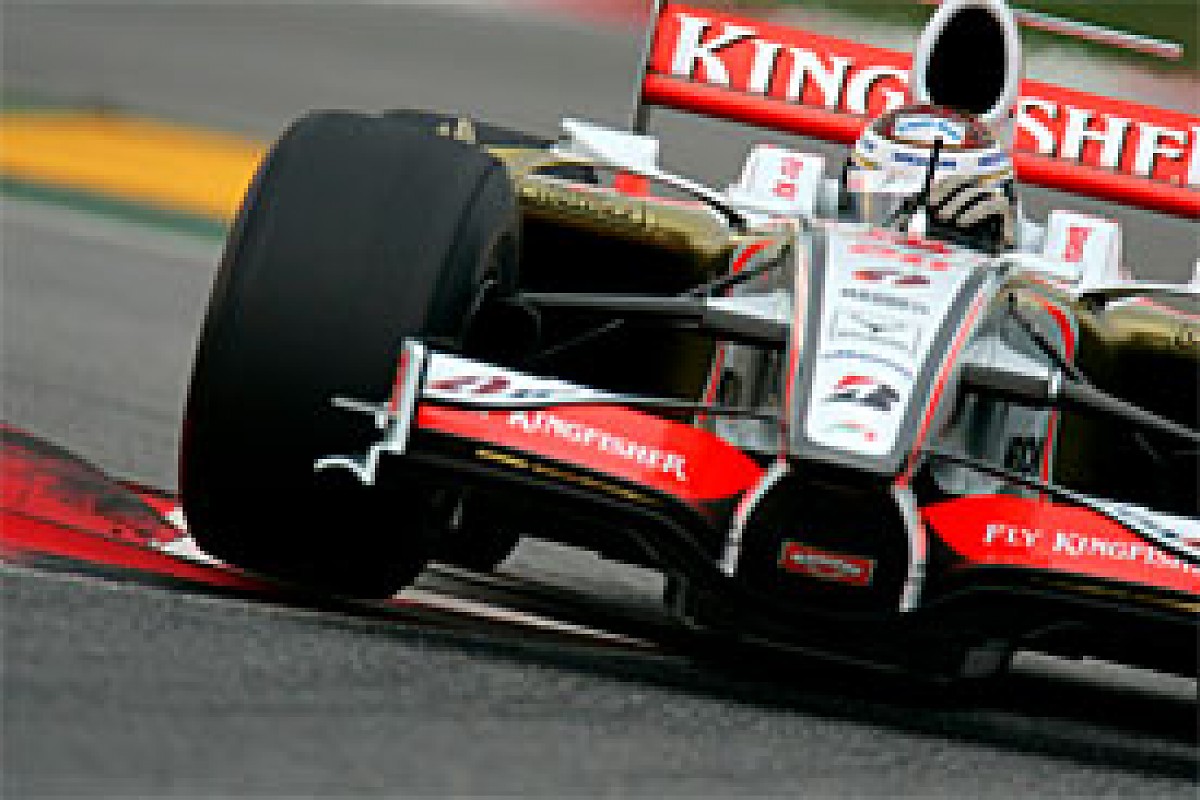 Sutil had a difficult 2008 season with Force India © LAT
"The perception people have of you is always linked to the car," says Sutil. "If your car is slow, how are you going to impress people? It's just not possible.
"You can either spend all of the races running consistently at the back and always finish, or you can risk everything. You can try to do an unbelievable first lap and be able to race further up the field so that people notice.
"Sometimes you make it and someone's you don't. That was my approach to the races and I did end up having quite a lot of accidents, but for me it was the only chance to show that I am better than my car."
The first part of the 2009 didn't do much to ease his reputation. On course for a points finish in the wet Chinese Grand prix, he crashed out in the closing stages. Then, while on course for eighth place at the Nurburgring, he collided with Kimi Raikkonen while exiting the pitlane. Unfortunately, these two mishaps had coincided with the races where he was high enough to grab the attention and he continued to be seen as calamity Sutil.
But then, things started to turn around. For the European Grand Prix at Valencia, Force India, now equipped with the Mercedes engine and gearbox, brought a major upgrade package and things started to improve. Then came Spa Francorchamps, when the high aero-efficiency characteristics of a car that was well-suited to a lower-downforce setup created the perfect storm. The Force India's were genuine frontrunners.
And Sutil blew it.
He blamed tyre warm-up problems for failing to make Q3, which wouldn't have been a bad performance for a Force India driver had team-mate Giancarlo Fisichella not taken pole position. While Fisi went on to finish second - and he would have won but for the deployment of the safety car - Sutil picked up damage in the first corner and finished 11th.
Fortunately, he had a second chance at Monza two weeks later, another track well-suited to the Force India. For a driver used to seizing his chances, he wasn't going to let his second opportunity go begging, especially knowing that he had to lead the team following Fisichella's departure to Ferrari.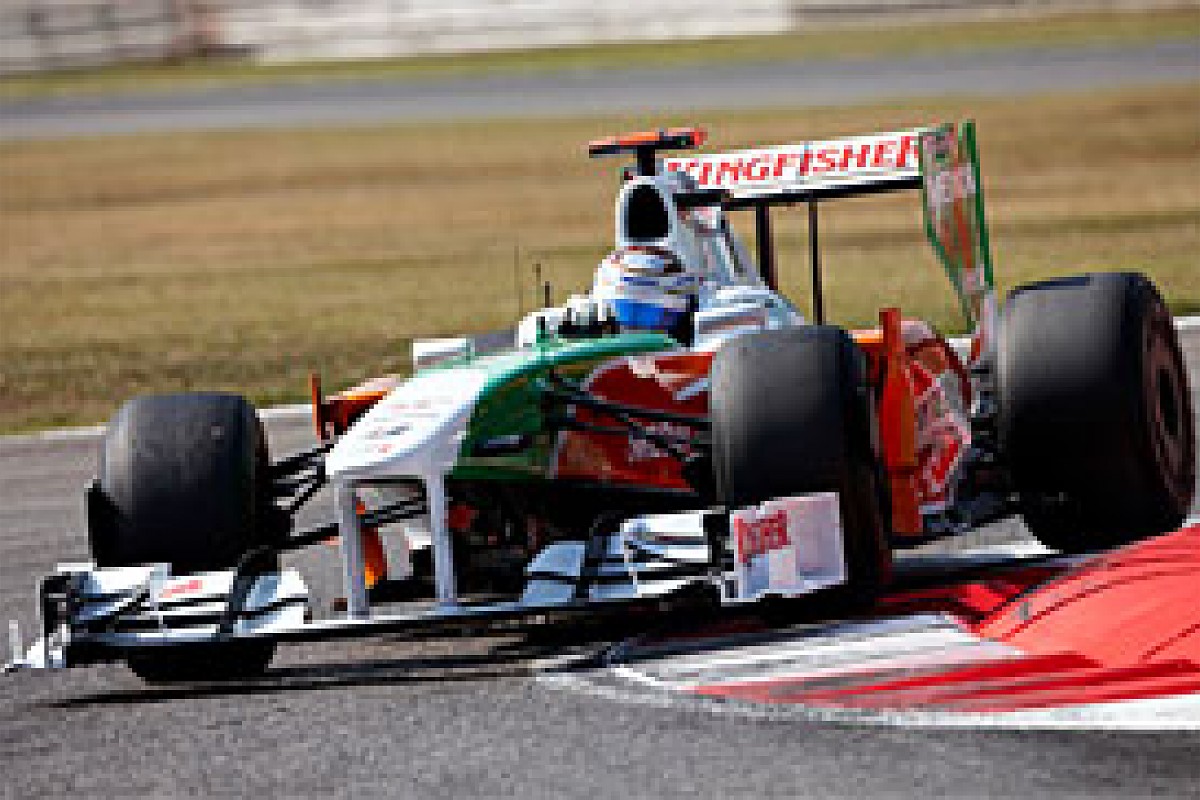 Monza 2009, one of Sutil's best races © LAT
"Normally I take all of my chances, but at Spa I didn't and I had a very bad feeling, especially with Giancarlo doing a fantastic job," says Sutil. "I had missed an opportunity to finish in the same area, but I was sure that I was going to have a good weekend at Monza. It was another turning point."
He qualified second, just a couple of tenths off Hamilton's McLaren, and finished fourth just a few car lengths behind Raikkonen. He'd made his point and proved that he could run at the front, for a whole race distance, and take a top result.
"I scored my first big points and people realised that I could drive a good race and finish well. That was very important. That season, I showed enough and I knew that, in 2010, I had to deliver consistently. That's what I've done.
"I felt that people were not right with their opinion that I am fast but not consistent. I wanted to stay fast and be consistent this year. I have been one of the most consistent points scorers, which is a clear sign that I'm on the right level.
With the Force India starting the 2010 season as a solid points contender, Sutil put together a string of top 10 finishes from the Malaysian to the British Grand Prix. The highlight was an strong fifth in Sepang, where he held off Hamilton in the second half of the race.
In the last two races, results have tailed off, but the point has been made. There is now enough evidence to say with certainty that, in the right car, he has the potential to win grands prix. Maybe not in the Hamilton class - although with his habit of surprising you never know - but he is certainly now regarded as a "proper" grand prix driver.
The question is, is Force India going to be able to provide him with a winning car in the next couple of years?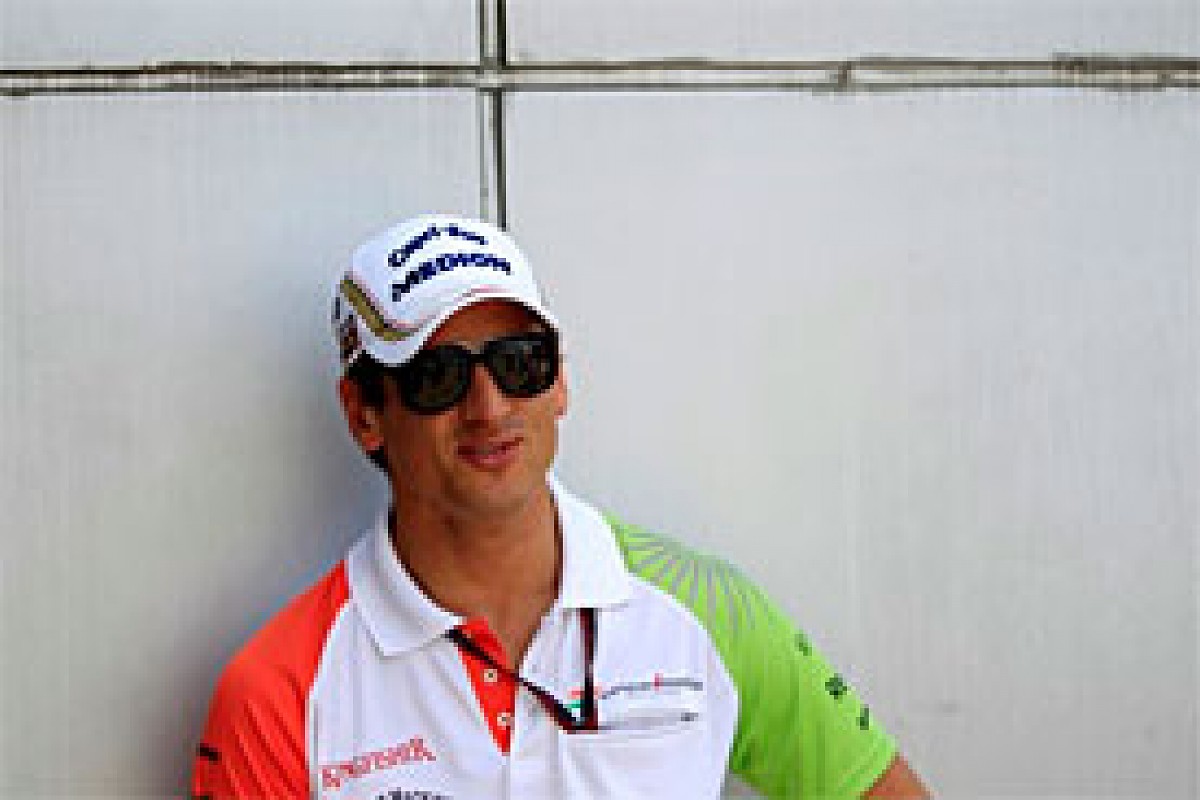 Sutil has been happy in 2010 © LAT
"You have to be a bit careful because, in my opinion, you can't compete against the big teams. We should be able to stay in the area where we are now in the midfield and we will try to make it even better, but it will be difficult.
"The top five or six, OK, but I don't see the team fighting for the championship in the next few years, to be honest. That's a very high goal and probably unrealistic.
"Even with the cost reductions, there's always a team that has a little bit more. It's great what we've done up to now and I'm sure that we can do even better, but I wouldn't talk about being a winning team."
Sutil is expected to stay at Force India for a fifth season next year, despite some interest from Renault. Right now, all he can do is keep racking up the points and wait for another one of those turning point days to present itself.