Twenty five years ago today Manfred Winkelhock died in a Toronto hospital, following a heavy crash in the previous day's Mosport 1000kms FIA World Sportscar Championship race. Just three weeks later his countryman Stefan Bellof was killed at Spa, also at the wheel of a Group C Porsche.
In a sad twist of fate, Germany had lost its two big stars in accidents outside F1.
Bellof is rightly remembered as the great lost talent, the man who could have brought the world championship to Germany long before Michael Schumacher managed the feat. Winkelhock tends to be overlooked, his memory kept alive mainly by a YouTube clip of him flipping his F2 March into the Nurburgring catch-fencing.
The bare statistics don't help his cause. In four seasons he started 47 grands prix, and scored just two points, and even those came only after two cars ahead were disqualified. But Winkelhock was a far better driver than the numbers suggest, a spectacular, charging racer who earned the respect of his contemporaries.
"Manfred was always fast, always committed," says Hans Stuck. "And he was always on the overtaking lane! He was a guy you could have fun with, but he was a guy who was always focussed on his job. And he was a good character, it was good to have him around.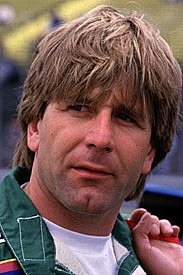 Manfred Winkelhock; 1952-1985 © LAT
"He was a guy you could rely on, he wasn't a bullshit talker. In my career many people are nice and friendly, and you turn around, they kick your ass. Manfred was straightforward, and that's what was good about him."
Another contemporary Christian Danner says: "Manfred was always a rock in the German racing landscape. Whether I rated him as super or not is a different question, but I always rated him for being there and for being very strong. He was so brave, I really admired him."
Winkelhock came from a modest background in Stuttgart. Having learned his trade as a mechanic in his father's small garage and towing business, he began competing in clubbies with an NSU, and really made his name in the VW Scirocco Cup in 1976.
He had an influential friend in the form of then journalist Norbert Haug.
"He was my buddy at that time," says the current Mercedes motorsport boss. "It wasn't just a relationship between a journalist and a race driver. He came very often to my office in the morning, and we discussed motorsport. We did some motocross together, skiing, driving cars in the snow. A lot of crazy stuff, I have to say, in hindsight! He was a wild animal.
"There was always competition. We did a rally once, and he told all the world I'm getting to beat Norbert. But then I beat him, and he was so bloody pissed off! He was hugely competitive, and even if you played darts with him, you could forget it if he did not win.
"He was a wild guy, jumping like crazy, and sometimes he fell on his nose. But he was a fantastic guy, a really genuine and very, very good and positive guy."
It was from the VW series that he was plucked by BMW competitions director Jochen Neerpasch for the company's junior programme, alongside Eddie Cheever and Marc Surer. BMW had a presence in sportscar racing with its 320, and was also in F2 with the works March team. It was a golden opportunity for a man who had only driven tin-tops, and also something of a gamble for the Munich manufacturer.
"I had contacts with Jochen Neerpasch but I would not say I was the one who brought Manfred to BMW," says Haug. "I think he got their attention. But if someone had asked, I would have said he was very good."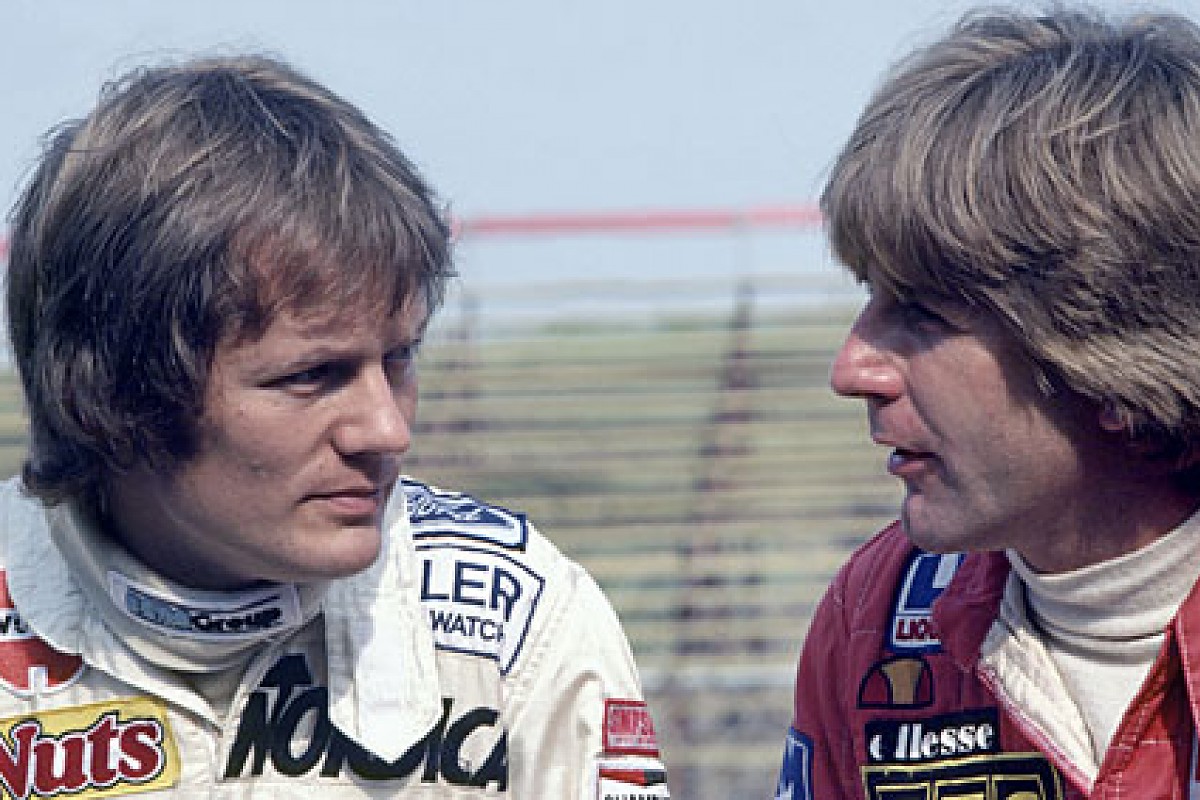 From the start, Winkelhock was keen to make an impact at BMW.
"They put us in a fitness programme in St Moritz together with the big stars, Hans Stuck and Ronnie Peterson," says Surer. "I remember the first time we had a cross country skiing race. I won it and Manfred was second, and I think Ronnie was third. Manfred couldn't breathe any more. But he turned around to Ronnie and said, 'This is how it's going to be in the future!'
"BMW gave him the chance, but in the beginning, he was preparing the car himself. It was his family more or less preparing the Group 5 BMW 320. They didn't want to give him a lot of pressure, so they said it was a semi-works car. But very soon he was right there, so he was a full member."
Influential BMW engine man Paul Rosche liked Winkelhock's style, and for 1978 he was fast-tracked into the works March F2 team, alongside Surer and the well established Bruno Giacomelli. He had no single-seater experience, and inevitably, he faced a steep learning curve. He finished fifth in his first race at Thruxton, and was a distant third at Hockenheim. But otherwise it was a tough season, as he also had to get used to living in England.
"Of course that was too big a step in the beginning," says Surer. "He was quick in some places. But he was a touring car driver, so he was driving too hard and destroying the tyres. He had a difficult time that year. He wouldn't give in, so he crashed with everybody!

"Then in 1979 he stepped back and the year after he did some races with a private team, just to keep his foot in F2. He was very good in touring cars, what was called the DRM, and he was winning there and really going well."
Meanwhile the two men became firm friends, spending a lot of time together away from the track.
"I was living near Stuttgart and he was from the other side of the city, so we'd keep on meeting more and more. We went out in the evening together and did a lot of funny things. Not for the newspapers! But we had good times. He was also a little bit crazy on the road as well.
"One time we were in Southampton, because we had a test in Goodwood, and we went for dinner. Somebody told us in the port area there is a nice Italian restaurant. We got lost and we ended just in front of the sea. There was a ramp going down into the water. I stopped and he drove into the back of my car and pushed me into the water.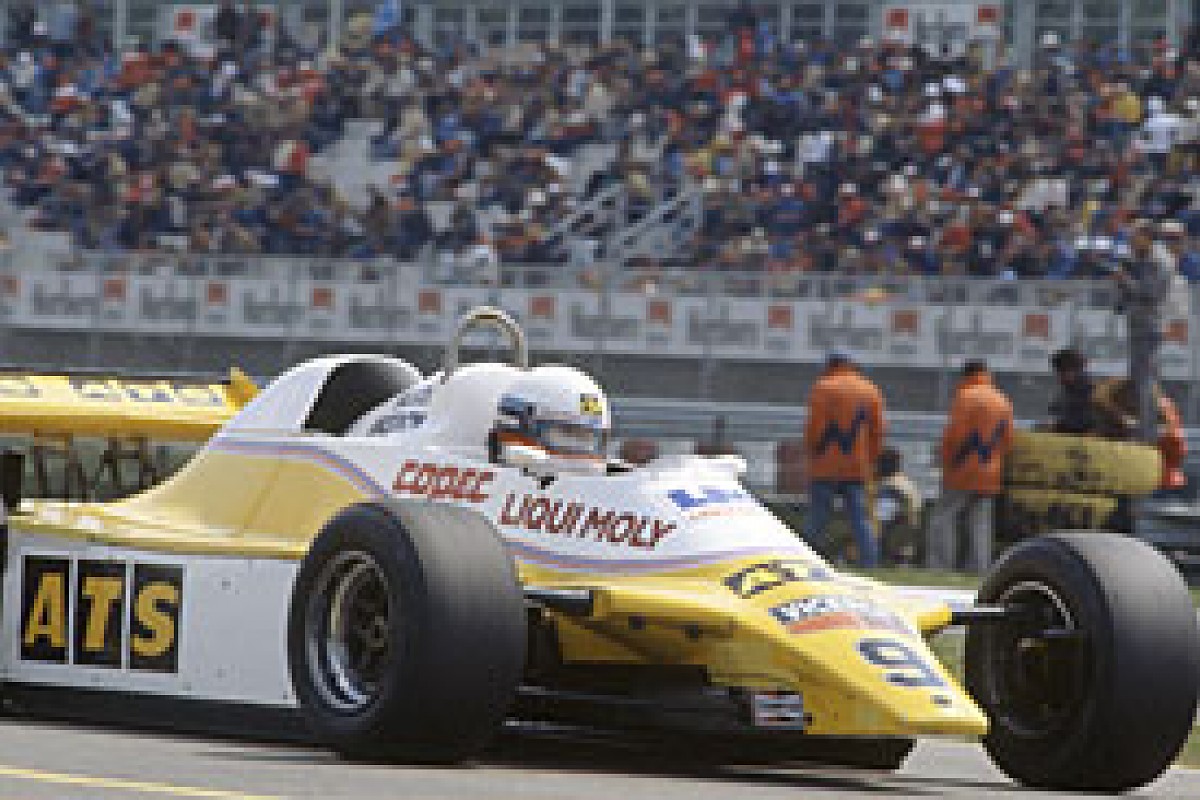 Manfred Winkelhock made his race debut for ATS in 1982 © LAT
"I had to leave the car through the roof. I climbed over the car and jumped into the dry. We put a rope, we pulled it out, and of course it wouldn't start. With a screwdriver we hit some holes in the floor of the car, so the water would drain from the inside.
"We went for dinner, and surprisingly it started again, although maybe on two cylinders! But it was running again, and we drove home. Of course it was terrible, it smelled like fish. I told BMW, I have a misfire with my car, can I change it? They said no, you have to do three months with one car, and you get a new one. The poor guy who bought that car...
"We once shared an M1 in the Kyalami 12 Hours. We had a problem with the alternator, we ran out of power. If you switched on the lights, you'd have a misfire. You ran into the dark in that race, and you were not allowed to drive without lights. So we decided that passing the start/finish we'd switch on the lights, and switch off afterwards! It was the sort of crazy thing you could do with him."
Winkelhock was given another chance with March in 1980, picking up a third in Enna, although he had an unhappy relationship with the British team.
"He mistrusted them and there was really a bad atmosphere," says Christian Danner, who replaced him.
He made his first appearance in F1 at the Italian GP at Imola in September, standing in for the injured Jochen Mass at Arrows. With little time in the car, he failed to qualify.
During his fourth season in F2 in 1981, split between Maurer and Bertram Schafer's Ralt team, there were signs of progress. He finished as high as second at Hockenheim, and might have won had the engine mountings not failed and allowed Stefan Johansson to pass.
He now had serious single-seater credentials, and for the following year he found a berth in the German-owned ATS F1 team. In his second outing in Rio he finished seventh, but was bumped up to fifth by disqualifications ahead. On the streets of Detroit he qualified a remarkable fifth, and second fastest Cosworth car behind Keke Rosberg's Williams.
Things moved up a gear in 1983-'84 when ATS had BMW turbo power and a very neat Gustav Brunner chassis.
The car proved to be right up the street of a man who'd tamed the brutish 935, and over those two seasons Winkelhock qualified in the first four rows on eight occasions. But the races were tougher for him and the package proved unreliable, and he not once did he make the points.
By the end of 1984, like so many others before him, he had fallen out with ATS boss Gunter Schmidt, who had by now put his weight behind Gerhard Berger.
For the penultimate race of the season at Estoril BMW got him into the Brabham team alongside Nelson Piquet, and he finished a modest 10th.
For 1985, Winkelhock finally moved away from the BMW umbrella, joining John McDonald's RAM team, again with a chassis designed by Brunner. It was not a competitive package, so he sought relief in sportscar racing, teaming up with his old pal Surer.
"We were talking about doing something else," recalls Surer. "Because we both felt that in this bloody F1, if you're not in a top car, it's not very satisfying. The Porsche was winning all the races, so you had to drive a Porsche.
"I had some sponsorship with Barclay and he had a little sponsorship from Liqui Moly. We went from team to team to try to make the best deal and finally we decided to go with Kremer, because they offered us a brand new car.
"We had one lucky race. We decided on a different strategy for the fuel at Monza, and because of that we were leading the race and then a tree fell down. Because of that, we won. Otherwise it was really hopeless against the factory Porsche."
In August the sportscar teams travelled to Mosport Park, an undulating track that offered little margin for error, and which had been abandoned by F1 some eight years earlier.
"I did the start, and I had a coming together with a Corvette," says Surer. "He hit me on my left rear wheel, so I came in with a flat tyre. I think they had to fix the bodywork, and then Manfred went out. I went to the motorhome to get changed, and about two or three minutes later there was silence. The pace car was out.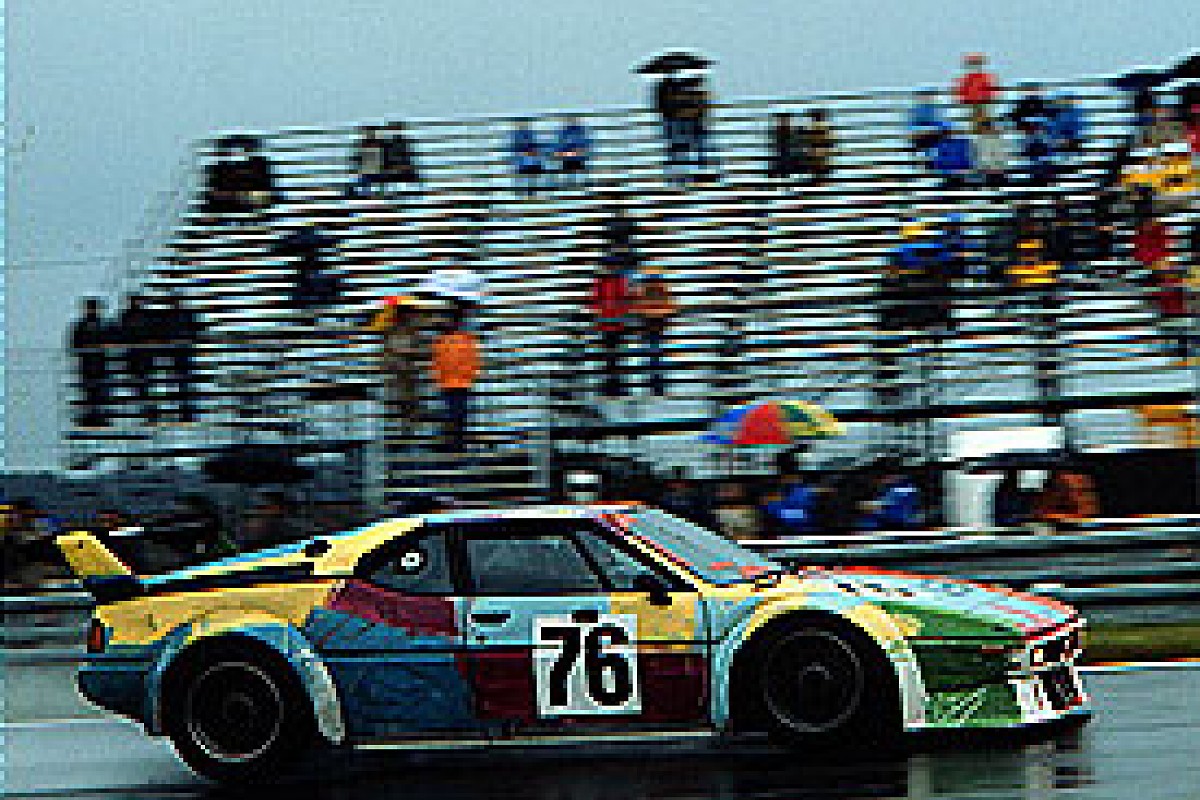 Winkelhock in the factory BMW 'Art Car' at Le Mans in 1979 © LAT
"I had a bad feeling, and I immediately thought it was Manfred, and I thought it was because of the little accident I'd had - maybe something had broken in the suspension. I was changing, so I couldn't run out to find out. But I just felt it was him.
"Then a mechanic came to me and said, 'Manfred had an accident'. 'Where?' It was in the fastest corner you can imagine, a downhill left-hander, a really bad place to go off, with a wall at the bottom."
It was a huge impact and yet Winkelhock sustained just a minor leg injury. However, he was unconscious and it took a while to cut him out of the wreckage.
"I think the Porsche was built for Hans Stuck. As a smaller driver you had to move the seat forward. Manfred and I were more or less the same size, we could drive in the same position. We were both sitting very close to the roll cage, and he hit it with his helmet."
"In those days we knew the 962 wasn't the safest car," says Stuck himself. "We knew about the risks. For sure I've done the most miles in these cars, and I was very lucky."
In the aftermath of the accident, Surer found himself taking charge.
"I went to race control, I called his wife, I said, 'Manfred's had an accident, I'll call you again when it's okay.' Then Norbert Haug called me. I told him it didn't look very good, because since then I'd spoken to the doctor. The doctor said he was unconscious, and he didn't react.
"I followed to the hospital and my girlfriend arrived. I found the emergency room and he was being operated on. While I was waiting I called his wife again, and said: 'I'll call you when he comes out'. Of course, we didn't have mobile phones, and she had to wait a long time. The doctor came out once and I asked him 'what's the situation?', and he said it will be at least a three or four-hour operation."
Later, Surer learned from the surgeon just how serious it was: "He said: 'Get his family to come, and hurry up'. That's what he said to me.
"I went back to the hotel. The Kremer guys were hanging around and said: 'How is he?' I said: 'He's going to die'. They said: 'Don't joke, he'll be alright'. I said, 'You're not listening to me. He's going to die'. Nobody else went to the hospital, because they thought it was a little problem.
"I went to the room and called Martina. It was 2am or something in Europe. I think it was half a ring and she was on the phone. I told her come over to see him, because he needs support, he had an operation, he is unconscious, at the moment. You know, you cannot tell the whole truth. And I called Norbert Haug and I told him how bad it is. Norbert had already organised some flights, so they were coming on the next flight possible.
"I couldn't sleep all night, I went early in the morning to the hospital again and I realised he was just alive because of the machine. I saw the Kremers arriving and they started to realise how bad it is.
"Then I went to pick up Martina and Manfred's father and one of his brothers. I think it was about 11am when they arrived, and then we went to the hospital. We didn't speak too much."
There was nothing that could be done for Winkelhock and later the life support system was switched off.
"I lost my only true friend in racing," says Surer. "The next F1 race was at Zeltweg. I thought if I can't switch off, if I remember Manfred, I will stop racing. It went so deep. Also, it could have been me. But all racing drivers are the same. While I was driving in practice, I forgot about it.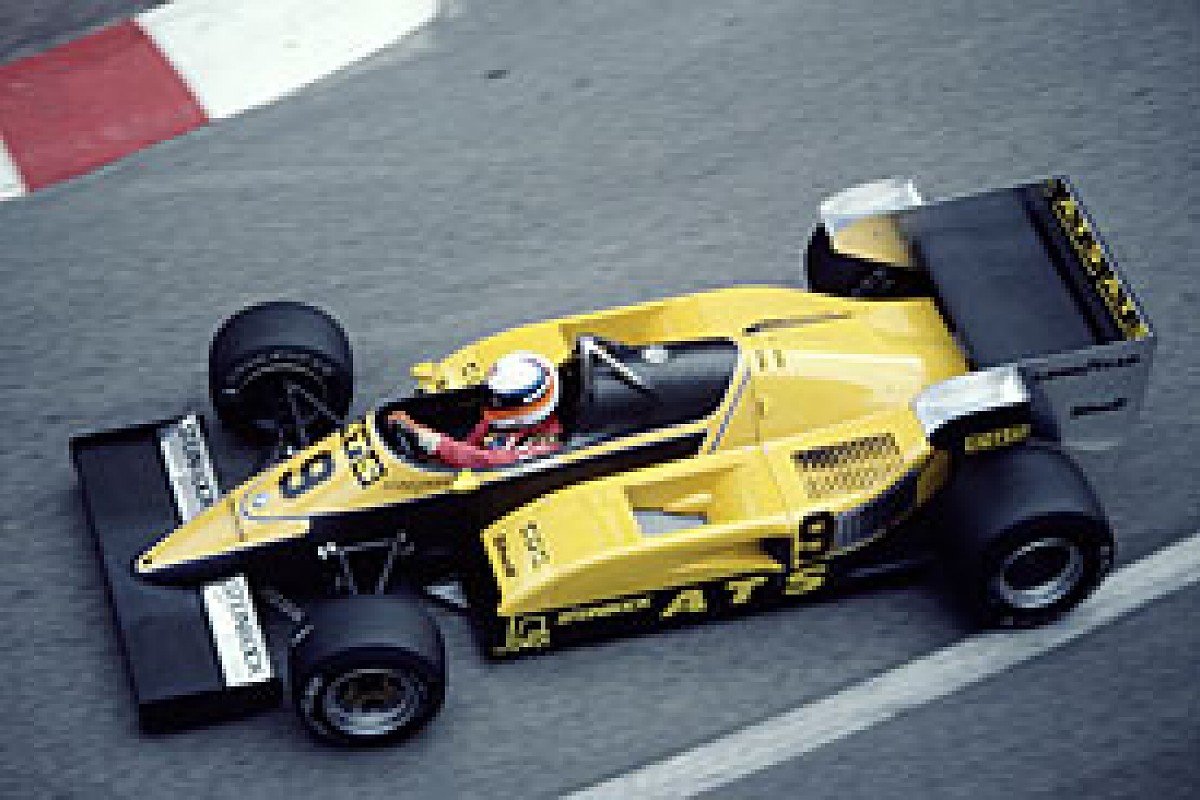 Winkelhock at Monaco in 1984 © LAT
"But even with my own accident in rallying, because I don't remember a thing about that, this was the worst experience of my motor sport career."
His biggest frustration was finding out what had caused the crash.
"The Kremers wouldn't tell me what happened on the car. I was worried about the rear suspension, but even after the crash you could see the side I hit the other car with was okay, so it was not my fault, which was very important for me.
"Then the race after at Spa, Jonathan Palmer had an accident in this double left-hander, downhill. He went off there, the same thing. And he had a bad one too, I think the gear lever hit his helmet. He was also on Goodyears. It was his first flying lap, he didn't have enough pressure, and the right front tyre came off the rim."
It's hard to really assess Winkelhock's potential, or judge whether he would ever have got into a truly competitive F1 seat - given that he was nearly 33 when he died. But the raw talent was clearly there.
"In these days it was essential to have a good car," says Stuck. "And he never was in a position of having a good car. In all other categories he showed his potential. Whether it was sportscars or touring cars, he was really doing well."
Danner is less convinced: "When he raced Porsche 935s everything was wrecked. There was not a single race when he did not overrev the engine, he did not cook the brakes. He just physically overdrove a car in a way that was almost cruel. That's why he had a poor record in F1. He was definitely anything else but a single-seater driver."
"He was a fantastic fighter," says Surer. "His main problem was that he was not smooth enough with the tyres. Sometimes he lost out because of that. But he was very brave. I think with the turbocharged F1 cars he would have had a big career, because these cars were suited to him. he could handle the power and everything, because of his driving style, which was not so smooth, he could just fight with the car.
"He was a particularly good touring car driver, but I think with the right tyres and the right car he could have done very, very well in F1 as well. He was learning, also. He never did karting and he never did single-seaters apart from F2, so he had to learn, and he learned quickly."
Even if grand prix racing hadn't worked out, he would surely have achieved a lot elsewhere.
"It's such a shame that he lost his life," says Haug. "He probably would still have been competing in DTM at 50 years old. Klaus Ludwig once told me: 'This guy is mind blowingly quick, if he's focussed and concentrated'.
"As I said he was sometimes wild, but still a guy I rated very, very highly. He was sometimes overdriving the car, and having fun in overdriving the car. He'd choose sometimes to go sideways when it would be better to be precise."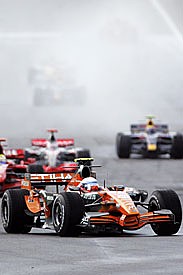 Manfred's son Markus led six laps of a grand prix at the Nurburgring in 2007 © LAT
In 1989 later Manfred's younger brother Jo failed to qualify for a grand prix on any of his seven attempts with the uncompetitive AGS team. Later, he would prove successful in other forms of racing, even winning Le Mans with BMW in 1999.
And then in 2007 the Winkelhock finally name returned to the grand prix grid. Manfred's son Markus had worked his way through the ranks and landed a testing role with Spyker.
When the team parted company with Christijan Albers, Winkelhock was given a one-off shot at the Nurburgring.
He started last but the team made a brilliant call to put him onto wet tyres, and while everyone else struggled or spun off, he sailed into the lead. Alas the race was red-flagged, and while he took the safety car restart from the front, he was soon swallowed up by the pack.
He never had a second chance, but he'd made his mark on the history books, officially leading for six laps.
"When I see Markus I know it's been a long time," says Surer, "because he was a little boy at this time. I remember Manfred talking about him. He asked me: 'What about you, do you want children?' I said: 'No'. He said: 'You know, my boy is my best toy!'
"I'm still in contact with the whole family, so it was so nice to see him leading at the Nurburgring, a little highlight because he made the right choice. Unfortunately they stopped the race, because otherwise he would have looked really good..."
Look out for an AUTOSPORT retrospective on Stefan Bellof in next week's digital edition of the magazine.