Perception means a lot in motor racing, and after last Sunday's race in Hungary, the world had very different views of Mercedes and Renault.
Both had by co-incidence been involved with silly pitlane mistakes that cost them a retirement and a $50,000 fine. But it was what happened to the other driver - let's not say 'second' - that really marked their cards.
Against all expectations, Renault's Vitaly Petrov seemed suddenly to become a proper grand prix driver rather than overshadowed rookie, putting in a superb performance to earn fifth place. Meanwhile at Mercedes such a result would have been very useful for Michael Schumacher, a man at the other end of his career.
Instead, the former world champion left Hungary carrying the burden of a 10-place grid penalty for the next race. And that just happens to be Spa, his personal playground for so many years, and of course the site of his momentous debut some 19 years ago.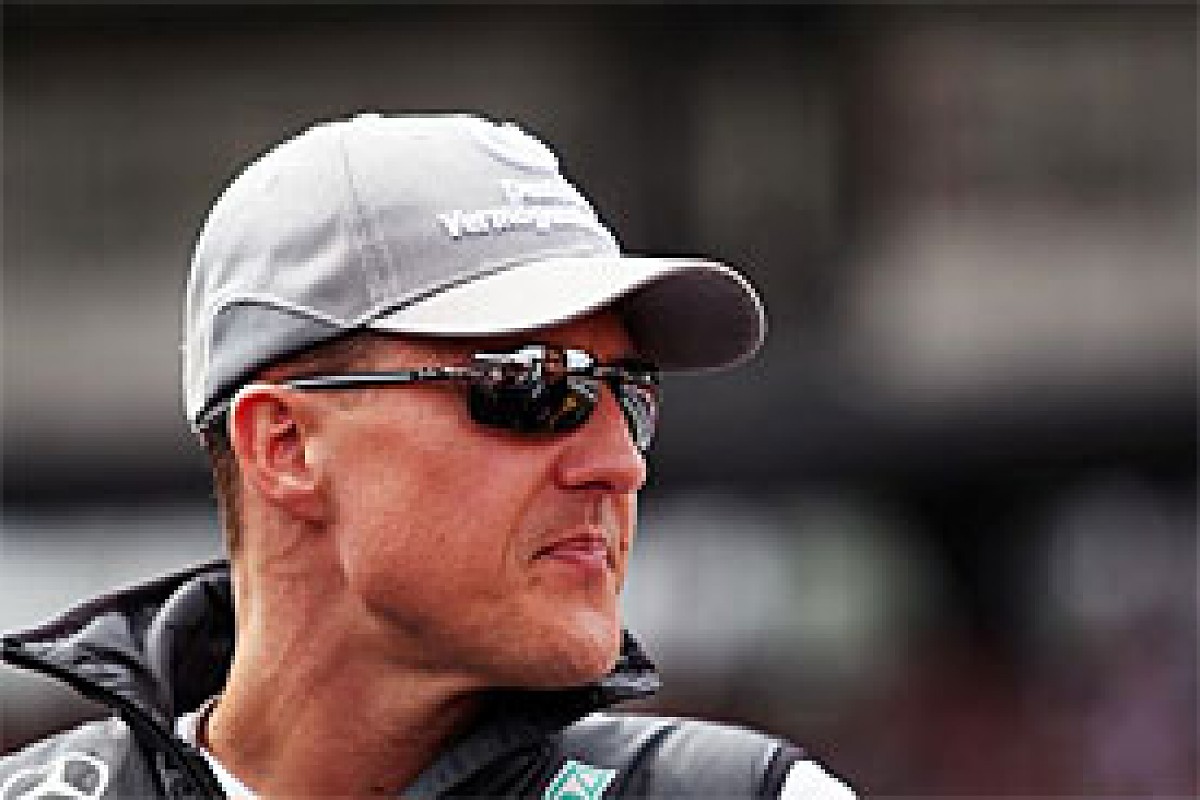 Michael Schumacher © Sutton
On Monday Schumacher came out with an apology of sorts, although there's a suggestion that it was prompted by Mercedes. Certainly on Sunday afternoon there wasn't much sign of contrition from the man himself.
His initial argument was that he'd left plenty of room for Rubens Barrichello on the other side, almost implying that he was politely moving out of the way rather than trying to block his rival. He hadn't seen a video of it at stage, and thus perhaps hadn't appreciated quite how scary it had appeared to the rest of the world.
His swerve towards the pit wall looked like one of those instinctive 'act now, think later' moves that have got him into trouble in the past. Probably no one believes he intended to put Barrichello into the wall, but leaving so little space could at best be described as clumsy. If there was any chance at all that Barrichello would be there, Schumacher should surely have allowed for it.
In the end he was lucky that he was dealing with a guy with so much experience, so fine was the line that Barrichello had to tread as he picked his way through that gap.
Had Schumacher apologised on Sunday, maybe insisted that he hadn't really seen where Barrichello was going, hadn't appreciated that the Williams was already on his way through on the right, perhaps told us that his move really wasn't what it looked like, his words might have carried more weight. Instead he reverted to type, refusing to acknowledge any culpability, and giving everyone the impression that he had been every bit as ruthless as we had thought.
"There's not much to say except he obviously had fresher tyres," he said. "My job was to get the last corner spot-on, and I had a line of about five centimetres that I had to hit. On that lap I obviously ran a little wide, and started sliding. So my exit speed was a bit compromised. I knew that he was coming, so from my point of view, I was moving over to the inside to make to very obviously clear to him go to the other side, there's more space for you. He didn't choose to, so it got a bit tight.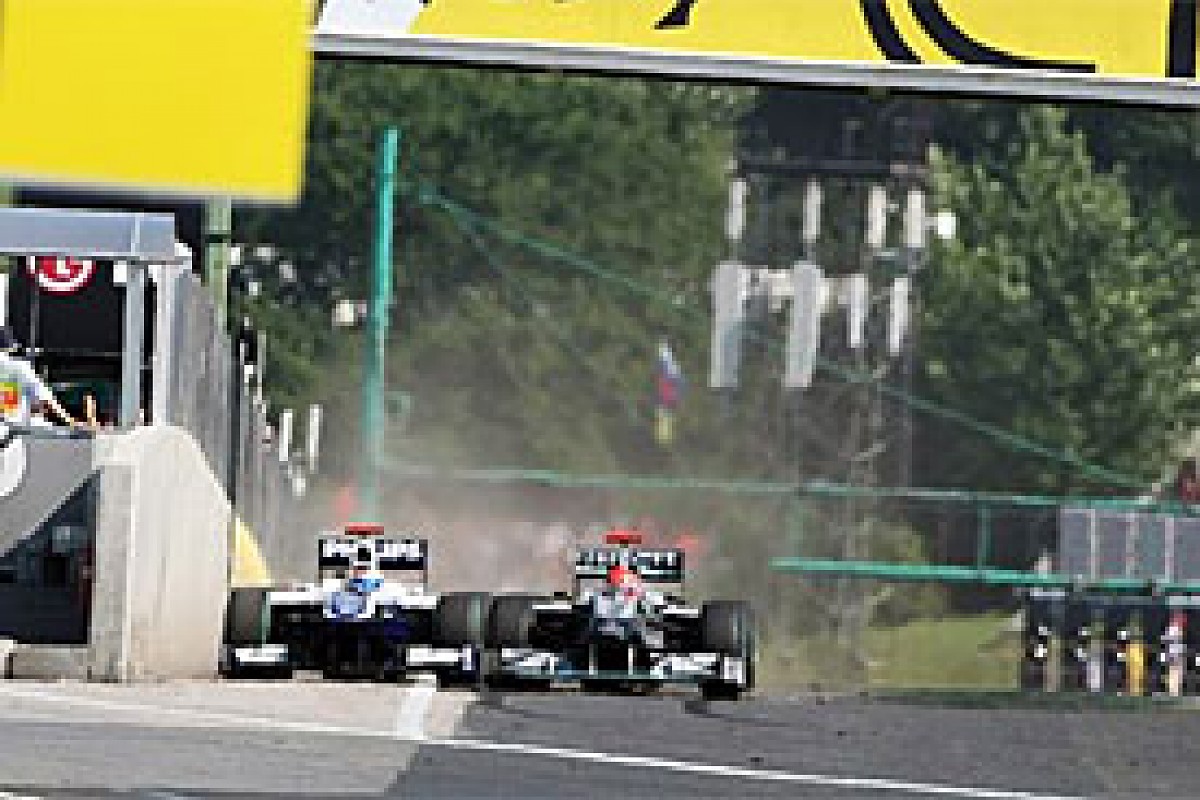 Rubens Barrichello, Michael Schumacher, Hungarian GP © Sutton
"I have two little mirrors from where I try to judge the situation. As a driver you have the ability to change once the line, that's what I was driving too. Obviously there was space enough to go through. We didn't touch, I guess I just left enough space for him to come through.
"It was a bit tight and tough. I think I'm known not to give presents on track. If you want to pass me, you have to fight for it. So it was. To watch things from an outside view with different camera angles, you might have a different impression, but I haven't had a chance yet to see those."
It was perhaps significant that so many past and present drivers, who know a lot more about the etiquette of wheel-to-wheel combat than us mortals, came out against Schumacher. One of those was fourth steward Derek Warwick, who said on Sunday night that he had wanted to impose a much harsher punishment than his three colleagues were willing to offer.
As soon as the incident happened, and it was obvious that Warwick would be sitting in judgement, a little bit of history involving the pair came to mind
During the Nurburgring World Sportscar Championship race in August 1991, Warwick and Mercedes protege Schumacher had a contretemps in qualifying. The German felt he had been deliberately blocked, so on his way through he gave Warwick's TWR Jaguar a hefty and totally unnecessary thump.
This was Warwick's first race back after the recent death of his brother Paul, and emotions were running high. On returning to the pits he jumped from the battered XJR14 and went in search of Schumacher, who had by then retreated to the Sauber truck.
Followed by Jaguar team members - including a certain Ross Brawn - Warwick eventually tracked him down. Mercedes drivers Jochen Mass and Jean-Louis Schlesser also arrived, and the veteran Frenchman was actually egging Warwick on, presumably keen to see a punch-up.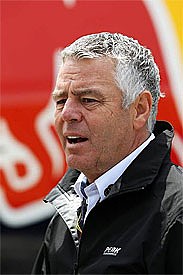 Derek Warwick © Sutton
Warwick said of his feelings at the time: "The only thing that saved me a $10,000 fine and taking the guy's head off was that when I got hold of Schumacher, all I could see was a kid. I could see Paul. I'm not proud of the way I reacted, but there's quite a lot of pressure, and my fuse is quite short at the moment..."
In fact it was Schumacher who rightly got into trouble, albeit escaping a reprimand for "misbehaviour and dangerous practice."
That wasn't enough for Warwick: "He should have been fined and banned," he said back then. "You don't do that sort of thing out on a race track. He wants to thank his lucky stars that Tom Walkinshaw wasn't here."
Ironically that very weekend Schumacher and manager Willi Weber also made the contact with Eddie Jordan that led to the Spa F1 debut just a week later. And a few days after that Walkinshaw, who ran WSC and F1 teams at the time, enticed him to Benetton...
You could argue that Warwick should have put that little incident out of his mind when Schumacher came in to make his case in Hungary, and no one knows whether it really had any impact on Warwick's judgement.
In any case, we're not talking here about a jury in a murder trial not being told of the defendant's earlier convictions. The point is that Schumacher's 'previous' is well known to everyone in the sport, including the other three stewards on duty last weekend. Sometimes he's got away with things and sometimes not, but the Schumacher legend has a dark side attached to it that he has no one to blame for but himself. And on Sunday, he paid the price, albeit one not as high as some might have wanted to see.
Mercedes motorsport boss Norbert Haug has been close to Schumacher for two decades, even when they were in rival camps for so many years, and he really put a lot on the line when he and Brawn persuaded the board to go the Schumacher route.
Like Brawn, Haug had to defend his man on Sunday, and you wouldn't expect it any other way. He made it pretty clear that he felt the penalty was harsh.
"That is the decision of the stewards and there's no point in making further comments," he said. "You have to respect the decision of the stewards, full stop."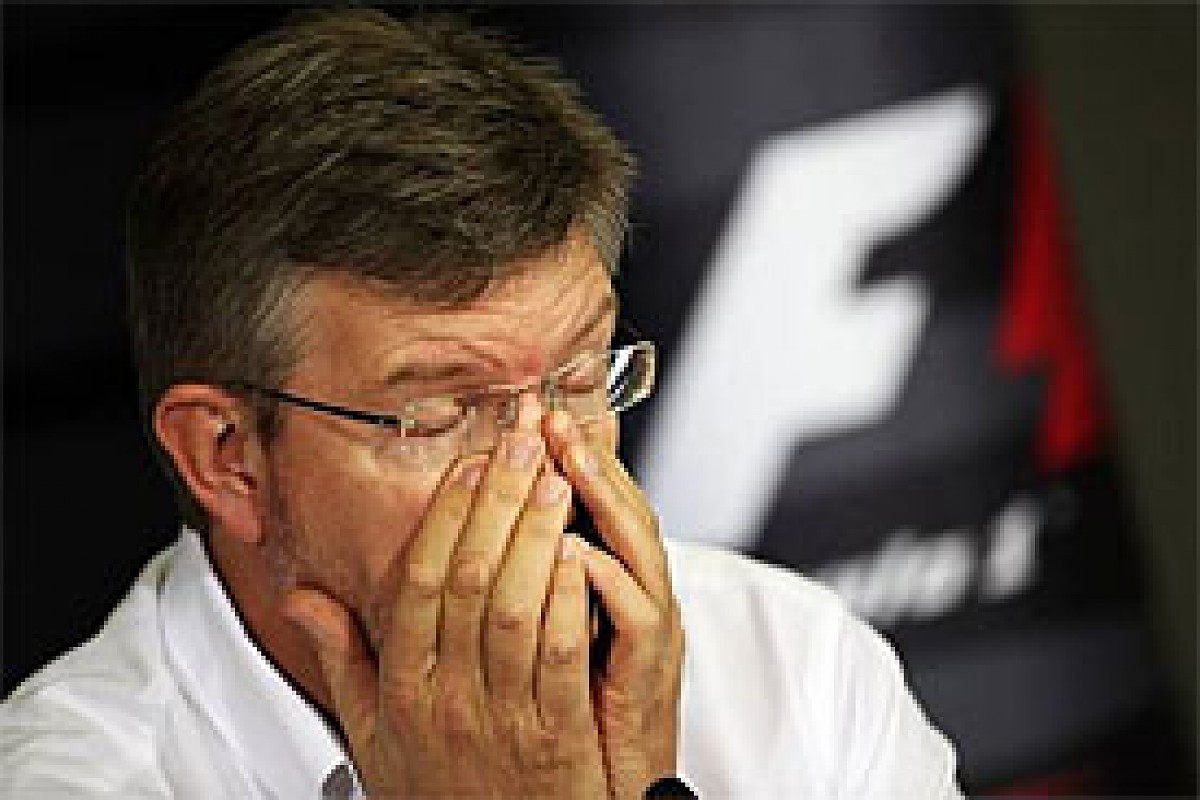 Ross Brawn © Sutton
He didn't see it as yet another nail in the coffin of Schumacher's reputation: "I know that some guys want to hear that story, but I see it completely different from the public side. He did not have a great qualifying, but he had a race speed that was absolutely respectable.
"I look at each and every lap time and I compared the lap time to Nico's and so on, and that was fine. Without a delay of five seconds in the pitstop he could have shown in quite a different place, and scored some points.
"His view is that he closed the door at the early stages to make Rubens go to the outside, which Rubens did not do. And of course Rubens will make the opportunity to make his comments. I have my view on these comments as well. Nothing happened in the end. Rubens could have lifted, chosen the outside. Michael gets a penalty. I'm looking forward to Spa and see what happens there. I hope we have a quicker car. Maybe Michael needs to start 11th there..."
On Sunday night Haug looked like a man with the weight of the world on his shoulders, with Hungary following so soon after a disappointing German GP. The Budapest pit error was especially frustrating for Mercedes, as its stops have been pretty good this year. This one was just an unfortunate combination of circumstances. The team has a system whereby when the front and rear jacks go down, they generate green lights, and in turn trigger the signal to send the car out.
This time the right rear wheel wasn't properly fitted on Nico Rosberg's car. The jack man saw a waved hand, but rather than being the signal that all was OK, it was actually someone trying to solve the problem. The jack went down, the green light went on, and Rosberg got the signal to go.
"You have days like that," shrugged Haug. "I think every team can tell you a story about what they experienced before. After 15 years in F1 [for Mercedes] it happens sometimes. It's better when it happens in a period when you're not so competitive, so you need to take some positives out of it. If you have a winning car and you're not winning, it's much, much tougher.
"Our team did the best pitstops very often. This time they did not achieve that, and we have to stick together as a team. It goes up, it goes down sometimes, but you're only going to make it if you stay composed, stay focus, and head in the right direction. We certainly will do that. This race is behind us, and the next one, we will do a better job."
It would certainly be nice to see Schumacher turn his season around in Spa. Of course his affinity with the place will help, but you still need a good car there, and there are a lot of very good cars on the grid at the moment. In theory there's not much point in him hoping for rain either, as the evidence thus far is that he hasn't got a handle on the Mercedes in the wet, for whatever reason.
Even if you haven't jumped in to bash Schumacher, it was hard to defend him after that move.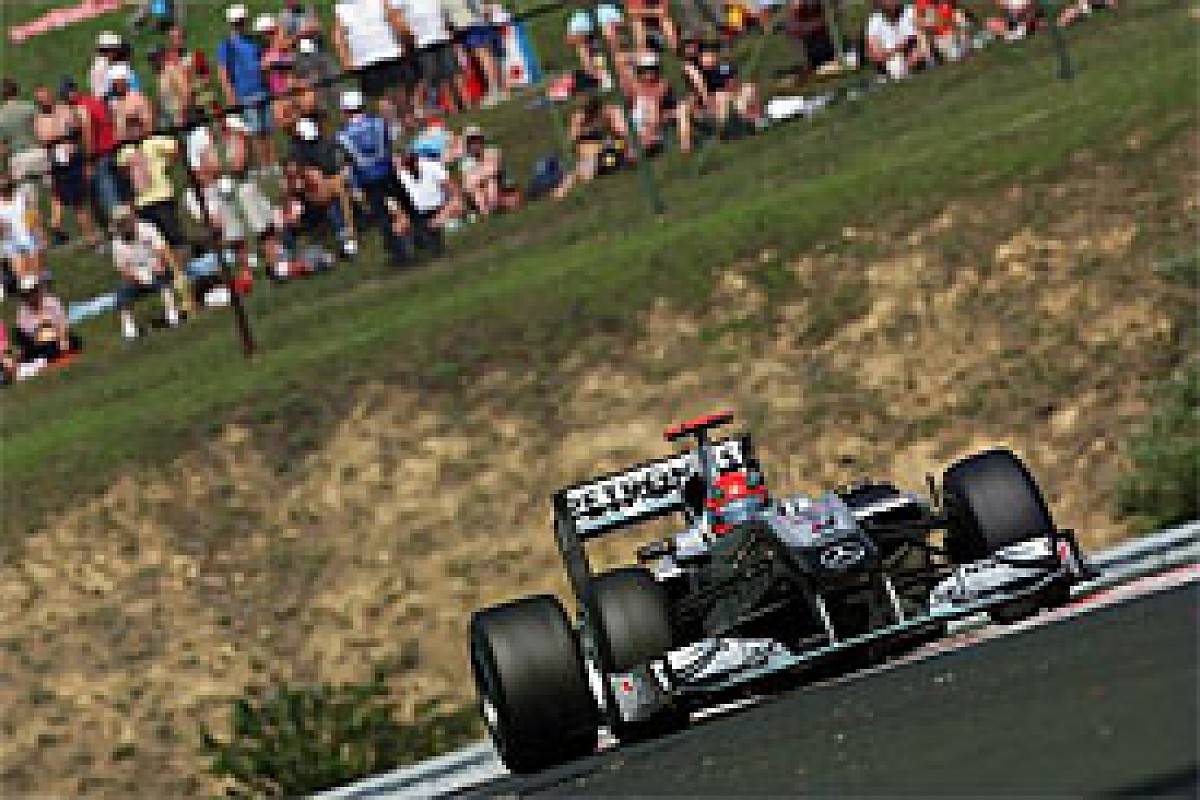 Can Schumacher bounce back this season? © Sutton
Having him back really is a little bit of history, and maybe he should still be given a little bit of breathing space. It was always going to be hard to match Rosberg on pure pace over one lap, but what's been so frustrating for Schumacher is how luck has so rarely gone his way. Had that pit exit light stayed green in Valencia, he could have had a result that turned his season on its head. In Hungary the two cars took different directions for qualifying, and it was Sod's Law that Rosberg's worked better.
The Schumacher/Rosberg qualifying stats are hard to avoid, but suggestions that the guy should walk away again ASAP seem a little unnecessary, unless you're related to Nick Heidfeld.
Haug is adamant that the potential is still there: "Certainly if you are with our car currently fifth, sixth, seventh then this is like winning with another car. Michael is capable of doing fifth, sixths sevenths with our car. After 300kms he was 2.4secs behind Nico in Hockenheim, and these are the figures that count.
"Nico is certainly a great driver, a young driver, a talented guy, an experienced guy, a top three guy probably in the whole field. And if you're after 300kms 2.4s behind your team mate, you cannot be slow. And maybe some people will be surprised what Michael still can achieve.
"These types of tyres do not fit completely to what he's used to, but he's a learner, and the most important thing he does want what he does. He's not forced to it. He's a motivational guy, he's a tough guy, like he showed today again."
Many past world champions have drifted into ignominious retirement, including Schumacher's rivals Damon Hill and Mika Hakkinen, as worn out shadows of their former selves. And in no way can you compare Schumacher with them.
The passion still burns brightly, and you can't fault the pure determination or motivation or whatever other word you might use to describe the forces that drove him to defend 10th place in Hungary as if his life depended on it. If Brawn can finally give him the car that he wants, and he can channel those forces in the right direction, he can surely still get the job done. There are still seven races to go this year. Will he be able to change our perception of his comeback?