Damon Hill was on the verge of a giant-killing victory in Hungary, only for fate to hand the 10 points to title hopeful Jacques Villeneuve.
Funny thing, this Formula 1. Two weeks ago in Germany Gerhard Berger's Benetton-Renault won and Jacques Villeneuve's Williams-Renault went unnoticed; on Sunday in Hungary it was the other way round. In winning his fifth grand prix of the season, Villeneuve closed to within three points of Michael Schumacher in the world championship standings.
If Berger was the centre of attention at Hockenheim, overwhelmingly the story of the Hungaroring was the return to contention of Damon Hill. The world champion qualified his Arrows-Yamaha third, took the lead from Schumacher's Ferrari a few laps in, and then proceeded to control the race -until three laps from the end, when a gearbox hydraulics problem slowed him.
Such was Hill's lead at the time however, that Villeneuve overtook him only a couple of miles from the flag. It was beyond cruel, for Hill, for Arrows, for Bridgestone.
Out of luck, too, was Heinz-Harald Frentzen. In this race, Frentzen was the only Goodyear driver among the front-runners to opt for the harder of the compounds available, and found his choice vindicated on a hot afternoon.
Frentzen took the lead upon Hill's first stop, but then retired when his Williams's fuel tank valve departed. Given a clear run, H-H would almost have certainly won.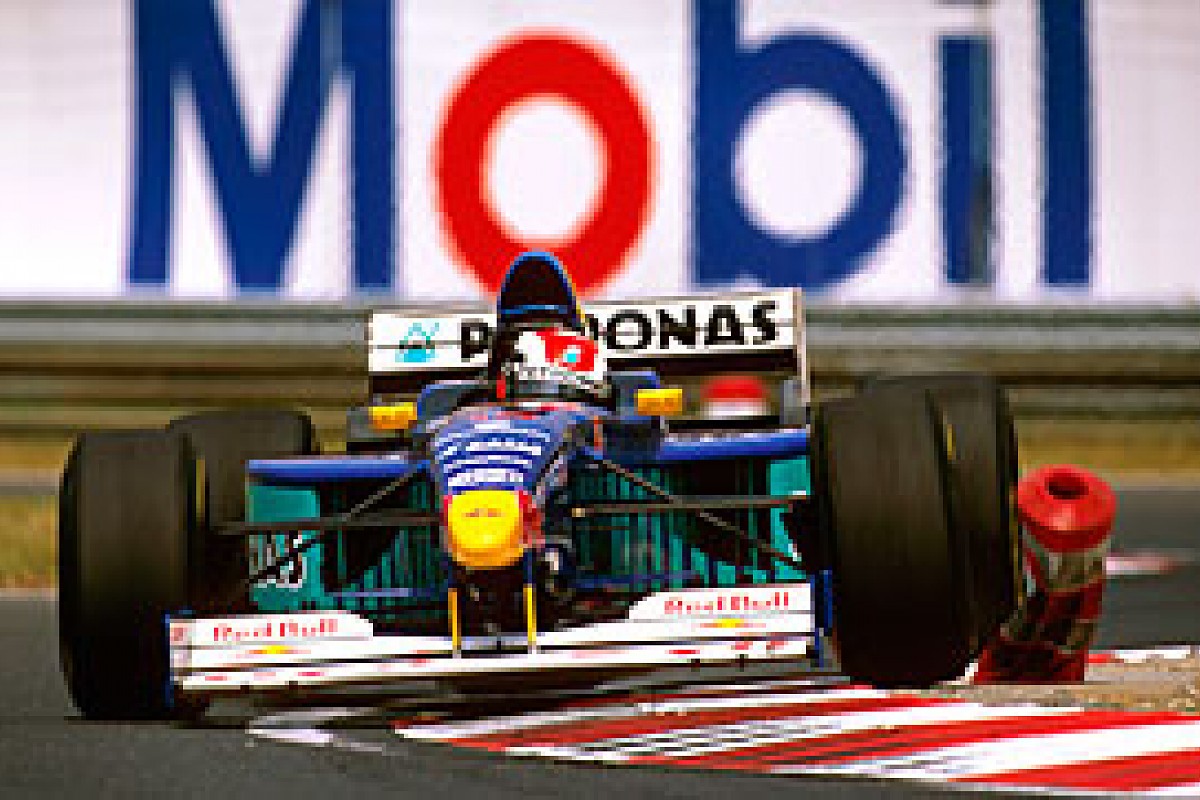 Johnny Herbert en route to third in Hungary © LAT
Behind Villeneuve and Hill, Johnny Herbert's Sauber finished third, the first podium for car and driver this year, and then came the battling Schumachers; Michael's rubber-hungry Ferrari marginally ahead of Ralf's Jordan-Peugeot, with Shinji Nakano's Prost-Mugen Honda claiming the final point.
After dominating qualifying, Michael Schumacher also set the fastest time in warm-up, but right at he end of the session he went off the road, the new 'lightweight' Ferrari getting momentarily airborne, then crashing down hard enough to damage the monocoque beyond immediate repair. For the race, it was back to the old car.
Villeneuve and Frentzen were second and fourth, sandwiching Mika Hakkinen, and the placing of Pedro Diniz, fifth, demonstrated that Arrows-Yamaha has indeed progressed in recent weeks. That Bridgestone may have had something to with it may have had something to do with the fact that Ukyo Katayama's Minardi-Hart was eighth.
Qualifying - by Andrew Benson
Michael Schumacher chose qualifying at the Hungarian Grand Prix to give a demonstration of just how far he stands above his rivals in the Formula 1 field.
The world championship leader utterly dominated Saturday afternoon's session, and if his final advantage over second-placed Villeneuve was less than 0.2s, his superiority was underlined when he did not need to do a final run to claim pole position.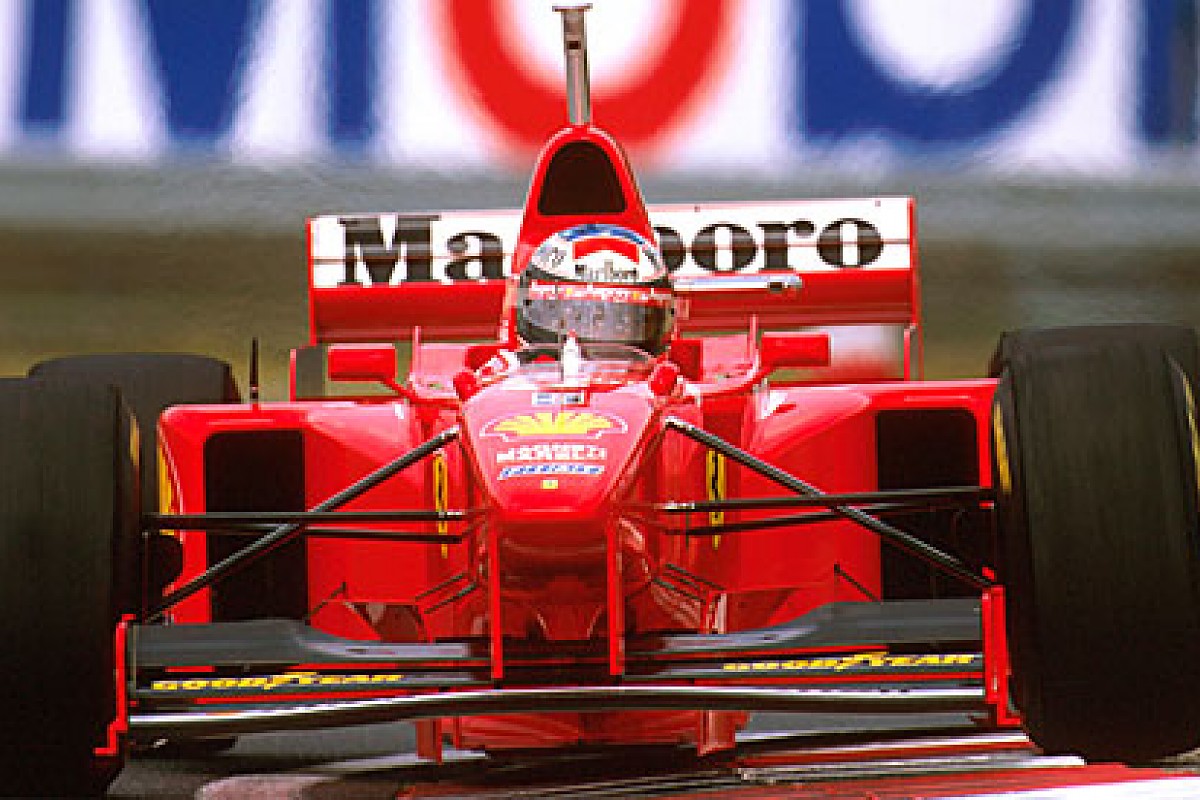 As Schumacher put it himself: "I have no motivation problems, and I can do from the first lap what I can do in the last lap. I had pole from the start and I never gave it away. I actually made a slight mistake on my fastest lap, but fortunately it was just enough anyway."
He took to the track in the dying minutes of the session to protect his position, but when Villeneuve and Hakkinen, who at that stage were his closest challengers, failed to improve, he pulled back into the pits without doing a final run. Hakkinen was then bumped down to fourth by an amazing lap by Hill.
Schumacher's ability to drive at the limit the minute he takes to the track is one of the strongest elements in his armoury. Of course, he improved on his first time - a stunning 1m15.078s, 0.8s clear of his nearest rival, which then was Gerhard Berger - but he said that was more down to improvements made to the balance of the car during the session than anything extra he dragged out of himself.
He was without rival for the entire afternoon. His first run was followed by 1m14.831s (0.6s quicker than Villeneuve), and then a 1m14.672s, which was 0.468s ahead of the field. Villeneuve narrowed the gap further with his final run, but Schumacher's demeanour and behaviour suggested he knew he could always bet on his last run whatever his rivals threw at him.
Unsurprisingly, Schumacher was a relaxed and happy man at the end of the session. The lighter chassis with improved weight distribution pleased him. It wasn't much faster, he said, but the balance was better, even though the car still had its inherent understeer, and being on the weight limit is crucial at this circuit; where the car has to run with the maximum number of aerodynamic add-ons.
Was he confident for the race? "Basically yes," he replied. "I hope it's going in the right direction."
Villeneuve said the same thing about the race, but it had been rather harder work for him to join his title rival on the front row. Over a second behind Schumacher after the first runs, the gap came down progressively through the session, but his afternoon was punctuated by a lurid moment at the fastest corner on the track - Turn 11, where Jean Alesi had a huge accident two years ago.
Villeneuve's car was fully off the track at the exit of the corner, but he kept control and eased it back on to the track, surviving a nasty snap or two as he did so.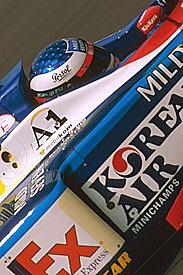 Jean Alesi qualified ninth for Benetton © LAT
"I went into the high speed corner a little bit too quickly," he commented. "And the car wasn't turning. It went straight. It's a shame because it was my best lap, and so I would have been a little bit close to Michael."
Overall, though, Villeneuve was happy to be back on the pace after a disastrous German Grand Prix, even though his morning session, when he and Frentzen (who qualified sixth, having chosen the harder of the two Goodyear tyre compounds on offer) were fastest, may have led him to hope for more.
"From yesterday we made some improvements, and hopefully will do so again tomorrow and give Michael a run for his money. It's true that this morning we were pretty quick, but compared to yesterday I'm very happy, because we made huge improvements overnight, and I'm very happy with the car."
Race
The temperature was in the high eighties as they came to the grid, and apparently the man in best shape was Frentzen, whose hard Goodyears were unlikely to blister on a circuit notoriously hard on tyres.
After retiring on the opening laps of the last two grands prix, and with his future as a Williams driver under scrutiny, Heinz needed a strong result in Hungary. He got away well enough, but his team-mate did not, blaming too much wheelspin. "It wasn't looking good in those early laps - I was down in fifth, and overtaking is difficult here," said Villeneuve.
Williams folk apart, however, no one was too concerned about Jacques's predicament at this stage, for at the front of the race something amazing was unfolding: Schumacher may have started well enough, may even have taken an immediate lead, but after a couple of laps it was apparent that he was not getting away, and next time round he was being reeled in. By an Arrows-Yamaha!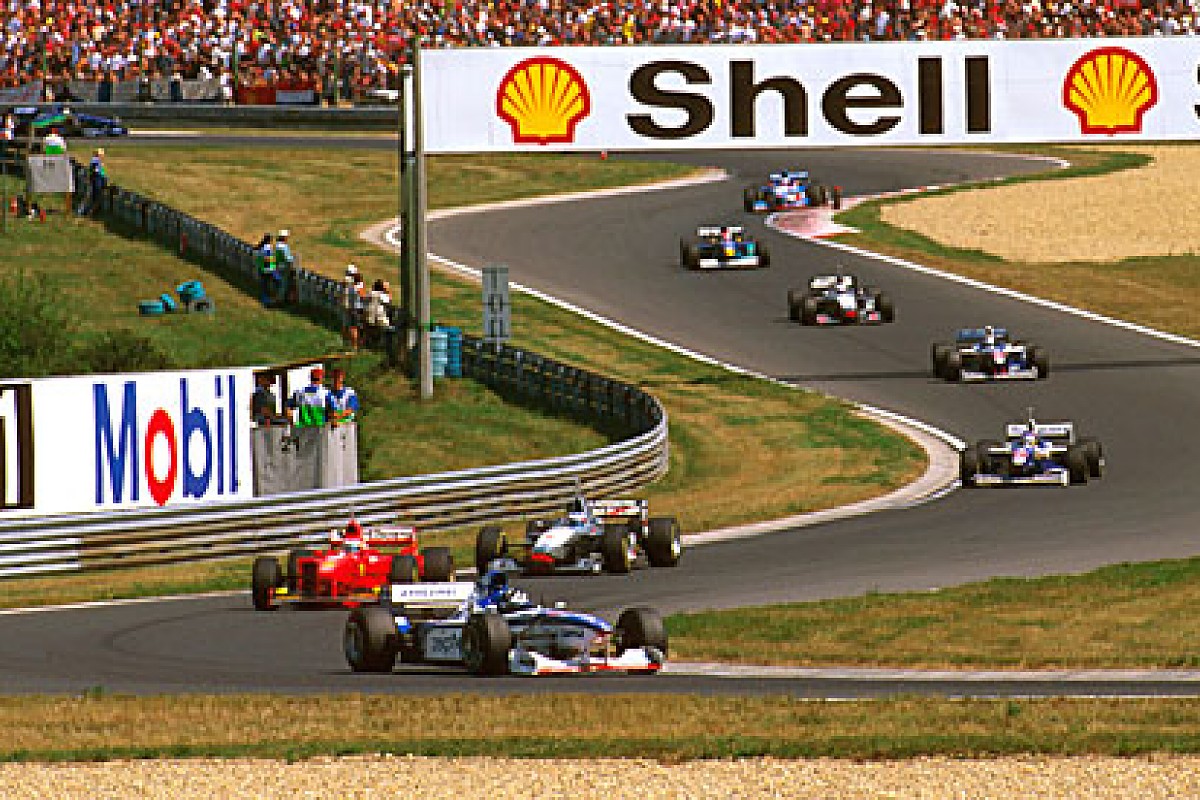 At the start of lap 11, into the first corner, Hill flicked his car right of Schumacher's and assertively took the lead. By the end of the lap he had pulled clear, by more that two-and-a-half seconds.
It was a similar story in the early laps of the Spanish Grand Prix, where Schumacher grabbed an early second place, then held up a freight train of cars as his tyres blistered. On that occasion Villeneuve was already ahead, leaving Michael to delay everyone else, and on Sunday Hill knew he had to do the same. "I could see his tyres were blistering badly, and getting by him was no real problem. Once I had a clear track I had to capitalise on my advantage," he said.
In fact, Damon put the move on Michael not a moment too soon, for the Ferrari's slow pace allowed Hakkinen, Villeneuve and Frentzen to close in on the leading pair. Initially, these three had been delayed by another Ferrari - Eddie Irvine's. Third, after an excellent start, Eddie ended up stopping for tyres as early as lap seven.
Once into the lead, Hill began lapping three or four seconds faster than Schumacher, who now had Hakkinen snapping at him, but not for long, for the Mclaren-Mercedes suffered a hydraulics failure on lap 13. A lap after that, Michael was passed by Villeneuve, gave up the struggle and pitted for new Goodyears. The Ferrari was stationary for only 6s, but dropped from second to 12th.
Schumacher said he was surprised by his tyre troubles: "We didn't have any in practice, for one thing. For another, if we were going to have problems, I'd have expected them on the fronts, but it was the rears that blistered so quickly."
Now that Villeneuve was up into second place, Hill's lead suddenly didn't look so secure, Jacques reducing it from 9s to three as the leaders began to encounter backmarkers for the first time. Then they began embarking on their first pitstops, Villeneuve and fourth-placed David Coulthard on lap 24, Hill on lap 25. Jacques's, at 11s, was a touch longer than he might have wished, but there were no changes in the order after the stops - save that Frentzen, yet to stop on his hard Goodyears, was the new leader.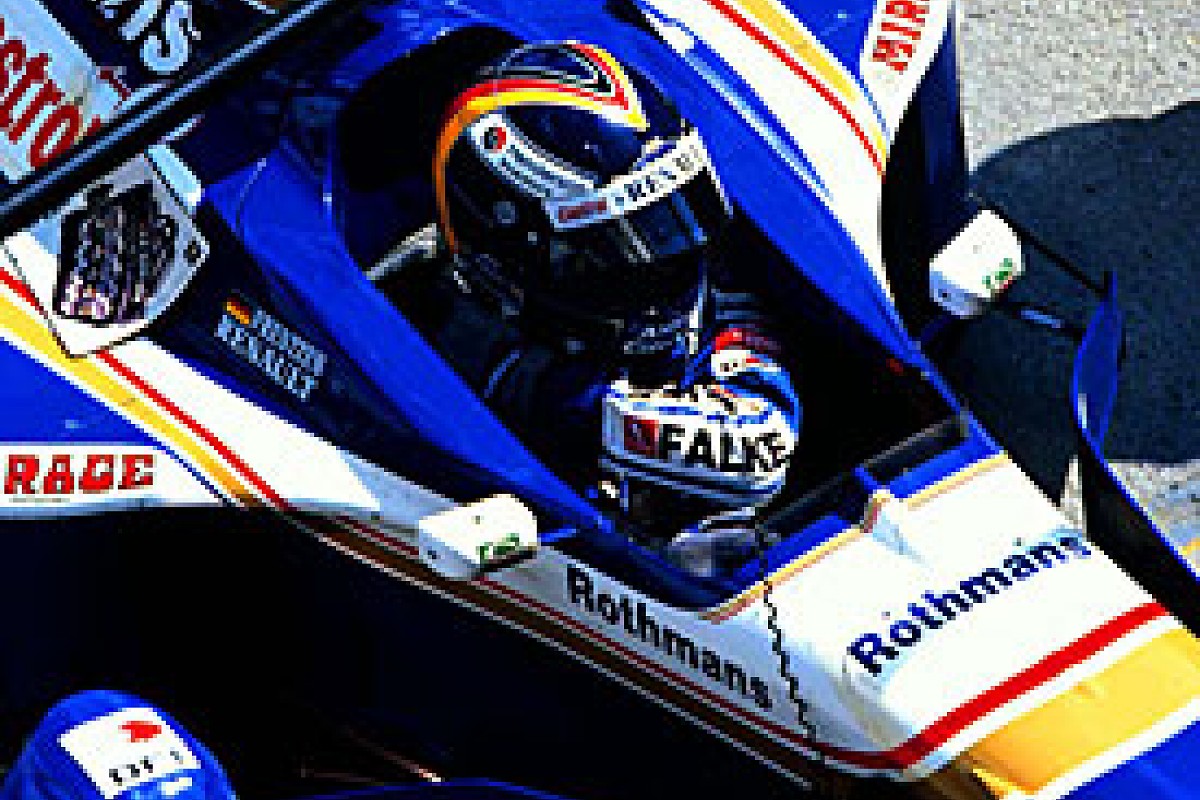 Heinz-Harald Frentzen might have won, but misfortune intervened © LAT
Alas for the luckless Heinz-Harald, he didn't stay there for long. Having set conclusively the fastest lap of the race, the Williams driver suddenly saw what he thought were bright lights in his mirrors. In point of fact, it was a great waft of flame, and if it disappeared instantly, clearly it indicated something seriously awry.
In the pits, they knew the cause of his problem before he did. As the Williams accelerated out of the last turn, at the end of the 28th lap, something flew off it. Retrieved by marshals, it was immediately identified as a fuel tank connector, and the Williams team radioed to Frentzen, telling him to come in at once. This he did, but, given that it was now impossible to refuel, there was no option but to retire.
"I was very happy with our race strategy," Heinz said. "And with the tyres I'd chosen, I could have pushed right to the end, so really it was looking petty good for me." When it comes to ill fortune at Williams, Frentzen seems to have a monopoly just now.
Now Hill was back in front, and a 10s lead steadily grew, as Villeneuve, second, fell victim to tyre blistering. "On my first set I was careful to keep them in good shape, and I did the same with the second - but they still blistered, just the same. And when that happened, Damon just disappeared."
No one, though, had tyre worries like Schumacher. On lap 33 he was back in for more, but dropped only one place, to fifth, behind Hill, Villeneuve, Coulthard and Herbert, who was finding his Sauber-Ferrari a much more competitive proposition than in qualifying, and driving a typically pacey and unflustered race.
Even on new tyres, Schumacher was soon in trouble again: "My second set had worked properly," he said. "But the third was as bad as the first." So, too, would be the fourth.
Wayward as his Ferrari might have been, however, Michael was as hard a racer as ever you will find, as Giancarlo Fisichella discovered at the beginning of lap 43. For some time the Jordan driver - on hard Goodyears - had been threatening Schumacher's fifth place, and into the first turn he made to go by. "I was much faster than Michael at that time; but unfortunately he closed the door, which put me off line," said Giancarlo.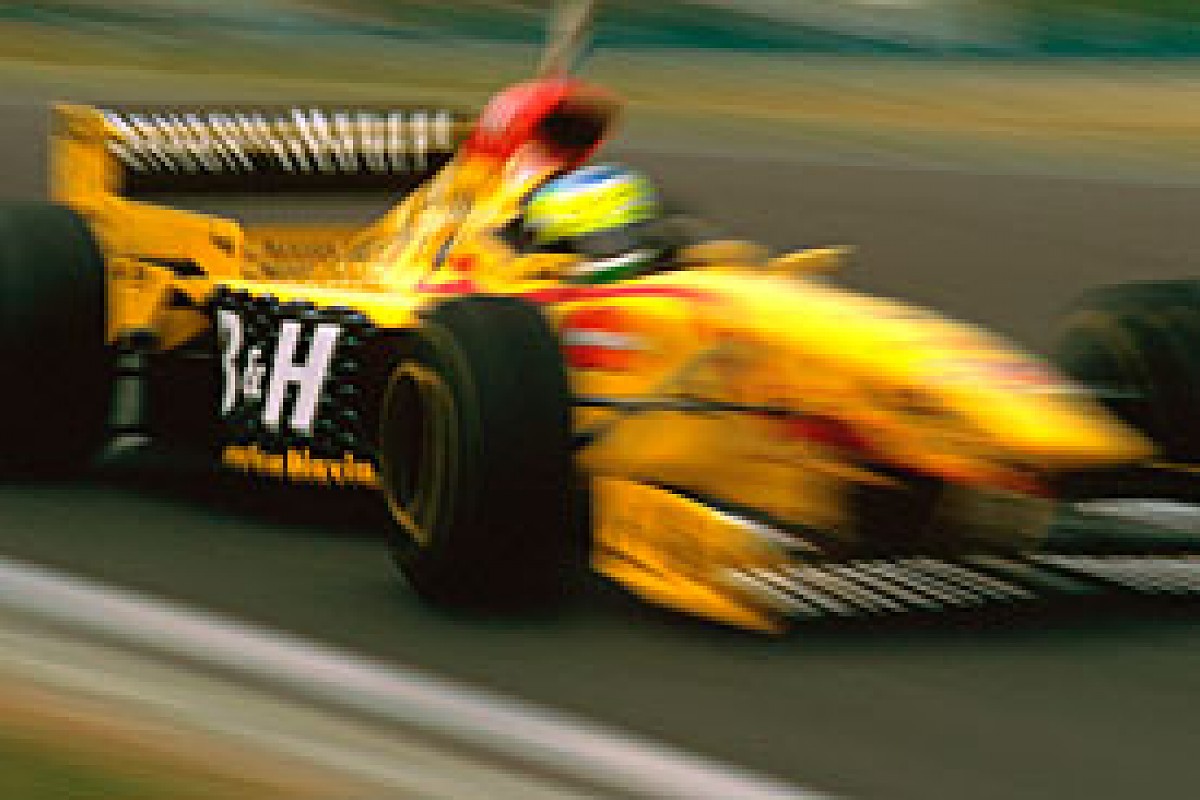 Giancarlo Fisichella spun his Jordan out of the race © LAT
While Schumacher checked his own car's slide, Fisichella spun, finishing up on the grass. In normal circumstances, he would have been able to continue, but he was running with the clutch switched off, following an earlier problem, and the engine instantly stalled.
Giancarlo had no harsh words for Michael: "No, no, this is normal for racing" - and perhaps accepted that he hadn't been quite close enough to take a run at him.
As it went into its last 30 laps, the Hungarian Grand Prix had about it more than a faintly surreal quality. At the front, Hill and the Arrows continued to dictate, pulling ever more clear of Villeneuve, who still had Coulthard on his gearbox. A lonely fourth was Herbert, but then there came the spectacle of Schumacher being caught by Nakano's Prost-Mugen Honda!
That took a little believing, but fact it was. Michael was in blister problems again, and Shinji was driving emphatically the best race of his short F1 career. Before he could get on terms with Schumacher, he had to make a stop, on lap 47, but later he would figure again, together with Ralf Schumacher, who also came on stronger as the race went on.
So we came to the final stops for the front runners. Coulthard made his on lap 50, with Hill, Villeneuve and both Schumachers stopping on the 51st. Although Villeneuve's was a fraction longer than Coulthard's, he squeezed out of the pits just in front of his race-long rival, the two of them almost touching at the first turn.
Soon afterwards Schumacher Jr got by Nakano, and set to work on his brother. Irvine, periodically hampered by a misfire, also made his final stop at this time, rejoining behind Nakano, whom he immediately began to catch.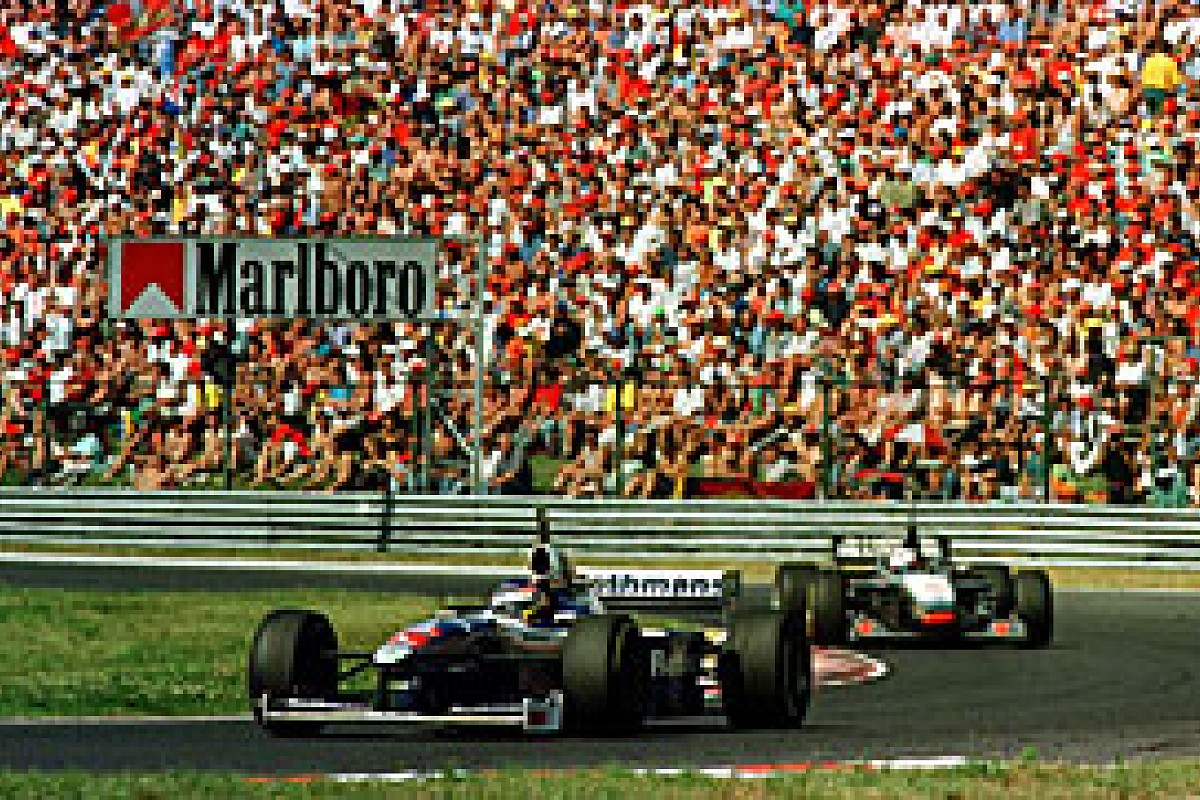 Jacques Villeneuve holds off David Coulthard © LAT
Through all this, Hill sailed serenely on, edging away from Villeneuve all the time. "It was just fantastic at that point," he said afterwards. "I was really in a groove, you know, pushing, but not too hard." Villeneuve admitted there was nothing he could about the Arrows: "Damon was flying," he said. "For a long time I wasn't too concerned, because I thought he wouldn't finish, but he just went on and on."
A dozen laps to go, and Coulthard pulled off with hydraulics failure. His tyres had held up well throughout the race, and even if he had never truly looked like getting by Villeneuve, a podium finish seemed assured. No points for Mclaren-Mercedes, which scored 14 in the first grand prix of the season, and has scored only 14 more in the 10 races since.
Towards the end, the first three places - Hill, Villeneuve, Herbert - seemed set, and attention focused on the scrap for fourth involving Schumacher M, Schumacher R, Irvine and Nakano. Thoughts turned towards Michael's pursuit of the world championship - and also towards his sibling's all-or-nothing approach to overtaking.
Through those closing laps, Schumacher gave his younger brother what amounted to a concentrated course in how to keep ahead of a clearly faster car. Had it been other than Michael he was chasing, who knows, Ralf might have been that touch more resolute in his efforts to go by, for it would not have been good to cost him the points that might be the difference between first and second in the championship. Whatever, as the Ferrari driver went through every trick in his book, using all the road, backing off unexpectedly (read brake testing), and the like, the man in the Jordan remained unexpectedly disciplined.
"If I hadn't been fighting for the title," Michael allowed, "I could have let him pass." But he was, and he didn't. "It would have been stupid," said Ralf. "If I'd tried to overtake and things had gone wrong."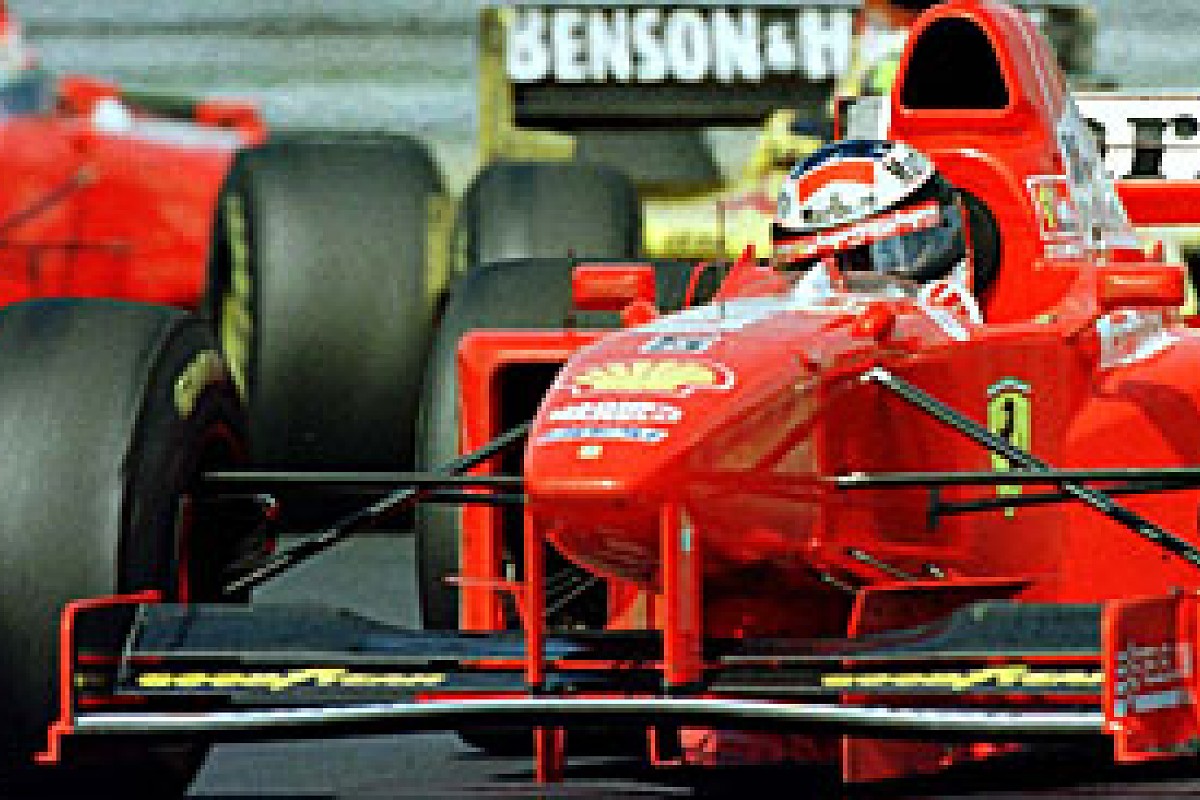 Almost to the very end, the quartet circulated together, but by then attention had shifted away from them, for things were happening up ahead. As Hill came by the pits at the end of lap 75, with two to go, the Arrows was running at very much reduced speed, and as Damon appeared to jiggle the steering, the impression was that he was low on fuel.
But it was no such thing. "You never feel secure at the Hungaroring, even when you've got a good lead," Hill said. "It's because traffic is such a problem here. But this time I was half a minute ahead, and started to think I was actually going to win. And when you do that, of course, something goes wrong.
"Three laps from the end, the throttle wouldn't shut properly when I lifted off. That was strange, but then three or four corners later it wouldn't change gear properly. I got stuck in second, managed to get it into third, and there I stayed. Turned out it was a leak in the hydraulic system. After that the throttle worked when it wanted to, and I never thought I'd make the finish."
He did, though, and such was his lead that Villeneuve got by him only on the final lap. Jacques took the flag, and Damon followed across the line 9s later, a quite brilliant drive robbed of its dues. Herbert took third, and then came the Schumachers and Nakano. Irvine? He was the victim of his team leader's gamesmanship.
"On the last lap we were all behind Michael," explained Eddie. "Ralf, behind him, had to brake suddenly, so I did the same, but Nakano couldn't stop in time, and ran into me." Irvine finished up off the road.
Afterwards, even Michael paid tribute to Damon, once his nemesis. "I hoped he would win, because he deserved to, and I congratulate him," he said. Then the pragmatist took over and he added: "I also hoped he'd win, because it would have helped me in the championship."
See FORIX for the full results of the 1997 Hungarian Grand Prix