In Germany Ferrari finally made good on the promise that the F10 has shown since the blown diffuser package was introduced in Valencia, following a couple of weekends when little went right for the team.
A one-two on merit should have been cause for celebration for the team and its fans, but instead the men from Maranello found themselves under siege - and just possibly under threat from heavier sanctions from the FIA than the token $100,000 fine announced on Sunday evening.
What happened at Hockenheim has divided racing fans and paddock insiders alike, and views are so clear cut that persuading people to concede is like asking them to change their religion. Some folk think that swapping places was a logical and normal strategic decision, and others - like myself - regard it as a clumsy and unnecessary move that showed a disregard for the public and, perhaps more importantly, the team's own driver.
Everyone understands that there was an imperative within the team to put Fernando Alonso seven points closer to those in front of him in the world championship battle. There's an argument too that with Alonso a little nearer the front the result has potentially helped to give everyone a more exciting battle to enjoy over the coming months. But there's a much bigger picture here, and that's the damage it's done to Formula 1.
Of course there are differences relative to Austria 2002, mainly due to the fact that at that time Michael Schumacher already had a clear championship lead, whereas Alonso is trying to close a gap. Even Schumacher himself has now admitted, eight years on, that Austria was perhaps a little unnecessary.
But the reaction from the casual TV viewer, on whose interest we ultimately all rely to keep the wheels of the sport turning, has been eerily familiar: 'F1 is not a sport, it's a sham'. In 2002 it was that reaction that led the FIA to implement the 'no team orders' rule. And love it or loathe it, it is a rule like any other, albeit one with some flexibility in terms of interpretation.
But what really caught my attention on Sunday was the way Ferrari treated Massa. He's a racing driver, there to win races and championships, and he's a a bloody good one at that, as we saw in 2008. He's also a fundamentally decent human being. I'll never forget his humbling reaction after being pipped at the very last second in the battle for the title that year. Given the painful circumstances his composure - and generosity towards his rival - was quite extraordinary.
Last season he generally had the upper hand on Kimi Raikkonen, to the extent that the team ultimately hustled the Finn out of the door (at whatever cost) in order to make way for Alonso. And then came Hungary, and the accident that ended his season, and which could have been so much worse.
The way Ferrari dealt with that episode and ensured that Felipe subsequently made a successful return to the cockpit and full fitness was truly impressive, and it really did give some credence to the impression Maranello likes to give that it is one big family.
This year things haven't gone to plan for Massa. And from the very start of the season, Alonso has tried to impose himself on the team and establish himself as the main contender in the camp, something that we knew he would try to do - as indeed would a Senna or a Schumacher or perhaps even a Hamilton. That approach is part of what has made guys like that successful.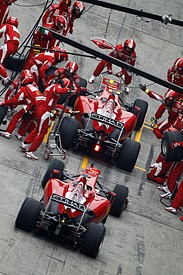 Alonso made sure he reached the pits first in China © LAT
On pure pace Alonso has been ahead more often than not, and there's no denying that. But at times he's been perhaps a little forceful. His aggressive move at the pit entry in China, when he decided he didn't want to wait behind Massa in a stacked stop, was at best opportunistic.
I wrote here at the time that it reminded me of Monaco 2005, when Michael Schumacher lunged down the inside of Rubens Barrichello on the last lap to claim seventh place. The point was Schumacher did it knowing that Barrichello could not and would not react by blocking his team-mate - in other words, he was taking advantage of the situation, and all for a humble seventh.
That very night Barrichello began the process that led to him leaving Ferrari and going to Honda, despite having a year to go on his contract. He'd had enough. Massa wasn't about to leave of course, and indeed just a few weeks after China he extended his contract with the team.
Unfortunately, not a lot went right for him in the first part of the season, and his ongoing struggle to get the best out of the hard tyres has not helped. There were other races when Alonso leaned on him on the first lap, and more than once when Fernando found himself behind his team-mate he made it all too clear on the radio that he could go quicker.
The last three races, and three failures to score, somewhat took the wind out of Massa's sails. In Canada he got involved with Tonio Liuzzi at the start, and never recovered from a nose change.
In Valencia the new package arrived, and he qualified fifth, behind his team-mate. Indeed he was in fourth and right with Alonso when the pair got stuck behind the safety car. When they were eventually waved past and were able to pit he lost a lot more time, since he had to sit behind Alonso in the pit lane. While Alonso was able to salvage some points, Massa had no chance to get into the top 10. And yet afterwards all the sympathy seemed to focus on Alonso.
Then came Silverstone. From four places behind him on the grid Massa made a much better start and ultimately got in front part way round the first lap, only for the cars to touch, and Alonso to cut his rear tyre. Once again a decent helping of points went astray.
I bumped into Felipe that Sunday night in London, and commiserated with him on a tough day. He was still upbeat, and had no worries or doubts about his own performance. He said he just needed some luck.
On Thursday at Hockenheim I asked him to elaborate on that on the record. Did he really believe in good luck or bad luck?
"Well, I think the most important thing is to think about your job, to put things and make things work in the right direction," he mused. "And the most important thing is to have a good car, because you always need to have a good car to perform well. But I think luck and bad luck happens.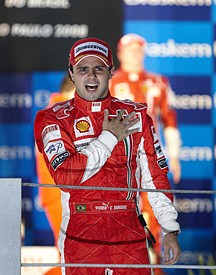 Massa's dignity in defeat in 2008 earned much praise © LAT
"So at the last corner in 2008, what do you think? Do you think it happens? It's part of our life, you know. So I think these things exist. But it's the details. When I look at the new teams, they are maybe five seconds slower, it's different, they are not able to win a race because they are out of the competition. Anyway when you have possibilities [to win], luck is a different detail. But it is important."
He made it clear that he wasn't happy with his season: "The results of the season are not what I expected, definitely. We had some bad races, especially the last three races was the worst, and especially the last three races were races where I could have scored good points, you know. We couldn't because every race, something happened.
"Anyway, also looking at the last two races definitely we saw an improvement in the car in terms of performance, and I think that we can also be quite positive for the second half of the championship. So let's try to do a better second part of the championship."
Someone then asked him about the status of the two Ferrari drivers.
"I'd love to be there fighting for first position in the championship," he said. "But anyway, it's nothing to say that we have a number one and number two. We don't have that. It's pretty clear..."
What was clear from the start of the Hockenheim weekend, even in Friday's rain, was that Ferrari was right on the pace. Massa went off the road a few times as he explored the limits, but there was a real spring in his step. Again he didn't match Alonso in qualifying, but third was pretty good.
Looking at a front row with Sebastian Vettel/Alonso on it, and bearing in mind that Sunday was the first anniversary of the accident, I had a feeling that it would come right for Massa. It was just in the air that it was his turn.
"It's going to be your boy's day tomorrow," I told Rob Smedley as he left the track on Saturday night. I event put a tenner on Felipe to win at 12-1. Colleagues thought I was nuts...
At the race start my suspicions proved to be true when Vettel and Alonso were so busy fighting each other that Massa swept round the outside and into the lead. Nice one!
And he stayed there, even after struggling on his early laps on the hard tyre after his stop. Alonso must have known that was going to happen, and he very nearly took advantage, but Massa kept him back with some pretty firm defending, although nothing that was any more suspect than some of the moves Alonso has made on him this year.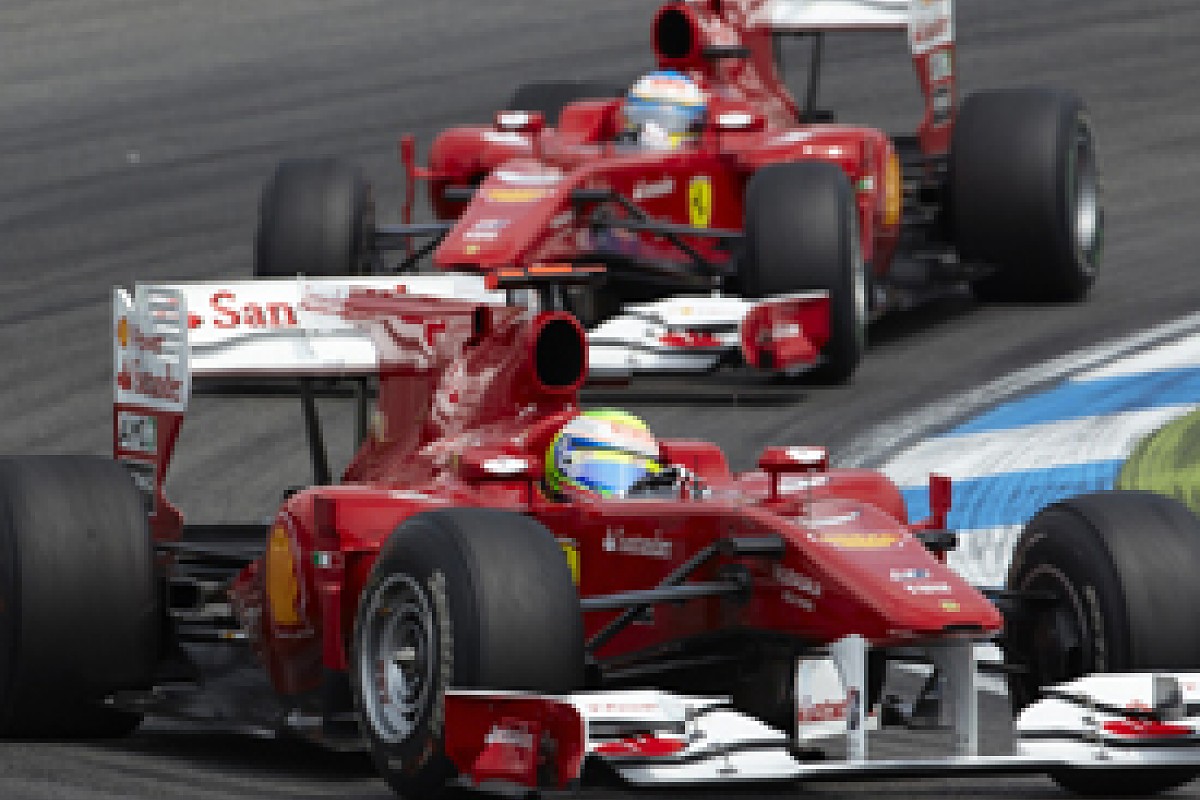 Massa led Alonso for most of the race © LAT
That's when Alonso made his "this is ridiculous" comment, something that gave us an insight into his true feelings about his team-mate.
As the race developed and Alonso dropped back it looked like Ferrari was going to get a perfectly acceptable result, and one that would have been massively positive for the sport. A win for Massa on the anniversary of his accident would have been a great story, and proof positive that he really was back to his best. Ferrari would have got maximum constructors' points, and the result would have demonstrated that its faith in the Brazilian, now signed up for two more years, was fully justified.
Crucially, Felipe would have the boost he so clearly needed, and would now be heading into the rest of the season with his spirits high and his confidence fully restored, in a position to help pile up the points. And the world would know that like Red Bull Racing and McLaren, Ferrari has two equally ranked top drivers, who are allowed to race each other and are both capable of winning.
The only negative? Seven fewer points for Fernando Alonso relative to those at the front of the world championship. And thus a slightly grumpy Spaniard in the camp.
I am well aware that recent titles have been one by slender margins. But the point is that there are eight races to go, and absolutely anything can happen. This is the team that when questioned about its title aspirations constantly reminds us that in 2007 Kimi Raikkonen was 17 points behind with two races to go - the equivalent of around 42.5 in current terms.
Alonso himself summed it up on Thursday in Germany: "I think it's not too late. It will be never too late until the last two or three races. If you with this distance, it starts to be a problem, but this is not the case with nine races to go, many points on the table now.
"Let's try to do the maximum possible, taking points regularly. Valencia and Silverstone, zero points, is a little bit unrealistic what happened. We are in a better position than what the championship shows, probably."
If it's never too late for Alonso, then surely it's never too late for Massa?
Consider this. If the result had remained unchanged, Massa would now be only 24 points behind Alonso. It sounds a lot, but it's marginally less than a race win, and marginally less than a humble 10 points in old money. With eight races to go, was it right to force a driver to give up a victory and in effect tell him and the world that he truly is regarded as the supporting act?
When he was grilled after the race, Alonso made the point to the media that he had been quick all weekend, implying that we hadn't noticed. Some of my colleagues also thought that Alonso had the 'right' to the win by virtue of the fact that he had been quicker than Massa in qualifying.
Well, the last time I looked the FIA didn't award points based on the grid. Otherwise we might as well all go home on Saturday night. I recalled the other day that when Niki Lauda beat Alain Prost to the title in 1984, he never once even started from the front row. Sunday is what counts...
Massa took his chance at the start in Germany. He overcame the brief crisis after the switch to hard tyres, he even managed to survive locking up a few times. Then he did what he always does best, which is just enough to bring the thing home in front. And yet, this time he wasn't allowed to.
The team had to go through the charade of claiming that Massa made his own generous call based on information supplied, as if this current example was reminiscent of Peter Collins handing his own car to Juan Manuel Fangio in 1956. I think we can all work out what really lay in the background, and one Ferrari insider made that clear to me on Sunday night. Massa knows the rules, and if he doesn't like it, he can go, as someone else - Barrichello - did a few years ago.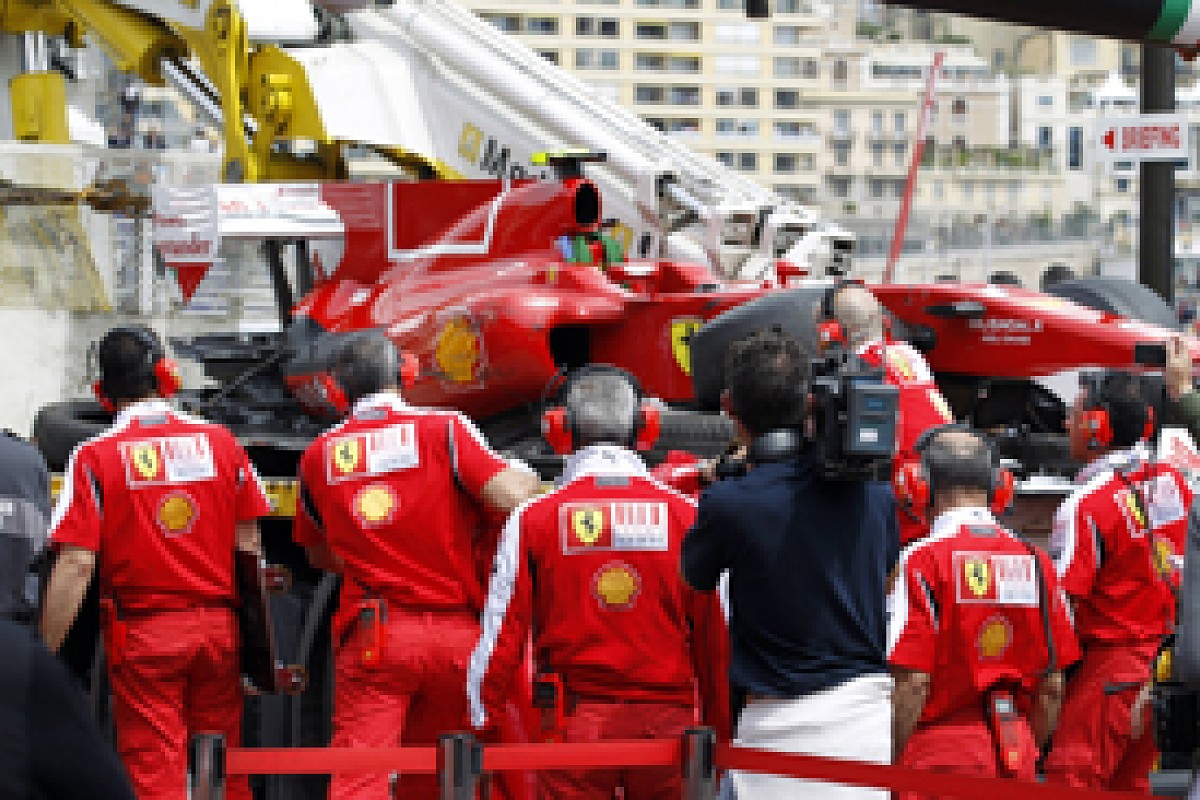 Alonso has made errors this year © LAT
It's important also to stress that Alonso's less than optimum current points total is not due to Ferrari shortcomings or errors, and it's not as if the team owes him a huge favour for letting him down. Yes, he had a technical problem in Malaysia, and yes, he had bad luck with the safety car in Valencia - although as noted, Massa came off a lot worse that day.
In many races he's done a typical Alonso job, getting the most out of the package. However, he got involved in a first lap skirmish in Australia, jumped the start in China, and totalled a car in Monaco practice. His penalty at Silverstone, while made worse by the unfortunate timing of the safety car, was ultimately self-inflicted.
The really sad thing, as I wrote after Austria 2002, is that Ferrari is supposed to be the team steeped in passion and emotion. And we would have surely seen a lot of both had Massa got that vital win on the anniversary - there would probably be only one person in the paddock (plus his manager) who didn't see it as an appropriate outcome to the day.
If Alonso wins the championship in Abu Dhabi by fewer than seven points, then perhaps we will eat humble pie and congratulate Stefano Domenicali on a canny job. But for now I am certain that he made a bad call on Sunday. The braver decision would have been to let Massa win and then have the team accrue all the benefits outlined earlier, not least the fact that the guy would now be on the top of the world.
If over the next three or four races Alonso really does move into title contention then having a fired up Massa in the fight, taking points off others, will surely be as much in the team interest as making him hand over those seven points. On Sunday I asked Domenicali if he had considered that human aspect.
"For sure we know that it's very important for Felipe," he said. "And I'm sure he will deserve a victory very soon. Because he has shown, you know, that he is keeping up. I would like next time to share with him the victory."
Perhaps the karma has been transposed to Hungary, and this weekend will indeed be Felipe's turn. There is one thing that we can presumably be sure of - he won't be allowed to win unless somebody else is in between the two red cars...