In seasons past, Hockenheim traditionally saw the first draft calendar for the following season being bandied about by the commercial rights holder. Last year, though, the first draft was not even discussed until Belgium at end-August, with negotiations dragging on until December - with much to-ing and fro-ing during the intervening months as the CRH struggled to add Korea whilst keeping Germany and others onboard.
Eventually a 19-race schedule was announced, but even as this is written there exists doubts over Korea, with internet reports only last week suggesting that the inaugural race, scheduled for 24 October, could well be off. There have, of course, been positive noises from Korea Auto Valley Operation, promoters of the race in Mokpo, Yeongam County in the south of the country, but then Donington was gushing until it all fell apart...
Korean Grand Prix construction
A straw poll in the paddock showed an almost 50/50 split between those who were convinced the race would take place as scheduled and folk yet to book their airline tickets. Given that most travel arrangements for the year are in place and sorted well before the season starts, that surely indicates a lack of confidence in the project, certainly at this point in time. Hardly the sort of welcome F1's latest venue deserves.
Whenever the race is mentioned, chat is not about the new track or the chance of F1 decamping in yet another new pasture, but of the threat of war from the country's northern neighbour, of the horrific logistics of reaching a circuit located in one of the most underdeveloped regions of Korea, and of a current calendar which lists three Asian races each a fortnight apart.
However, this trepidation is not undeserved, for as things stand F1 personnel are faced with a variety of (unwelcome) options which range from heading out to Asia ahead of the Singapore round, then staying in the region for a full five-week period (hardly economical given the plummeted values of Sterling and Euro), commuting back between events (ditto) to snatch less than a week back at base while suffering compounded jet lag, or any permutation in between (with obvious cost implications).
Then, just a week after returning from Korea, F1 heads for back-to-backs in Brazil and Abu Dhabi. So much for Resource Restriction Agreements, which don't seem to apply to those who have private jets!
Last year's calendar discussions ahead of this season's schedule were chronically disrupted by animosity surrounding the new Concorde Agreement and then-FIA president Max Mosley's vision of a dual-stream F1. Negotiations started (and ended) late, but this year there exist no such excuses. Thus during a routine FOTA meeting in Germany talk turned to the 2011 calendar, for not only are discussions overdue, but the 2010-2012 Concorde Agreement makes provision for a Calendar Commission, and the teams have greater powers of veto over the schedule than had previously been the case.
Those who know such things failed to get excited or sensationalist over the CRH's (placed) recent suggestion that F1's blue riband event in Monaco faced an uncertain future, for the place was always going to retain its race - and hence the Automobile Club de Monaco's relaxed stance in this regard. This despite the fact that the race could theoretically be removed should the CRH and ACM fail to agree terms as detailed in Concorde. However, the CA also insists that commercial and strategic requirements of all teams be considered when compiling the calendar, so a schedule without Monaco would hardly be compliant in this regard.
More importantly, though, is a restriction on the maximum number of events, with the CRH being obliged to obtain permission from teams to exceed 17 races in any one year, with an absolute maximum of 20 being permitted. There are further restrictions: a minimum of 16 weeks between the last event of one year and the first of the next (17 or less events); 14 weeks should there be 18 or 19 listed events, and a dozen weeks should the number reach 20 per annum - always whichever is the maximum in any two-year period.
Already India has been announced as new 2011 venue, and with 19 races this year, that would appear to be the full list, for with this week's announcement that Monaco is in the bag for ten years and contracts in place for the balance, there is little reason to believe that there will be drop-outs - at least in 2011. So, 2010's list, plus India it will likely be.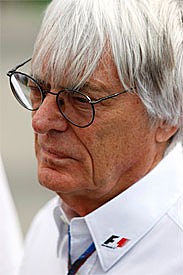 Bernie Ecclestone © LAT
F1 ringmaster Bernie Ecclestone has made no secret of his desire to eventually ramp up the number of events to 25, but is restrained from doing so until 2013 at earliest - expected to be another sticking point in 2013-2017 CA negotiations - so for 2011/2 a maximum of 20 grands prix it is. All of which means that, should Austin, Texas come to fruition in 2012 - as this week's announcements indicate it will - one existing venue will have to drop off. China, perhaps, particularly given that the place is out of contract next year?
However, with the 12-week restriction in place, the earliest the 2011 season could open is mid-February. That, though, would chronically impact on teams' car build and test schedules, particularly after the sport displayed a dismaying level of intransigence in firming up tyre supply contracts for next year, so the teams, who control testing, are likely to insist upon the season opening in mid-March - as it did this year - for that would allow testing throughout February and two weeks for shipping to the first venue.
Then the CRH needs to consider complaints about this year's Asian 'cluster' and the requirement need to schedule at least two free weekends during August to cater for F1's traditional summer break. Well-placed sources in Hockenheim suggested that the order would be similar to this year, obviously adjusted to take in the Indian round - which, like Korea this year, is likely to take place as late as possible to grant the maximum construction and preparation time ahead of the event.
Further considerations are Ecclestone's desire to schedule the Australian round so as to take advantage of Europe's switch to Winter Time at end-March to enable fans to remain snug for another hour - despite the strategy failing to attract substantially larger audiences in F1's core markets - and Singapore's grip on an end-September date for its night race.
All that said, with Ascension Day next year falling later than usual (2 June) and the date for Monaco's race (29 May 2011) being all but announced, one time-honoured idiosyncrasy - namely scheduling the opening day's track action for that Thursday - will not be adhered to. So much for tradition, although Friday will still be an off-day in the principality.
With these pointers plus insider information, well-informed sources indicated the following calendar for 2011:
Bahrain (13 March), two weeks to
Australia (27 March), one week to
Malaysia (3 April), two weeks to
China (17 April), one week to
Korea (24 April), three weeks to
Spain (15 May), two weeks to
Monaco (29 May), two weeks to
Canada (12 June), two weeks to
Turkey (26 June), two weeks to
Britain (10 July), two weeks to
Germany (24 July), one week to
Hungary (31 July), three weeks to
Belgium (21 August), one week to *
Europe (Valencia, 28 August), two weeks to *
Italy (11 September), two weeks to
Singapore (25 September), one week to
India (9 October), two weeks to
Japan (23 October), one week to
Brazil (30 October), two weeks to
Abu Dhabi (13 November)

* Could be reversed.
Further discussions are expected in Budapest this weekend.