I've forgotten many of the races I've attended since Austria 2002, but that afternoon at the A1-Ring has stuck in my mind because it left such an unsatisfactory taste in the mouth - which is what happened in Germany yesterday.
There are differences, of course. At the time Ferrari was dominant and Michael Schumacher was well ahead in the world championship, as opposed to catching up as Alonso is now. And that particular weekend Rubens Barrichello had genuinely outpaced Michael, whereas Felipe didn't do that last weekend.
Nevertheless looking at the column I wrote at the time it's amazing how much of what I thought then still applies, specifically with regard to how Ferrari's action was perceived by the outside world. And the real significance of course is that the race led to Article 39.1, the no team orders rule that was applied yesterday...
Cooper Straight: Reaction to Ferrari's big mistake (May 14, 2002)
Over the past few years Ferrari shuffles have rarely raised a ripple of interest from the FIA, and for the most part, from either the public or the media. It was fair game, and titles were there to be won. If anything clever strategy was often admired. Everyone understood the rules at Ferrari, and that the second driver was there to support Michael Schumacher.
Last Sunday was very, very different, for a variety of reasons, and Ferrari's mistake was to fail to appreciate that. The one-car philosophy has been ingrained for so long that the team management has apparently lost sight of the bigger picture.
A genuine winner?
Rubens was not ahead because of some mistake by Michael, or a foul-up in the pits. He was on the case all weekend, and outpaced his team mate by 0.8s in qualifying. It's true that Michael had some brake problems that forced him into the spare. Interestingly Michael said that the T-car was never as good as the race car, when in the past he's often won races after last minute switches, and subsequently praised the standard of preparation...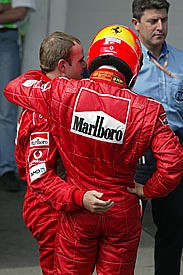 Michael Schumacher and Rubens Barrichello, Austria 2002 © LAT
The fact is for once he was outpaced, and on a track where, for some reason, he has a poor record. On race day, Rubens did not put a foot wrong. He made a perfect start, and despite the obvious pressure he made no mistakes either on the track or in his two pit stops.
Ross Brawn's main argument is that they were not racing. It's obvious that Michael was never going to make an attempt to pass, and it's also true that at some point both men were told to back off to preserve their equipment. That's hardly a new practice in F1, but usually it also involves the team mates concerned holding station.
The 'they weren't racing' story is all too easy for Ferrari to present to the world. It implies that Michael had something in hand, that had it been a Williams ahead, he would have gone faster, tried harder, made some sort of move. How can we challenge that?
But in this race, on this particular day, Rubens was quicker, and even Michael admitted that. Perhaps had Barrichello not been told to throttle back he might have been able to extend his lead...
The fear of losing
Brawn often says that the fear of losing is his biggest motivation at Ferrari, and one can understand the pressure to collect another championship. While the urge to win is perhaps not as desperate as that experienced during 1997-2000, when the shadow of Jody Scheckter and 1979 loomed large, expectations are now extremely high. A hat-trick and a fifth overall title for Michael would equal Fangio's records.
Todt and Brawn were both adamant that their only concern on Sunday was to bolster Michael's points advantage, because they don't want a repeat of the last round nightmares of 1997-99. However, the statistics do not support their argument. Just take a look at the following table:
Points Positions After First Five Races 1997-2001
1997
Schumacher 24 (+4)
Villeneuve 20
1998
Hakkinen 36
Coulthard 29
Schumacher 24 (-12)
1999
Schumacher 30 (+6)
Hakkinen 24
Irvine 21
2000
Schumacher 36 (+4)
Hakkinen 32
2001
Schumacher 36 (+8)
Coulthard 28
2002
Schumacher 44 (+21)
Montoya 23
Before Austria Michael had a much bigger advantage than he'd ever experienced in the past at that stage of the season. Not only that, but since the F2002 was introduced Ferrari has enjoyed a greater performance advantage than in the recent past. With 11 races to go after Austria, there were 11 more chances for Michael to win and stockpile points.
Brawn and Todt will argue that there are also 11 more chances for things to go wrong for Schumacher. Ross pointed out that in the three races between France and Germany in 2000 a 22 point lead disappeared when Michael suffered an engine failure and two first lap accidents.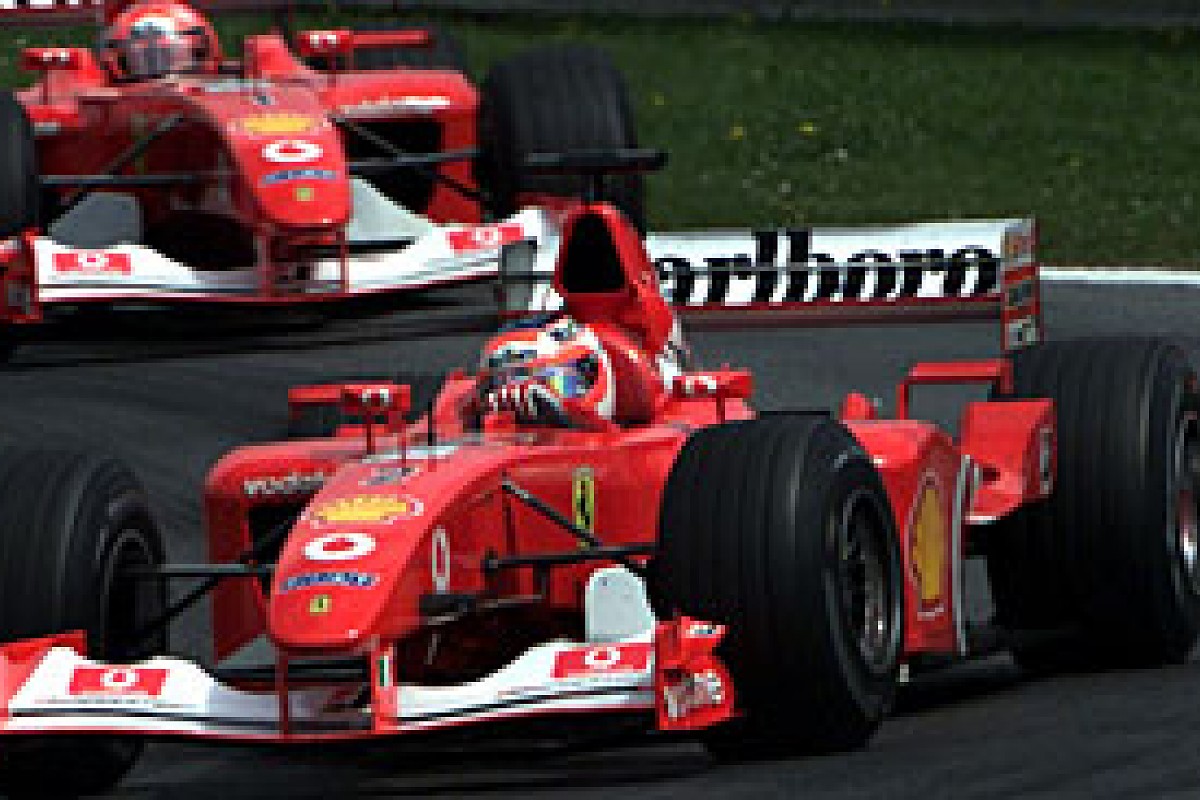 But that lead had been established over eight races, not five, and McLaren were a much more consistent threat than Williams has been this season. Additionally the F2002's speed means that should Michael hit trouble, Rubens will probably be in a position to finish ahead of the Williams duo and thus take points off them.
An unnecessary gift?
It might have seemed a logical move to those on the pitwall, but in truth it was totally unnecessary to gift Michael four points at this stage of the season, and that is what has created such resentment. One can only presume that the benefits of not swapping either completely escaped Todt's notice, or had been discounted as trivial.
The irony is that the PR value of Rubens winning by leading Michael home, and not by default, would have been immense. It would have shifted the focus to the success being Ferrari's rather than Michael's, and a different winner would have given everybody something to enjoy.
And it would have been of huge benefit to Rubens, and therefore Ferrari. Having got a second win out of the system, and discovered that he had genuinely earned the team's respect, his confidence would have been boosted even further. He would be even more of a threat to the Williams drivers, and would be even happier to log up test miles at Fiorano when Michael was at home with his dogs. Instead one can only imagine what state Barrichello's head is in right now.
It's also worth noting that on three occasions this year Ferrari has supplied Rubens with a car that broke, yet more reason for the team to let him keep the victory.
That unreliability is also significant because Brawn insists that Ferrari would have supported whichever driver had a point advantage from the start of the season. While Rubens might not have beaten Michael in a fair fight anywhere else this year, his meagre total of six points was hardly his fault.
What if it had been Michael who was been hit up the back in Melbourne, Michael who suffered an engine failure in Malaysia, Michael who had hydraulic problems in Brazil, and Michael who was stranded on the grid in Spain with a transmission glitch?
If fate had played out that way Rubens could have been leading the championship pre-Austria. Would he really have become the favoured title candidate? That didn't help Eddie Irvine when he led in early 1999.
It's ironic that Todt and Brawn refer back to Michael's broken leg, implying that it was necessary to supplement Schumacher's points total in case something untoward happens this season. A nice theory, but if Michael breaks a leg in Monaco, or drops his wallet on his foot, surely it would be more useful to have Rubens now starting his title challenge from 16 points rather than 12? Irvine lost by the slenderest of margins in '99, having been Michael's support act for the first half the season. Similarly, four points would have given Rubens a much better chance of securing second place.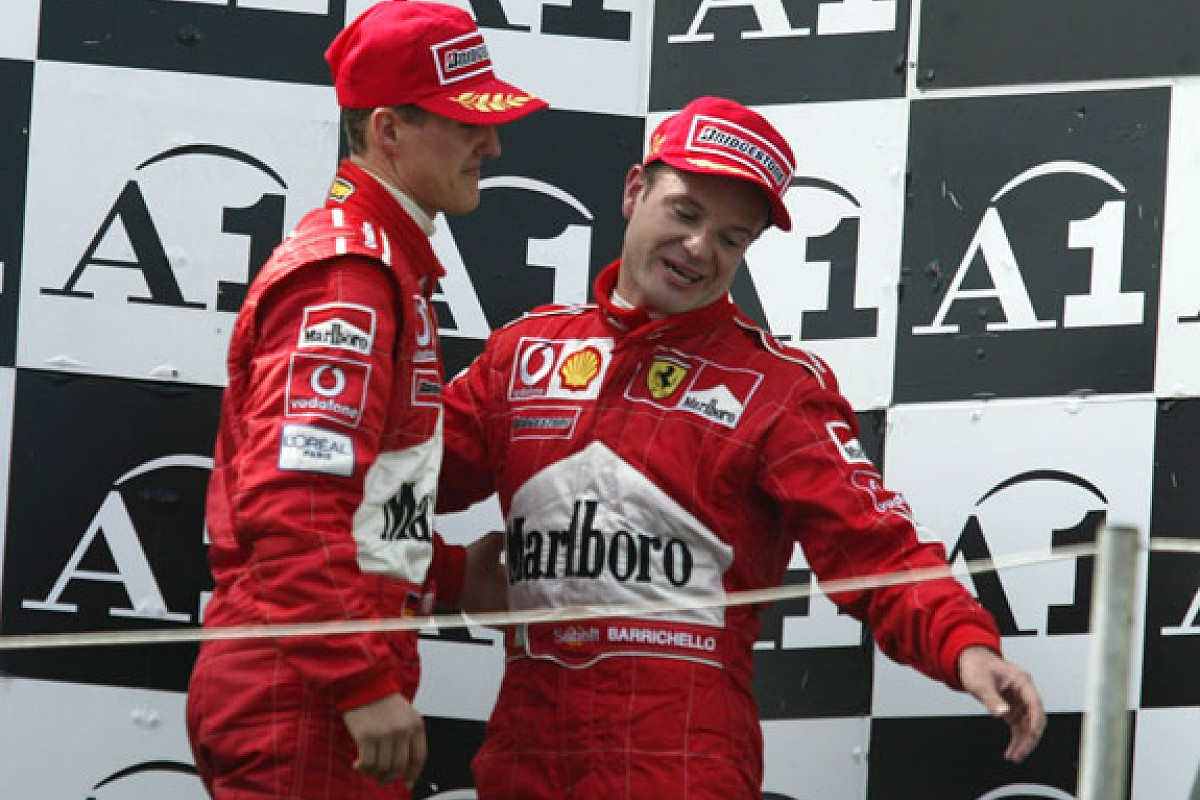 Why the last lap?
What has caused the biggest upset is that the swap of places happened on the last corner. By then we were all convinced that Ferrari had done the honourable thing. Rubens was going to be allowed to win, and TV and radio commentators all over the world were counting him home. The positive PR outlined above was already starting to generate - it was going to be one of those 'feel good' results, like Mika Hakkinen winning at Indy last year, or Montoya on that black weekend at Monza.
And then Ferrari shoved it all down the toilet. So why then?
The Ferraris ran together for the first 22 laps, and for the last 34 after Ralf Schumacher's pit stop. The exchange could have happened at any point. It did not have to be manufactured in the pits, and there was no need for any phantom technical problems. Even with 10 or 20 laps to go Michael could have swept past on the pit straight, and Rubens then sat behind him for the duration. This initial move would have pissed people off, but by the flag we would have more or less got used to the idea. Having led a chunk of the race, however artificially, Michael could have been considered to have 'won' this Grand Prix.
But not the way it happened. I asked both Todt and Brawn why they had not done it earlier, and there was no clear answer, just the implication that it made no difference.
Ross said that the message first went out on lap 63, just after the second pitstops. Presumably there was still some hope that Michael would get ahead during the stop sequence, but he simply wasn't close enough or quick enough to do what he has done so often in the past.
What we don't know is exactly what was decided. Did the team tell Rubens that he should wait and move over on the last corner, or did that little detail of the plan come from the man himself? Did Rubens readily agree to concede, but only on his terms? If so, it was a brilliant decision by the Brazilian, calculated to create as much impact as possible. Good for him, we say...
The question of whether Michael had to obey the order is a story in itself. Afterwards he made a big show of feeling a little embarrassed, but Todt and Brawn confirmed that no such undertaking was received while the race was still in progress. His thoughts just might have been influenced by the noise he heard when he switched off the engine in parc ferme.
His clever decision to put Rubens on the top step of the podium might have been spontaneous, but it had an interesting side effect, for it served to completely neutralise the negative crowd reaction. How could people boo and hiss if the spotlight was on Rubens? I know, because I was standing right there. It was interesting too that Todt chose not to join this particular ceremony. Instead he sent Barrichello's engineer - a man who has been at the team for all of six races.
A sorry affair
The days of Michael and Ferrari being the spirited underdogs are long gone. You can't blame them for their pace this year, and the likely ease with which they will win the title. They are doing their job, and it's not their fault that their domination will cause casual TV viewers to lose interest, especially in a summer when the World Cup will have everyone's full attention. We were spoiled by an unprecedented run of dramatic October showdowns, and we just happen to be in a period where one team is clearly ahead, and on merit.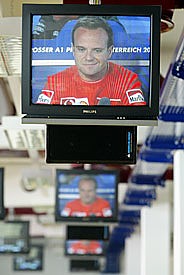 Rubens Barrichello, Austrian Grand Prix, 2002 © LAT
You could also argue that it is not Ferrari's sole responsibility to keep people happy by providing a media friendly result, or by softening Michael's points margin to the stage where a Williams driver might still give him a fright. But even Ferrari is not totally immune to the current concerns over costs. Sponsors are involved in the sport because they want to be part of a good show.
And lest we forget, this is Scuderia Ferrari, Enzo's team. Over the past 55 years its image has been built on emotion, and on the cult of personality. No other team can bask in such magnificent past glories when it hits yet another anniversary.
However, the calculated manner in which Ferrari acted on Sunday, to the total disregard of the fans it allegedly exists to serve, will have done immense damage. After Jerez 1997 it was Michael rather than the team who suffered. This time the story is very different.
Ferrari could have gained so much from a Rubens win, but instead they've lost much, much more. The furore is an unwanted distraction, and will have knocked a previously rock solid team off balance. Despite the united front presented on Sunday night, even by Luca di Montezemolo, I'm sure opinions are divided behind the scenes.
The FIA decision to call the team and drivers to account has added to the uncertainty. Max Mosley could easily have done something in the next few days, but instead he's scheduled an enquiry for the next World Motor Sport Council meeting on June 26. The team will have to be wait with some trepidation through the Monaco, Montreal and Nurburgring weekends before discovering its fate, creating even more tension in the camp. Perhaps the usual strategies will have to be put on hold. And that might just help Rubens. Or maybe even Williams...