By comparison with last year's edition, the 2010 British Grand Prix was a Sunday School picnic, with the acrimony and politics of the FIA/FOTA war well and truly forgotten. True, they were recalled with widespread shudders on Friday evening during the extremely pleasant BRDC-hosted media BBQ - first laid on a year ago when it was believed that event would be the last on the all-time classic circuit after a chancer persuaded Ecclestone Donington had the wherewithal to hijack the race - but, for the rest, the acid of June 2009 was best left forgotten.
There was a brief flurry of excitement after a Sunday newspaper disclosed a full month after this revelation - see below * - that all was possibly not totally kosher with the financial arrangements struck by Bernie Ecclestone when a commercial deal was struck between the F1 tsar and a Max Mosley-dominated FIA, for suddenly, come 2011, it appears the governing body faces a €7m (£6m) shortfall due to omission of a crucial clause in the 113-year commercial rights' contract.
Remarkably, though, Mosley was not present at Silverstone during the weekend despite being in London on Sunday to appear on the BBC's Andrew Marr Show, where, apart from a few throwaway lines aimed at the Silverstone he saw royally shafted during his reign, he argued for his privacy campaign.
Given that he chose not to put himself about in Monaco despite keeping a house in the principality, and could have, at the very least, put in an appearance on Saturday at Silverstone, one wonders why this high profile who thrived on publicity is suddenly invisible despite being a member of the FIA Senate, and thus hardly required to source tickets from scalpers.
Then there was 'Wing Gate' - a horrible term, yes - but, again, that was a sporting matter, so fully justified in its domination of paddock chatter. Thus, on the surface, the weekend was all about a major sporting contest, one which celebrated the anniversary of the F1 world championship's 60th anniversary. Precisely the way it should be.
It is, of course, when things are going badly that the mettle of team bosses is most exposed, and here it must be said that, if the events of Turkey raised questions about the calibre of Red Bull's management, then the Webber wing affair confirmed them. The problem at RBR is that the buck seemingly has a mind of its own - does it stop with team principal Christian Horner, with Red Bull's motorsport advisor Helmut Marko, or even Red Bull boss man Dietrich Mateschitz?
Successful F1 teams are epitomised by their clear-cut chains of command (were there ever doubt as to who called the shots during Williams's heyday, at a McLaren under Ron Dennis, or in the Ferrari steamroller headed by Jean Todt?), yet at Red Bull Racing the management structure seems as clear as mud.
Until the question of precisely who is in overall charge at RBR is categorically answered the team is likely to experience a continuation of the widespread criticism levelled at it by the media and fans alike - while the likes of McLaren and Ferrari reap unexpected benefits. One lost title (in 2009 RBR could conceivably have walked both championships, so superior was its overall package) is a tragedy; a second is unforgiveable. All grist to the mill, and highly entertaining, though...
However, F1 being F1, there existed off-track 'needles': during the build-up to the race Ecclestone told Italy's Gazzetta dello Sport there was 'no space for FOTA' in F1, while during the race weekend the Silverstone paddock was more spacious than usual after Allsport Management, which contractually controls the rights to marketing of grands prix, banned the teams' truck tractor units from the paddock on account of unpaid advertising space on their cabs benefitting teams (and their sponsors)...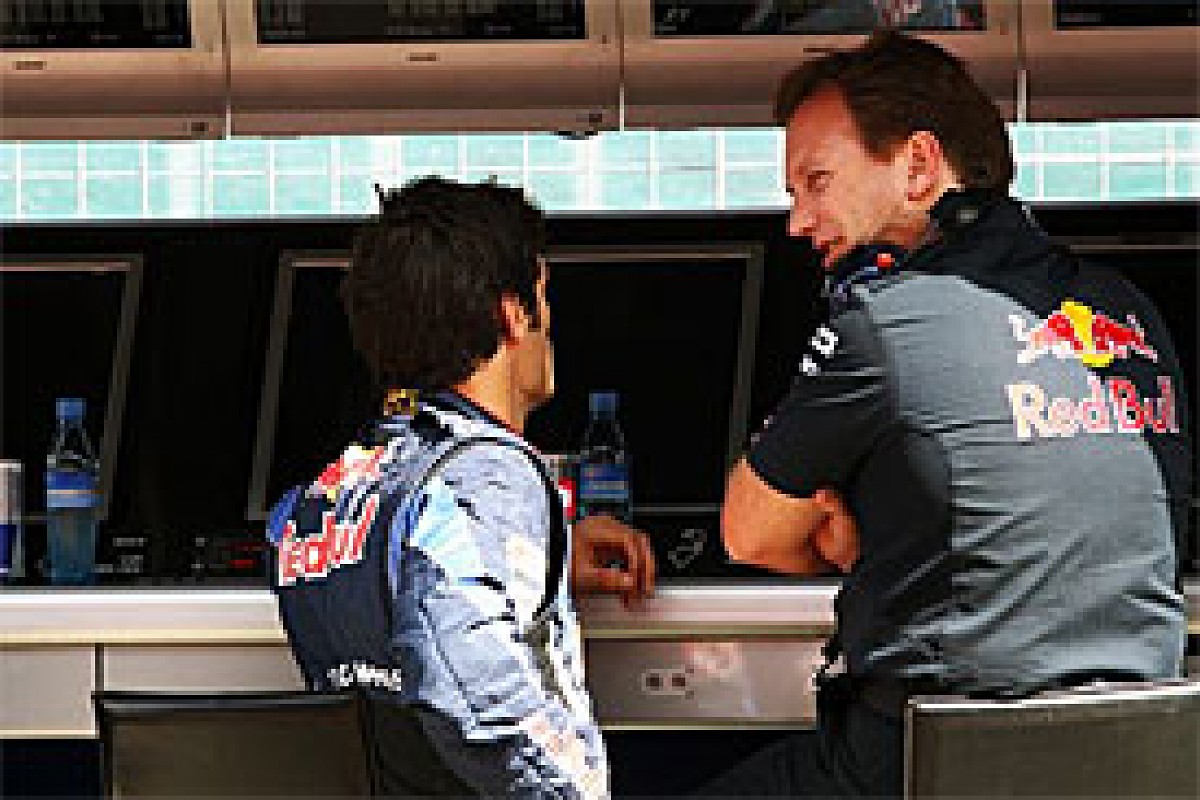 Mark Webber, Christian Horner © Sutton
Then, on Friday morning, Ecclestone was seen taking a solo stroll down the pitlane, examining the contents of each garage in detail. As the 79-year-old is hardly au fait with the intricacies of aerodynamics or tyre compounds, the purpose was more likely to gauge an idea of graphics on garage walls, for in Canada teams received advisories from Allsport that the rights' holder owned all spaces within the paddock.
Petty one could say about each of the points, for the space has little or no intrinsic value when taken in isolation, but plays a vital role in the marketing mix of each of the teams, with the smaller ones and newcomers potentially suffering the most should they be banned from advertising as they have little or no budget for activation programmes.
That, though, overlooks the bigger picture, for behind the scenes a battle is brewing anew, one which promises to be every bit as destructive as that which ended exactly a year ago this week. In fact, some sources suggest the acrimony could exceed even that which last year threatened to split Formula 1 in two unequal parts, prevented only by some last second deal-broking by Ecclestone.
That culminated in a new Concorde Agreement being signed, and Max Mosley's agreement to stand down as FIA president come the end of his fifth four-year term in October 2009, saving the sport from implosion.
At the root of the actions taken by Ecclestone and Allsport lies the fact that the Concorde Agreement, the tripartite document which details the obligations of the governing body, the CRH and the teams collective, and which has been analysed at length within these pages, expires at end-2012.
Given that the current agreement took three hostile years to (eventually) agree, it hardly requires rocket science to realise that negotiations for the next edition should have commenced even before the latest edition was signed. In real terms, the CA is a work in continuous progress, and should be treated as such.
But the real issue is that the teams are not only pushing for a greater slice of F1's revenues, but also effectively control the sport via the Concorde, which in turn dictates the make-up of the F1 Commission. For once, the teams' collective, going under the Formula One Teams' Association umbrella, dug their heels in and drove a hard bargain.
Where previously Mosley and Ecclestone imposed their combined wills on F1 through effective deployment of, alternately, 'Good Guy, Bad Guy' or 'Divide and Rule' tactics, in July 2009 the teams simply waved their breakaway series stick. In addition to acquiring considerable power, they managed to double their combined take of F1's revenues to 50%. Brazen after that experience, they are now pushing for 75% for the 2012-2016 five-year period.
Given that the sport grosses around €800m per annum, that would leave CVC and Co. an annual return of just €200m versus the €400m its principals currently trouser and the €600-odd million annual return the CRH took under the 1998-2007 Agreement.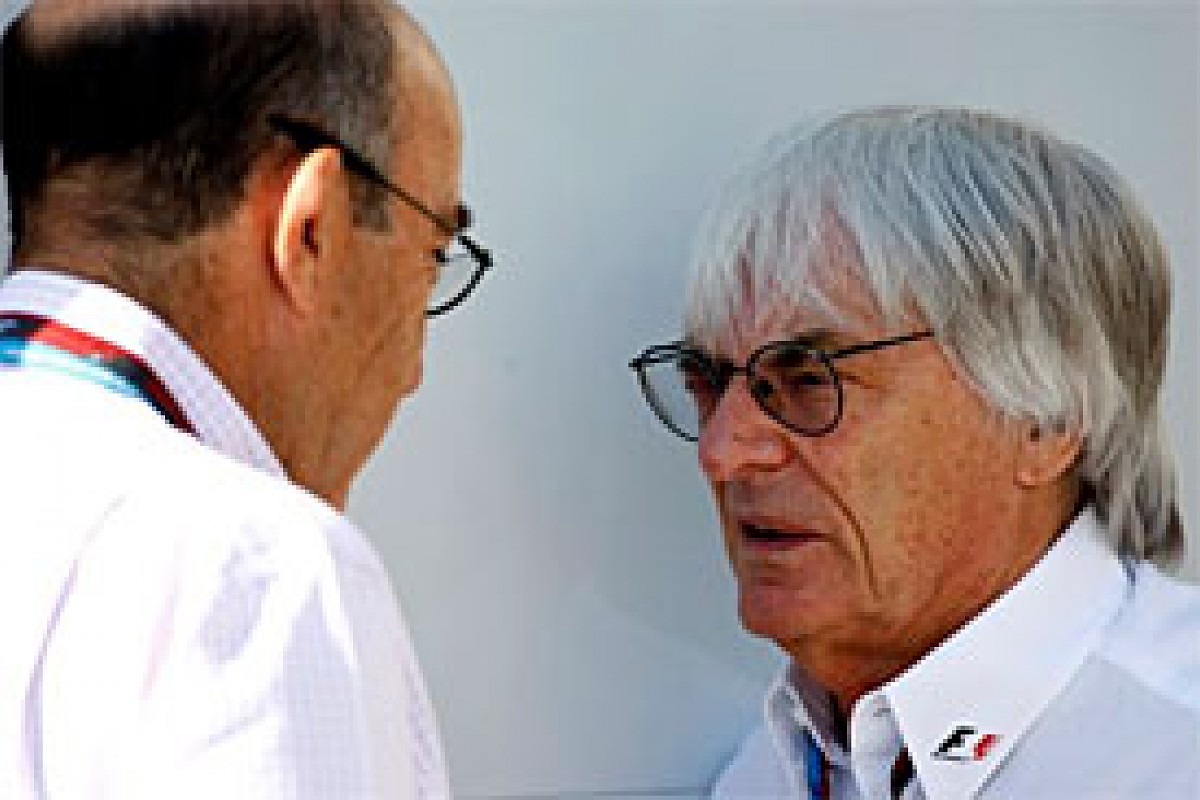 Bernie Ecclestone © LAT
During the five-year tenure of any future Concorde, that equates to a reduction of €1bn versus the current agreement, and a whopping €2bn against the original - approximately 30% more than the private equity firm paid for its 90-odd percent share of the sport's rights through to the 22nd Century!
Stories doing the rounds in Silverstone suggest CVC is looking at cashing in its shares ahead of settling the debt it acquired as part of the purchase procedure. However, contrary to paddock belief the equity fund did not borrow funding to acquire its share - private and institutional investor provided funds for that purpose - but took its projected profit up front in the form of a loan. Thus, had F1 collapsed last year, the Royal Bank of Scotland would (again) have been left holding worthless paper, while CVC escaped with profits intact, but a severely sullied reputation.
Thus CVC is eager to prevent a reoccurrence of that threat, and has less than 30 months to formulate contingency plans. What the fund needs above all else is an early, but clean signing of the 2012-2016 Concorde, one which guarantees the fund's managers the best possible return over five years. Only then can CVC consider exiting F1, settle its debt and add the proceeds to profits taken up front. All in, CVC would realise at least 300% profit (some estimates place it at 500%) over a ten year period, all while the sport has seen team after team go bankrupt (or find the bar too high to make the leap into F1) due to billions being siphoned out of the sport.
Thus a continuation of the mind games seen in Canada and Valencia can be expected as Ecclestone and Co. work at splitting FOTA. However, even his allies within the teams' association (he has more than a few) shook their heads in disbelief when questioned about their truck tractors, while one commented that it was actually a pleasure to have such a wide open paddock in Silverstone for a change...
Thus, after a half-season during which paddock talk has centred mainly on on-track action rather than politics, it seems polemics are back in F1. Good thing or bad?
On the one hand, it makes for welcome change to have conversations dominated by sporting matters and not less savoury issues; on the other, intrigue is vital to F1's sustainability, particularly as a long, drawn-out off-season awaits. With driver contracts effectively settled, no testing until February, a reduction in spectacular launches now that manufacturers have (mainly) departed, and no Mosley lobbing grenades about, F1 will find it needs controversy to remain in the public eye.
However, a balance is required: As A1GP discovered during its off-seasons, nothing kills a racing series off quicker than no news, and that is the last thing CVC can afford...
* For clarification: The commercial rights for the 1998-2010 period are vested in Formula One Administration, while the concession for 2011-2110 is held, as per statements in FOA's accounts as filed with Companies House, by SLEC Holdings Limited, 'a fellow subsidiary of (CVC Capital Partners wholly owned) Delta Topco Group'.
Sources indicate the FIA is facing increasing budgetary shortfalls - primarily due to F1's revenues accruing to the CRH, which in turn pays a fixed annual 'operating' fee (termed SLEC Contract) in terms of deals done during (FIA past president) Max Mosley's reign, while the FIA's costs are constantly increasing. Hence recent decisions to up driver super licence fees by around 350 per cent; and charges to teams for services such as weather forecasting, GPS/flagging systems and communication networks - previously provided free-of-charge.
Further research suggests that under the new-for-2011 100-year agreement the FIA stands to lose a portion of this annual stipend (paid to the FIA by the CRH, and presently around £6m, or £300,000 per grand prix) for reasons best known to Ecclestone and the governing body, and thus any earner accruing through tyre-licensing deals certainly benefits both parties. Over and above this amount the FIA receives calendar inscription fees of approximately £130,000 per event, plus, of course, entry fees and super licences plus other fees as detailed above.