It's hard to know quite who gave the PR industry its biggest nightmare last weekend - Red Bull Racing at Silverstone or Paul Gascoigne in Rothbury.
With the entire Northumbria police force, half the Sweeney and even, allegedly, the SAS closing in on gunman Raoul Moat, Gazza arrived in a taxi bearing a fishing rod, white dressing gown, loaf of bread, chicken pieces and some lager for 'Moaty'.
He apparently told the police, "I just want to give him some therapy and say, 'come on Moaty, it's Gazza.' I guarantee he won't shoot me."
I think my favourite line of last weekend - and there were some good ones - has to be that from Gazza's PR, who was apparently enjoying an evening meal and glass of wine in Spain when phoned by a press man for a comment.
"He said, what?..." was all the hapless soul could manage.
Jenson Button came close though. When the story of the Red Bull wing ructions broke, some of the Fleet St lads were like a dog with a bone. The game was to hare off and have someone slag off Red Bull so they could run a story under a "Button slams big rivals" headline, or some such.
Jenson, though, wasn't playing. Asked what his reaction would be if the same thing happened to him at McLaren as had just happened to Mark Webber at Red Bull, Button thought for a moment and said: "It's a pretty tough situation but I'd rather be P2 than P14."
Judging by Webber's face in the post-qualifying press conference, he'd have been a dangerous man with a sawn-off shotgun at Silverstone last Saturday. His replies to questions about the session, in which he'd just qualified second to Sebastian Vettel, 0.14s down, were terse one-liners: "I'm sure the team is happy with the result," he said, leaving his own feelings unspoken.
For those of you who have been sleeping the past couple of days, Red Bull brought a new specification front wing to Silverstone, in keeping with the frantic pace of F1 development. They had just the two examples of it and, in Friday and Saturday practice, Webber and Vettel back-to-backed it against the standard wing on both RB6s. Definitive evaluation was not made easy by gusting winds on Friday, but from what I can gather, the new wing was thought to be worth about seven hundredths.
During the final practice session on Saturday morning, however, Vettel's slipped forward on its mounting and was damaged. So now the team had just one new wing left - the one on Webber's car. Christian Horner took the decision to transfer it onto Vettel's chassis for qualifying and race.
Under the current parc ferme rules, you cannot change the car between qualifying and race, so there was no opportunity to put the wing on both cars for Sunday - even if the Milton Keynes factory, just down the road, could have lashed up another overnight.
Vettel probably didn't help the situation when he said that, fortunately, he'd been able to continue with the same wing in qualifying (without mentioning that it was Webber's) and that it had been key. Then added that looking from the outside it was unlikely anyone would notice the difference between the two wings but "it seems we have a leak."
The leak was probably sitting right next to him, and Webber hides his feelings about as well as a teased pit bull. Down in the paddock at Red Bull's 'energy station,' team principal Christian Horner found himself besieged.
There was a moment of light relief when, mid-interrogation, there was an almighty crash as one of the Red Bull hostesses dropped a stack of plates and one of the press men quipped, "Ah, seems like Mark's back."
The events were manna for all those who believe Vettel gets preferential treatment at Red Bull, and Horner was a little on the back foot as he had to explain that it was a unique situation for the team to have only one component available and that he had to make a very difficult decision based on who was leading the championship and the results of Saturday morning free practice. For the record, Vettel had been three hundredths quicker than Webber in that session, the kind of margin that has see-sawed between them all season.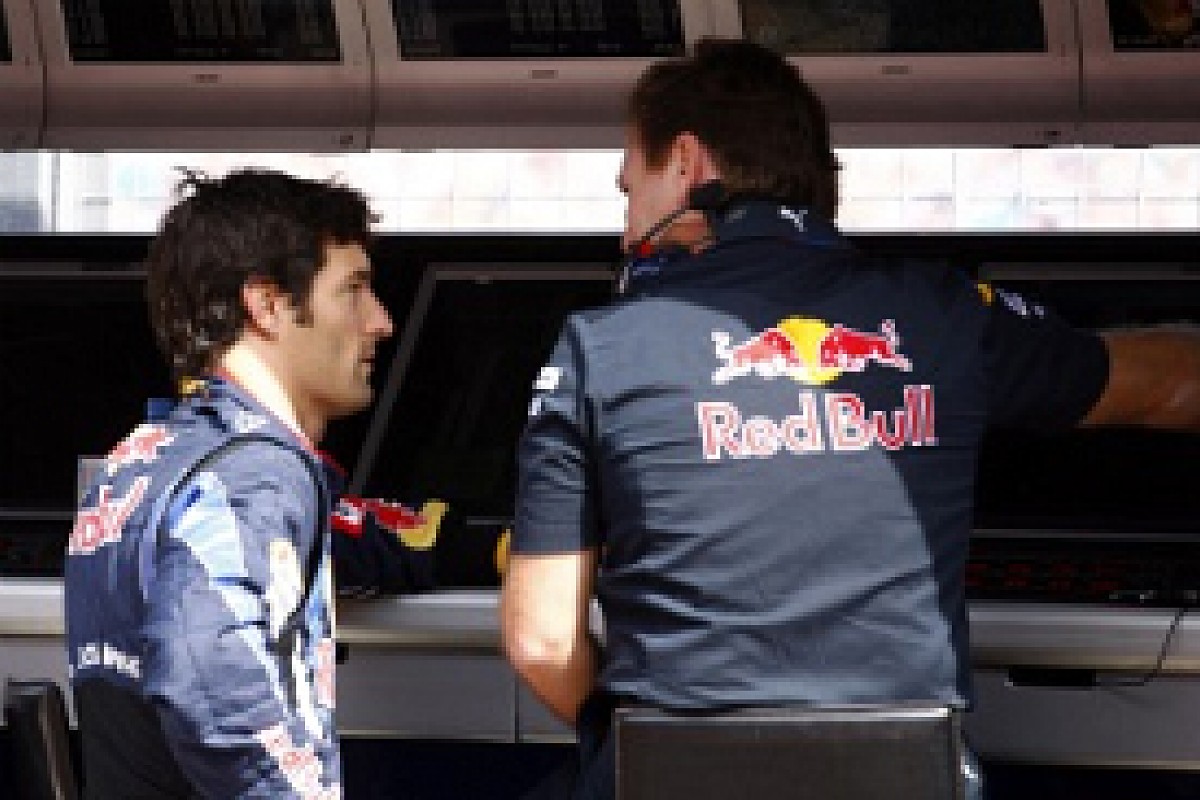 Mark Webber and Christian Horner © LAT
I think it was Inspector Morse who said a guilty man shouldn't have two alibis. So which was it, the man who was quickest in FP3 or the man who was leading the championship? Because, given previous form this season, it was very likely they would be different people.
If I was a driver I think I'd probably like to know that my FP3 time bore some significance. Webber though, only found out from his engineer in the qualifying preparation meeting that Adrian Newey had said his wing was going on Vettel's car. He was not furnished with an explanation.
Post-race, I had a few emails from friends and fans who'd loved Silverstone.
"Hope you enjoyed the race as much as I did," read one. "Mark Webber is an absolute star and the David Brent award for management decision of the week goes to Christian Horner!"
Another said: "Christian Horner's decision to give Seb the better front wing because of his position in the championship is entirely understandable and logically the right thing to do. It's good that Red Bull have now communicated a clear process for making these hard decisions to the fans.
"Only one question remains in my mind and it goes back to the Turkish Grand Prix. On that weekend, Seb was given new parts for the rear floor at the beginning of the weekend and was able to set up his car with these improved parts throughout practice. Mark's car had the new parts bolted on minutes before Q1. He was not given the opportunity to set the car up with these parts and he certainly seemed to think they made a difference to the performance. How was the decision made before Turkey to bolt the one available set of new parts onto Seb's car when Mark was leading the championship at the time?
"It's an honest question and there is probably some operational reason that clears it all up, but it does need to be pointed out that the team seems to have changed its process for deciding who gets the new parts. If Seb's leading the championship he gets them, if Mark's leading....Seb still gets them. This reader would really like to hear the answer because it did not make sense to me at the time and makes even less sense now."
Sorry, can't answer that one. Over to the Red Bull PR department...
Back at the McLaren Saturday debrief - fascinating in its own right given their weekend - Martin Whitmarsh was in no way stirring, but was asked his thoughts on operational procedure with development parts when in possession of evenly-matched drivers. He gave a good, insightful response.
"I think," he said, "that if you are in a very strong position then there is even more cause to be as fair as you can with the drivers. I'm not going to comment on Red Bull's circumstances, it would be unfair to cast a view on that. But we try hard to give drivers the same equipment at the same time and I think that's important. Both of our guys, we know, will do everything to race as hard as they can tomorrow and if we expect that from them, then they should expect from us to be treated as fairly and openly as we can.
"The issue this weekend, we were pushing hard to bring forward our new floor but, frankly, I had already decided that if there was only one, we wouldn't use it at Silverstone. I think the cohesiveness of the team is such that you don't need to set up those sorts of tensions and I think you can't really do that. If you are in a really strong position I think you have got to make sure that you hold it all together."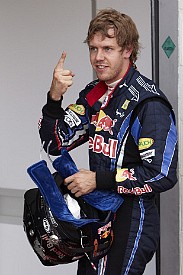 Sebastian Vettel © LAT
It was certainly an interesting view. But equally, I think you've got more chance of going to the moon in a balloon than persuading a man as competitive as Adrian Newey not to put an improved aero part on a racing car. Especially in an environment where there is no in-season on-track testing.
I've got a fair degree of sympathy for Horner in all of this. He never intended to place himself in a situation where he became the villain or, to coin Morse again, a guilty man with one too many alibis.
You can only speak as you find and I have never encountered a Christian Horner that was other than accommodating, obliging and entirely rational. You have to bear in mind, too, that Horner is not the team principal of Red Bull in the same way that, say, Frank Williams is team principal of Williams.
Frank owns Williams but Red Bull is owned by billionaire Dietrich Mateschitz, who has fellow Austrian Helmut Marko as his motorsport advisor and his eyes and ears in the paddock. Horner, as an employee, has to stand up and take responsibility for the decisions that are made. Maybe he did take Saturday's decision alone, but around that axis you can never truly be sure. For a man who has a shared interest in a GP3 team with Mark Webber, it can't have been a comfortable position.
Webber could have clammed up, smiled sweetly through the Saturday press conference and, probably, nobody would have been any the wiser. But thank God he didn't.
You detected some irritation in Horner's post-race comments about Webber knowing the efforts the team had gone to in accommodating the weight differences between the pair, and in giving him a front-running car that is allowing him to win races and challenge for the championship.
Webber had asked for his mechanic to be on the podium with him, but the man who accompanied him was Peter Prodromou, the aero specialist poached from McLaren alongside Newey. In other words, the man who doubtless had much to do with the rapid arrival of the part that Webber didn't get. Behind that, I'd guess, may have been a message of gratitude to the men and women putting in the long hours at Milton Keynes, to emphasise how much of a team game this is.
Silverstone was the second time in four races that Red Bull has been bitten by its scrapping drivers. In Turkey they scored 28 points fewer than they should have done and at Silverstone - a track where their strengths were expected to be at their most pronounced and proved to be - they outscored McLaren, who had Button starting 14th, by just the one point. Truth is, they should be leading the constructors' championship instead of trailing McLaren by almost 30 points.
With Lewis Hamilton performing as brilliantly as he is, driving the wheels off the McLaren everywhere, Red Bull could have a really tough task if it is to win either of the championship wars over the next nine battles. You could question Vettel's judgement in keeping his boot in around the outside of Copse instead of dropping in behind Webber, who was clearly inside, but that would be harsh. He's a racing driver.
So, what to do? Well, we're past the halfway stage and approaching the championship run-in so, applying the same principles as the wing decision, let's put the effort behind the man who's ahead in the championship. Let's have a look, who's that? Doh, silly me.