With Jenson Button and Lewis Hamilton hauling the hopes of the British crowd around on their shoulders at Silverstone this weekend, there's a strong argument for sharing the load with a third man. Living a stone's throw - albeit a mighty 10-mile one - from Silverstone, Karun Chandhok can legitimately claim to be the real home hero at the British Grand Prix. While hardly a victory contender - a finish in the top dozen would be as good as a sensational win for the Chennai-born 26-year-old - he's sure to have his own band of supporters this weekend.
Beyond mere geographical proximity, he is also a Silverstone luminary. It's very common for drivers climbing their way through the junior categories in Britain to work as instructors at race schools, and in his British Formula 3 days Karun worked regularly at Silverstone. Even now he's a bona fide Formula 1 driver, it's difficult to keep him away from the track - he turned up for the FIA World GT1 Championship-supporting British F3 races a few months ago and again at the recent MotoGP meeting.
Since guaranteeing himself cult status with his unorthodox first step in grand prix racing, being pitched straight into qualifying for the Bahrain Grand Prix with no testing or, for that matter, mileage in free practice, he has made a real name for himself locally.
"It is very much a home race atmosphere for me," says Chandhok, talking in the compact, but effective, motorhome of the HRT team.

"It's surprising how many people in Brackley know who I am. It's really bizarre, there's a lady who works at my bank that came up to me and said 'I didn't realise that you're that Formula 1 bloke - I've been seeing you in here for years'. It's only now that they realise what I do!"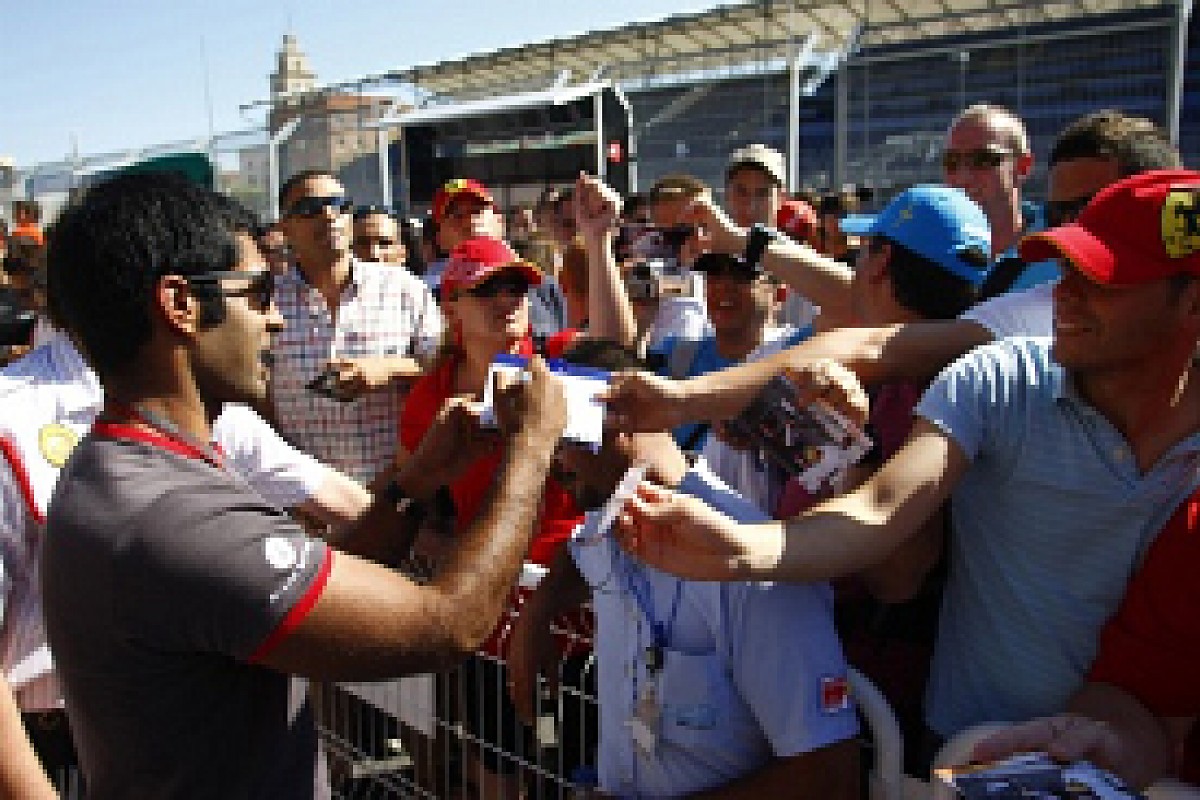 Chandhok: Famous in Brackley © LAT
Make no mistake, this is categorically not the atypical "Formula 1 bloke" revelling in his own celebrity status. Alongside the affable, down-to-earth nature that he has demonstrated throughout his career, what strikes you about Chandhok is his boundless enthusiasm for motorsport. Were he working in a Brackley bank for a living instead of driving racing cars, there's no doubt that he'd still be at Silverstone on race day, watching from the spectator banking with the rest of the fans.
For those who follow him on Twitter (@karunchandhok), there was even a Friday morning reference to watching a classic British GP on the BBC's red button coverage.
Bizarrely, this passion for the sport as a whole - a recognition that there is more to motor racing than just what goes on today in the F1 paddock - is relatively uncommon among F1 drivers. That's one of the things that sets Chandhok apart.
"I am an old-school fan," he admits. "I remember watching the 1987 British Grand Prix - that's the first race that I watched here when Nelson Piquet and Nigel Mansell were racing. I grew up in India where we didn't get live races on TV until 1993 - but all I ever wanted to be was a racing driver.
"I was obsessed with the sport. I can tell you what happened in a grand prix in, say, Jerez in 1987 or whatever it may be, because I am as big a fan as all of those people who come up to get my autograph. It's just what I do. People often laugh at me and tell me that they can't believe that on my weekend off I go to a British F3 race at a freezing Snetterton when I should be in Monaco!
"But what do people do on their weekends off - they hang around with their mates. All of mine happen to be in motorsport. I go to test days with T-Sport or Raikkonen Robertson Racing [both leading British F3 teams] because they are good friends of mine and that's what I love doing.
"Most people seem to appreciate that enthusiasm because it is different. I'm quite surprised by how little some other drivers are enthusiastic about the sport.
"In F1, I am still a fan - just last week I read Nigel Roebuck's Chasing the Title for probably the third time because it's such a great book."
Take Chandhok's reaction to his appearance at the Goodwood Festival of Speed last week. He had the chance to drive a Williams-Cosworth FW08C - the type that took Keke Rosberg to the 1982 world championship. Compare his reaction to the event (which followed a quick watch of his 1982 F1 season review video a few weeks earlier) to that of one of his former British F3 rivals-turned F1 driver-turned NASCAR truck racer, who, speaking on the record to AUTOSPORT magazine a few years ago gave a clear impression that he didn't really want to drive at Goodwood, and was only doing it because his PR people told him to.
"I get a thrill out of events where you feel like part of history," says Chandhok. "If I got the programme for this weekend's race and looked at it, it wouldn't excite me - it excited me in Bahrain, but that's about it - but to go to Goodwood as a current F1 driver and have the opportunity to drive a world championship-winning car gets me really excited."
That's all well and good, but if enthusiasm alone made a good grand prix driver, there would be tens of thousands of potential world champions in the Silverstone crowd this weekend. But that enthusiasm translates itself into a strong work ethic. That has stood him in good stead during his racing career because, frankly, having seen Chandhok in his early days in British F3, the last place you would expect him to end up would be in an F1 car. There's no question that he has improved in spades since then.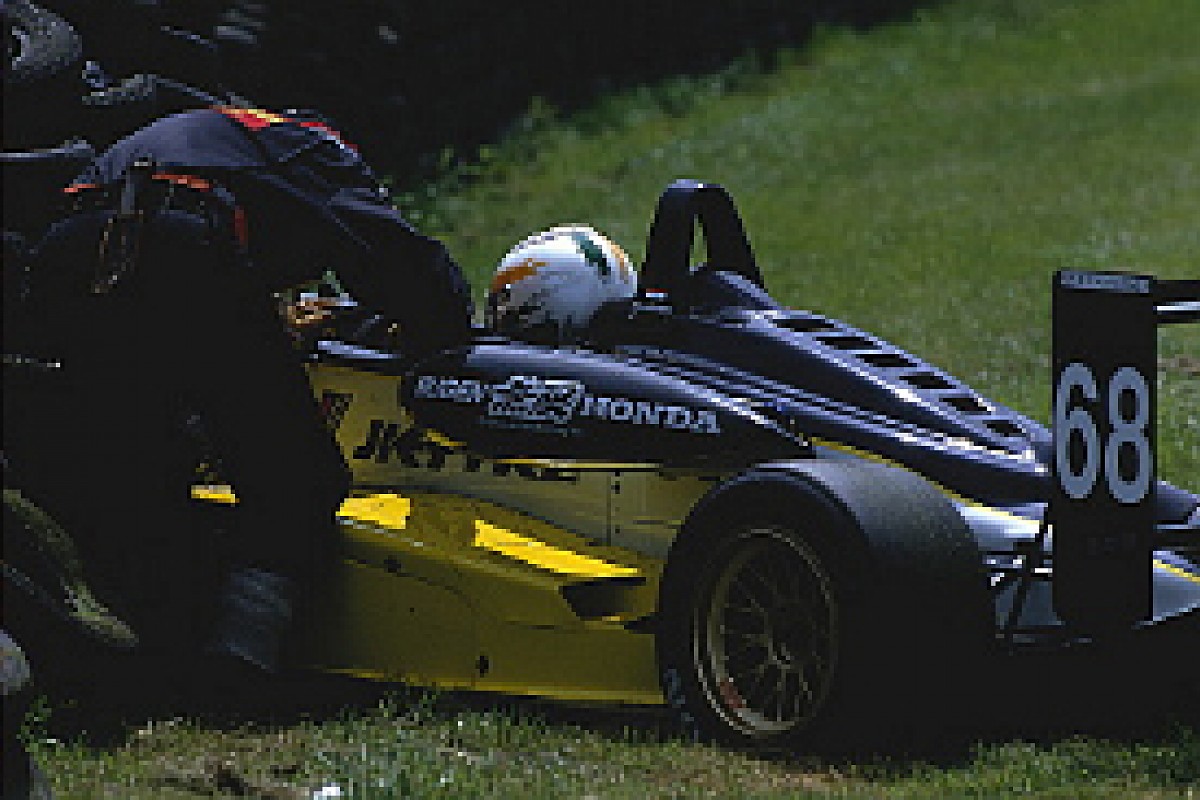 Chandhok wasn't an instant success when he arrived in F3 in 2002 © LAT
Having come to racing relatively late and enjoyed some success in India in 2000 and 2001, he jumped in at the deep end in European motorsport in British F3. That 2002 season was something of a rude awakening, but unlike so many young drivers who would blame the car, bad luck, the team and all manner of supernatural phenomena for disappointing results, he used it to fuel his desire to learn.
"Hindsight is always the best and the worst thing, and I made a few mistakes in my career," he says. "When I came over to the UK, I underestimated how tough the European racing situation is. I came from Asia where I dominated, winning eight out of 14 races in Formula Asia, and I walked into Europe expecting it to be easy. But I should have done Formula Renault for a few years to gain a grounding.
"I'd never even driven in the wet before and knew nothing about cold tyres. When I went to Oulton Park to drive, there was black ice and it was cold, wet and horrible. I shunted on the out-lap because I didn't have the art of feeling the grip on cold tyres - when I raced in Asia it was in places like Sepang in the summer and by the time you finish your first timed lap, your tyres are gone!"
Chandhok spent a total of four years in F3, two years in the second-tier National Class and two years in the main class, showing steady improvement each year. After winning the Formula Renault V6 Asia title in 2006 against meagre competition following the early abandonment of his Renault World Series campaign, he came back to Europe in GP2 in 2007.
In three seasons, with Durango, iSport and Ocean Racing, he started 61 races and won twice - both reverse-grid sprint races. He did show some good pace - more than just flashes, but not enough to be considered a GP2 top gun. There were other positives, for example the fact that despite his struggle to get the final few tenths out of the tyres in qualifying his race pace was generally better, but no-one was tipping Chandhok for an F1 graduation on anything other than a sound commercial basis for 2010. But that appetite for work has helped him to show that he's far from out of his depth at this level.
"I'm a complete workaholic to the point that my friends think I'm boring," says Chandhok. "When I was at T-Sport, the engineers used to give me a laptop with all the data and I'd spend the evenings looking at it. We also had data from Carlin Motorsport, from Takuma Sato and Anthony Davidson, and I was constantly comparing it with theirs'.
"In GP2, I went to iSport every week and they were surprised by that because they never had a driver that did that before. It was the same with Ocean; I used to fly to Portugal every Wednesday morning and come back the next day. It's the same with HRT. My engineer lives nearby and I'm at his house every week.
"I'm constantly emailing my performance engineer about what we should be doing. We're very limited in what we can do with what we've got, but although you're not winning races it's satisfying to work hard and achieve something. I'm passionate about the technical side of the sport. If you understand it properly, it can help you."
But having landed a poisoned chalice of an opportunity with HRT, there's no doubt that he has made the best of it. That aptitude for learning has allowed him to make a name for himself in F1. No-one is hailing him as a future world champion, and frankly, with the machinery he's got it would be impossible to make such a judgement even if it was a young Lewis Hamilton in the car, but he is now a credible grand prix driver who is taken seriously when he knocks on the doors of midfield F1 teams. Six months ago, would that have been the case?
"I won't disagree with you," he says. "It's not something that I like to say, but there are enough people who have said to me that I am today a credible, respectable grand prix driver who probably deserves another crack this year. There's enough team principals and people who have been in the paddock a long time that they don't need to say that, but they are, so that's quite nice to hear."
That transformation in his reputation is down to making the best of his situation. When you're at the back of the grid, in a back of the grid car, there's not a great deal you can do beyond grin and bear it. Performance-wise, he has shown well against Bruno Senna - outqualifying him three times so far this season - and since putting his HRT in the wall at Bahrain early on in his debut, and a few fraught moments while being lapped, his race performances have been cool and composed. His results have been decent as well, and he has been able to get in among the Virgins on occasions. That's not the kind of stellar form to earn him next big thing status, but it represents good, solid progress and proves that he can cut it at this level.
"My motivation is to be in F1 for the long term and to have the opportunity to race in F1 for more than one year, or three years or five years," says Chandhok. "To create that opportunity, I have to do a good job today. If that means being competitive against my team-mate, or against Virgin Racing, then that's what I have to do.
"Realistically, we aren't competing with Lotus because they are a couple of seconds up the road. So I get motivated by the people I'm racing against. It's the same for them - although for Timo Glock it must be tough for him coming from a team that allowed him to be on the podium last year and lead the Bahrain Grand Prix. But for me, it's a step up."
With an Indian Grand Prix on the 2011 calendar and a growing CV of decent performances, it seems impossible that Chandhok won't be on the grid next year. He has made some noises about the appeal of a move to Force India, which would certainly boost the Indian credentials of the team and would surely have a commercial benefit, but hasn't ruled out staying with HRT if its growth plans come off.
"Let's see," says Chandhok of what 2011 holds. "We'll see what [team owner] Jose Ramon Carabante has planned. There has been talk about various possibilities to improve the team which, if they can be done, will be interesting. But we have to explore all the possibilities.
"Ultimately, I need to be in a position where we can be in the midfield and on for some points. Not everyone can go straight into a top team like Lewis did and realistically I'm not going to be in a top four team next year."
It's still early days in Chandhok's F1 career. In the circumstances, the first nine races as a grand prix driver have been solid and proved him not to be out of place in F1. Having done the hard work of getting his foot in the door, he deserves the chance to prove himself in a car that isn't welded to the back of the grid.
Every time he has stepped up a level to date, he has outperformed expectations. There's no reason why that pattern should not continue in a mid-grid car next year.