HAMILTON'S TYRE HOPES
Only three drivers in the top 10 qualified on the prime tyre - the two Red Bulls and Robert Kubica. That means that Lewis Hamilton is planning either to blast away at such a rate at the start that he can pit without getting wedged behind any of the prime-shod cars outside the top 10, or fluke a timely safety car later in the race. In what should be a two-stop race (or even three for some), there's no question that a prime-prime-options strategy is the quickest, but with safety cars nigh on unavoidable on race day things might not go to plan for everyone, or indeed anyone... But Hamilton definitely needs a few favourable cards to be dealt his way to convert pole into victory.
RED BULL RIVALRY
Mark Webber has outqualified team-mate Sebastian Vettel for the fourth race in a row. Coming off the back of their mutual annihilation act in the Turkish Grand Prix two weeks ago, it's proof that the Australian isn't going to let his stunning run of form be derailed by the fallout from that incident. The pair have been given a very clear instruction - don't let it happen again - and both are sure to be particularly circumspect if they get near each other on track. So there's no chance of a repeat performance... is there? With both determined to make a point, it could be a fascinating battle that sets the tone for the rest of the season.
ALONSO IN CONTENTION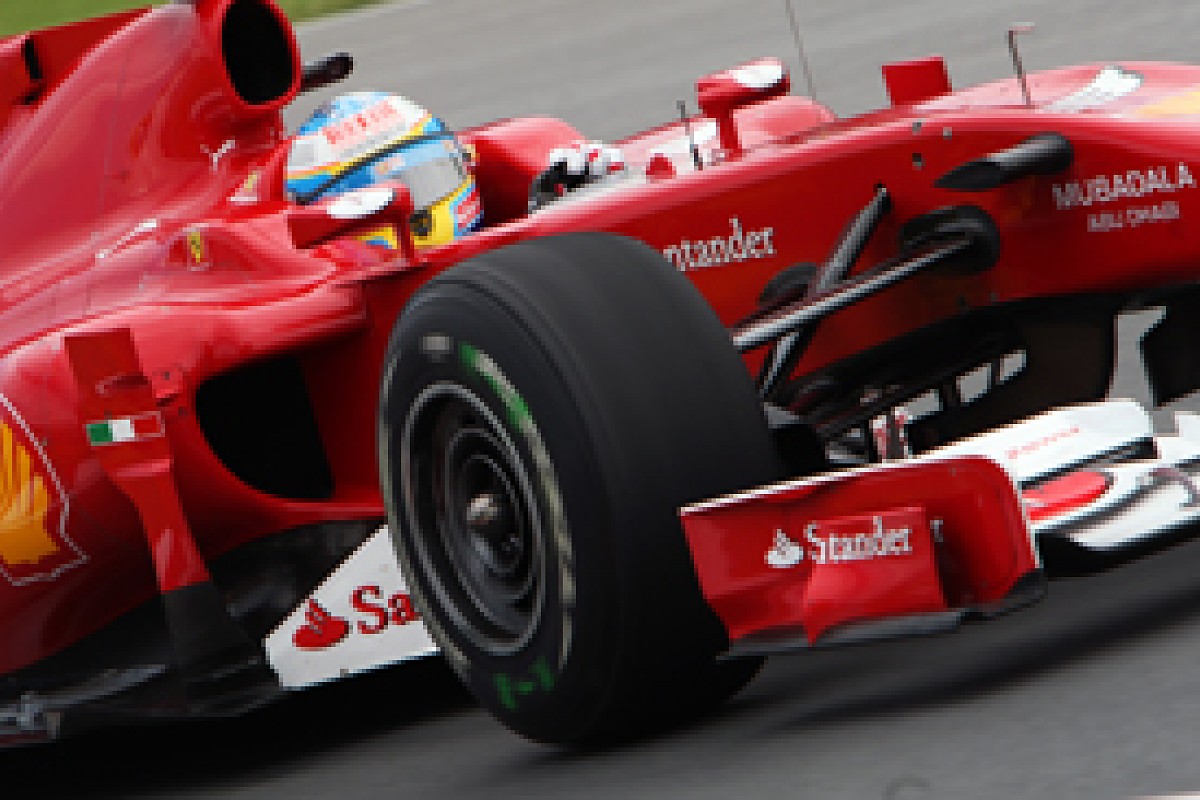 Fernando Alonso has been quick in Canada so far © LAT
The good news for Ferrari is that its F10 is very kind to its tyres. The bad news is that it's not a stunningly quick car. But being easy on its tyres might just allow Fernando Alonso to get a little more range out of his option tyres. The flipside of the coin is that it's difficult to get the primes up to temperature. Fourth in qualifying was a pretty special effort, but if the cards fall his way there's every chance that he can get onto the podium on race day. A first win since Bahrain isn't out of the question either, but it will need a bit of good fortune and some of the old Alonso magic to repeat his 2006 triumph.
GOING THE BRAKING DISTANCE
Canada is a notorious brake killer, and there will be drivers who have to take it easy late in the race to preserve their stopping power. We have seen the odd Red Bull brake problem this year, and there are some question marks over whether they will last. The harder Vettel and Webber have to push, the bigger the risk of a braking problem, so if it's a close fight between them and the McLarens, as we saw in Turkey, don't be totally surprised to see brakes coming into the equation.
NEW LIFE FOR LIUZZI
Even some of Tonio Liuzzi's staunchest supporters were beginning to wonder whether the prodigious speed he showed in karting - and Formula 3000 - was going to be converted into success in F1. Qualifying sixth doesn't answer all the questions surrounding the Italian's ultimate potential as an F1 driver, but it adds weight to his belief that car problems have hindered him this season. Canada suits the Force India VJM03 very well, and both he and team-mate Adrian Sutil have designs on doing even better in the race. If you're searching for dark horses, look to these two.