Timo Glock has got very used to battling for 19th or 20th place in 2010, but if he is going to steal a point for Virgin Racing this year history suggests that it will be at the Circuit Gilles Villeneuve. Why? Because every time the 28-year-old has raced in Canada, things have, without fail, gone very well for him. Even with an uncompetitive, unreliable car that has allowed him to be classified only twice so far in 2010, don't get against another dash of Montreal magic for Timo Glock.
Timo Glock in the 2004 Canadian Grand Prix © LAT
Glock's love affair with the Ille Notre Dame has its roots back in 2004. He had started the season as Jordan's third driver and acquitted himself well during his practice run-outs on Fridays, but with regular pilot Giorgio Pantano hitting financial trouble, the German was promoted into a race seat in Canada. He qualified 16th, just one grid slot behind team-mate Nick Heidfeld, and became one of an elite group of drivers to score points on their world championship debut when he was promoted to seventh after Williams and Toyota had both of their cars kicked out post-race.
The following year, having been spat out by F1, Glock came close to winning the Champ Car World Series event on the track driving for the so-so Rocketsports team, coming home second. Then, when he found his way back into F1 with Toyota in 2008, it was in Montreal that he bagged his first points for the Japanese manufacturer with fourth place. So you can see why, even with the odds heavily loaded against him and his virgin Virgin outfit, you should not dare rule out an unlikely points finish. Especially when you consider this track's history for incidents and accidents that could easily put backmarkers into points positions in the closing stages of the race.
"Every time I had a race in Canada, something special happened in the race," says Glock with a smile. "I scored two points in my very first F1 race, then in Champ Car I finished second and I scored my first points for Toyota so it has some very good memories for me. Hopefully it will be a crazy weekend and maybe we could do something!"
Glock's journey from unexpected F1 debutant, to F1 reject, to F1 manufacturer driver to F1 new team driver has certainly been an eventful one. Those four races for Jordan in 2004 looked like they might constitute the sum total of his grand prix career when he wandered off the beaten track to race in Champ Cars. But he returned to Europe in GP2 in 2006 driving for BCN Competicion before re-making his name when he moved to ART later that year and went on to win the title the following year. An aptitude for making a one-step back strategy work by then taking two forward in the long-term will serve him well this year having dropped to the back of the grid with Virgin.
Despite having nothing more than 19th on the grid to shoot for, Glock has no problem motivating himself for what is proving to be a long, hard season.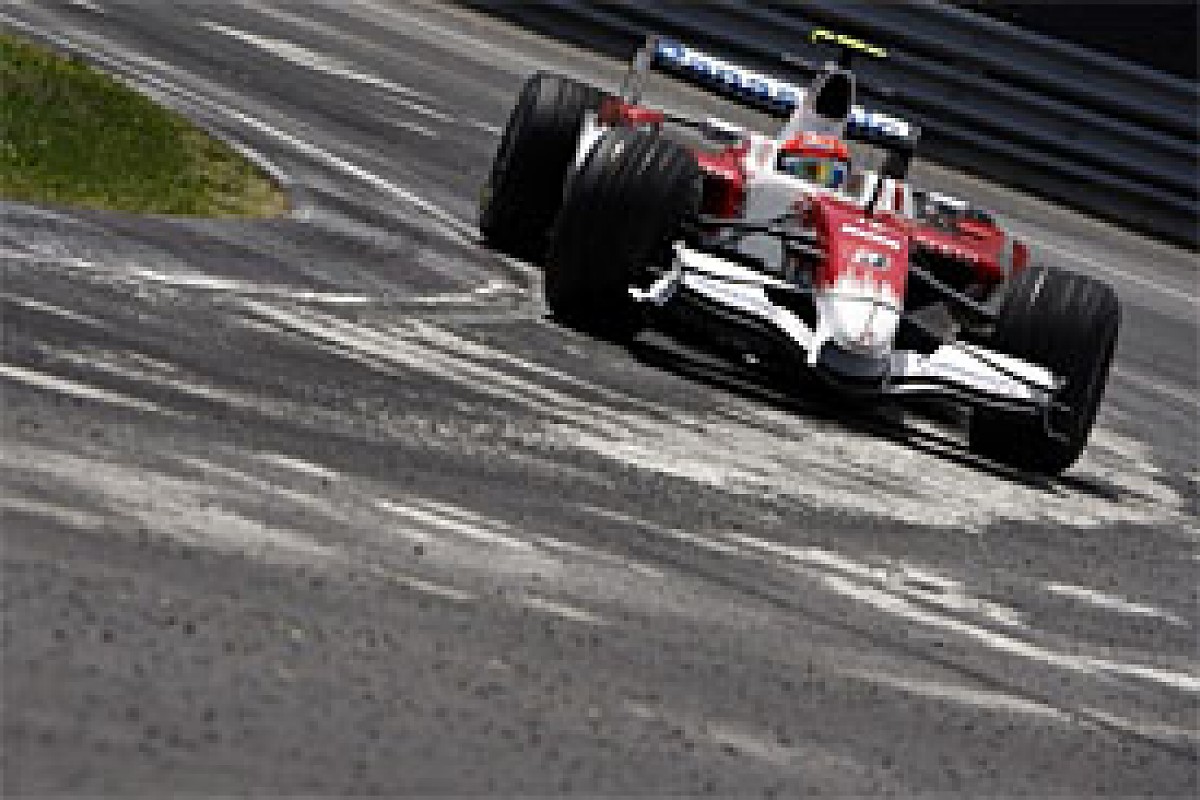 With Toyota in 2008 © LAT
"If I'm racing or qualifying I just switch off the 20 cars in front of me," says Glock. "There's always a fight to be had with Lotus and I've never fought as hard for P19, or whatever, than I did in Turkey! I fight as hard as possible for as long as possible. The new team fight is the only chance you have to 'win'. If you don't set yourself a target, you will start to lose performance so the fight with Lotus is a way to motivate yourself.
"It's hard to see the championship and to be right at the bottom and to finish only two races is not good, but that's part of the story of driving for a brand new team. The thing is to get on top of all of the problems and that is a good thing for me because it's all experience and I've learned a lot."
He's not doing his reputation any harm either. Inevitably, when you're at the back the paddock doesn't take so much notice of your performances, but Glock has outqualified team-mate Lucas di Grassi 7-0 and, when he's had relatively smooth weekends, he's been able to trouble the Lotuses. He's also had a couple of "pole positions" in the new teams class.
That's not quite as eye-catching of some of his showings for Toyota over the past couple of years, particularly on tracks like the Hungaroring and Singapore where he has excelled, but proof that he isn't treating his season at the back as a gap year. Not that it should surprise anyone, as throughout his F1 career Glock has shown an admirable work ethic and shown himself to be a very capable performer. Remember, he was on the radar of some serious teams - Renault, McLaren and Mercedes for example - for this year even if he wasn't quite first choice for any of them.
Glock made his choice to sign up with Virgin relatively early in the off-season. By putting pen to paper on the deal in November, he effectively ruled himself out of contention for several more competitive berths. It proved to be a good decision, as he certainly didn't have the financial backing to land himself the Renault seat that went to Vitaly Petrov and could have ended up having to do a Nick Heidfeld and take a third driver role. Instead, he's enjoying leading the development of the Virgin.
"I'm happy with the choice," says Glock, who knows he almost certainly wouldn't be racing in F1 this year had he turned down Virgin. "It's easy to say that I could have waited for Renault or whoever, but you don't know what will happen and I know that I made the right decision.
"Virgin is going in the right direction. The problem is that you can't see the improvements from the outside. You see that we are P20 and that's it, but we have improved a lot. All of the teams have improved so much from the first race, where we were 4.5 seconds off the top. In Turkey, that gap was 3.5 seconds. That's how much we are catching up. From the results and the standings, it doesn't look like we are, but look at the laptimes and we are improving.
"I would say that I can be a bit more aggressive in meetings than I was at Toyota, which is good. The team can react a lot quicker, but on the other side you don't have the capacity that Toyota had where we were very good at producing parts as quickly as possible. That's the downside of a smaller team, but for me it's good because I'm really involved in the team and making the car go in the right direction."
For all the progress the team has made, the Virgin has, at times, looked like a real handful. In its long wheelbase form after having to seek dispensation to modify the monocoque to increase fuel capacity, the VR-01 craves more grip. That's why, as the weekend goes on, the car tends to get a little easier to handle. He knew that it was going to be hard work from the moment he took the car on its first out lap at Jerez in February, when keeping the rear end in line with the front proved a challenge even while at installation speed!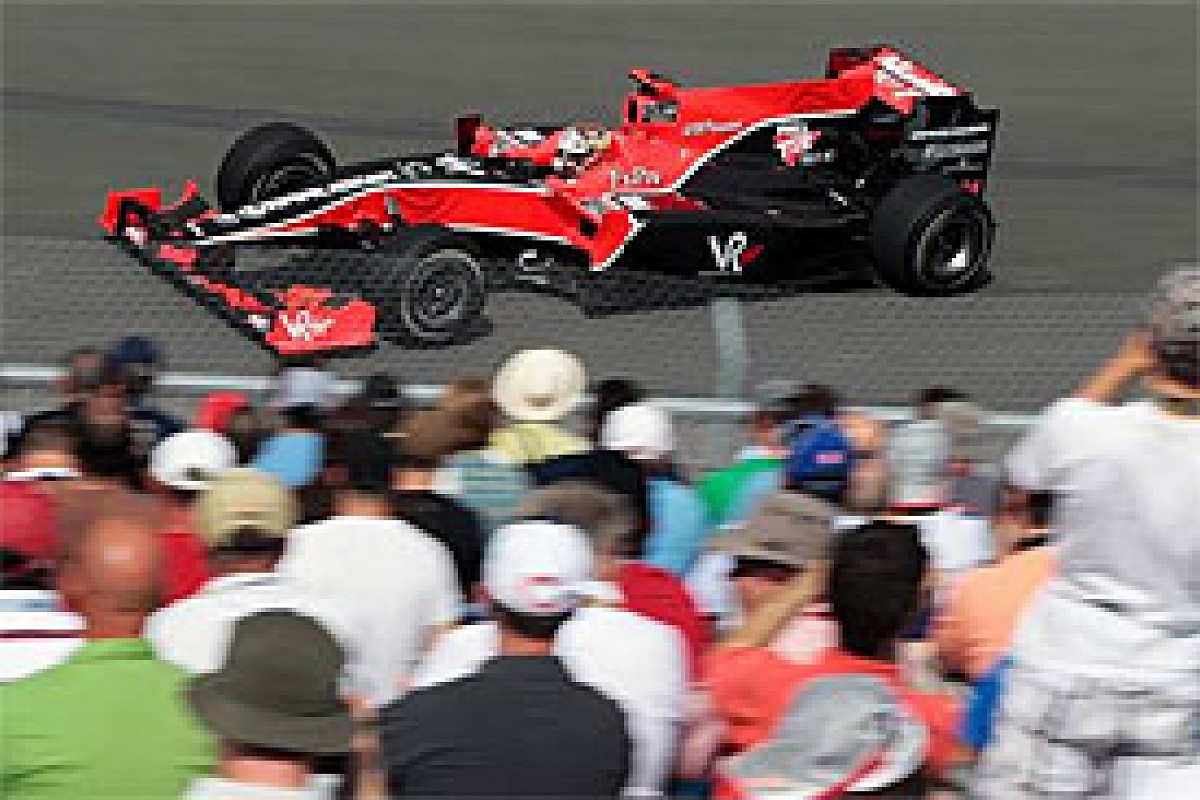 Glock in practice at Montreal © Sutton
"It is harder to drive that the Toyotas, especially in the medium-to-low speed corners where we struggle a lot with the downforce level. That's where were are really focused on improving. The car can be really difficult to drive, especially on a Friday. In Turkey, for example, the car was nowhere but on Saturday morning it was quicker and the car was well-balanced. That can be difficult to understand, but if the grip level improves, so does the car."
Even so, despite putting a brave face on having to adapt to life at a back-of-the-grid team after two years at megabucks Toyota, there is a part of him that is gutted not to have had the chance to race the stillborn TF110. Despite being the standard-bearer for manufacturer achievement in F1, Toyota was at least showing signs of emerging as a potential race-winner last season and there's no question that the car would at least have allowed Glock some podium shots.
"Toyota would have been quick this year," he says with a wistful expression. "I saw the 2010 car and it really looked good. Everyone laughed when I said that we wanted to fight for the title in 2010, but look at the way the team was coming up. We made a big step from 2008 to 2009 and were really fast at the end of last year, so we had the perfect baseline for this year's car.
"The car would have been consistently in the top five, but it didn't happen and the car never saw a race track. It's a shame, but Toyota made the decision and that's that. But it is tough. The car had a lot of stuff in it in terms of development where I can see my name, or my influence, on it and it would have been great to have driven the result of all that work."
Had Toyota stayed on, Glock would surely have been odds-on for a bag of points this weekend, even if the TF110 might not have been a Red Bull-beater. But even so, with his history at Montreal, you wouldn't rule out a top 10 finish for the German. And how about a podium?
"If 20 cars in front of us go out, maybe," laughs Glock.
But even so, don't be at all surprised if his uncompetitive, unreliable car hangs together long enough to benefit from the misfortunes of others and get on the scoreboard. That sort of thing happens to Glock in this part of the world.