There's been a lot of talk in the F1 paddock about how many races are ideal, as well as where they should be and whether the circuits will be conducive to a good show. One thing everyone is agreed upon though, it's great that F1 is headed back to the States. The Canada/US double-header always made sense, with shared freight costs, etcetera.
Austin, Texas, say those who've been there, is a good place and a good fit for F1. But let's wait and see what happens. It's not my place to be negative but we all saw what happened with Donington. And that was at a circuit already in existence. In the end, the money wasn't there and it didn't happen.
Public money for F1 in Texas? Well, I'll be delighted if it comes off but until there is a definitive site with foundations laid, you can't help being a bit sceptical. After all, 2012 is not very far away.
The 1982 US GP at Detroit © LAT
"We need to be in the States," Martin Whitmarsh said in Turkey. "The sport, teams, stakeholders and investors want to be there and we haven't done a very good job in the past. We've got to make sure we build and develop the sport. We shouldn't just arrive there and race, we have to put effort in to educate and develop the fan base in America."
He's not wrong. There was a certain crowd that used to enjoy Watkins Glen in upstate New York, a proper race track, but thereafter America never really seemed to embrace F1. Some dodgy temporary circuits didn't exactly help a populace that seemed to be hung up on outright speed.
Never was this more humorously brought home than by a fellow called George Puscas, commenting on Alain Prost's 82.7mph pole position for Detroit back in 1982.
"This is a fast town," he wrote. "We've got guys here who hit 82 on the streets of downtown Detroit almost any night. They do it about a quarter to two, trying to make last calls at their favourite bar... You want to see real speed, check a high school parking lot. I make it 8 to 1 you'll find some kid in a TransAm hitting 82mph. In reverse. Our cops are extraordinary. They can do 82 with one hand on the wheel. They might have a gun in the other, but it is a measure of their skill that they can do 82 and shoot at the same time and not bounce of all that many bystanders..."
He went on like that, making good capital out of F1's complaint that there had been some safety issues, even at 82.7mph...
"Of course," he said, "we have no excuse not to be stacking enough old tyres around so that our visiting racers do not get hurt. If we had known, we could have recruited enough help weeks ago. We've got guys in this town who can collect four tyres off a parked car faster than any pit crew..."
Finally we ended up at Indianapolis, which in terms of its size, feel and history, was the right sort of place, even if Indiana wasn't exactly where the great and the good of the corporate world flocked to be wined and dined.
"For me," Jenson Button said, "one of the most amazing experiences driving an F1 car was leaving the line in Indy, looking up at the grandstand and just seeing all the flashes, because it's a truly massive grandstand there. It just felt like the American public loved motor racing. I think we can win them over when we race in Texas."
Let's hope so, but in the future maybe there can be more than one US race. Florida, somewhere like Miami, seems a natural fit - a multicultural place with a big numbers of Hispanics and South Americans that should guarantee a better audience than somewhere like Istanbul Park.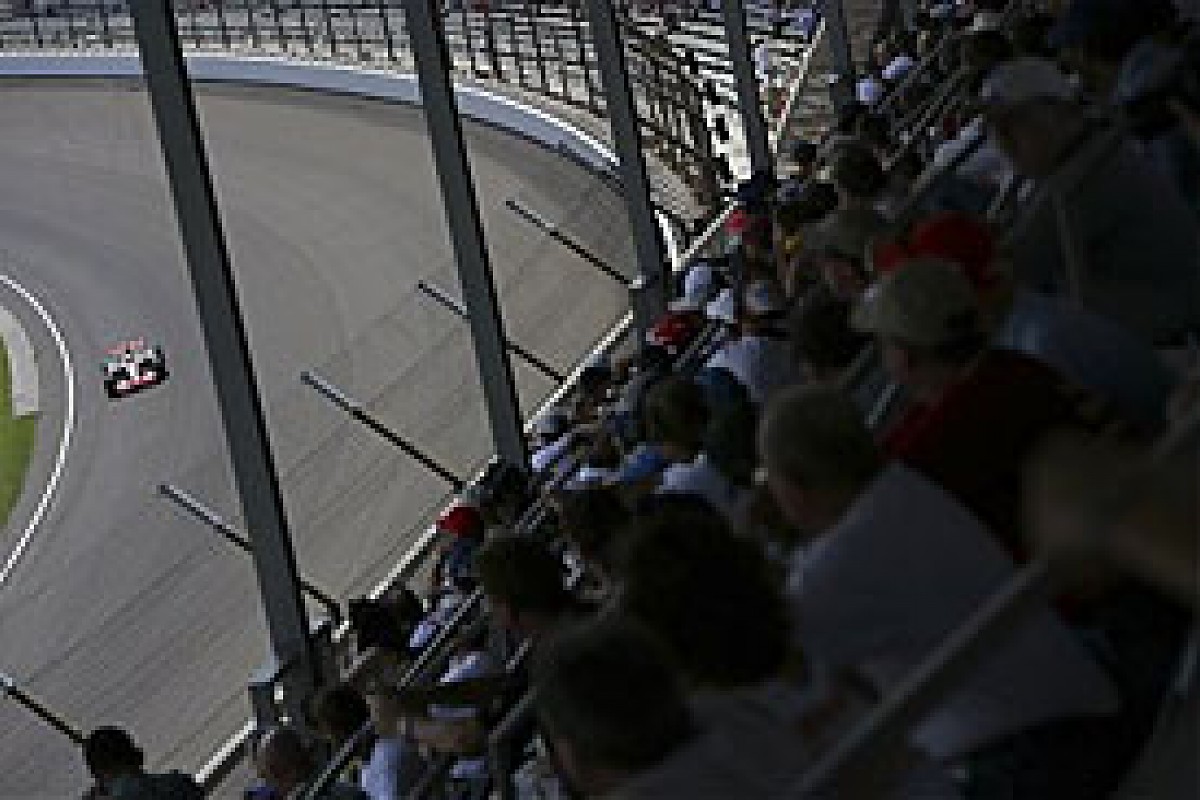 Indianapolis last hosted an F1 race in 2007 © LAT
Then there's the West Coast. Long Beach used to work well. It is now run by Cosworth owner Kevin Kalkoeven and you've got to imagine that there could be a deal to be done there once the IRL contract is up.
Formula 1 has always been different from the type of racing you will see on a high speed oval in the US. Max Mosley once said that you don't really need overtaking, that F1 is more like a chess match. He was generally poo-pooed but I know what he meant and generally agree. Who really cares about overtaking if it isn't significant - if the guy who's just been passed is going to draft back again next time around.
As long as F1 runs to the format that it does, with the fastest car starting at the front and qualifying done on empty tanks, it is unlikely that you will ever get loads of overtaking, even if it was easier for cars to follow each other than is currently the case. Truth told, F1 has never had loads of overtaking. What's more important for a compelling event is that the field is close. And, recently, we've been spoiled in that respect. Even Red Bull's apparent 2010 superiority seemed to have been clipped in Turkey.
Given how difficult overtaking already is, and with cars so close in performance, for it to happen at all you need a circuit that exaggerates differences. Istanbul Park was a good example and is probably one Hermann Tilke's best tracks.
The challenging Turn 8 is a great test of high speed cornering capability and, importantly, is then followed by a high-speed section ultimately ended by a braking area for a slow corner. In a category where the aim has been to equalise engine performance, it's no good having an easy corner onto a long straight that can be easily taken at the same speed by everyone. To get a run on someone, the corner leading onto the longest straight must be demanding. You don't need loads of corners like that, one will do if it's in the right place.
Indianapolis had a long, wide straight and occasionally you got some passing into Turn 1 in front of that massive grandstand Button talks about. Not often, though. That's because the slow corner leading onto the flat-out banked through T12/13 was too easy. If Tilke can build a high-speed track in Texas, with a bit if Turkey thrown in, then even the Americans might just start to appreciate F1 a little more!