Last week's column brought part one of an interview with McLaren Racing CEO Martin Whitmarsh, in his capacity of chairman of the Formula One Teams' Association (FOTA).
Originally intended to be published as a single feature, such were the depth and breadth of his answers that the interview was split in two parts - with the first part covering the background to FOTA and its achievements, plus the commercial aspects of the Formula 1 spectacle.
Part two focuses on the technical, track design and regulatory influences on Formula 1's show, the relationship (past and present) between the three major players - the governing body, the commercial rights holder and the teams' alliance - F1's present focus on road-relevant technology and the background to the secretive Resource Restriction Agreement, which aims to eliminate budgetary disparities between teams via a matrix aimed at equalising manpower/out-sourcing and budgets.
Although already in place in areas such as wind tunnel and CFD operations, the full effects of the RRA, which has a glide path spread over 2011 and 2012, have yet to be felt. Whitmarsh is persuasive in arguing why the document, which forms part of the entry requirements for all teams, is kept secret.
Q. If we have a look at the recent races (before Monaco), it actually looks very easy to race an F1 car on those circuits.
Martin Whitmarsh: I think that one of the things that we haven't done enough - and it's easy for F1 teams to criticise - but I think we've got to give clearer information to the circuits. With a lot of emphasis, we have been saying the cars are too quick, there's too much downforce, the front wings are too sensitive to the wake - and they are all true statements.
What we probably want is less wake, for cars to be less effected by wake and less reliant on aerodynamic downforce to get them closer to overtake. But on the other hand, I'd say to you, when we go to Brazil this year we'll be having an exciting race and they'll be overtaking, and we both kind of sense that, because we've been going to Interlagos for a long time and that circuit has been there for a long time, and even if it doesn't rain, we'll have an exciting race.
Yet, we've allowed - maybe we can criticise - but we've had lots of circuits, with Abu Dhabi probably the most bizarre one, where money is no object and they started with a clean sheet of paper. Yet you've got probably one of the longest straights in F1 with a chicane and when do we ever see an overtake in a modern-day chicane? So to put that into one of the longest straights seems completely barmy, but maybe we as teams haven't been proactive enough in giving the reference, and we've got to. So we've got to do more with the cars, got to do more with the regulations and we've got to do more with the circuits.
Q. And the TV show...
MW: We've got to do more with the TV show, as well.
Q. You spoke earlier on about all these agreements - testing restrictions, we can look at wind tunnel restrictions, CFD restrictions, at banning KERS and the F-duct. Do you think it is the right way to go for FOTA to virtually make up off-book regulations as we go along?
MW: No, it isn't, and I think that's something that progressively happened. I mean testing rules have gone into the regulations now, the F-duct we've agreed and will put that back in. Historically, the regulations were trying to protect teams from the excesses of governing body, and maybe the other teams, so unanimity was required.
Unanimity is good for protecting self-interest, but it actually isn't good for making progressive decisions to improve the sport. FOTA fundamentally has a 70 per cent majority, we can live with it, and therefore, once you've accepted the 70 per cent decision from FOTA, when you go into, be it a F1 commission meeting or with the FIA, or technical working group or a sporting working group or whatever, you've got to abide by the decision of the majority and you can't use a veto - as you may have done historically.
That's painful. I mean, in the normal course of events, would I use a veto card if I have one on the F-duct? Yes, I would. Am I sad that situation is gone? Yes, I am, personally. You can imagine a lot of the young engineers, or not so young engineers who are senior engineers now but were young engineers when I was the impassioned engineer getting very hot under the collar and shouting and screaming about this, that and the other, about the injustices of it all, or whatever. They come to me and say, 'well you're the chairman of FOTA', and I say 'you've got to take a different view', whereas we've got to do a better job, with the teams that is, of managing ourselves and contributing to the management of the sport.
Q. But is there not an element of stifling of innovation to all this?
MW: There can be, and we've had discussions about it, but the astounding thing is, cars get quicker. We do think it's a bit like now with banning the double diffusers, people say, well that's going to set us back 2 to 2.5 seconds. It won't, because I can tell you, they'll find something - and that's great. I don't actively, technically contribute, maybe never did, to our programme - and certainly not nowadays - but one of the things you think when you launch a new car, we put everything into this, this is the best car we've ever done, the most advanced; maybe we'll be running out of road with what we can develop.
But we've always come up with some new ideas - the F-Duct. I think it was great, it didn't cost any money, it's achievable technology; it's clever. We've all got the means to make carbon fibre ducts and wings, there's no fancy electronics, no fancy materials, no fancy systems, and anyone can do it - and will do it, of course. And if you want to be 'green', it reduces drag, so it's all positive. But inevitably people, particularly in smaller teams, are saying 'we're trying to concentrate on the basics, we don't need the added challenge', so we've got to accept there's got to be some compromise. That's the nature [of the situation], we now have to find compromises that are in the best interests of the sport.
Q. But is there not too much focus on road car relevance? I mean, there's only one (real) volume manufacturer totally committed to F1 at the moment, and it (Mercedes) came into F1 in December.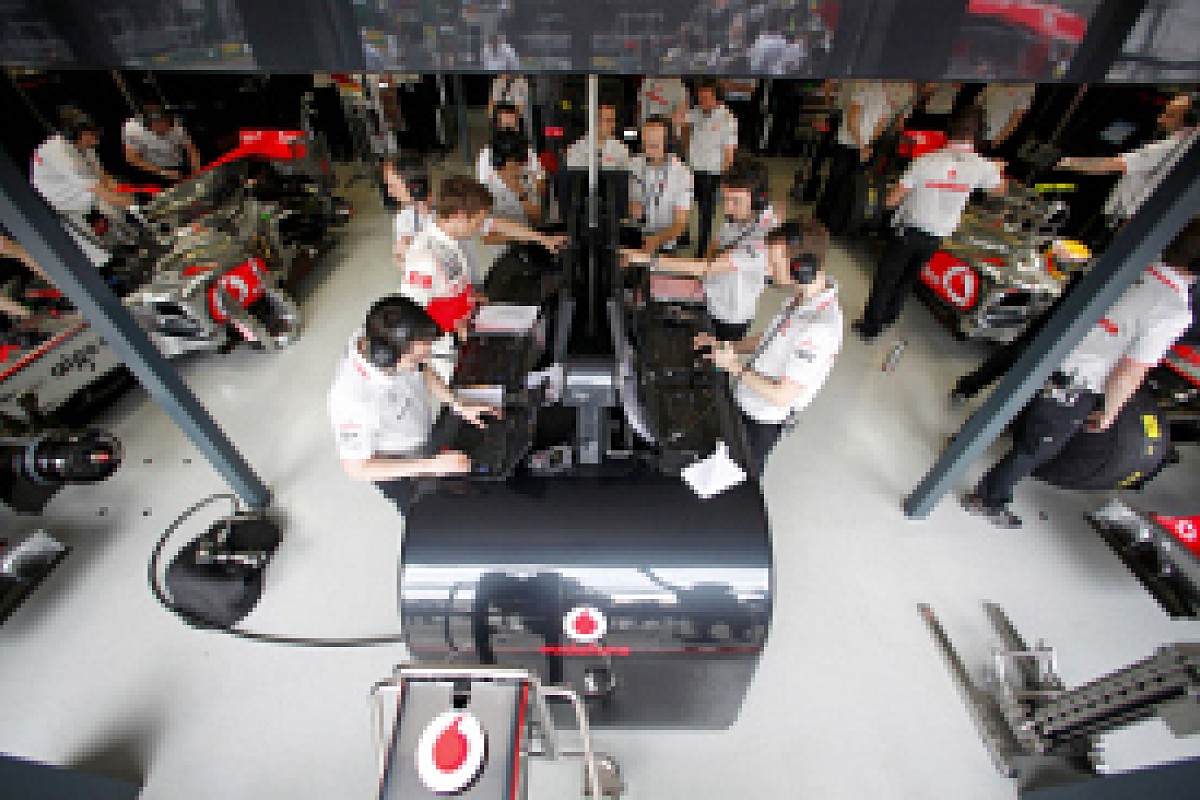 The McLaren team © LAT
MW: I don't think there's too much focus on it. When we peaked at seven manufacturers in F1, I know I was on record as saying 'this is unsustainable'. We could sustain it for a few years, then they fell out. I think the model should be probably three, maximum four, coming and going, they would ebb and flow, according to their marketing programmes. But we need strong independent teams, we need strong independent power train developers and providers, and some manufacturers coming and going.
I think we have to accept that in this world we're very lucky to be involved in it [F1]; it's great fun and a great challenge, but we've got to be seen to be responding to the challenges, and one of the challenges at the moment is the environmental one. F1 has got to find ways it can respond to that, and afford all that. If you can do it in such a way that you create innovation, if doing it in a way that it could potentially enhance the sporting spectacle, that's a good thing and that's what we are here to do.
Q. How would you categorise the relationship between FOTA and FIA/FOM?
MW: I think last year it wasn't [good], but it's improved all the time.
Q. With both of them?
MW: Yes, both of them, I don't think it was. There were protracted Concorde negotiations. With the FIA we had a combative relationship on all different fronts and for all sorts of reasons, which I think you know. I think Jean [Todt] is taking a very balanced and sensible approach with the sport.
Bernie probably, being frank about it, would be happy to have FOTA to pack its bags, split up and say 'job done'. Whilst it's difficult to develop and improve the sport without teams speaking with one voice, you can probably get a better commercial deal if you sideline teams and pick them off one-by-one.
Having said that, I've got to say, at the moment there's an interesting challenge which is created by Bridgestone's withdrawal, and Bernie and Jean are being very responsive and co-operative. The F1 sector has a challenge. Can FOTA be better, can we do a better job? We can, but I think it's better than it's ever been.
Q. Have you had a meeting with Jean in your capacity as chairman of FOTA?
MW: I have. I talked to Jean and he's made clear what he wants. There are some challenges and we've got to try and understand and respect that. He's got a responsibility. The FIA has a responsibility to the sport - so does Bernie - so we aren't always going to agree, of course. But I think some of the changes he's made; adding a driver to the stewards, has doubled confidence people had in the stewarding system, frankly.
You've got somebody who understands what a driver is talking about, a team goes down with data and you've got somebody who understands. I think Jean is changing the governing body in a positive and constructive way. He's not using F1 as a personal grand stand; I think that's positive for the sport.
Q. Do you think he should be appointing an F1 commissioner?
MW: Well, he said he was going to. He hasn't done. I think, in fairness to him, we all wanted one. My personal view at the moment is: I don't think we desperately need it, and he's got a challenge because he could appoint someone who proactively engages with all stakeholders, shows good leadership and does a great job, and then we'll applaud him; or he could appoint someone who fails to engage with stakeholders and has different views, antagonises everyone and then we're criticised like hell.
So, I think at the moment he's step-by-step incrementally changing the processes of the FIA. Most of it has been positive; I think he's engaging with FOTA and Bernie in a constructive way. So, will there from time to time be tensions and different views? That's natural, but I think it's pretty healthy.
Q. The RRA, why all the secrecy over it at a time when we're in an era of so-called transparency?
MW: Because, bluntly, people will lose their jobs and we are going to have to go into periods of consultation. People don't like to say it and people don't like to get into specifics of it. We have a work force here who are extraordinary.
We criticise, when I say 'criticise', people laugh at Virgin or Lotus or whatever, but those guys are trying like hell. The effort, the energy and the passion and the grind that people put in and then we, in our case - I'm team principal of a team that's making money, I don't have to lay people off in the normal course of events and yet I have taken steps.
The RRA came from McLaren, we were the authors of the matrix and it pains me like hell, but in the case of McLaren we are fortunate, we are developing our road car business, we're going to do GT racing and whatever, we are going to do everything we can to mitigate, but those people - most of whom I have been involved with in this team, most of those people came along with me and have supported me, helped us achieve, and that's why it's so sensitive.
I hate the idea that those people who were so loyal and have worked so bloody hard, but that's it in a nutshell, that's the sensitivity of it. People will lose jobs and people [get worried], and you can't talk about it.