In July 2008, during the British Grand Prix weekend, then FIA President Max Mosley handed the teams an ultimatum: They should reach majority agreement on new regulations, "failing which the FIA will itself prepare new rules for 2011".
It was vintage Mosley, who regularly employed such tactics to impose his will on teams, secure in the knowledge that they failed to agree on the time of day even when stood in front of Big Ben.
This time, though, the threat galvanised Luca di Montezemolo into action. The Ferrari president invited all team principals to a meeting in Maranello - surprisingly all ten accepted - during which the concept of forming a teams' collective in the mould of the defunct Formula One Constructors' Association was tabled.
FOCA had been dissolved after Bernie Ecclestone acquired the commercial rights to the sport from an FIA presided over by long-standing friend Mosley, and for precisely ten years the teams had not had a common forum - a situation exploited by Ecclestone and Mosley, who governed the sport via a method best described as 'divide and rule'.
Crucially, all ten team bosses agreed to the formation of the Formula One Teams' Association, with di Montezemolo being elected founding chairman, having (somewhat surprisingly) been proposed for the office by his opposite number at McLaren, Ron Dennis. This camaraderie, which startled most observers, set the scene for the spirit within FOTA...
Exactly a year later came the showdown: Mosley threatened that teams not entered in the 2010 FIA Formula One World Championship by the British GP weekend faced exclusion. The teams, led by di Montezemolo, rebelled and threatened to form their own series. Two weeks later peace was brokered, with the embattled Mosley simultaneously announcing his intention not to stand for re-election.
At the end of 2009 di Montezemolo stood down as chairman as per FOTA's articles of incorporation, with McLaren Racing CEO Martin Whitmarsh, a Portsmouth University mechanical engineering graduate who gained experience in composites with BAE Systems before joining McLaren in 1989, being appointed to head FOTA for a single term.
During the Monaco Grand Prix weekend he granted this column an exclusive interview to specifically discuss FOTA, Past, Present and Future. The original intention had been to publish the interview as a single feature, but such was the wealth of information imparted by the 52-year-old executive that the interview has been split into two parts.
Q. Where would you say FOTA came from, where is it presently, and where do you think it will go in the next year or so?
Martin Whitmarsh: I think it came from a belated realisation that all of us had views on what was wrong with F1. Maybe we were critical of the rules, maybe we were critical of the FIA, maybe we were critical of Bernie, but actually the teams were [in] a ramble, fighting with each other.
We weren't speaking with one voice, and a lot of energy and initiative was lost. Ferrari and McLaren tried to kill each other for 30 years on and off the track, and we tried to come together.
We didn't know, as did many people didn't know, unfortunately, there was going to be a world economic crisis, and F1 was going to face a massive crisis. So it was very fortuitous timing as it turned out, because had we not formed FOTA, many of the teams here today that would not be here.
So it came from a belated realisation that rather than criticising other people, perhaps we'd better get our own house in order, and try to be a bit more coherent in our messaging, and work together.
That's challenging, because we are naturally competitive people; if you don't have it coming into the sport, you either don't stay, or you develop it because it's not very much fun if you're not [competitive], so it [the formation of FOTA] had all sorts of reasons why it [could be] problematic.
There was also the issue of a Toyota at one end of the spectrum and a Toro Rosso at the other. What was in the interests of Toyota - spending about half a billion Euro a year more than Toro Rosso - and what small teams wanted were poles apart, and a big effort [was necessary] to try and get people together and say "Let's cooperate and get some compromise".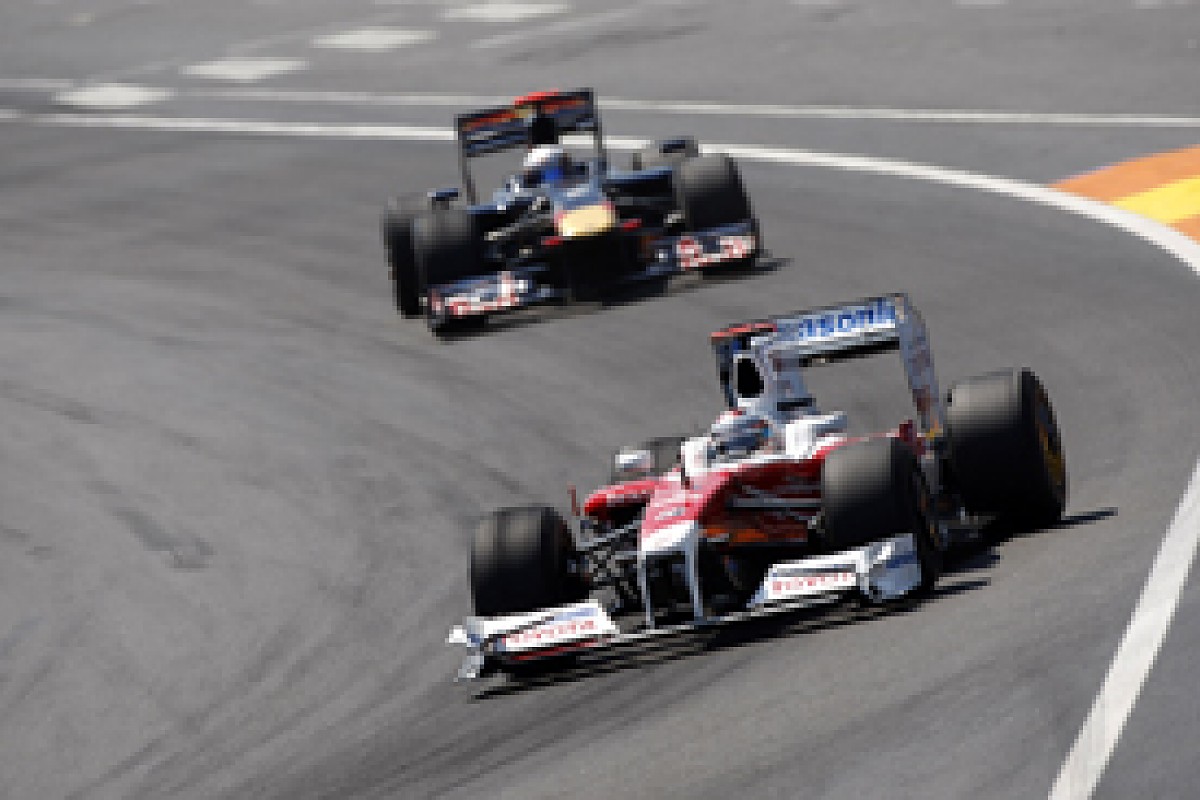 FOTA had to balance the demands of manufacturers and privateers © LAT
What FOTA has achieved is that certainly there are teams here that wouldn't be here if it wasn't for FOTA-controlled testing - there is nothing in the regulations, but FOTA introduced testing regulations to control testing, and [FOTA] polices that.
When it comes to power trains, engines were costing 20 million (Euros); at that stage transmissions were five to six [million Euros]. Now they are generally around five [million Euros] and one and a half [million Euros], basically with the same technology. So it was just by political will that we achieved that. We introduced measures to reduce windtunnel testing, CFD [computational fluid dynamics], and are now grinding through the RRA [resource restriction agreement], making significant reductions in resources the teams can deploy, thereby hopefully making them more sustainable.
We also pulled together to get the Concorde [Agreement] deal last year that the sport needed because in the absence of one we had inherent instability. So a lot was achieved. You could say, 'well actually great, do we need to have any of these FOTAs any more, we've achieved all that.'
The fact is there is still a lot of challenge for the sport, those initiatives are now being policed by FOTA, and I think it's doing a good job. But we need to continue, we need to ensure we drive the RRA through.
In fairness to the FIA and the commercial rights holder, the teams didn't speak with one voice, so how could they manage? We could criticise them, but if they weren't getting a consistent message from the teams, how could they do their job?
I think where there was obviously a period of time where FOTA was perceived to be a competitive organisation, and certainly there were people with a desire to split FOTA and kill it off. It survived, it got splintered for a while and got reformed, but it's interesting that new teams that have joined [F1] since have chosen to join FOTA, and I am gratified when I hear people like Tony Fernandez saying FOTA is a really good thing, and it's doing good work.
It still needs continual compromise, because if you characterise Mercedes, Ferrari, Red Bull and McLaren, then their interests are quite different from Lotus, HRT and Virgin.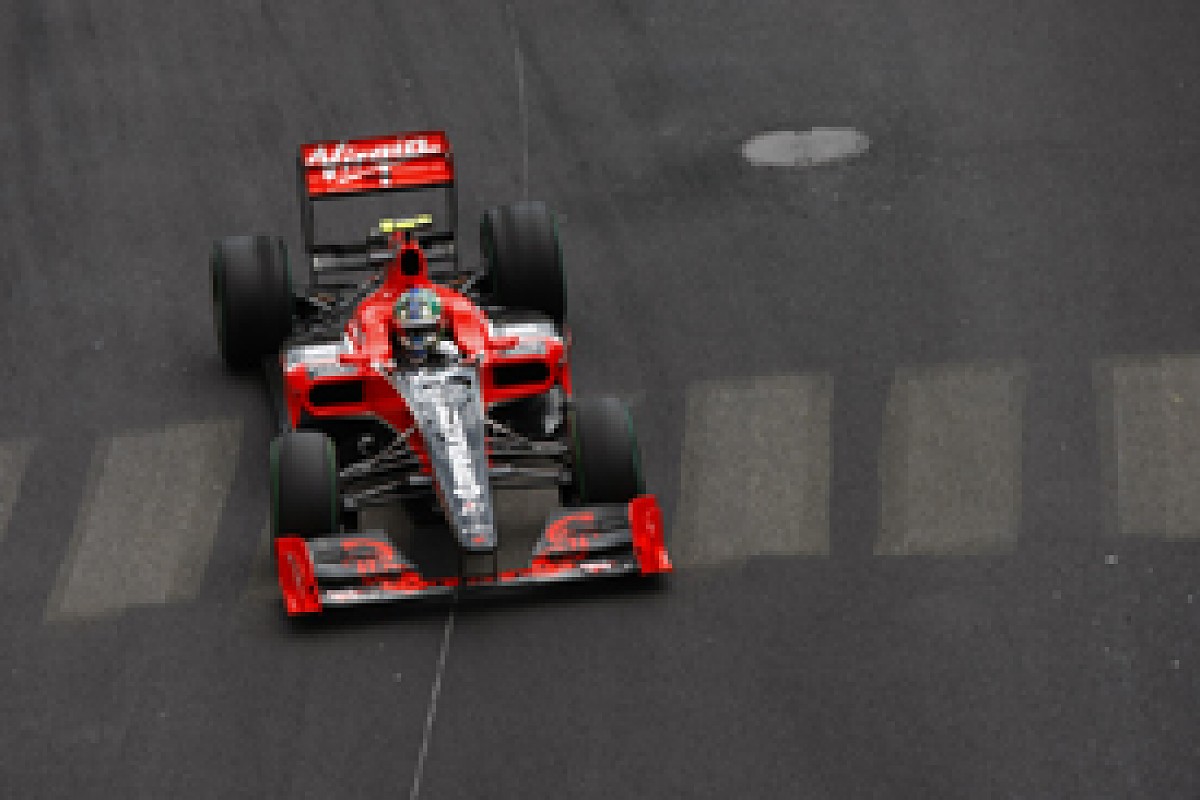 Lucas di Grassi's Virgin during the Monaco GP © LAT
Will all of the teams that have just joined survive? Probably not. That sounds a bit brutal, but I don't think it should be. I mean, we are going to do everything, and certainly, whilst I'm chairman of FOTA, we can do everything we can to give them the opportunity to sustain.
However, if anybody in any team can enter the sport, be successful and survive, then what the heck are we doing? We've been working quite hard to be as good as we can. Since McLaren's been around, 106 teams have failed. Will there be more failures in the future? Yes, if McLaren doesn't perform, we'll be one of them. That's the nature of the beast.
We want the best people, the best drivers, the most challenge. There are people who say 'Well, what we should do, [is] turn [F1] into pure entertainment. We don't want to waste all this money on technology; punters aren't interested - have one make of car, one make of engine.'
But I understand people do appreciate that we're the most extreme branch of motorsport, and what is the DNA of F1 if it isn't technical competition, incomparable to other things, and having the best drivers in the world? There are hundreds of categories, and none of them capture the imagination of the public to the tune of F1, so I don't share that view.
But, it's got to be balanced. At McLaren - we are a technology business and love technology - for 20 years I fought for technology, I was at the heart of fall-outs on active ride, on semi-automatic transmissions, power braking systems and all these things. I was the most emotional, passionate engineer amongst it all and loved it all and fought for it. Maybe I've changed a little bit, when I look back on all those things now, but I don't regret it, it was great but we've got to be balanced.
We do need new technology, we need technical differentiation, but at the same time you've got to give organisations like Virgin, HRT, Lotus - if they're good enough - the chance. Why shouldn't they graduate, and in a few years' time be established and challenge us, and give us a hard time and beat us. If we don't keep pushing then they deserve to.
But, will some teams fail? They always have done. We shouldn't be ashamed of that, we should give it our best to create an environment where, if you're competent and doing a good job, you're sustainable, and I think FOTA has got to try and just create, hopefully, a rational environment in which we can say 'let's make this better for the punters, but keep the values and DNA of F1.'
Q. What fans - the punters - want, is noise, brashness, excitement, on the edge stuff. Yet they're not really getting that. Grandstand ticket sales are dwindling...
MW: I think here we've got to accept, maybe the business moral is wrong in that the emphasis we've put on revenue collection from promoters has meant the cost of grandstand [seats] is too high. I personally think it is, but it's not part of the business that FOTA directly influences, but I think we've got to look at that.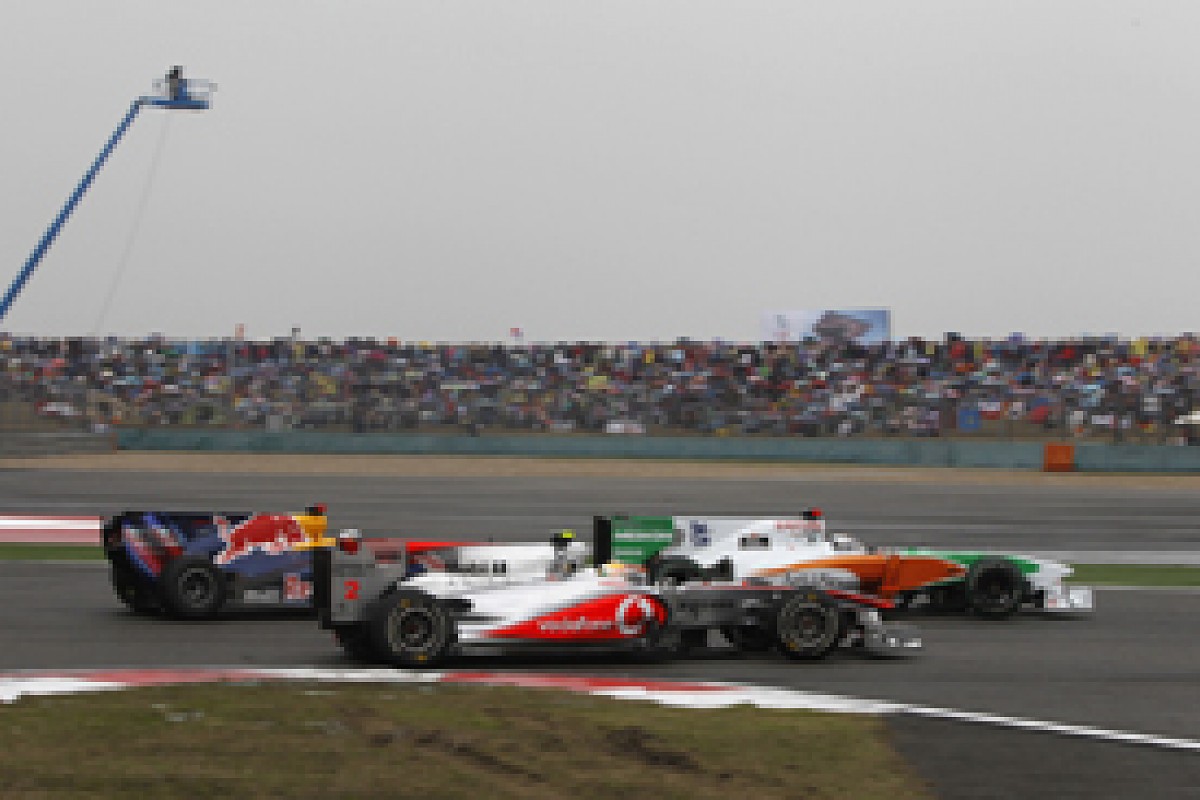 Close racing at Shanghai © LAT
I think we are very focused on TV, we've just got to watch that, because the sort of atmosphere that you create on the ground here is important. We've had some fantastic races this year. Bahrain was a disaster since then, we had... bang, bang, bang, bang... some spectacular races, I thought it was less spectacular but still a reasonable show last weekend [in Spain].
I think here [in Monaco] it's on the edge. I mean, if you go up to Casino and watch those cars come through, even though we've been doing this for many years, you still think these guys are nuts. This defies physics, so there's great challenge still in the sport, and people watch it.
There's this continual balance about it. If you've got the best drivers and best cars on the circuits that we've got, it's going to be difficult to overtake. You can see it in GP2, you can see it in lots of formulae. If you're a bunch of hooligans, and bad teams and hooligan drivers, then you get a lot of mistakes, overtaking and crashes and incidents.
With all due respect, it's easy to say, 'Right, where's the spectacle?' or whatever. Is the sport right at the end of the day? No, it can be better, yes, and we've just got to fine-tune it.
I don't think we've got to run around panicking, but we've got to be sensitive to the spectacle that we're producing and the purity of F1. I'm probably self-critical. I've spent too long in my career being a purist, and I was interested in a purely technical contest and challenge, and a team challenge, certainly in the early part of my career, and I think we must take a balance now.
So, do we want to create NASCAR? NASCAR is a good product for that market, they do it well, [but] we ain't NASCAR. Maybe I shouldn't say it: NASCAR doesn't do it for me in that there are three box cars overtaking. You talk about it, and say how many changes [of position] there are, but maybe there are, but an overtake takes three-and-a-half laps to pull off. It doesn't have me holding my breath.
But they do many things [right], they are marketed much smarter than we are. I think they do the TV show better than we do, they're commercially and in business better than we are. We can learn lots of things, and what they do is appealing to a certain demographics and a certain market. But that's not where we are.
It's a bit like some people enjoy World Wrestling Federation, I guess. I think lots of people do, I might not know them, but I know that lots do. It's just a show, it's completely artificial, but some people like that stuff. So, there's a balance.
Part two, covering FOTA's relationship with the governing body and commercial rights holder, future plans and the Resource Restriction Agreement, follows next week.