Two wins from pole in eight days have put Mark Webber firmly into the hunt for the World Championship. It took six races for RBR and its drivers to climb to the top of their respective points' tables, but now that they've done it, not many people would bet against them staying there, although others are waiting for any slip-ups.
But you only need two cars to make a race, and the battle between Webber and Sebastian Vettel promises to be a fascinating one as the season unfolds.
The Aussie is the man of the moment, and his stunning performance in Monaco has forced a lot of people to reassess him. However, this week's news that RBR has found an issue with Vettel's chassis, which will now be changed for Turkey, has put a slightly different perspective on things. If Vettel was saddled with below-par equipment for these last two races, it clearly wouldn't have helped his prospects. Perhaps in Turkey we will find out to what degree he was handicapped.
That discovery certainly shouldn't detract from what was a brilliant performance from Webber. Even with a great car you still have to get the job done, and bring the thing home in one piece. He made it look easy, but clearly it wasn't.
"Monaco is never easy, to be honest," Adrian Newey said as the celebrations began in the garage. "Obviously so much is down to the driver - getting the car to work with the driver is the big thing. I think Mark was very smart. He played himself in through the weekend. He just got quicker and quicker as he got comfortable with the car. Obviously Mark has absolutely been on top of his game the last couple of races, no doubt about that."
"He delivered another excellent drive today," smiled Christian Horner. "And from a team perspective to have Sebastian second is great. A one-two puts us to the top of the Constructors' Championship at this stage of the season, and first and second in the drivers, so a great team performance."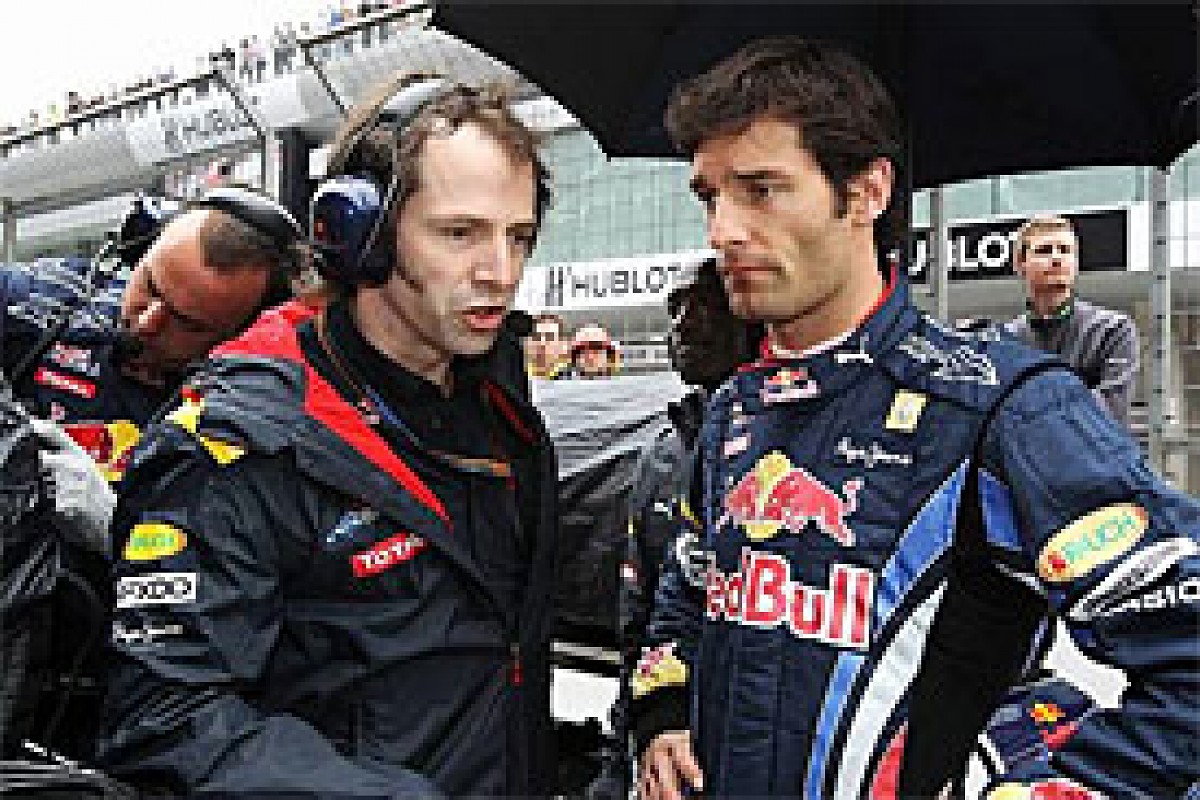 Ciaron Pilbeam and Mark WEbber © Sutton
"Monaco is a big one," said race engineer Ciaron Pilbeam, as he clung to the podium champagne bottle. "Every race win we've had so far, and there haven't been that many with Mark, has been better than the last. But Monaco is a bit special..."
Webber's blinding form shouldn't have come as a surprise. Some drivers just click with a place like Monaco, and given the constraints of their equipment, always shine there. He won in F3000, of course, but has put in some noteworthy performances that have to some extent passed under the radar.
In 2005 he was third with Williams, albeit frustrated by a strategy that saw him beaten by team-mate Nick Heidfeld. In 2006 he qualified on the front row, behind Fernando Alonso, only to suffer a frustrating retirement. Over the last two years with RBR he finished fourth and fifth from starting positions that didn't reflect his true potential.
After the Barcelona win Horner was confident that RBR would be on the pace in Monaco. Crucially since the same race in 2009 the team had greatly improved its performance in slow corners, which had been an Achilles Heel.
"It will be very interesting to see how we perform next weekend in Monaco," he noted in Spain. "It wasn't our strongest [in 2009], but we believe that we've addressed and improved the car in the areas that we were not so strong in last year there.
"We're determined to go there and do well. The car has performed very well in the lower speed corners, and we're as a team determined to go to Monaco and have a strong weekend. Mark is very quick at Monaco, but so is Sebastian. I'm expecting them both to be near the front, but we mustn't underestimate the others. As we saw today, Hamilton in the race was reasonably strong."
Pilbeam was equally optimistic when looking ahead, although he agreed that Webber had yet to get a result that matched his potential: "As you say he's never had a really good result there. It was reasonably good last year, but we qualified a little bit out of position and struggled to get to the front. A Monaco qualifying thing lost him a bit of time, but that's always the thing there I guess.
"It would be nice to win there as well, obviously. So far this year the car has been quick at all circuits. It doesn't seem to have a particular weakness. We'll hope for the best at Monaco as well."
Thursday brought something of a mixed result for the team, with Vettel close to the front, and Webber only 10th in the faster afternoon session. And yet afterwards he was buoyant, as if he knew something that we didn't know.
"I think this year we've really focussed on our programmes," explained Horner after the race, "rather than being sucked in to what others are doing. He had a couple of issues to look at on Thursday, but both drivers were very confident and very happy with the balance of their cars."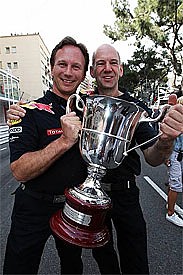 Christian Horner, Adrian Newey in Monaco © Sutton
"We had a little bit of a mixed session on Thursday afternoon," said Pilbeam. "He missed a bit of the session with a fairly minor car problem, but he seemed pretty confident still, when often you need lots of laps around Monaco in practice. But as you say he was confident, and Saturday morning and afternoon he looked pretty unbeatable."
Indeed, qualifying saw an awesome performance that left him 0.4s clear of Vettel, who had to settle for third. Pilbeam explains: "He did two laps that would have put him on pole position. I think he just did a very good job of understanding what the tyres needed to get the best out of them on the right lap, because it wasn't straightforward. I don't know really about Seb, but he got a bit of traffic which I think meant that probably on the best lap on the tyres he didn't do his quickest lap. That was probably a fair chunk of the time."
"It's difficult to say," said Horner of the time gap. "They were very evenly matched through the first two sectors, Mark just managed to find a little bit in the last sector. That's probably the benefit of 10 years experience here. You've got to be totally at one with your car, and Sebastian hasn't been absolutely happy with the balance of his car, particularly on the soft tyre."
The good news for Webber was that Robert Kubica got in between them, for while second is not always a happy place from which to start, Vettel would have obviously have been a concern, given how close the pair have been in recent races. As it was he did get past the Pole and put himself into second.
After that, the race played out perfectly for Webber, although the safety cars didn't help. He was 15.3s clear of Vettel the lap before the second (Barrichello) safety car came out, 4.8s ahead for the third (drain cover) safety car, and was 4.1s in front when Trulli and Chandhok did their thing right in front of him in the closing laps. In others words some 25 secs went astray in total. And yet at no stage did he let it get to him.
"The safety cars as you say are a focus thing more than anything," said Newey. "To lose a 15s lead at one point was frustrating."
"The start was good and that's the first hurdle," said Pilbeam. "He left in the lead, and pulled out a good gap which meant that the pit stop was not dramatic. The safety car is a bit less tricky than it used to be when everybody's already fuelled to the end, but still he had a 15s lead the first time, and to have that reduced to nothing and start again is quite tough.
"But all three times he pulled out the gap again, so he was clearly quick enough to win the race. Seb had Kubica on him for most of the race, so I guess that occupied him a little bit! Mark's been pretty quick all weekend.
"We didn't score all the points we should have done in the early races, for various reasons, but it's nice to have had two dry, trouble-free weekends where we scored good results with both cars. He's driving very well, these last two races he's been on top of his game, I would say. Hopefully he can carry this forward, and keep doing it."
It was a good effort too by the team to put earlier problems behind and get two cars safely to the flag. The consensus in the pitlane is that no team is expending more effort in fast tracking new parts through the system, and getting them onto the cars.
"After the brake issue that we had last weekend there was a big effort from the factory to support us with a couple of small new parts," Horner noted. "And it certainly helped. We had no issues at all today, at arguably one of the toughest circuits on the calendar. Seventy eight laps round here is pretty gruelling, pretty tough on the cars, so it's testimony to the hard work that's going on within the team. A result like today's is about team working as a group, and they're doing a great job of that."
Most importantly the car had the speed to dominate at a track where others hoped that the playing field would be more level than hitherto. Renault certainly made a step, and without his crash, Alonso might have been in the mix. But Monaco specialists McLaren definitely dropped the ball. The RB6 has now earned six poles at six different tracks.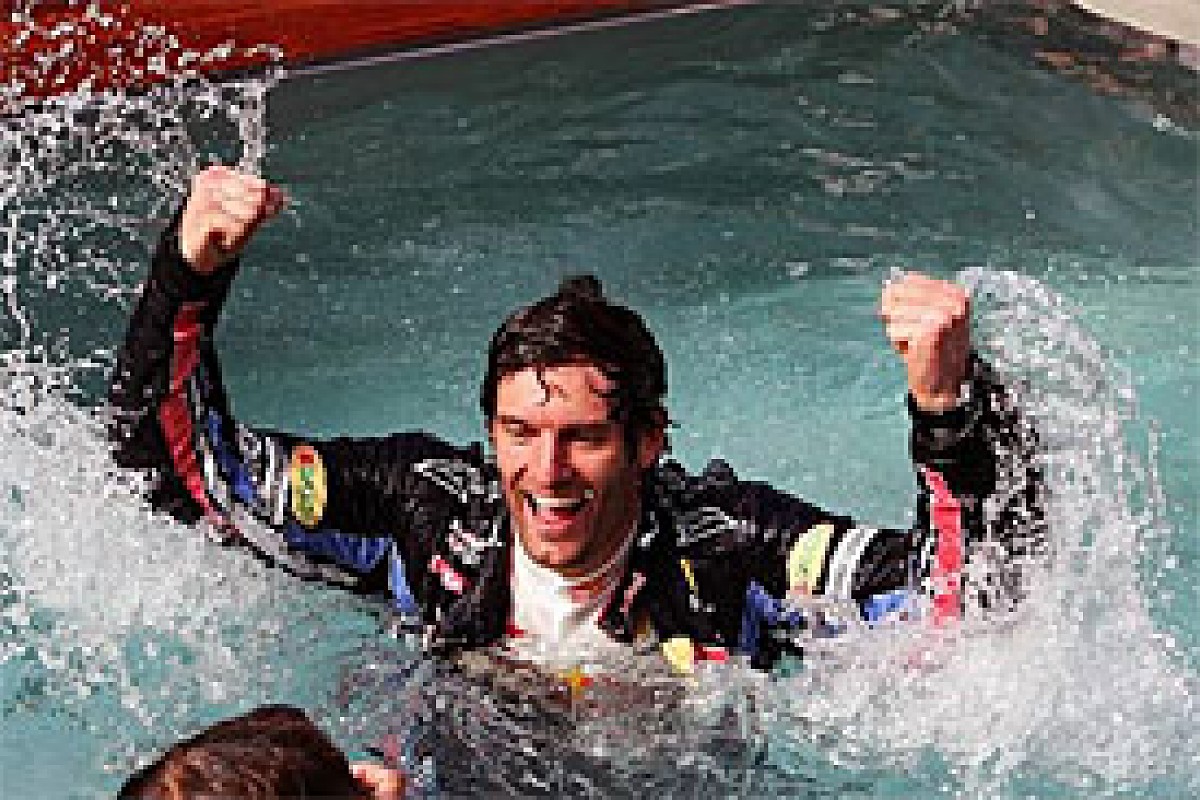 Mark Webber goes for a swim after victory © Sutton
"That's very rewarding," said Horner. "It demonstrates ultimate pace, and it's three apiece at three very different types of venue. But in this business never underestimate your opposition, we're up against some formidable teams, and sometimes you have to pinch yourself to say we're taking on Ferrari and McLaren.
"They are teams with such strong heritage. I think McLaren have won this race 15 times. We've not been going for 15 years. It's a giant killing performance that the team has delivered, and it's important that we keep that momentum."
"I've given up predicting what circuits we'll be good at and what circuits we won't be good at!"
"It's proved to be very quick everywhere, but as I keep saying, we're the second year in from a very big regulation change, so the progress rate is very high," said Newey. "And as was proved last year, the car that's quickest at the start of the season isn't necessarily the quickest at the end of the season. It's really a question of whether we can continue to at least match hopefully our rivals."
The dark blue cars have been close together in the races for much of the season, but now that they are at the top of the points together their contest takes on extra resonance. Calls on things like who gets to stop when will have to be just so.
"The only thing you can is continue to treat them completely equally," said Newey. "Obviously if we're in a position say where we have lack of parts and could only put parts on one car, that's when it might be difficult."
"They are both hungry and they are both competitive," Horner acknowledged in Monaco. "And we've always treated both drivers fairly and equally. There's no intention to change that policy. It's a great position to be in, and it's all about beating the others. We need to stretch our legs.
"Arguably we should be sitting on a much bigger lead than we are, but then other teams have had issues. And six races in we're at the top of the charts in both championships."