It's an oft-repeated cliche that if the Monaco Grand Prix did not exist and it were proposed, the architect of the idea would be laughed out of town (which, given the size of the place, would mean being laughed out of the second-smallest country in the world).
But the first staging of a race for the world's most advanced racing cars in the tiny city clinging to the cliffs of the Cote d'Azur back in 1929 would surely have drawn raised eyebrows from more than a few, even at a time when city-based races were in their heyday. But for all its absurdities both as a place and as a Formula 1 event, Monaco is astonishing.
Since that first Monaco Grand Prix 81 years ago, the sport has changed beyond all recognition. Yet if you were to take Rudolf Caracciola off the starting grid of that inaugural race and transport him through the ages to 2010, he would still recognise the place - despite the years of development and expansion (not to mention the addition of a septet of public elevators - plus the odd escalator - to make wandering the streets less of a mountaineering challenge). That link with the first truly great era of grand prix racing is one of the great charms of Monaco - even a few of the current drivers admit to feeling a real sense of history when they take to the streets here.
History has certainly been stalking Michael Schumacher. During his Wednesday afternoon press conference in Mercedes' shiny new motorhome, there were plenty of reminders of the shame of his "crash" at Rascasse in 2006, for which he was put to the back of the grid. Initially, he batted the questions off genially, saying how much he enjoyed battling his way from last to fifth. In the end, he resorted to telling BBC Radio Five Live commentator David Croft "you're boring" in response to him asking, not unreasonably, whether he would consider doing the same thing should a similar situation arise in qualifying this year. Schumacher won't repeat the trick, of course, but it stands as a moment that captures the enigma of a man who has won this race five times.
At least Schumacher was able to bat away questions in the relative sanctuary of his own team's motorhome, unlike Lewis Hamilton who had to conduct his media briefing in the Bridgestone motorhome. When you arrive at most street circuits, be it Pau, Valencia, Porto or wherever, there always seems to be a scramble going on to get the track ready, with wiring and barriers being placed, and the nearest hammer never more than a few metres away.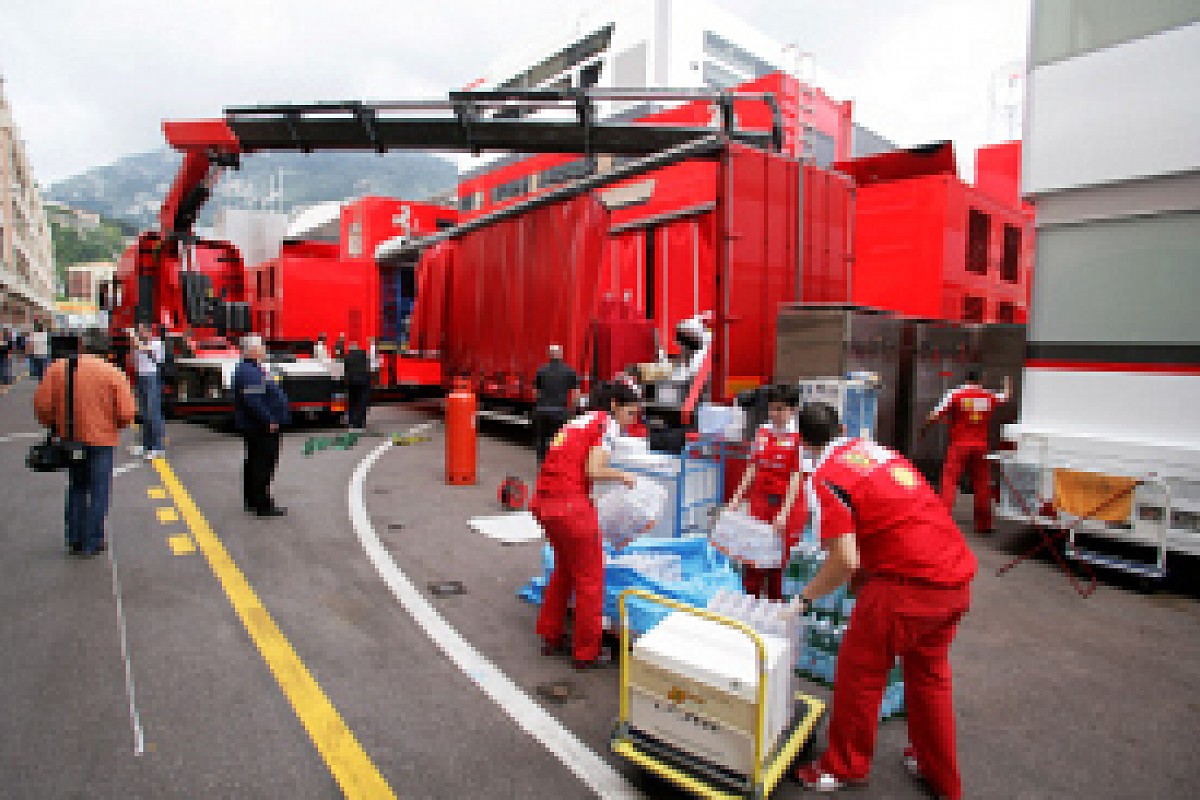 Teams constructing their motorhomes on Wednesday © LAT
In Monaco this year, the vagaries of the 2010 calendar have made that feeling inescapable. With the Spanish Grand Prix held last weekend, on Wednesday some of the more elaborate motorhomes, including McLaren's spectacular hospitality citadel, were still under construction. Back-to-back races are always a logistical challenge, but with Monaco you have the added drama of practice starting a day early and the fact that trucks have to take it in turns to hit the seafront. As always, everything will be ready come Friday, which is, of course, Thursday in Monte Carlo.
Monaco is also a unique challenge for cars and drivers and a stark contrast to where F1 laid its hat less than a week ago. Whereas Barcelona's Circuit de Catalunya is a heavily aero-dependent track, Monaco is all about low-speed downforce and mechanical grip. For those who were shocked by Red Bull's qualifying dominance in Barcelona, that's reason for optimism. For those who paid attention to its pace in the slower third sector last weekend, there's less confidence to be drawn.
But more of a talking point than Red Bull's potential as pace-setters has been the fear of 24 cars taking to the track in the 20-minute Q1 session. Following last-minute proposals to split the session into two groups of cars, nothing has changed - no doubt the idea will lie dormant until 12 months from now when once again a proposal will be tabled and rejected. If it's a problem this year, perhaps there is an argument for including separate qualifying regs for Monaco in the Sporting Regulations?
Then again, F1 had 30 cars run during qualifying sessions as recently as 1992 (admittedly over a one-hour session rather than a 20-minute one) without the results being distorted. Good job these are the best drivers in the world. Anyway, a distorted grid always makes for a better race. With rain possible for Saturday afternoon as well, the stage could be set for a classic Monaco Grand Prix.
Not that there is any other type of Monaco Grand Prix.