Ticket touts (or 'scalpers' in US parlance) are generally the best barometers by which to gauge the commercial success of a grand prix - if, on race day, they're a dime a dozen and charging top dollar for a bum seat, the grand prix is sold out; if they're conspicuous through absence and/or literally throwing away paper, the place is sure to be empty.
Thus these guys are seldom about in places such as Malaysia and Istanbul, while grands prix at the likes of Silverstone, Barcelona and Hockenheim are generally manna from heaven - but only if local heroes are doing the business. There used to be, though, one exception: Monaco, despite not having had a local star since Louis Chiron took the start of his home race with a Lancia in 1955, having previously placed third in the principality's first ever world championship race in 1950.
Fans at the 2009 Monaco Grand Prix © LAT
A scalper's lot is not an easy one: apart from needing to understand precisely which events to exploit, the tout needs to understand demand for particular stands. Then he needs to know where to position himself for maximum solicitation - it is, after all, self-defeating to offer main grandstand seats to folk scratching for coinage to purchase general admission.
Here Monaco traditionally made life easy for these entrepreneurs, for with parking for private motorists effectively non-existent during grand prix weekend, punters generally use one of three transport modes - boat, coach, train - to the street circuit with last-named being far the most popular. Given that fans using the first two options either have contacts or made advance arrangements, the touts' primary market arrives by rail from Ventimiglia (Italy) in the north-east and Nice (France) in the south-west.
Thus Monte Carlo train station offered such ripe pickings that such visitors to the grand prix found themselves inundated with offers to buy high/sell low the very second they exited either of the elongated station's two exits. Until, that is, 2008.
During Michael Schumacher's career, the last two years of which coincided with Fernando Alonso's championship seasons, Monaco was packed to the gills, with German fans making the trip by car, air or coach in droves of tens of thousands, while the fact that the seven-time champion was Ferrari mounted attracted an equal number of tifosi from across the northern border.
That Spain's closest border is a scant four-hour drive away from Prince Albert's patch led to a surge of interest in the race from Alonso fans, with supporters of his Renault team being readily attracted to make the journey south from France. All in Monaco experienced bumper crowds through to end-2006, and the touts had a field weekend.
Then, at end-2006, Schumacher retired. Still, Alonso's move to McLaren for 2007 kept Spanish interest high, with Lewis Hamilton's amazing debut performances persuading Britons to pack Easyjet flights bound for nearby Nice airport, from whence they caught French rail to Monaco - ready for ambushing by touts. That Kimi Raikkonen switched to Ferrari hardly harmed sales to Finland and Italy, and so Monaco's roll continued.
However, 2008 saw a collapse of ticket sales, with hoteliers reporting drops of 30% in room sales, while the coaches which caused such massive traffic disruption between Nice and Monaco and in the grand prix town itself were noticeably absent. Returning by train to Nice after each day's proceedings was no longer a schlep, and flight prices were reasonable for the first time in around a decade.
The Automobile Club de Monaco was hopeful of a major improvement in its grand prix's fortune in 2009, but the race was overshadowed by the various controversies F1 found itself embroiled in - that weekend the FOTA teams refused to submit to the FIA's entry requirements, sparking a series of events which culminated in peace of sorts, and FIA president Max Mosley's decision to stand down - while the prevailing economic climate meant fewer folk had at their disposal the £500-odd required for a half decent grandstand seat. Result: swathes of empty stands, and, as disturbing, a distinct lack of track signage.
However, if the ACM hoped for better this year, the club is likely to be disappointed, for an analysis of ticket sales to date - effectively a week before proceedings get under way - shows that just 53% of the race weekend's capacity has been sold.
The ACM's ticket sales website thoughtfully displays maximum capacity of each area by day - whether for general admission or grandstand - and the number of available tickets per stand. Thus it is the work of a moment (okay, an hour) to establish sales percentages, and these certainly do not look healthy, nor, given the recent volcano ash scares, are they likely to improve in any great hurry.
The club does not offer weekend tickets, with fans needing a separate ticket for each of the three days, and a breakdown of sales for Thursday, Saturday and Sunday provides interesting reading: 45%, 55% and 68% of total grandstand capacity (approximately 31,000 seats daily) has been sold respectively, while general admission (11,000 tickets on each Saturday and Sunday) have been equally disappointing at 21% and 68% respectively.
A lone fan at the Chinese Grand Prix © LAT
Of course, Monaco being Monaco, a good percentage of spectators will view proceedings from yachts in the harbour or hotels/apartments overlooking the circuit, and even here bookings are well down, with one motorsport travel agency, which previously placed numerous guests in such establishments, reporting zero interest for next weekend. Ditto yachts: an F1 sponsor had advised that prices, class for class, have plummeted 40% year-on-year - and still agencies are experiencing difficulty in finding takers.
Nice, too, is experiencing the downturn, with mid-class hotels situated near the station - prime siting during GP weekend for obvious reasons - all still having rooms available for the full five-night period, while convenient regional and international flights to/from Aeroport Nice Cote d'Azur are offered by most airlines despite the race being little more than week away. Three years ago such situations were absolutely unthinkable.
More perturbing is that, as an analysis of ticketing agent websites shows, all (or most) of their lower price category stock has moved, leaving only top end (expensive) stuff for late deciders. As registered agents receive early block allocations, their stock generally consists of better seats, meaning a flood of good seats is likely to flood the market within the next few days - which will no doubt influence agents' future purchasing patterns.
The same trend can be found on the ACM website, which provides prospects with the opportunity of selecting their exact seat. For example, at time of writing the 601-seat stand T3, situated shortly before Rascasse, had 278 vacancies, of which 90 were in the €330 bracket, with the balance being €450 seats. Thus, not only is ticketing running at 53% overall for the weekend, but income is well below expectation, too.
By no means is this situation unique to Monaco, for as this was written a release arrived from Circuit de Catalunya advising that tickets for this weekend's race were still available despite Spain having double champion Fernando Alonso in a Ferrari to cheer about. Add in strong recent performances by Jaime Alguersuari at Toro Rosso and the popularity of hometown boy Pedro de la Rosa, and the wonder is not that the place is not sold out, but that it was not sold out in February.
Going forward, a perusal of agents' websites shows tickets still available for the next three grands prix, namely Turkey (no surprise), Canada (big surprise) and Valencia, so given that crowds in Bahrain, Melbourne, Sepang and Shanghai were nowhere near capacity - last-named again gave over 25% of its capacity to advertising the city's upcoming Expo, while estimates put the race day crowd at 30,000 in a 150,000 stadium - the situation raises serious questions about the intrinsic value presently being offered by the sport to its punters.
If, after all, Monaco cannot sell its high end seats, then what chance places like Turkey this year and India in 12 months' time? Or, for that matter, Hockenheim: despite the sport this season having no less than six drivers with the black/red/gold of Germany beside their names, including championship favourite Sebastian Vettel and seven-time champion Michael Schumacher.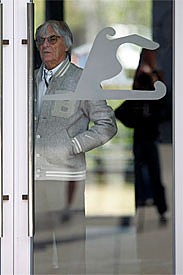 Bernie Ecclestone © LAT
Although the circuit's website is nowhere near as transparent as is Monaco's, a check of agent websites shows tickets availability for 22 of the 50-odd seat categories. True, a stellar performance by Schumacher over the next few events could alter this imbalance, but this implies the fortunes of promoters hinge purely on the performances of local heroes, not on the merits of the sport. In turn, F1's ability to attract tourism comes under question...
True, Silverstone is virtually sold out, with the revamped circuit having close on two months to move left-overs, but forget not that Britain has the sport's two most recent world champions - driving for an increasingly British team, at that - while the relative weakness of sterling has meant that many British fans who would normally venture abroad for annual F1 fixes have settled for grand prix staycations.
During the height of the FIA/FOTA war the teams' association pledged to improve the quality of F1's 'show'. Immediately after Bahrain various team principals suggested the sport wait for the flurry of four flyaways to pass before introducing tweaks. That time has arrived - for, if truth be told, rain and not racing delivered excitement in three of those four grands prix, and the less said about the only dry event during that period, the better.
Even F1 tsar Bernie Ecclestone, speaking directly to this column in China after being asked about rain's overly influence, admitted: "We need to look at the technical regulations." Then, this week Renault's (disgraced) former team boss Flavio Briatore told the Italian journal Autosprint: "The problem (with F1) is a bit with everything: the lack of spectacle and unpredictability under normal conditions."
While still with the French team (albeit while wearing his FOTA commercial working group cap) he calculated that the cost of grand prix attendance for the average family of four panned out at upwards of £1500 - before travel and accommodation are factored into the equation, and deduced the group would be better served by going on vacation in Spain for a week and watching the race on TV. After all, which family man, can in these times, wager £2000 on a show which relies on inclement weather for spectacle?
That prices are out of proportion with the value offered by F1 is obvious from the number of fans voting with their feet, while those who do attend grands prix are clearly voting with their wallets, which explains the breakdown of ticket sales being heavily weighted in favour of low cost seats.
The bottom line is the facts as presented by the circuits and ticket agents prove Briatore dead right, as will the (absence of) scalpers at Monaco Station.