As he swept through the empty media centre in Shanghai for his annual informal chat with Chinese journalists, Formula 1 tsar Bernie Ecclestone expressed confidence that the Korean Grand Prix would take place as scheduled on 24 October despite rumours to the contrary.
In the week leading up to the fourth grand prix of the season the sprightly 79-year-old, he turns 80 in October, had inspected progress made at the facility located in Yeongam-gun in Jeollanam-do province, which is around 250 kilometres due south of the Asian country's capital Seoul. And he was adamant the inaugural race would go ahead as planned.
A Korean journalist, well acquainted with developments, was equally convinced the Korean International Circuit would be ready to stage the country's first race. The place would be up and running by July, stated our Korean source.
Attempts had been made to host a race in 1998, but these collapsed in the wake of Korea's financial crisis during that decade, leaving the would-be promoters of Kunsan City Circuit's race £8m poorer - and Ecclestone equally wealthier - after the British High Court enforced the contract.
Thus it seems F1 will have 19 grands prix this year, and with an Indian round on the cards for next year, at least 20 in 2011. However, as Ecclestone left the media centre on that Friday morning, just as news of travel disruption due to the E-15 volcano trickled through, he glanced backwards as he threw a final thought-stopper into the mix. "Prepare for 25 races..." he said.
Bernie Ecclestone in China © LAT
"Was he joking?" a bemused media pack wondered.
There have been mutterings of races in various venues in the United States of late. Also too of grands prix in Argentina, of a return to France and a South African Grand Prix (although Kyalami is now all but bankrupt, having been mismanaged by folk who really should have known better) and even events in Bulgaria, Lebanon and Serbia ... But 25 grands prix per annum - an average of one every fortnight for an entire season?
Expanding the calendar, though, makes good sense for all concerned, for with the Concorde Agreement - the tripartite document which controls the sport technically, commercially and administratively - now providing for a teams' share of 50 per cent of all retained revenues (up from an effective 23 per cent), and with the departure of Honda, BMW and Toyota (who lavishly patronised the Paddock Club at £3000/pop and took enormous merchandising areas at five-figure rentals per race), the commercial rights holder's underlying income has decreased considerably.
The teams, too, stand to gain from expansion, for not only do their race-related revenues increase commensurately, but they are able to off-set fixed costs over a wider activity range while expanding their client (sponsor) bases. Equally, a larger calendar affords greater TV exposure, which can in turn be reflected in rate cards. Finally, with massive restrictions in testing, teams have considerably more time (and money) to go racing.
Still unexplained though, is whether an increase of eight events over last year's 17 race calendar - virtually 50 per cent - will be carried over to the secretive Resource Restriction Agreement, which prescribes the amount of money teams may spend on manpower and outsourcing, and is due to come into full effect next year.
Twenty five grands prix is, though, a big ask, with the bigger question being where Ecclestone hopes to find those venues. Then, who should be spied glad-handing about the Shanghai paddock come race day but Anton (Tony) Hulman George, late of the Indianapolis Motor Speedway, and instigator and promoter of the seven US Grands Prix held at the hallowed Indiana 'Brickyard'.
Grandson of the late Anton Hulman - the original Tony - a well-to-do farmer and businessman from nearby Terre Haute who had the foresight to purchase the then-abandoned and burnt-down Brickyard immediately after the 1939-45 World War, the lanky 51-year-old former Indy Lights racer's mother Marjorie George is chairman of IMS.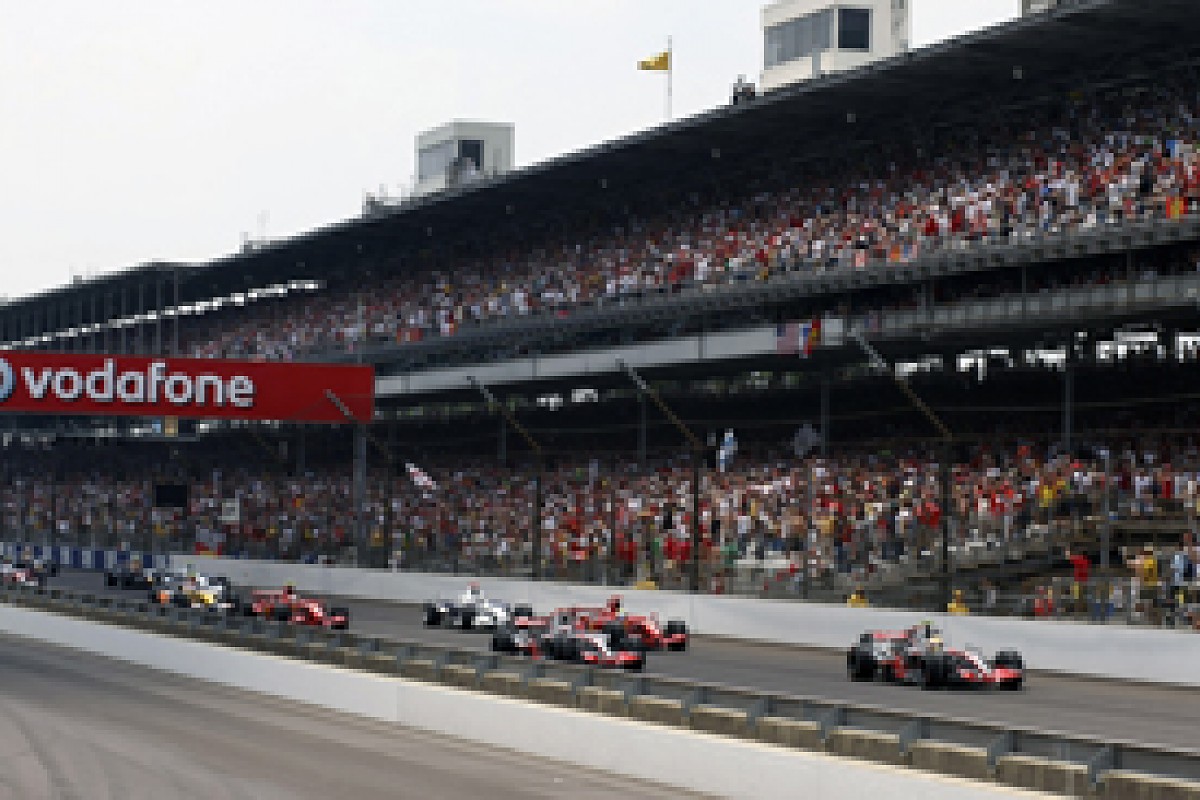 F1 was last seen at Indianapolis in 2007 © LAT
Those who followed the recent IMS upheavals know George was ousted as president and CEO of the world's oldest permanent race track by his mother and two sisters - who control two-thirds of voting stock - in June last year. Thus his visit to China was met with surprise.
But, could it be viewed as a precursor to a return by F1 to IMS, for the fact of the matter is that, in the tradition of all powerful American families, the blood knot rules supreme. And if George can pull off a profitable return by the world's premier racing series to arguably the world's most famous track, then all could well be forgiven even if he did blow a reputed half a billion bucks of Hulman Family Trust money on his Indy Racing League dream and improvements to the IMS facilities.
While the urgency for a grand prix in the US receded somewhat after Honda and Toyota - to whom the Land of the Free represented their largest markets - plus BMW, whose car sales in the US were substantial, have departed F1 for real reasons unknown, North America is still a mighty big market for consumer products. Thus another race across the Atlantic, one twinned with Canada, makes sense.
Then, F1 needs to atone for its dastardly 2005 showing, when just six cars took the start proper after Michelin's runners withdrew due to safety concerns. That said, at least George had the grace to refuse participation in the podium ceremony.
So, all things point to it being a good idea - certainly a better one than schlepping to Shanghai every March. Saliently, George was accompanied by former racer Zak Brown, founder in 1995 of Just Marketing International; John Hogan, the original Marlboro Man, and now JMI's Senior Associate: Global Strategy; and Tim Bampton, VP International Communications.
Sure, the trio had other fish to fry in the paddock, for JMI, as the world's largest motorsport marketing agency with fingers in virtually every international motorsport pie, brokered various F1 deals - including the LG/Formula One Management partnership - but never before has JMI sent such a 'heavy' team to what is in real terms an extremely unglamorous race.
According to US sources the intention of the visit by the team was to discuss with Ecclestone the return of F1 to IMS, with Brown proposing an enterprising two-tier financial package: around half of FOM's £17m fee would come from a 100,000-strong gate (an average attendance these days, and roughly equal to the number of punters attracted by the USGP for its 2007, final F1 race), with the balance provided by a conglomerate of sponsors drawn from teams and TV advertisers.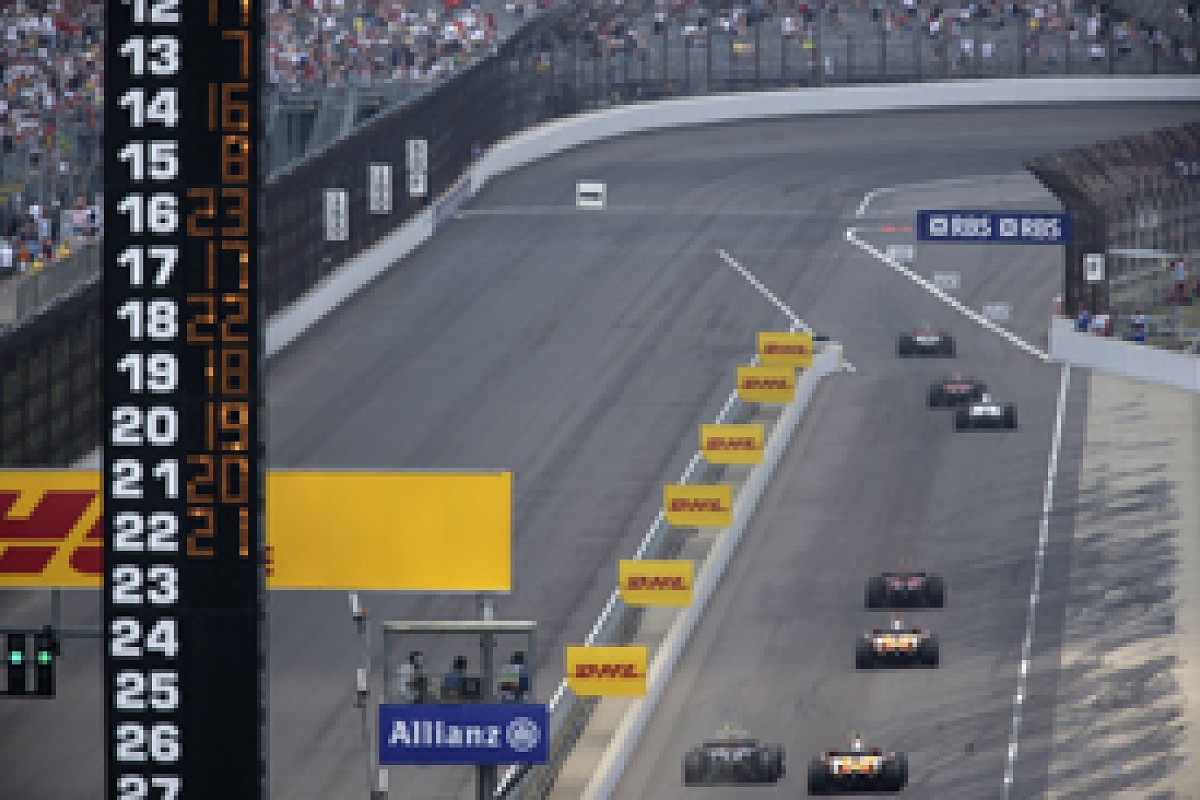 The famous Indy scoring tower © LAT
At the rate of £350,000 per partner it would require 'just' 25 partners to provide the shortfall, and the intention is that these recover their investments through television and overall media exposure - which they would not normally have enjoyed. Given that FOM would be the host broadcaster, it would surely be the work of a moment for Ecclestone to direct that cameras linger a bit longer on specific logos or hoardings.
Here, though, his betting partners will receive a ten-fold exposure return during that grand prix weekend, while non-participants in the scheme are left high and dry, picking up only collateral coverage...
Will the proposed scheme work? For starters, IMS offers the most important ingredient: a ready-made circuit and infrastructure capable of hosting a grand prix tomorrow. All it needs is a little cash to pay FOM (and a little water if recent events are any guide?) and the US has a race.
The latter consideration is eased considerably by Canada's return to the calendar, as travel costs can be readily split as they have in the past, when the venues held back-to-back races. Yes, Canada's attendance figures would fall slightly, but total North American numbers should be up dramatically.
JMI's scheme has merit (and could so easily be transferred to other venues), but a successful grand prix in North America - whether at Indianapolis or not, for it is believed George holds the rights to a US Grand Prix regardless of venue - requires the goodwill of all teams, at least 25 investors, FOM, IMS and Ecclestone.
And, that could be the biggest ask of all. Still, last-named sounded absolutely serious when he suggested '25 races', so possibly a heads of agreement deal had already been struck. A provisional 2011 World Rally Championship calendar was published today; how much longer before the F1 version appears?