Last year Jenson Button won six of the first seven races, while this season he's won two of the first four. Without a doubt the latter achievement is the more impressive, given the circumstances.
Not only is the Red Bull a clearly quicker car - certainly in qualifying trim - but Button has silenced the critics who thought he would sink without a trace when he joined Lewis Hamilton at McLaren. Instead he's won two rain-affected races in superb style, and done better in qualifying than anyone expected.
Hamilton has put in some sterling performances this year of course, and given a little luck he too should have won a race by now. But you can make your own luck as well, and brilliant tactical decisions in the wet by Button laid the groundwork for both his victories.
But having got himself into a winning position, he still had to finish the job. He's done that brilliantly, running faultlessly over a marathon second stint in Australia, and surviving the tricky conditions, and enormous pressure, in China. On both occasions he managed his tyres to perfection, showing just what a savvy driver he is.
Martin Whitmarsh celebrates with his drivers © LAT
"It was a fantastic result," beamed McLaren boss Martin Whitmarsh when I found him after the flag in Shanghai. "Both guys were fantastic on the circuit, they were both instrumental in calling the strategies. They ran the right strategies, probably the right strategies for both of them, actually.
"I think if we'd run the opposite way on the two guys, that probably wouldn't have worked, so I think we got the right strategies with those drivers in those conditions. But it was very, very difficult. About halfway through the race someone said we're only halfway through, and I thought we'd been running for four hours already!"
Button has always had a sure touch in wet conditions, and both his 2010 wins have resulted from him being a little bit more confident than others about his ability to deal with a slippery track on dry tyres, although the circumstances were different each time.
In Australia it was a case of being the first to go to slicks after the rain eased off, while in Shanghai he was one of just six drivers who had the nous to stay out on dries on the basis that the call for inters was so marginal that it wasn't worth stopping. It's interesting to note that two of the other guys who made that call - Nico Rosberg and Robert Kubica - have, like Button, massively enhanced their reputations since the start of the year.
"We asked Jenson about it," said Whitmarsh of the decision. "I said to them before, you've both got to give us information. They were both given the option to stop. Lewis decided to come in, Jenson decided to stay out. As I say, I think they got it about right for both of them."
Although the drivers made the call, it was in fact the ideal scenario for the team, given the uncertain conditions.
"We had one in each camp. Did we know at every moment of that race we'd got it right? No, because you can't. But did we make a lot of considered judgements under quite a lot of pressure? I think we called it right. For both of them, that was probably the best way to get to the end of the race, and they finished within a second of each other.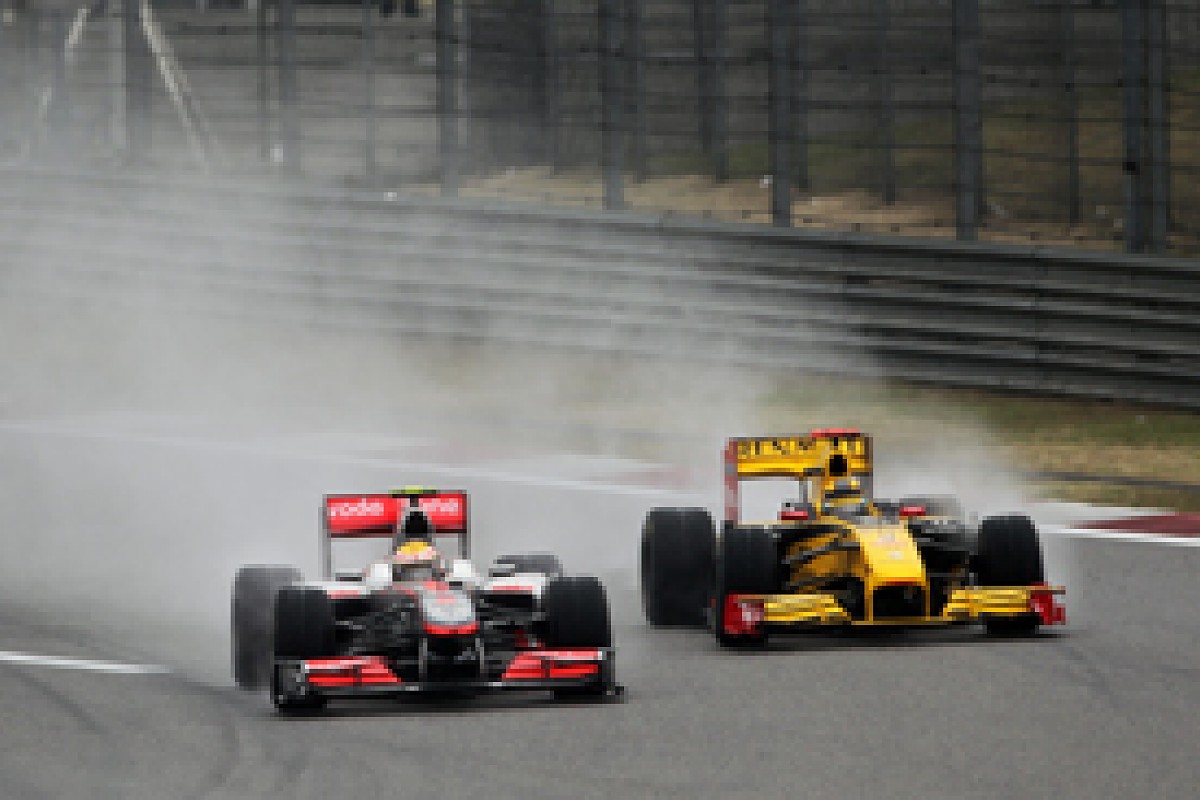 Hamilton races with Robert Kubica © Sutton
"At the start of the race you probably thought take a flier and go on inters, but here in two laps, if it was not wet enough, you would destroy an inter. Intermediate tyre wear was very difficult.
"It's very difficult for the guys to see [the tyres] as well, and it's wear which one, takes away the tread, and two, takes away heat from the tyres, so the tyres get cold."
Having lost ground at the start, Hamilton put in a typically charging performance, passing anyone who came into his sights and getting himself ultimately up into second place.
Along the way he had a bit of a moment in the pitlane with Sebastian Vettel. Having had his weaving drama in Malaysia, and his road car hooning incident in Australia, Hamilton must be wondering what he has to do to avoid trouble. Whitmarsh has no problem with what happened.
"I'd say that's racing, and the stewards saw it that way as well. It looked like both cars were released at the same time, Lewis was scrabbling over the paint for traction. I think if racing is not coming close to one another. I think it was reasonable, not ideal, but reasonable..."
Hamilton's charge into second was mighty, but like others who had made that early call for inters, only to have to swap back, he gained enormously from the safety car that was dispatched when Jaime Alguersuari's front wing came adrift.
Before that happened, Hamilton was 48s adrift of Button. After the restart, the gap was 5.5s. In other words Hamilton was given a huge bonus. Had the race run interrupted to the flag, he wouldn't have got anywhere near to Button, whose strategy call would have looked even more impressive.
But as I said, you have to make your own luck, and Hamilton took full advantage of a situation that ultimately allowed him to get into second and begin to put pressure on his team-mate.
Just to add to the excitement, like other drivers, both men were struggling to keep their tyres alive, Hamilton seemingly struggling more with the fronts, and Button with the rears.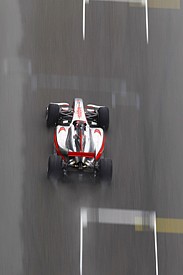 Jenson Button heads for victory © LAT
On lap 51 Button had a little excursion that cost him 4s, and with seven laps to go, Hamilton had even more motivation to push on.
"It added to the tension!" Whitmarsh joked. "I've got to say, Lewis was absolutely bearing down. Then Lewis was given the information, he responded, and closed the gap. I think we did the right thing. We let them race without going crazy."
And according to Whitmarsh, they really were racing.
"We had a dilemma! We could have said to our guys quite a few laps out, 'now pace yourself back, both of you'. But I think we tried to get them to have a go at racing. They really do have a good relationship, I think they are both sensible people, and I think you've got to trust the drivers in those circumstances, and they could drive within their own limits.
"We were giving them the information, Jenson was getting the gap to Lewis, Lewis likewise was getting the gap, and he knew... Believe me with five laps to go, Lewis wanted to win that race and he knew that he could catch him. I think both their tyres were pretty worn at the end, and we could have run a safer strategy.
"You never know. When we were having that discussion, some people said let's stick with a one-two here. I think with the drivers that we've got at the moment, they're both very sensible, they both want to win, I think they both want to feel that they are being given every opportunity for it. And I think we did the right thing. If they'd fallen off, we'd have done the wrong thing..."
Button has clearly gone some way to building a special relationship with the team, which cannot have been easy given Hamilton's entrenched position. He seems to have done it without any of the machinations which we can already see at Ferrari, where Fernando Alonso appears to attempting to assert himself at any cost. No surprise there, of course...
His opportunistic lunge down the inside of Felipe Massa on the way into the pits - in order to give himself first call in the stacked pit stop - reminded me of Michael Schumacher's last lap pass of Rubens Barrichello for seventh at Monaco in 2005. On that occasion the German took advantage of the fact that the car in front was his team-mate, and was obliged to not close the door.
For Barrichello, that was the straw that broke the camel's back after years of playing number two. That very night he first began contemplating getting out and going to Honda, alongside Button, as it happens.
I doubt whether Massa is thinking about bailing out - rather the suggestion is that he might be pushed - but however much the Ferrari management tries to brush it off, last weekend's move was a major act of gamesmanship by the Spaniard.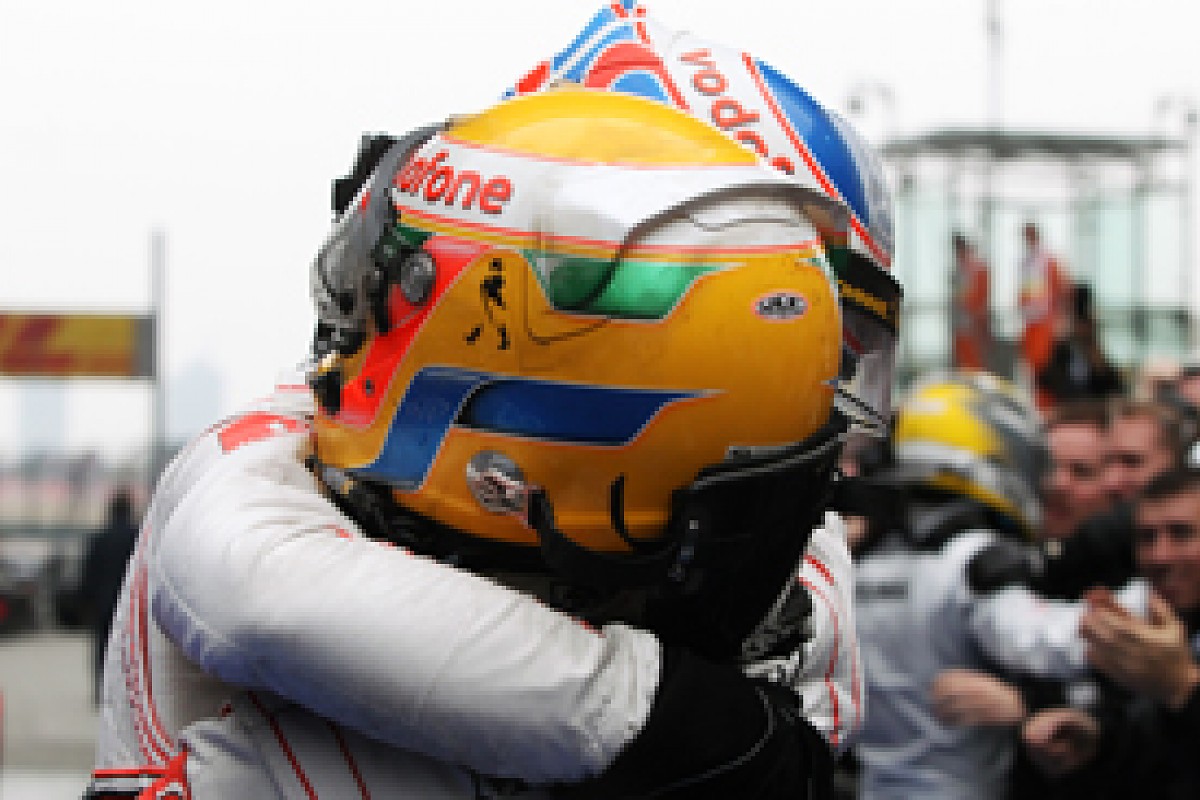 Button and Hamilton embrace in parc ferme © Sutton
Button meanwhile has just got on with the job both on and off the track, and is just being himself, in other words the decent guy that he genuinely is. One McLaren insider told me during the winter that if anything, Hamilton was the one who was feeling the pressure as everyone got used to this new relationship. While they probably have developed more of a personal bond since then, Hamilton must have been surprised by the challenge he's been presented with.
JB has made it clear how much fun is having, and the guy we saw winning those two races was very different from the one who faltered a little at the end of last year, as the pressure mounted.
"I think Jenson has had a fantastic approach in the team and with his team mate," said Whitmarsh on Sunday. "He's learned a lot and developed as a driver, he's got the maturity and self confidence and self belief of a world champion, and he conducts himself like a world champion within the team, and on the race track.
"That's fantastic for us really. I think the relationship between the two drivers is already very, very strong, and I think you could see that in parc ferme afterwards. They both want to win, they're both racing each other, they're both delighted with the outcome."
Hamilton probably wasn't quite as delighted as Button, however. But given the form that he's displayed this year, seemingly always battling though from some kind of adversity, at some stage things are sure to start going his way.