When Willy Rampf handed over the Sauber reins to Force India emigre James Key last week, it brought to the end a decade-long spell as the Swiss outfit's technical director.
The 56-year-old German is a man who prefers his results to do the talking, so it may come as something of a surprise that, at the moment of his departure, Rampf was F1's longest serving technical director. But don't equate low profile with low achievement, for on his watch Sauber thrived as an independent team in a manufacturer era, became a race-winner in its four years as a factory-owned outfit and then re-established itself as a privateer this season once BMW walked away.
Not a bad effort for an engineer who harboured no serious aspirations of working in the sport ("I dreamed of F1, but every engineer dreams of F1," he says). Just like Sauber's story in grand prix racing, it all started at Kyalami in 1993 with an invitation from an old friend. It was Sauber's F1 debut after years of success in sportscars, and Rampf had been placed at BMW South Africa. JJ Lehto finished a remarkable fifth from sixth on the grid in the Ilmor-powered Sauber C12, and Rampf was hooked.
"I knew Leo Ress from BMW times - he was a great friend of mine," says Rampf. "He invited me to the race because I was based in Pretoria and it was just a short drive to Kyalami. I was completely amazed by Formula 1 - the sport, the level of preparation, how complicated the cars were. So after the race, I went to [team owner] Peter Sauber and told him that if there was any possibility to work there in the future in the area of track engineering to let me know."
Rampf went back to his day job with BMW, while Sauber maintained its impressive early form in F1 to finish a strong seventh in the Constructors' Championship. Fortunately for Rampf, an opportunity did arise and Sauber recruited him. Remarkably, at the Brazilian Grand Prix n 1994 he found himself thrown in at the deep end as race engineer for Heinz-Harald Frentzen, then a rising star touted by many as world champion material.
"The original plan was to be test engineer because I had no experience," recalls Rampf. "I had been involved with motorcycle racing, but at nothing like this level. They wanted me to start as test engineer to get into the system and the dream was to become a race engineer later.
"But when I started, there was a re-organisation at the team and Peter Sauber told me 'you aren't going to start as test engineer, you are race engineer. You are new, Frentzen is also new, so let's try it. Maybe it works, but if not it's no disaster.'
"It was very difficult at first and I had to work very hard. But Peter Sauber gave me a chance and I had a lot of help from the engineers in the team. At the first race in Brazil, I had Leo Ress with me and we qualified fifth, which was a very good result. The next race was the Pacific Grand Prix in Aida and he did not go, telling me that I had seen the procedures and now I could do it alone."
Frentzen finished fifth in that race, his and Rampf's first F1 points, heralding the start of a very fruitful three-year relationship between the pair. The young German qualified in the top 10 in 11 out of 16 races in 1994, including a couple of late-season second row starts, and ended the year with a very creditable seven points.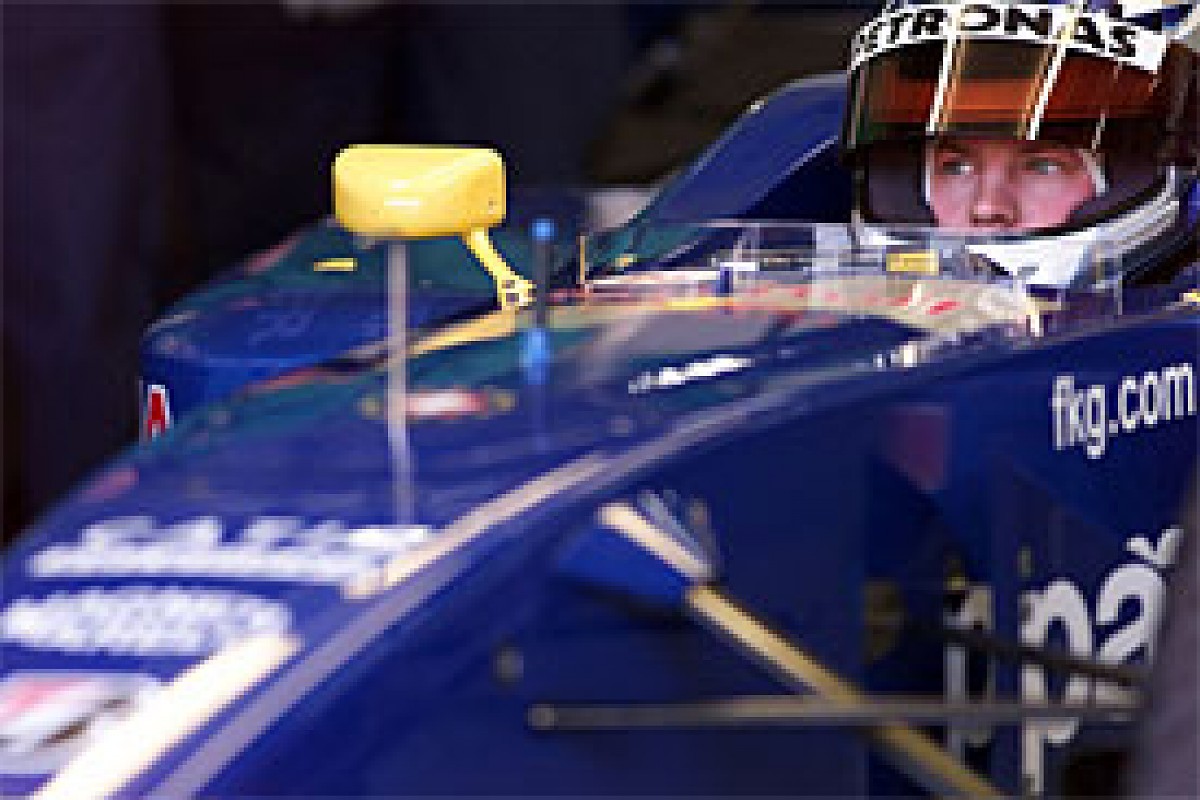 Kimi Raikkonen, Sauber, 2000 season © LAT
The following year, qualifying form was less impressive but a total of eight top six finishes helped Sauber to seventh in the constructors', with a podium in the 1995 Italian Grand Prix the highlight. With Frentzen on his way to Williams for 1997, his third and final season with Rampf, a couple of fourth places was as good as it got, but it was still good enough for Sauber to retain seventh place.
"Frentzen was very good to engineer and he was a very talented driver. He was also very good on feedback. He could have achieved more because he was very talented and he found it fairly easy to do very good laptimes. We had a very close relationship over the three years. Maybe he missed that kind of relationship when he moved?"
Rampf certainly missed the relationship. For 1997, he started the season as race engineer to Nicola Larini, who had been placed at the team as part of a deal for Sauber to run Petronas-branded Ferrari power plants. Despite finishing sixth in the season-opening Australian Grand Prix, the Italian's relationship with the team was fractious and he walked away after five races to be replaced by Gianni Morbidelli. After two races, the injured Morbidelli was replaced by former German Formula 3 champion Norberto Fontana, returning after three events out. Rampf didn't enjoy the raft of driver changes, and opted to return to BMW at the end of the year.
"In 1997 I hard three drivers - Larini, Morbidelli and Fontana - and that was not so exciting," says Rampf. "For an engineer, you just get used to one driver and then the next one comes along! So I decided to do something different and went back to Munich. My family lived there and I was always commuting to Switzerland, so it was also a good chance to spend some time at home.
"But I didn't stay at home so much because I was thrown into the Dakar Rally project!"
Rampf headed up the technical side of BMW's motorcycle rally raid project, culminating in Richard Sainct's triumph in 1999. But F1 finished for Rampf, and Peter Sauber for one was determined to get him back one day. That day came in late Summer 1999, when Rampf decided to restart his working relationship with Sauber and agreed to start a second F1 career with the team. His respect for Sauber's way of doing things was a big part of the equation.
"I stayed in contact with Peter Sauber, who told me that maybe one day I would come back," recalls Rampf. "I didn't leave because I didn't like the team, it was because there wasn't the challenge. But he phoned me a few days after I left and asked if I had made the right decision! I replied that I didn't know!
"In 1999 - August or September time - he asked me if I would rejoin and convinced me that Sauber was the best place to work. I didn't regret the decision; in fact, it was one of the best that I have ever made.
"Overall Peter is very fair. He can be very hard but if you need someone to count on, you can always rely on him. We were not always of the same opinion of how we do things, but if it came to the point to make a change, we would argue, but if we made a decision you could 100% rely on him. Also, in very difficult days if the performance was not there, you could say what had to be done in the future and he was the right man to understand this."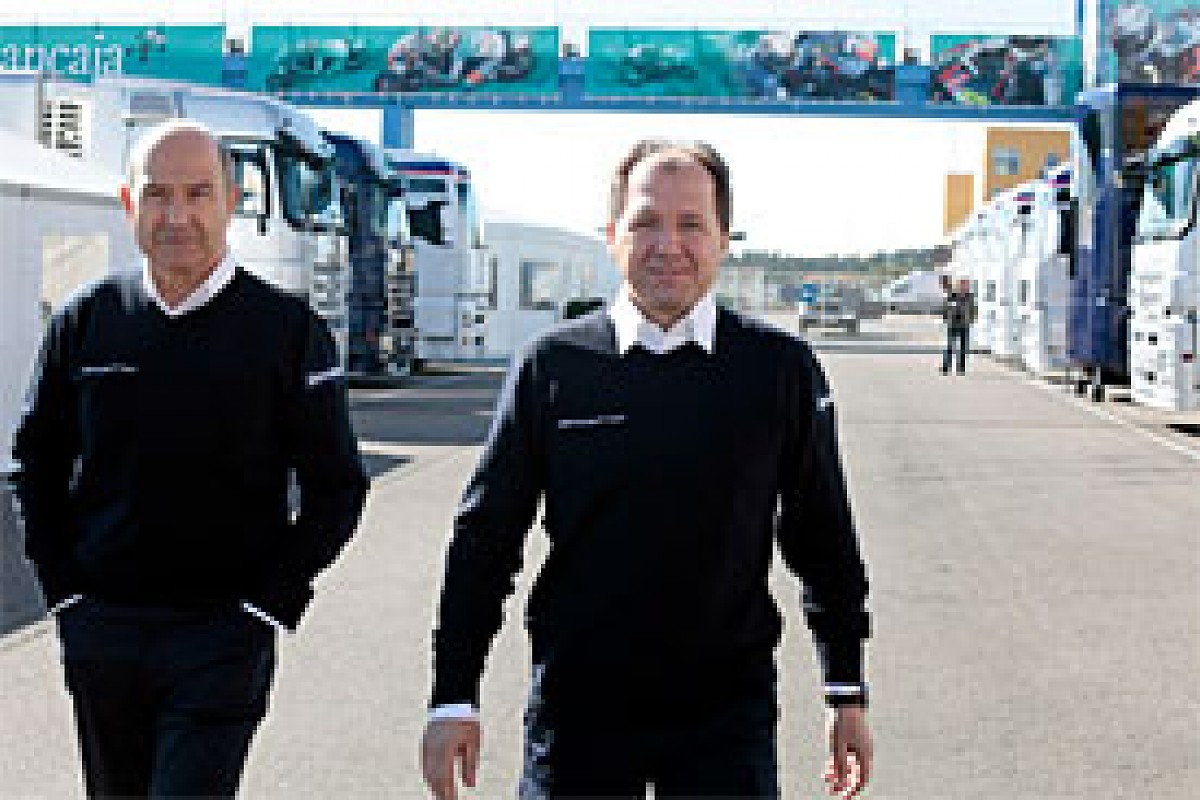 Peter Sauber, Willy Rampf © LAT
Rampf was appointed chief track engineer at a time when the team was expanding, with the staff headcount increased from around 200 to 280. After putting his efforts into restructuring track side engineering, on April 1 the following year he was promoted to technical director in place of Ress. Although 2000 was a difficult season, with the experienced Mika Salo and the monied Pedro Diniz scoring just six points between them (all from the Finnish corner), it was a precursor to Sauber's most successful year as an independent team.
For 2001, Nick Heidfeld was rescued from a potentially career-ending debut F1 season with Prost and both Sauber and Rampf decided to role the dice on an inexperienced, underqualified unknown. Following a remarkable performance in his maiden F1 test over four days at Mugello in September 2000, the team was about to unleash 21-year-old Kimi Raikkonen on F1.
"Kimi was a big risk," says Rampf. "But we came to the conclusions that he was the right man for us. We were amazed by his driving because he had no experience. At Mugello, I was there and Peter also came down. Kimi was given a laptime to achieve and after every day he had achieved it and we asked for a quicker laptime. Then we gave him new tyres and took out 40kg.
"He had never driven with no fuel, and the simulation said that he should be 1.2 seconds quicker. And he did the first lap exactly 1.2 seconds quicker. He didn't know where the braking points were, and he just had the out lap to get a feel for it but he was spot on with the simulation. This was astonishing.
"He was very confident. After the test, I told him that it was a good laptime but he could go quicker. He asked me if he should have gone quicker and I said 'that would have been good'. His response was 'if you had told me, I would have been quicker'. He wasn't joking - he was serious.
"From that test, I said to Peter that we had to take him. And it wasn't a huge risk because if he is that quick and talking like this he must be a big talent. And so it proved. Peter was happy and was also convinced that he had to be the driver.
"We expected that he would have some offs and make some mistakes, but it was not the case. Right from the start he was on a very high level. I would say that he was the best driver that I worked with and I still have the very highest respect for him."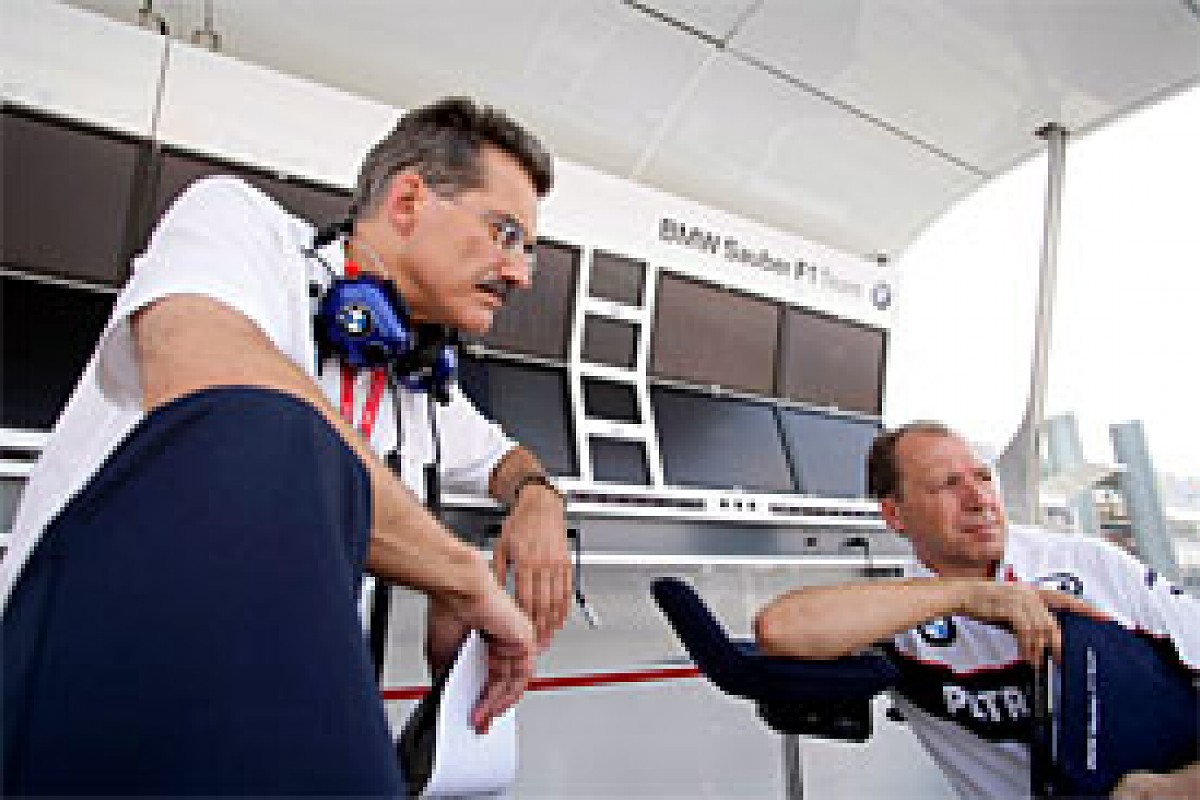 Mario Theissen, Willy Rampf © LAT
With Raikkonen headhunted by McLaren for 2002, Sauber again turned to youth and another future Ferrari star - Felipe Massa - was paired with Heidfeld. The Brazilian was more raw than Raikkonen, but it was clear that he had the talent to cut it in F1, especially with Ferrari massaging his path into the sport.
"He was a different character, but also very talented," says Rampf. "When we did the first test he was quick without making mistakes, but sometimes made a mistake on the in-lap. But under pressure he was very talented - as we can see now."
In 2001, Raikkonen and Heidfeld picked up 21 points (at a time when only the top six scored) and fourth place in the Constructors' Championship. This was followed with fifth place the following season. Although significant investment was being poured into the team's Hinwil base, including the construction of a state-of-the-art wind tunnel, realistically Sauber had no chance of mixing it with McLaren, Ferrari or Williams. Not that Rampf was frustrated by this glass ceiling.
"It wasn't frustrating because it was a challenge every year," says Rampf. "In those days there were three top teams and to be close to them was the main target. We knew that we would not be world champions because the teams had much more money, but from an engineering challenge it was always interesting to see how close we could get to the frontrunners."
By this time, Sauber had become the model independent team. Prudently run, able to hold its own in the midfield (finishing sixth in the Constructors' Championship in 2003 and 2004), it was the obvious target for BMW to acquire when it came into F1. In the middle of 2005, the deal was completed, and as a former BMW man Rampf was perfectly prepared for life at the renamed BMW Sauber team.
"The target was clear - we had to get to the front and fight with the top teams," says Rampf. "We increased the headcount and to do that we had to think about the organisation to maintain the efficiency of a smaller team but also be able to work in all the areas that we couldn't before.
"For me it was maybe easier because I knew how big companies work. It was not always easy, but BMW had some very good ideas and proposals on what to do with organisation and how to develop the car. For example, we had to do a lot of work on the cooling side for the BMW engine. Overall, it was quite successful.
"I got on very well with Mario Theissen. He didn't interfere with my day-to-day business, but he did want to be informed of the decisions, which is fair because he was the boss. Working with him was quite pleasant."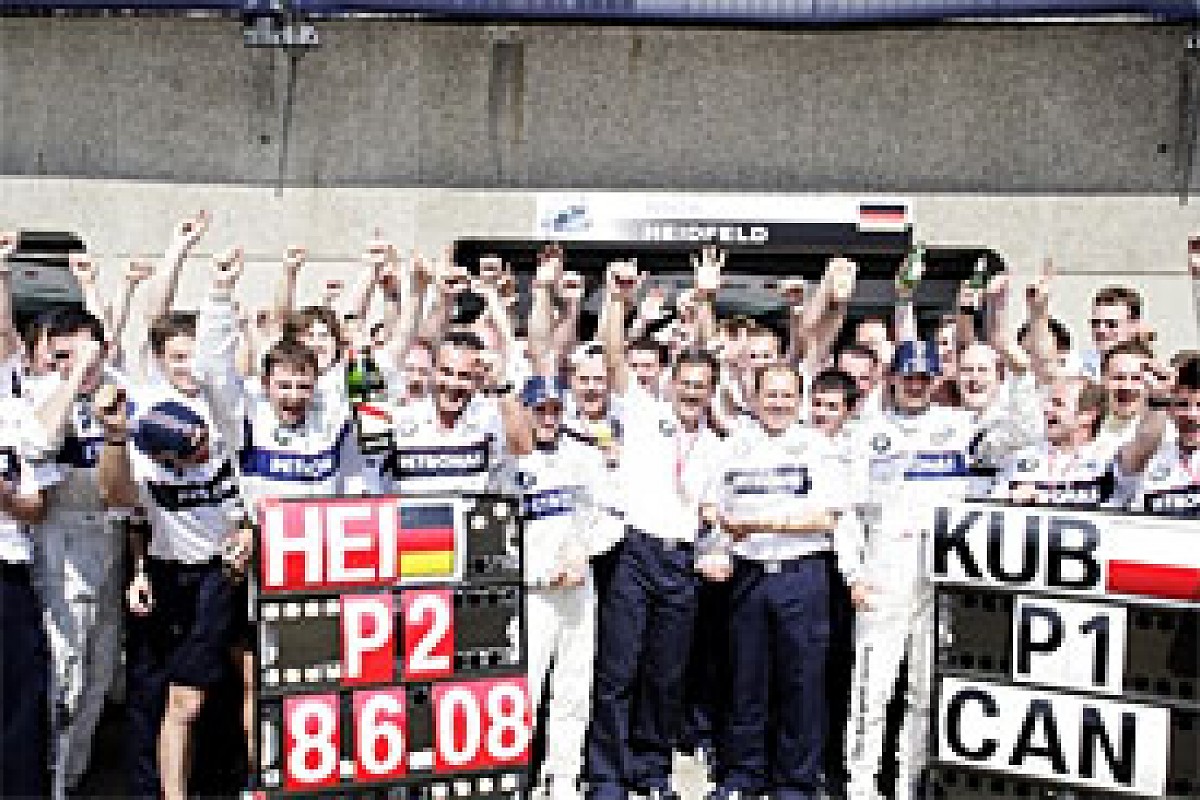 BMW Sauber celebrates victory in Canada 2008 © LAT
The story of BMW Sauber in F1 will forever be told as three years of unrelenting improvement, followed by ultimate failure. It's an unfair conclusion, as the team was able to take the fight to Ferrari and McLaren in 2007 and 2008, and even in that disastrous final year the F1.09 was transformed from a car that would fall in Q1 into a podium finisher.
Rampf admits that it was "disappointing" that BMW pulled out when it did, but the team still managed 17 podium finishes, including a victory for Robert Kubica in the 2008 Canadian Grand Prix. The expected title tilt for Kubica never materialised, despite flirting with championship glory in 2008, but Rampf reckons that the much-publicised needle between team and driver was overplayed.
"He is very talented and very quick and also very demanding of the team to move forward and develop," says Rampf. "From the outside it maybe looked more critical than it was. To have a demanding driver is OK, as long as he is quick, as we don't want an easy life from an engineering side. We were quite successful together. He is certainly one of the candidates to be a world champion."
Nonetheless, the BMW years still produced Rampf's greatest moment in F1. Not that victory in Montreal, but, ever the engineer, he picks that year's Australian Grand Prix when a car that had looked like a dog as late as the team's penultimate test damn-near took pole.
"The Canada win was very nice, but the greatest moment was Melbourne in 2008," he says, smiling at the memory. "In pre-season testing we had a car that was not so quick and at t he second-to-last test, Robert came to me and asked if we could take last year's car to Melbourne because he was sure that it was quicker.
"But we had new parts for the last test; it was not a complete redesign, it was just optimisation and on Saturday morning in Melbourne we were first and second when we took out some fuel, even though the tank was not empty. So we knew that we could be very quick and Robert made a mistake in qualifying but was still on the front row."
That first half of the 2008 season was the peak for BMW. Rampf attempted to ease off his F1 activities at the end of that year, even taking a three-month sabbatical during the winter, but returned for the pre-season.
Then, when Sauber took over the team late last year, Rampf agreed to stay on as technical director and played a vital role in recruiting his successor Key, from Force India. He feels that the future of the team is in safe hands, and, despite keeping his options open, doesn't sound like a man planning a second comeback.
"I'm am pleased to have James Key as technical director," says Rampf. "I was involved in the process of choosing my successor and I rate him very highly. Sauber has the right guy in this position.
"I don't know if I will come back one day because I am 56 now and to wait two years and come back I will be close to 60! That's not the right age to come back as technical director. Overall I am very happy with what I have achieved. To win the world championship was the ultimate goal, but I can say that I worked as a technical director for 10 years with Sauber and what we have achieved, looking back, we can be very proud of."
This weekend's Chinese Grand Prix is Rampf's final race with Sauber. At the end of the month, he will leave a team that he has played a pivotal role in over the years. He has earned the right to look back in pride at his contribution to a team that has survived when scores of others have fallen.
Not bad for a BMW development engineer whose F1 career was only triggered by a chance visit to the South African Grand Prix 17 years ago.