Formula 1 has never really taken off in China; if it had, the local taxi drivers would surely have better knowledge of the location - not to mention existence - of hotels near the track, and the track itself for that matter. Strange really, as the style of overtaking favoured by the locals (usually on blind corners) suggests that the racing spirit flows richly in their blood.
With little in the way of atmosphere or raceday crowd to look forward to, save for those fooled by the brilliant ruse of painting the empty grandstand seats on the start/finish straight a variety of colours to resemble spectators, there is plenty of time for off-track shenanigans to take centre stage.
Suspension trickery has been the talk of the build-up to the race following the FIA's post-Malaysian Grand Prix clarification of regulations banning any form of ride height change between qualifying and the races. McLaren has admitted that it has been forced to make modifications to its planned upgrade package, while Red Bull remains steadfast in its insistence that it has no such system in place. McLaren might beg to differ if the 0.15-0.2-second qualifying advantage Red Bull has had so far this season vanishes, but few doubt that the Red Bull will be the car to beat this weekend.
Sebastian Vettel could be the man they're all chasing in China © Sutton
Most interesting will be whether the needle that is beginning to manifest itself between the two teams grows further in China. An on-track clash could be even more of a flashpoint than usual, and isn't out of the question given the (rear wing-stall assisted) straightline speed advantage of the McLaren on the long run down to Turn 14.
We're also seeing the first trappings of the silly season for 2011 opening up. After the Malaysian Grand Prix, AUTOSPORT magazine revealed that Ferrari was undecided on whether to keep on out-of-contract Felipe Massa or grab Robert Kubica from Renault. Both the Brazilian and the Pole were asked about this today. Massa said that there was "no rush" (three times, for this is the Ferrari party line) while Kubica described them as "rumours". Expect this one to run for a few more races yet and Massa to be determined to prove that he has the speed - on top of the consistency - to match Fernando Alonso.
Not for the first time in China, talk of Lewis Hamilton's driving standards is on the agenda. Having moved across the straight several times while being chasing by Vitaly Petrov in the Malaysian Grand Prix two weeks ago, he escaped a drive-through penalty. Despite seemingly being in violation of the FIA's Sporting Code (it's in Appendix L, for those interested), which allows only one move, many accepted that there is a difference between defending and trying to break a tow. Others, many of his rivals included, believe that it should have been a no-questions-asked penalty and that the very rarely seen black and white warning flag was too mild a reaction.
Ironic really, considering the drivers are very happy to have a fellow racer on the stewards' panel - perhaps it was Johnny Herbert who recognised a slipstream-breaker rather than a block when he saw it?
The topic will come to a head on Friday afternoon, when the Grand Prix Drivers' Association meets. Hamilton's move(s) will be raised, and Rubens Barrichello for one is certain that it will be a major point of discussion. "I think it's going to last three hours, the GPDA talk," he told me on Thursday, which suggests that there will be some weaving, not to mention dodging, going on in the meeting.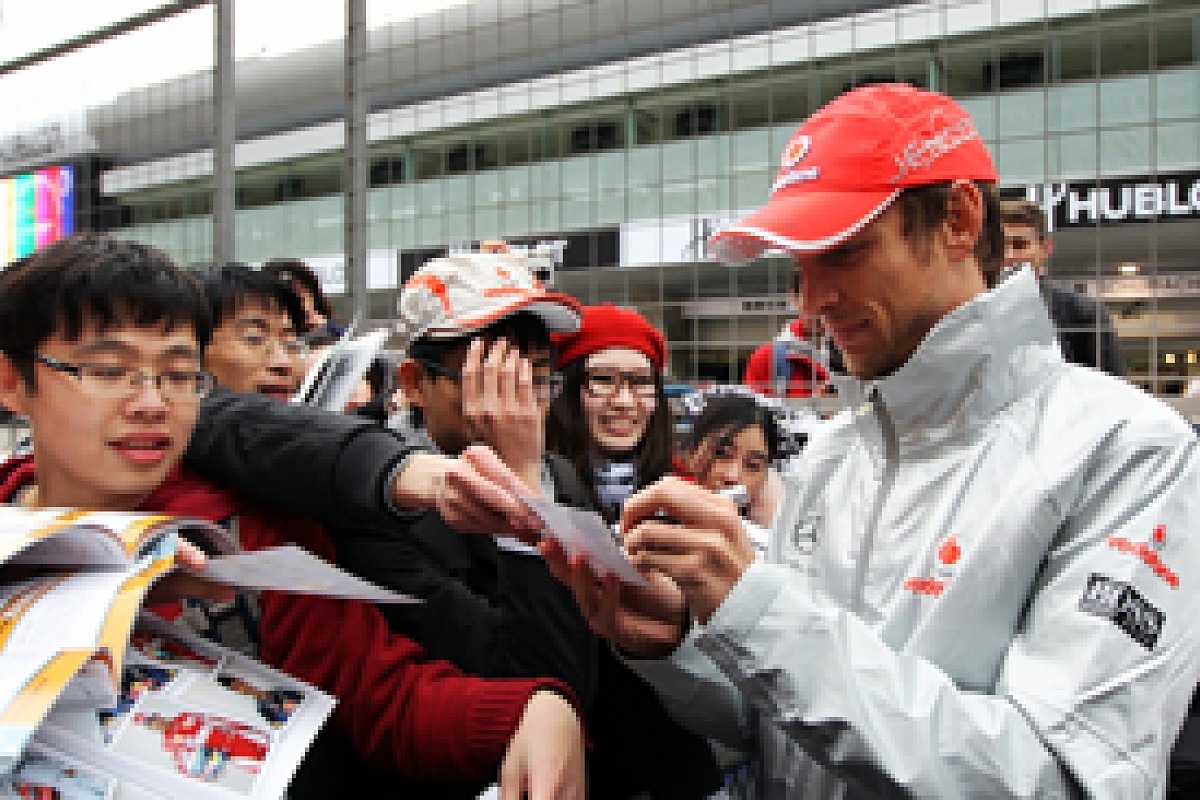 Jenson Button meets fans in China © Sutton
China being China, there will also be healthy number of enthusiastic local journalists with some unusual question to ask. On Thursday afternoon, for example, Jenson Button was presented with a selection of photographs of pavilions from the Shanghai Expo and asked to choose which he believed was the British one.
Jenson took this in good spirit, and ended up picking the Japanese pavilion (despite former AUTOSPORT man-turned McLaren press officer Steve Cooper twice pointing out the pavilion that Lewis Hamilton had visited earlier in the day by way of a hint). Sadly, subsequent questions proved more orthodox, and the quizzes were over. For now...