Late on Friday afternoon in Malaysia all the team bosses headed to the first 'trackside' FOTA meeting of the season, with the agenda consisting of five items: (the return of) KERS, the FIA's proposal to license senior team personnel in the wake of the Singapore Scandal, cost saving (again), 'spicing' the show, and 'Any Other Business'.
KERS and AOB hogged much of the 2.5 hours the team bosses had at their disposal before being required to attend a ministerial welcoming function, so little time was available for the remaining three items. And, as always, the meeting was shrouded in secrecy, with no subsequent media releases or briefings.
F1's team bosses met at Sepang © LAT
However, a FOTA source advised that the three items were discussed, albeit rather cursorily, with the overall consensus being that, while Formula 1 should continuously seek ways of improving its product in the wake of 'Borerain', the Australian Grand Prix has shown F1 2010-style could entertain its fans for two hours. And that knee-jerk reactions were the last thing the sport needs.
Yes, all agreed Melbourne's capricious weather had assisted greatly in delivering a thrilling spectacle, but the bottom line was that F1 should see through the first four 'flyaway' races (at least) before making format changes.
An eminently sensible decision, that, and one later vindicated by Sunday's show in Sepang. So, yes, changes may be on the way, but these will be better thought through than had been the case in the recent past.
As regards the licensing issue, FOTA would appear to accept that, while the body would prefer senior staff be bound by a voluntary code of conduct, the aftermath of events in Singapore 2008 dictate otherwise. Thus FOTA hopes to have input into the process, and will make proposals.
With the economy on the agenda of all self-respecting politicians, so it is at the forefront of the minds of all team principals, so no surprise cost saving regularly features on FOTA agendas. But, again, the body had other fish to fry on Friday, so discussions in this regard are said to have been cursory.
And so to KERS: When the teams last June voted for a moratorium on KERS usage for this season, it was inevitable that the kinetic energy recovery system would make a comeback at some stage. But, as is usual in the world's fastest sport, decision-taking is an excruciatingly slow process compounded by the need for FOTA's articles of association calling for unanimity where decisions affect the current and/or next seasons.
So, while all agreed (surprise) KERS is vital to F1's future image, they could not quite agree (no surprise) on how best to re-implement the device. Italian electronics company Magneti Marelli has on offer the generator/battery customer system used by Ferrari to win in Belgium last year, and is pushing to have it universally adopted; Williams invested in the Hybrid Power company (now renamed Williams Hybrid Power) which developed a flywheel/motor system, while McLaren is believed to have spent upwards of $60m (£40m) on its own KERS system - which powered Lewis Hamilton to victory in Hungary last year.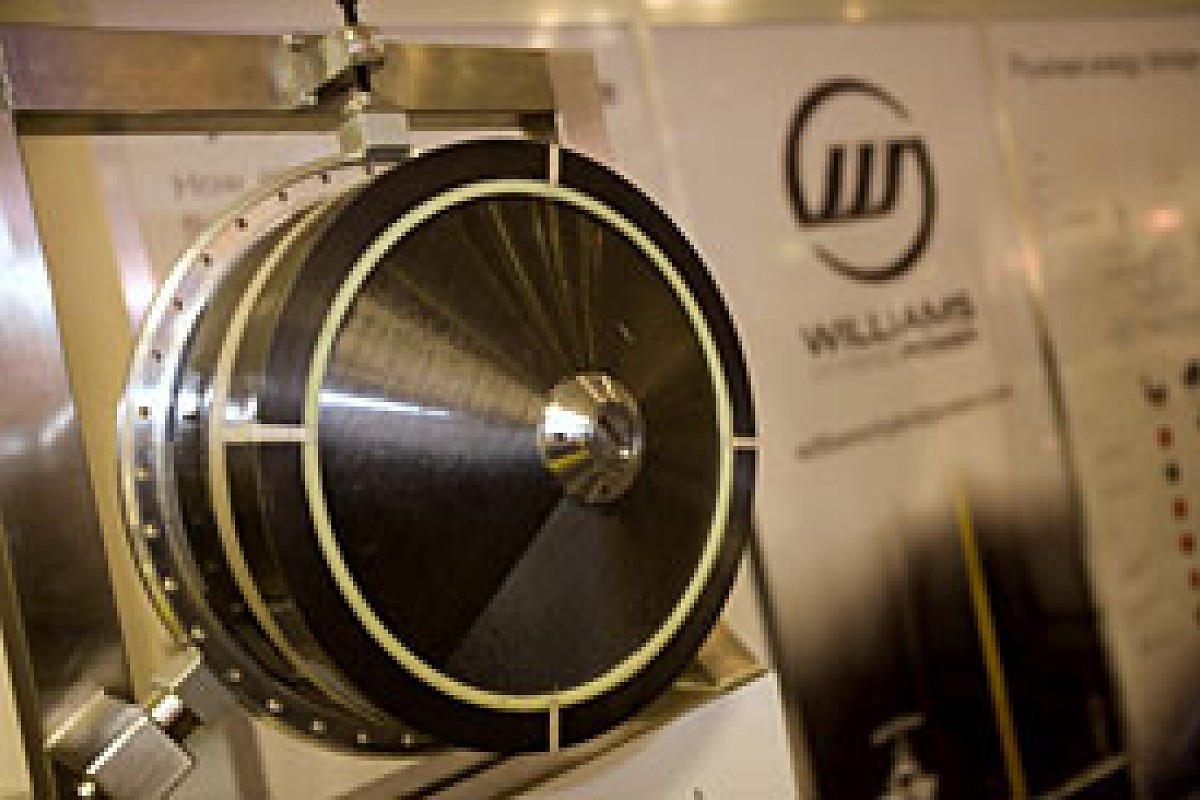 Williams Hybrid Power's KERS flywheel © LAT
Then, Cosworth is thought to be developing a customer system, while Mercedes has yet to commit to KERS - this despite entering into a tripartite alliance with Renault/Nissan for the development of electric/hybrid production cars.
So the options are massive.
Thus the first question on FOTA's sub-agenda was whether the teams unanimously wished to see the compulsory return of KERS, and, if so, whether a standard system should be mandated (again 100% agreement required). Then, the next consideration: should F1 stick to the power outputs and boost periods of 2009, or increase/decrease them?
Last year KERS provided a 'push' of 80bhp for a maximum of six seconds per lap, but some factions want to see that output doubled to make KERS more relevant to production car technology, while others are hoping to double the usage time. Still others want to push for both - which is possible, of course, subject to a four-fold increase in battery output (and weight), equal to an additional 80 or so kilograms.
Another complication is that packaging the full KERS system - recovery unit, storage device and drive motor - together with the current 200-litre fuel tanks within existing wheelbases will be virtually impossible, so either refuelling will return in 2010, the moratorium on KERS will remain, or the cars will, in the words of Frank Williams, be 'about as long as a London bus...'
Don't expect a decision on KERS any time soon. It is on FOTA's Barcelona Grand Prix weekend agenda, by which time it may even be too late to incorporate the device in 2011 cars. Assuming agreement is reached, that would mean reintroduction in 2012. There is, though, a belief in some quarters of the paddock that F1 should embark on a period of consolidation after the upheavals of the recent past, and with entirely new technical regulations slated for 2013. It surely makes sense to incorporate a seriously hi-tech KERS device into that 'new look' F1.
Williams is, rightly, concerned about the way F1 is perceived ecologically, and believes strongly that F1 needs what he calls a 'totem'. But if F1 committed itself to a full-on energy recovery system for then (and, equally crucially, publicised the fact), that should keep the environmentalists at bay. 2013 is, after all, only two full seasons hence.
Then it was onto 'AOB', and having attended a meeting called by Bernie Ecclestone at lunchtime where the tyre situation was discussed, it was only logical that the subject would be a major discussion point during the FOTA catch-up four hours later.
The issue is at the same time more and less complex than the question of KERS reintroduction. In short, unless the powers-that-be find a supplier (s) pretty damn quick (or persuade Bridgestone to about-turn) F1 won't have rubber to race on next year. In a nutshell, Bridgestone realised that its sole supplier status is a poisoned chalice - the company's name is often only mentioned when teams experienced tyre 'issues' - but will honour its contract, which runs to Abu Dhabi in November, in full. Then, though, its involvement is over. Or so it says...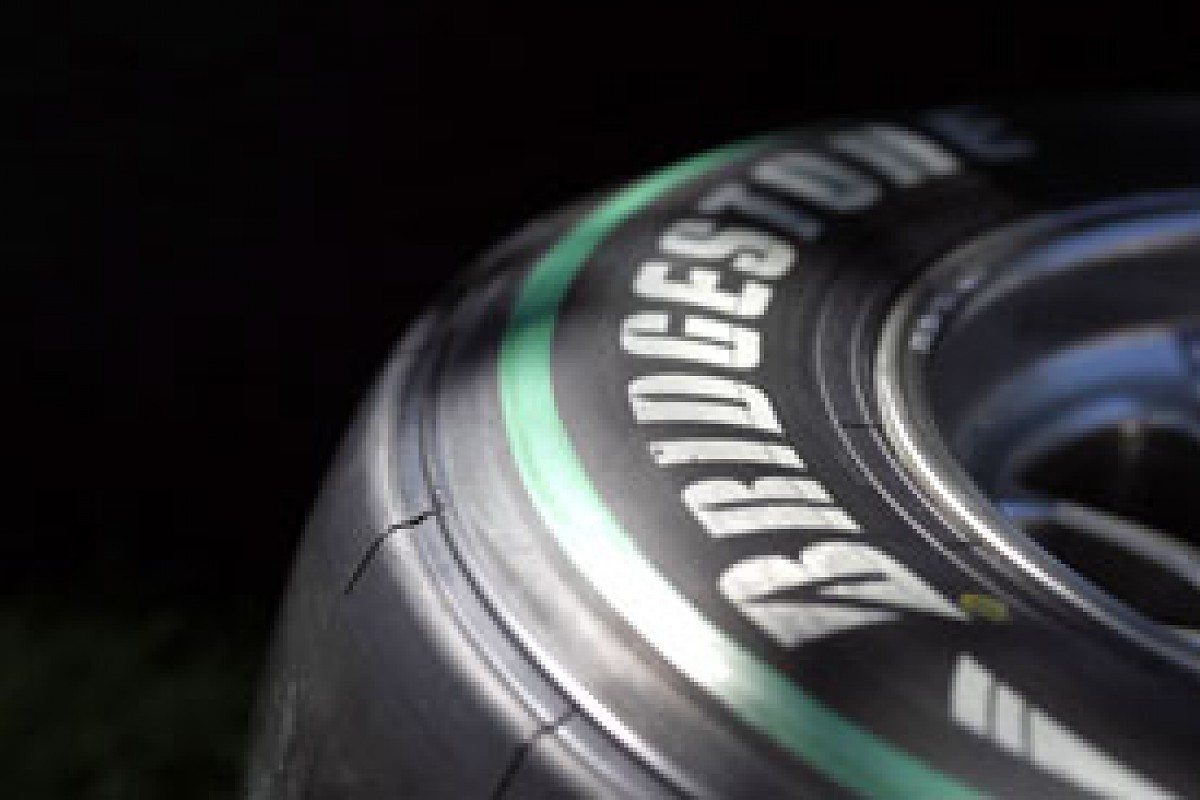 2010 is Bridgestone's last in F1 © LAT
Meantime Michelin, which was, let us say, hounded out of F1 for daring to be different, is said to be seeking a return, but on its own terms, namely a) preferably with competition, and b) that F1 adopt the tyre sizes supplied by Michelin to endurance teams for events such as the Le Mans 24 Hour classic.
Both points, particularly the latter, make perfect sense, for it has the moulds (plus crucial data) and experience with those sizes and compounds, plus recent experience with heavy sports cars on heavily banked circuits such as Daytona - which should kill off the ghosts of the 2005 US Grand Prix at Indianapolis...
For the record, Bridgestone presently supplies 245/13 (front) and 325/13 (rear) tyres to teams, where the first number is the width in millimetres and the second the rim size. Michelin is believed to be offering a variety of widths, all on 18 inch rims. Its present endurance racing range covers widths from 270mm to 330mm (fronts) and 270mm to 370mm (rears) - in both (slick) 'dry' and (treaded) 'wet' specifications.
Obviously existing suspension, brake and aerodynamic designs will be affected, particularly given that F1, despite being the highest-tech form of motorsport, has been in a tyre rut for close on 20 years - standardised on 13 inch rims and crudely high profiles back in the early 1990s. Low profile F1 tyres - which Michelin is suggesting - and the benefits thereof to the sport were analysed in detail in this column in July 2008 so need not be discussed here in great detail; needless to say, the jury is out as to whether they should be adopted for 2011.
So, once again the sport faces a devil's alternative of its own making: having gone the single supplier route at the behest of the World Motor Sport Council, the sport has less than 10 months to go before the inevitable switch to another tyre manufacturer. Yet, at this stage - with nine months to the first test session of 2011 - it does not even know the identity of its new supplier, let alone the dimensions! Again, this one looks set to run - and the one thing F1 does not have when it comes to tyres is time.
The final matter discussed under 'AOB' was the question of a pit garage 'curfew' on Friday evenings. While some team bosses indicated Virgin Racing suggested the concept - something a senior member of the team denied - the fact of the matter is that a curfew, which would result in garages being out of bounds after certain times on Friday nights was discussed as a means of preventing teams, particularly the new ones, overworking their technicians ahead of Saturday running.
The matter has its roots in an agreement which restricts teams to a maximum of 45 race team heads, and at all three races held to date lights were seen burning virtually throughout the night in most garages. In addition, the bigger teams had staff back at base working 24/7 and feeding their recommendations back to the poor 'doers' at the circuits, who, in turn, slaved away without sleep, with resultant safety worries.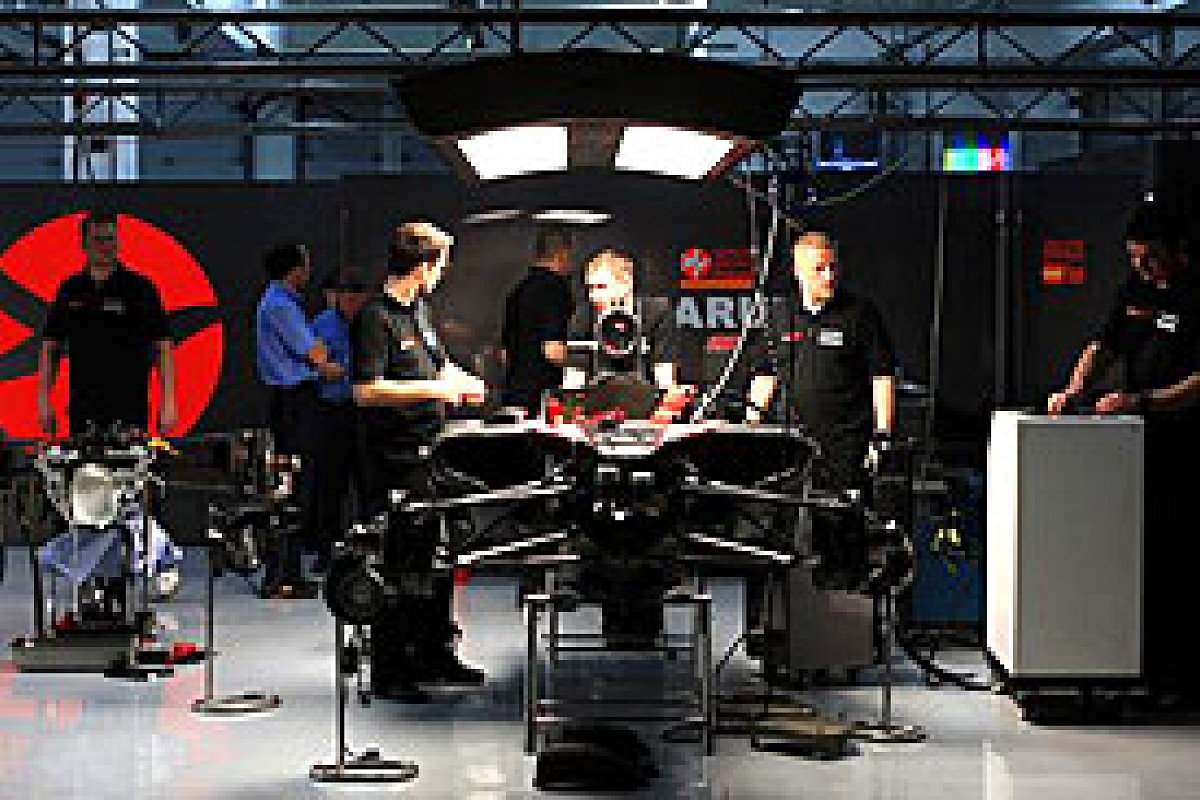 Hispania Racing Team working in to the night © Sutton
While engineers will still be able to maintain contact with their factories from their hotels via laptops, "there is only so much that can be done away from the circuit" said one team manager in favour of the curfew concept, which would see garages closed from midnight to 07 00. Obviously, on flyways with delayed starts curfew hours would be adjusted accordingly.
A final decision is expected during the Barcelona meeting. As one team principal said in Malaysia, one decision in three spread over two meetings is not a bad record, is it?