Ferrari aiming for 350 front rows
In Bahrain, Ferrari started on the front row for the 349th time with Felipe Massa. In Australia it can make it 350. McLaren follows at 242 and Williams at 203 (the last time a Williams started on the front row was at the 2006 Monaco GP with Mark Webber).
A different count is also held for the total number of front row places gained, with Ferrari leading at 458 to McLaren's 304 and Williams' 264.
Schumaches reaches 250
In Formula 1 the race participations/starts count is always a matter of dispute and this inevitably leads to different celebrations for the same landmark.
Michael Schumacher will start his 250th race this weekend, if we count the 1996 French Grand Prix (when his engine gave up on the formation lap) and the 1999 British Grand Prix (he was not present in the final grid, with the first start considered null and void after his crash at Stowe) as non-starts.
The German is third in the all-time rankings, behind Rubens Barrichello (285) and Riccardo Patrese (256).
Australia personal scoreboard
• Jenson Button won the race last year, the 200th for Great Britain. That was, however, the only podium appearance for the Briton in Australia, where he made his debut in 2000. Jenson has only scored points one other time, with a 6th place in 2004. He was the polesitter in both 2006 and 2009
• Lewis Hamilton scored a podium on his debut in 2007 and went on to win the race the following year. In 2009, he finished fourth from 18th on the grid, but was excluded from the race having lied to the stewards about his behaviour behind the safety car;
• Michael Schumacher is the most successful driver in the Australian Grand Prix, with four wins: three in a row from 2000 to 2002 and the last in 2004. He hasn't seen the chequered flag since though, as he retired due to accidents in 2005 and 2006. Schumacher has retired eight times out of 16 in Australia - five times for accidents - the most famous being his collision with Damon Hill in 1994, which gave him his first world championship. He started inside the top 10 for 14 consecutive years from 1991 to 2004, scoring three poles in 2001, 2003 and 2004

Keke Rosberg leads Ayrton Senna in the 1985 Australian GP © LAT
•
Nico Rosberg
has scored points in the last three Australian Grands Prix, taking his maiden podium in 2008 (third). Last year, Rosberg posted his second and most recent fastest lap in Melbourne. In the 1985 race, 25 years ago, Nico's father Keke won his last race at Adelaide ahead of the two Ligiers of Jacques Laffite and Philippe Streiff
•
Sebastian Vettel
is yet to see a chequered flag in Australia, retiring due to race incidents in both visits so far - in 2008 at the first corner and last year in the final stages while attempting to hold off Robert Kubica in a fight for second
•
Mark Webber
got his best result at home on his debut in 2002, with a fifth place finish for Minardi, which he equalled in 2005. Those are his only points finishes in eight races. Since 2004, he has alternated a retirement and a finish - last year he was 12th after a Turn 1 collision with Rubens Barrichello damaged his car
•
Felipe Massa
has scored only three points from seven Australian Grands Prix, with a sixth in 2007. He has fallen victim to two accidents, two engine failures and a suspension failure last year. Massa has never run higher than third in all his races here
•
Fernando Alonso
won the race in 2006, has scored points every year since 2003 and finished on the podium from 2004 to 2007. He obtained these results despite being not as fast in qualifying - he has started from the front row only once, from second in 2007
•
Rubens Barrichello
has finished second four times in Australia - almost an F1 record, with only Michael Schumacher having finished second five times in the Canadian and San Marino Grands Prix. Though Schumacher has won seven times both in Canada and in San Marino, while Barrichello has never won in Australia. His most recent second place came last year after he benefited from the Kubica-Vettel collision
•
Robert Kubica
has never scored points in Australia and has never seen the chequered flag, having suffered from a gearbox failure and two accidents. The Pole has always qualified in the top five and started second in 2008
•
Adrian Sutil
scored his best result out of three races run in Melbourne last year with 16th place on the grid turning into ninth at the flag
•
Tonio Liuzzi
has started two Australian GPs, back in 2006 and 2007, with one finish at the latter in 14th place
•
Sebastien Buemi
finished seventh last year in his maiden race, which made him the first Swiss driver to score points since 1985
•
Jarno Trulli
has scored points only three times in 13 races here - not one of his best tracks. His revenge came last year with his only podium, third, starting from his worst grid spot, 19th (which eventually became a pitlane start). He counts seven retirements in Melbourne
•
Heikki Kovalainen
posted his maiden fastest lap in the 2008 race, his only points finish with fifth place
•
Pedro de la Rosa
scored in his maiden race in 1999 with sixth place, his only points finish in three races here
•
Timo Glock
followed team-mate Trulli home in fourth last year. Like Trulli, he started from the pits.
Team performances in Australia
• Ferrari is not the most successful team in Australia, with seven wins to McLaren's nine. The Italian team has retired both cars from the past two races - a double engine failure in 2008 and suspension and differential problems last year
• Lotus scored its last podium in the 1988 Australian GP with Nelson Piquet third behind the McLarens of Alain Prost and Ayrton Senna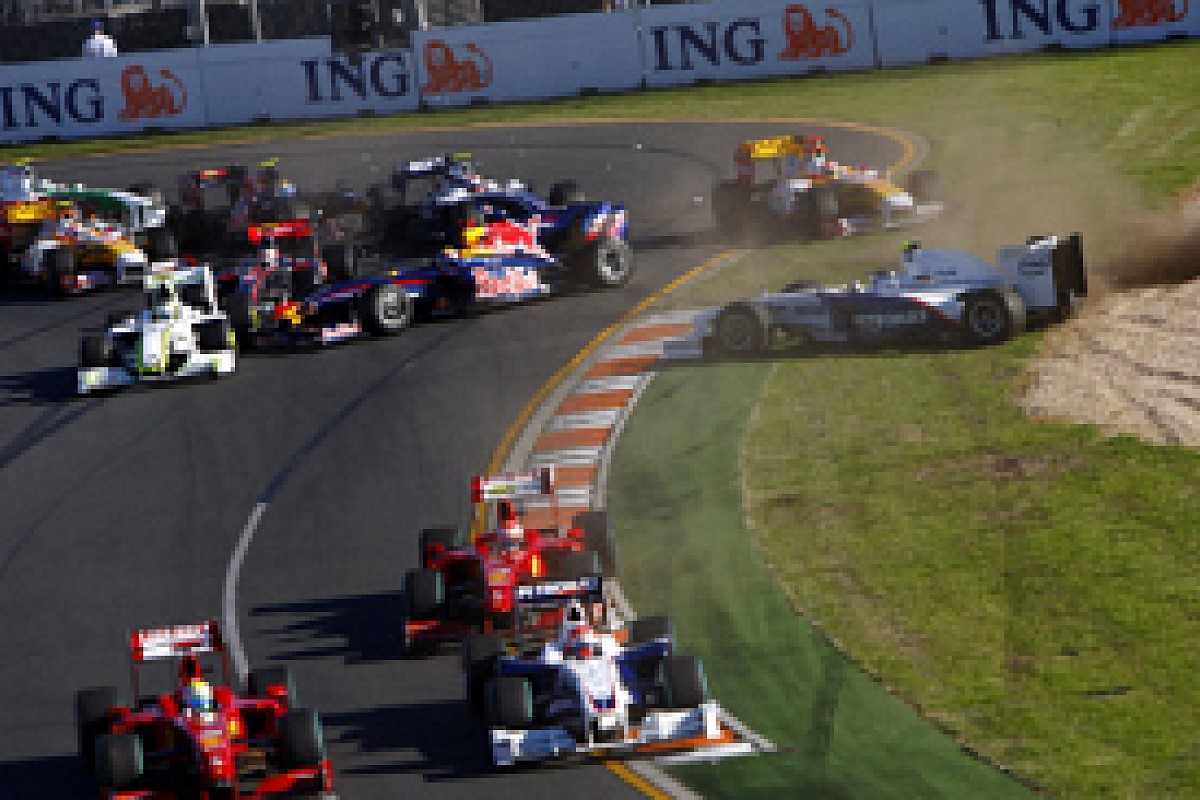 Heikki Kovalainen was taken out in the first corner pile-up last year © LAT
•
McLaren
had both cars not classified last year for the first time in nine years. Heikki Kovalainen was out on the first lap, while Lewis Hamilton was disqualified. The Woking team is the most successful in Australia with nine wins, but not the most successful in Melbourne, where it has won four times to Ferrari's six
•
Red Bull
last scored points here back in 2006, with an eighth place for David Coulthard
•
Renault
won the race in 2005 and 2006 with Giancarlo Fisichella and Alonso, but in the last three races hasn't finished higher than fourth in 2008;
•
Toro Rosso
has scored points for the past two years, with two seventh places
•
Williams
has scored points every year since 1998, except for 2001 and 2006 when both cars failed to make it to the finish. Williams won the first Melbourne race in 1996 with Damon Hill and the last one held in Adelaide the previous year