"If you reckon that was bad, just wait until we get an early safety car," a team principal said in Bahrain on Sunday night. It set me thinking.
Formula 1 teams do not have separate pit crews for each car. One of the less satisfactory scenarios occurs when everyone piles into the pits for what is effectively a free stop during a safety car period. In the refuelling days, whichever of a team's drivers arrived at the pit second, was stacked for a considerable time while the first car was serviced, effectively ruining his race.
The new Mercedes-Benz safety car © Sutton
Sometimes it happened for reasons other than a safety car. One of the funniest descriptions came from Mark Webber after he and Williams team-mate Nico Rosberg tangled on the opening lap of the 2006 Brazilian Grand Prix.
They'd lined up 11th and 13th on the grid, a couple of hundredths apart and, in one of those moments guaranteed to send Patrick Head's blood pressure stratospheric, they came together at Turn 4.
Clearly, they were at odds about what had happened.
Webber: "I was fighting with Jenson [Button] and Pedro [de la Rosa] going into Turn 1/2/3, but then I braked a bit late going into Turn 4 and found myself hit from behind."
Rosberg: "After the start I was trying to get out of traffic and get back the place I had just lost to Jenson, so I was close behind Mark. I think he braked a metre early and I hit him."
So, picture the scene. Webber's car has a damaged diffuser, rear wing and, very possibly, a cut or punctured tyre. Rosberg's has a damaged nose and front wing. And they both know that whoever is last back to the pits is going to be stacked behind the other. So they begin a less than gentlemanly race to get there first.
Meanwhile, Bernie's TV guys have realised there's been some drama and are busy teeing up action replays. They're pretty quick and by the time Webber and Rosberg are halfway round the lap, there it is on screen. So now the Williams pit can see what's happened. More to the point, they can see what's damaged.
Formula 1 doesn't follow the rules of the road, whereby if you hit someone up the chuff it's your fault no matter what. In F1 the logic is that the front wing is a lot quicker to change than the rear. And so out goes the radio message to both drivers: "Priority Nico, priority Nico."
But Webber is still in front and, as the man driven into, thinks "bugger that..."
Of course, in the Williams pit they are ready with Rosberg's new nose and will be less than impressed if Webber arrives first. Through Mergulho and Juncao they come, Rosberg now trying to drive around the outside of Webber. But Mark doesn't cede, forces Nico wide and he picks up a load of dust and junk on his tyres. Nico keeps his boot firmly planted but with the combination of dirty tyres and damaged front wing, he has the mother and father of a shunt on the outside of the quick left onto the main straight.
Does Webber think "oh dear, my esteemed team-mate appears to have had a rather hefty accident. I do hope he's okay and hasn't spoiled his hair"? He does not. His competitive persona is more Aussie rules football than ice dancing, so he thinks: "You beauty!"
Then, with perfect timing, the Williams pit comes back on the radio: "Priority Nico. Repeat, priority Nico."
Now all but in the pitlane, Webber presses his radio button with a certain degree of enthusiasm: "Don't think so, mate. Britney's in the wall."
In the end it didn't matter. Rosberg was winded but okay, which was more than you could say for the car, while Webber's chassis was too badly damaged to take any further part. The thoughts of Frank and Patrick went unrecorded.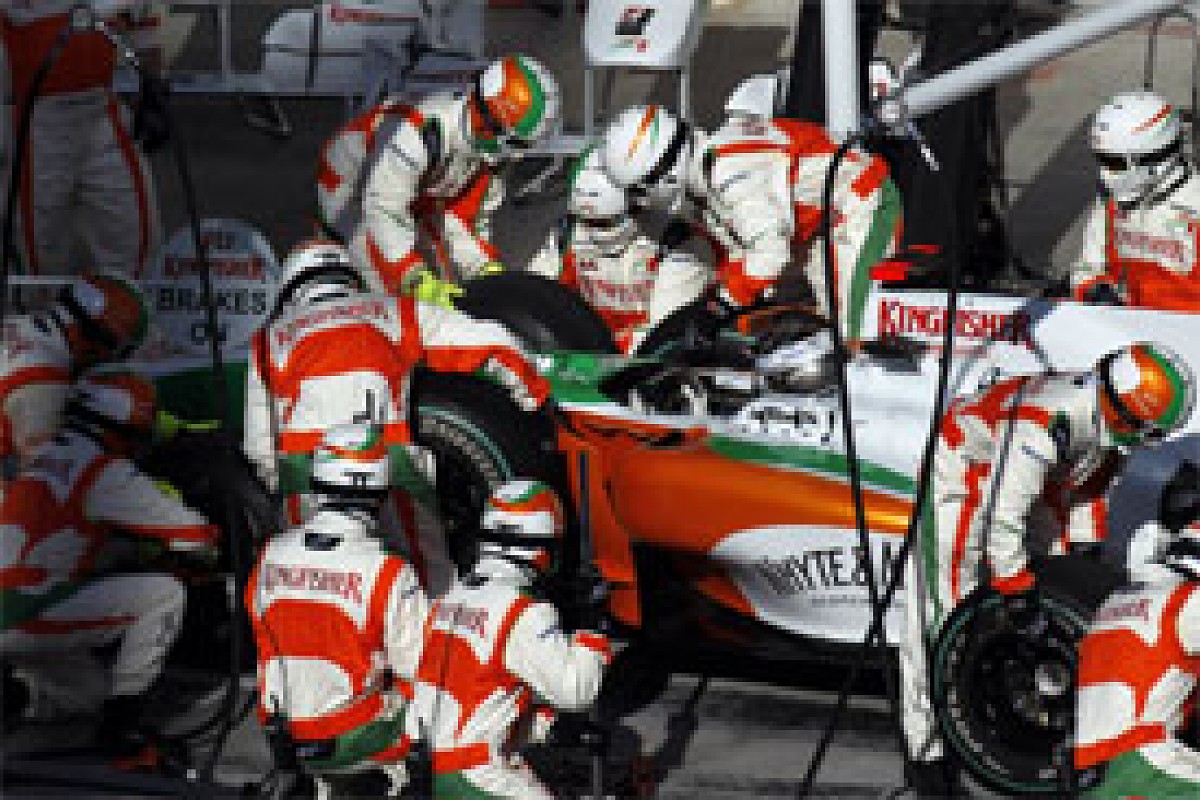 Adrian Sutil pits the Force India © LAT
Now, imagine an early lap safety car in Melbourne. The leaders all file in one behind the other and suddenly it's like Piccadilly Circus. Off come the option tyres they've all qualified with and on go the primes.
But, if it's like Bahrain, drivers such as Felipe Massa, Jenson Button, Mark Webber, even Michael Schumacher, are going to find themselves stacked. Okay, it won't be as bad as before as there's no refuelling involved. But even if, amid the highly-charged situation, teams manage to turn the first car around in about 3s, the second guy is going to lose out fairly disastrously.
The second drivers in the leading teams would emerge behind the quick guys from less competitive teams - men like Robert Kubica, Rubens Barrichello, Sebastian Buemi and Pedro de la Rosa, who have maybe qualified ninth or 10th. And, who knows, possibly they're going to be stuck behind them for the duration if Bahrain is any barometer.
Will anyone choose not to pit? Well, the guys who have qualified outside the top 10 in all probability will have started on the prime tyre and will not want to stop because they'd be faced with putting the softer tyre on and making it last. Depending upon compound and track it may be viable at some places, but certainly not all.
Perhaps, among the top 10 qualifiers, some teams might leave their second guy out on his option tyres in the hope that he can open up enough margin to buy his pitstop later (about 25s). This might work given that when the race resumes, the guys who have changed tyres are going to be trapped behind the second half of the grid, which has stayed out on their primes.
And what if a leading team leaves both cars out? On resumption, Driver A, still on his options, hares off - relatively speaking of course - while his team-mate, Driver B, circulates a couple of seconds a lap slower, holding everyone up so that in a dozen laps or so, A can get into the pits for his primes and rejoin still in front.
Once that's been achieved, B, having nursed his options, speeds up and tries to open his own margin which, admittedly, would be a tall order. As a team strategy it would be a good one. The difficult bit would be persuading any one of Messrs Alonso, Massa, Vettel, Webber, Schumacher, Rosberg, Hamilton or Button to fulfil the role of Driver B.
It would be controversial, too. Does it constitute team orders prejudicial to the interests of a competition?
Imagine that B and his team manager are then called up by the stewards. B is asked why he appeared to hold up the whole field to the benefit of A.
"I didn't," he replies, "I thought A was driving far too quickly and was going to root his tyres. I was also on the options of course, and it's really important not to take too much out of them early in the stint. I was hoping for payback later on and to be able to open up my own gap but as things turned out, A got away with it and I found that when the track rubbered in there wasn't as much difference between the options and primes as I thought. Even when I pushed I wasn't able to open much of a gap."
What do the stewards do? Call him a liar? And what can they do about A, who's done nothing wrong. Take away some constructors' championship points, maybe? Who cares?
All this, of course, is with a single safety car scenario. What happens when there are multiple safety cars? It wasn't simple before, but it could be awfully complicated now. How many Melbourne safety cars have we had over time? It probably won't be like Bahrain, but you might need to be a university professor to understand it.